本文由源点设计授权mooool发表,欢迎转发,禁止以mooool编辑版本转载。
Thanks LOCUS ASSOCIATES for authorizing the publication of the project on mooool, Text description provided by LOCUS ASSOCIATES.
源点设计:项目位于深圳市龙华区建设路与清泉路交汇处,是龙华中心区首个150m高垂直综合体项目,集甲级写字楼、云端公寓、独栋商墅、品质商业等多元产品于一体,该项目为首创置业进入深圳的首发产品,项目景观设计面积为8895平方米。
LOCUS ASSOCIATES:The project is located at the intersection of Jianshe Road and Qingquan Road, Longhua District, Shenzhen. It is the first 150m-high vertical complex project in Longhua Central District. It integrates grade-A office, sky apartments, commercial villas, and shopping mall. It is the first product launched by Shouchuang entering into Shenzhen, with a landscape design area of ​​approximately 9,000 square meters.
▼展示区航拍图 Aerial view of the sales area

设计灵感 Inspiration
"含蕊红三叶,临风艳一城"是深圳市花三角梅绽放时最真实的写照,同时三角梅也蕴含了青春热情,坚韧勇敢的内涵。因此三角梅——深圳最具有象征性的代表物,也成为了本案设计的灵感来源。我们提取其花瓣的形态,进行抽象的演化,反复勾勒调整,最终形成自然灵动的平面布局。
"Red leaves with stamens, beautify the city above wind" is the most authentic portrayal of Shenzhen Bougainvillea blooming. Meanwhile, the Bougainvillea also contains the connotation of youthful passion, tenacity and bravery. Therefore, the bougainvillea, the most symbolic representative of Shenzhen, has also become the source of inspiration for this project. The shape of its petals has been extracted, evolved, repeated and finally formed the plan layout, under the concept of "Longhua Blossom".
▼花瓣元素提取和演化过程 Petals shaping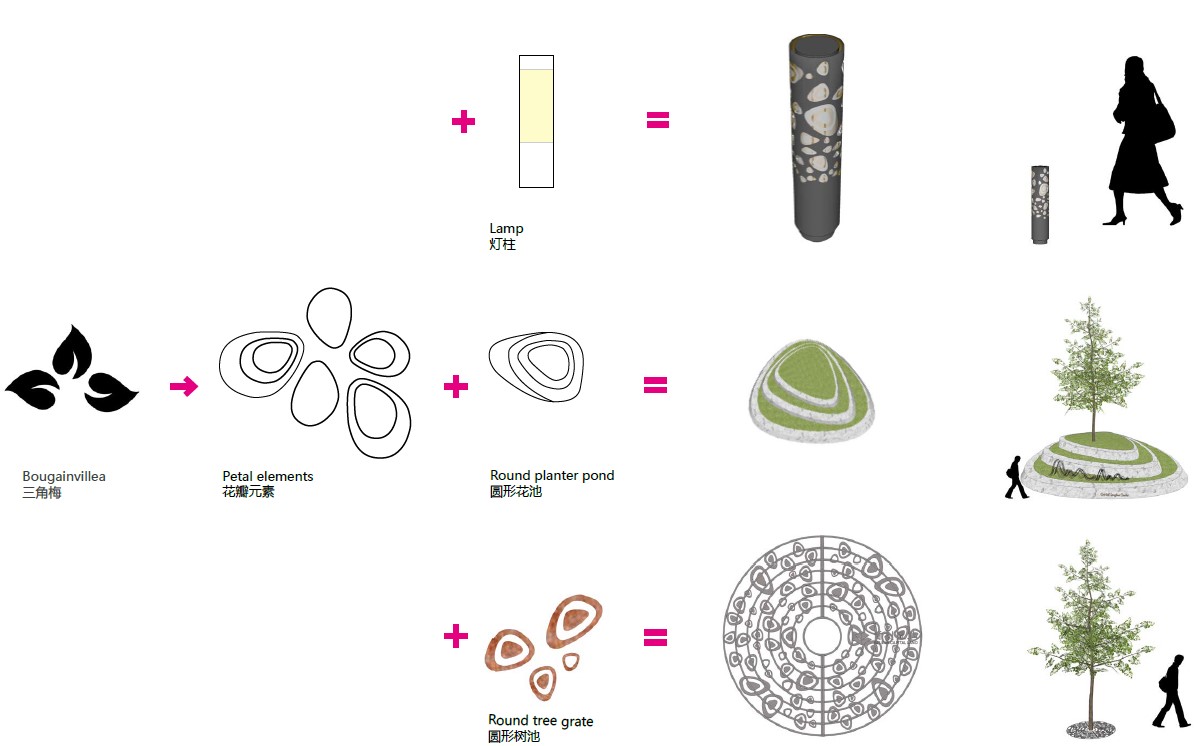 设计解读 Explanation
我们采用了三角梅花瓣的形态作为设计的基本元素,从外到内设置花瓣形的树池、休息平台、水景三个层次的景观序列,打造流动的空间体验。花瓣形的设计形成了柔性的场地边界,从而消解了场地狭长带来的局促感,同时花瓣形的树池宛如城市中的一个个绿岛,串联起地东南侧的城市绿地和西北侧的观澜河,形成景观上的连续与呼应。
We adopted the shape of bougainvillea petals as the basic elements of the design, and set up a three-layer landscape sequence of petal-shaped planters, platforms, and waterscapes from outside to flow into the building entrance. The petal shapes form a flexible boundary, expanding the width the depth of the space.  At the same time, the petal-shaped planters are like green stepping stones connecting the urban greens to the southeast, and Guanlan Reiver to the northwest.
▼精神堡垒 The entrance signage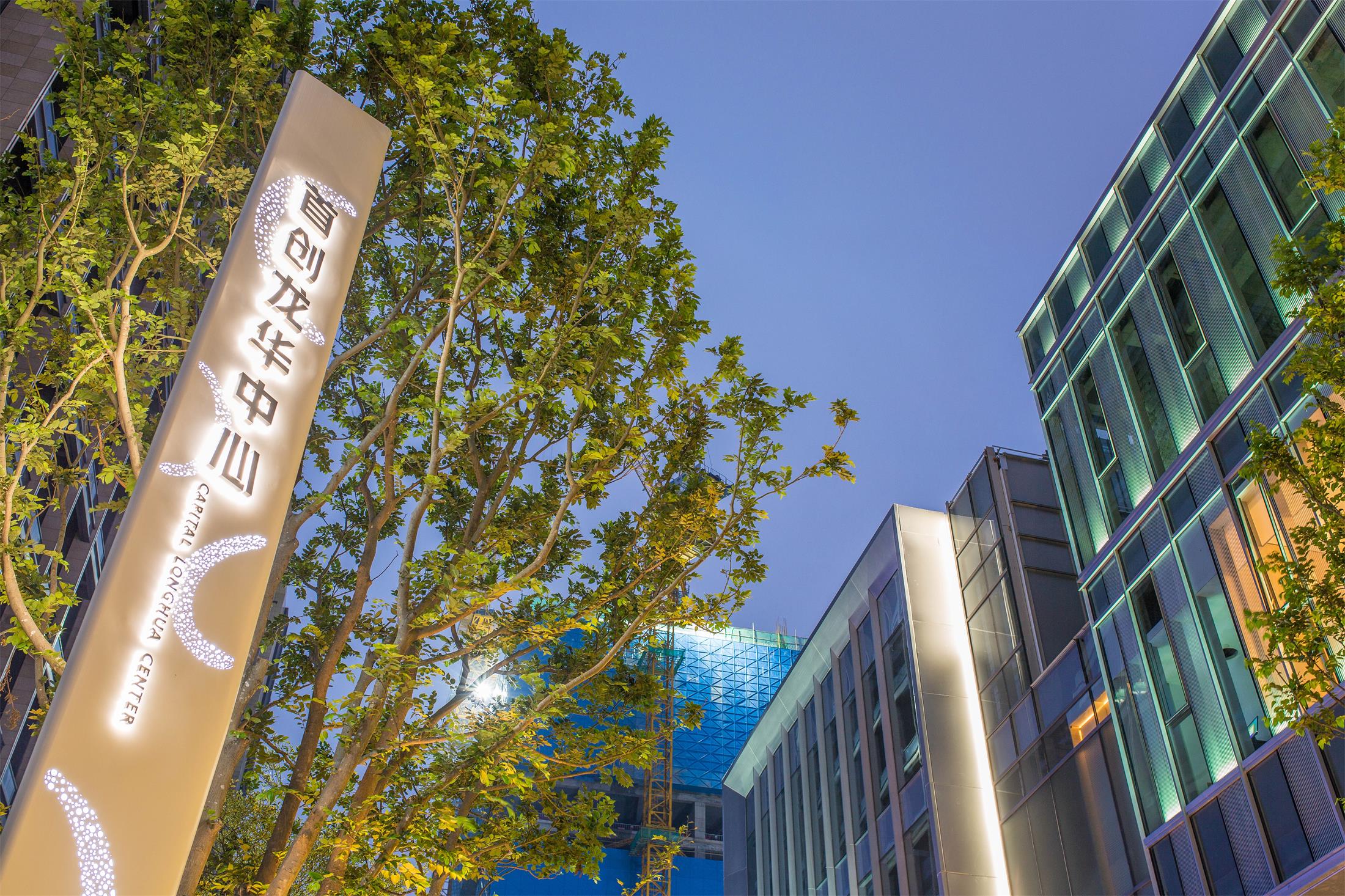 精神堡垒设置在项目北侧靠近营销中心的车行入口,具有较强的昭示感。营销中心入口的花池,设置叶子雕塑和项目LOGO,再次强化项目属性。
The entrance signage is set at the entrance of the vehicular traffic near the sales gallery. The planters at the entrance of the gallery is equipped with leaf sculptures and project LOGO to reinforce the theme.
▼营销中心入口地面星星灯 Starry lights on ground

▼营销中心入口水景 Entrance waterscape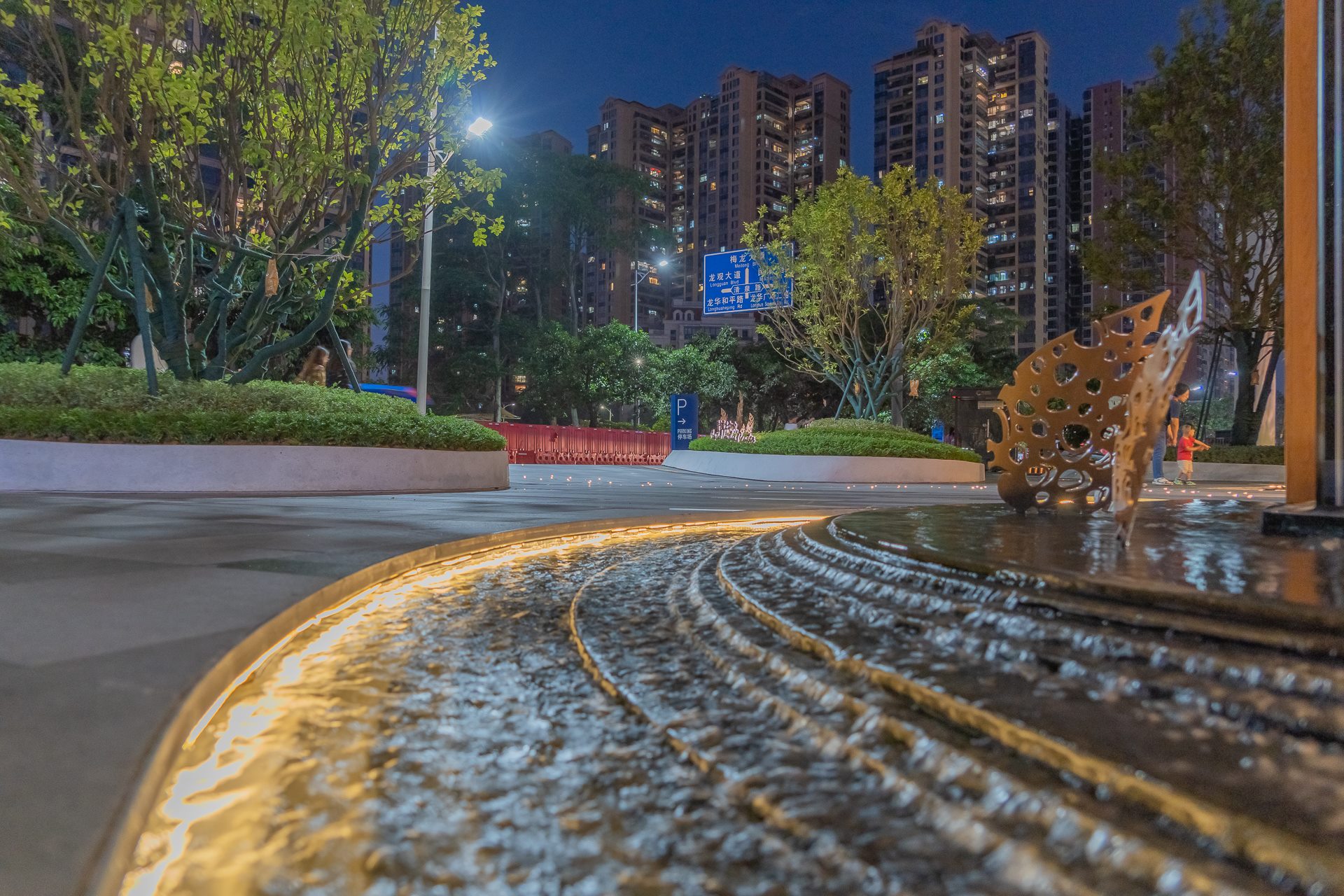 ▼花瓣雕塑与水景细节 Petals sculpture and water feature detail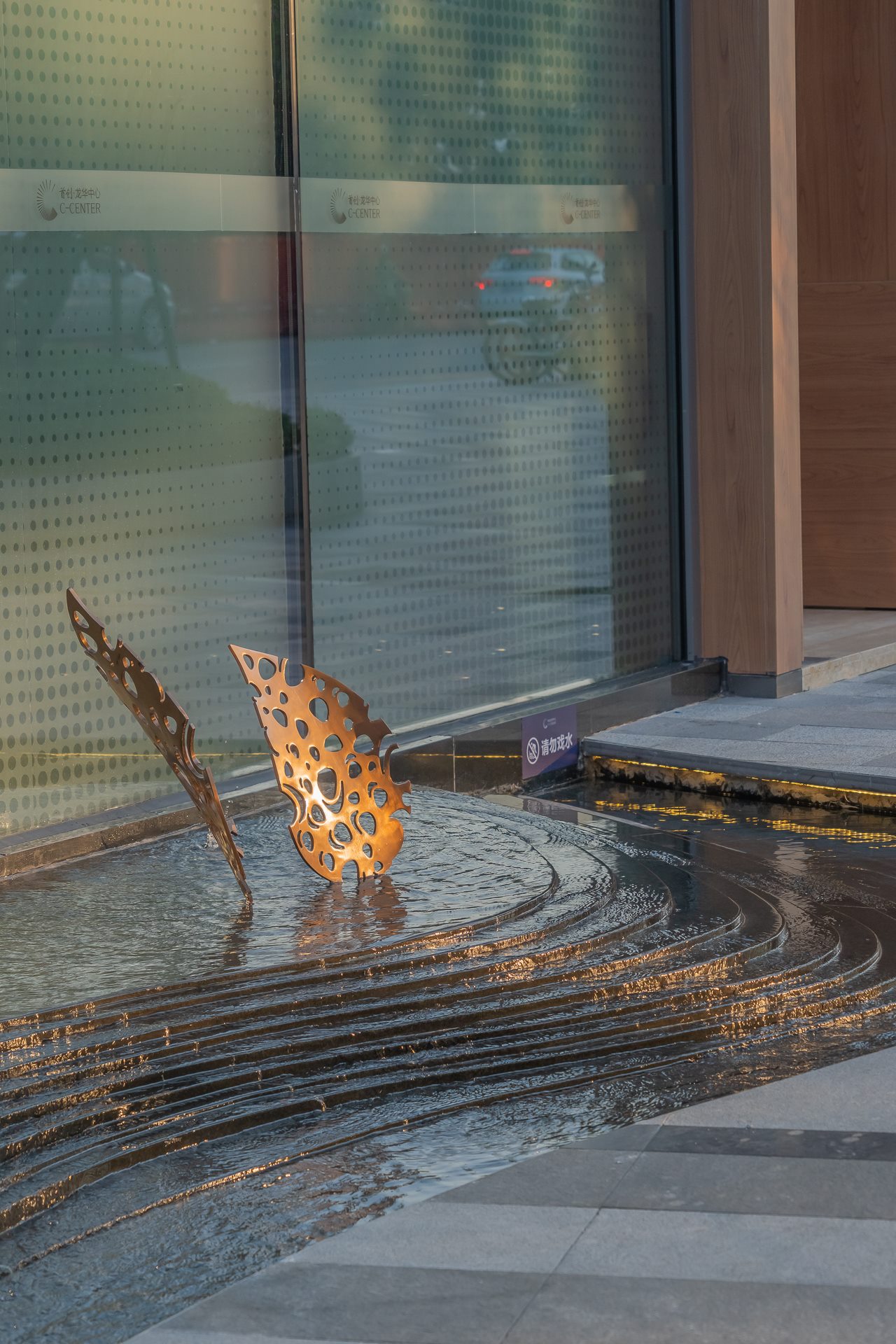 营销中心入口,用梦幻的星星灯和流线形的水景,将人流导向销售中心,水景上的雕塑仿佛一片片飘落入水中的三角梅花瓣,伴着潺潺的流水声,营造出宁静优雅的氛围。
Dreamy starry lights and streamlined water features direct the flow of people into the sales gallery. The sculptures are just like bougainvillea petals falling into the water, accompanied by the sound of flowing water, creating a tranquil Atmosphere.
▼营销中心入口花池 Entrance planters
▼商业入口大台阶 Grand steps of the 2F shopping alley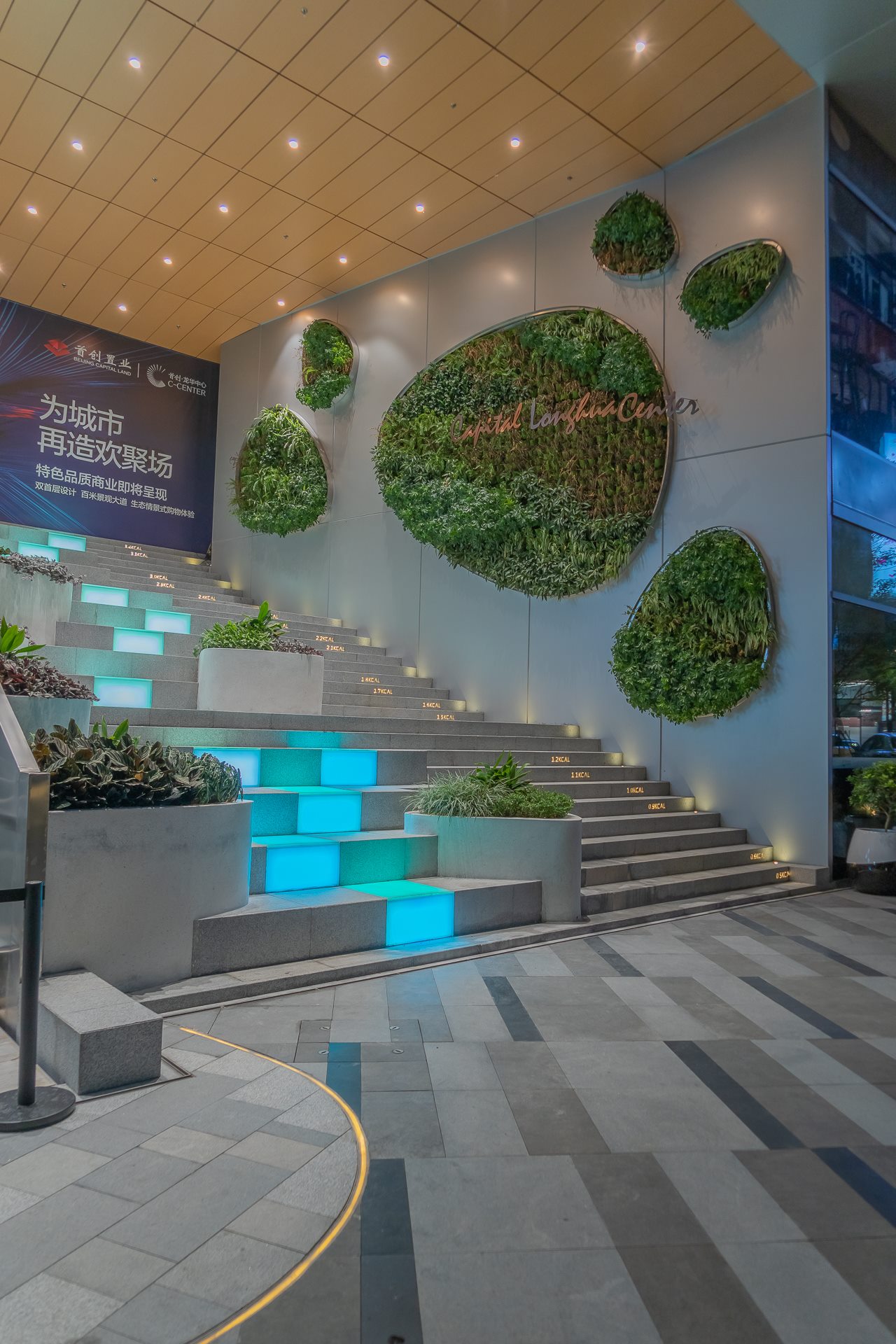 项目西北侧商业主入口,花瓣形的台阶树池及墙体绿化,增强了主入口的仪式感和体验感,台阶上的卡路里灯和方格子感应装置,给使用者提供了更多的互动体验。因为一层后期将开放为商铺,所以我们在设计时考虑到后期的运营,设置花瓣形的休息平台,后期将成为商家的外摆区,吸引更多客流。
At the grand steps, the petal-shaped stepped planters and vertical green wall enhance arrival experience of the 2F Shopping Alley. The calorie index lighting and interactive light boxes provide users with refreshing experiences. .
▼休息木平台与雕塑广场 Resting deck and sculpture square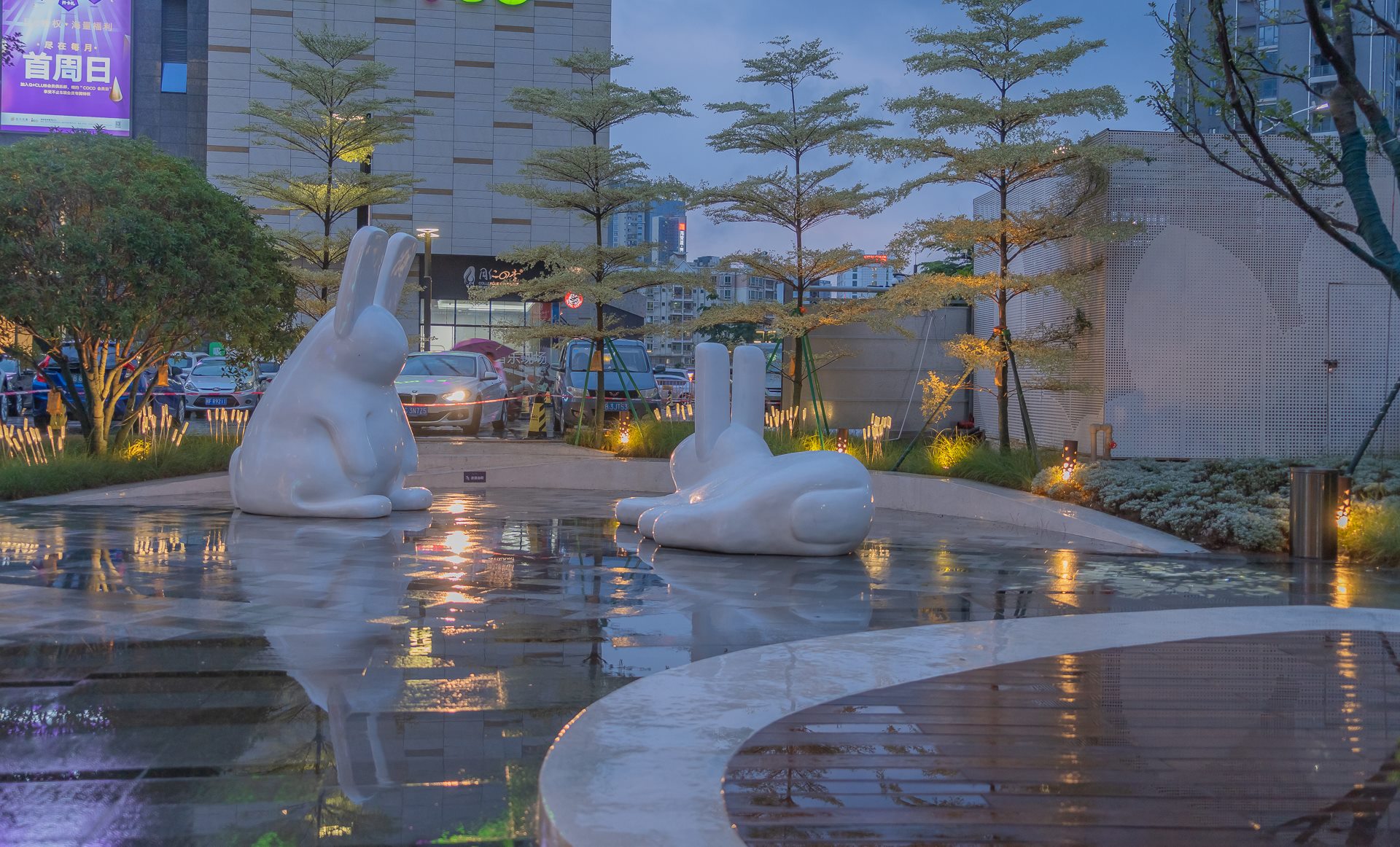 ▼雕塑广场坐凳 Bench in sculpture square

▼景观细部 Details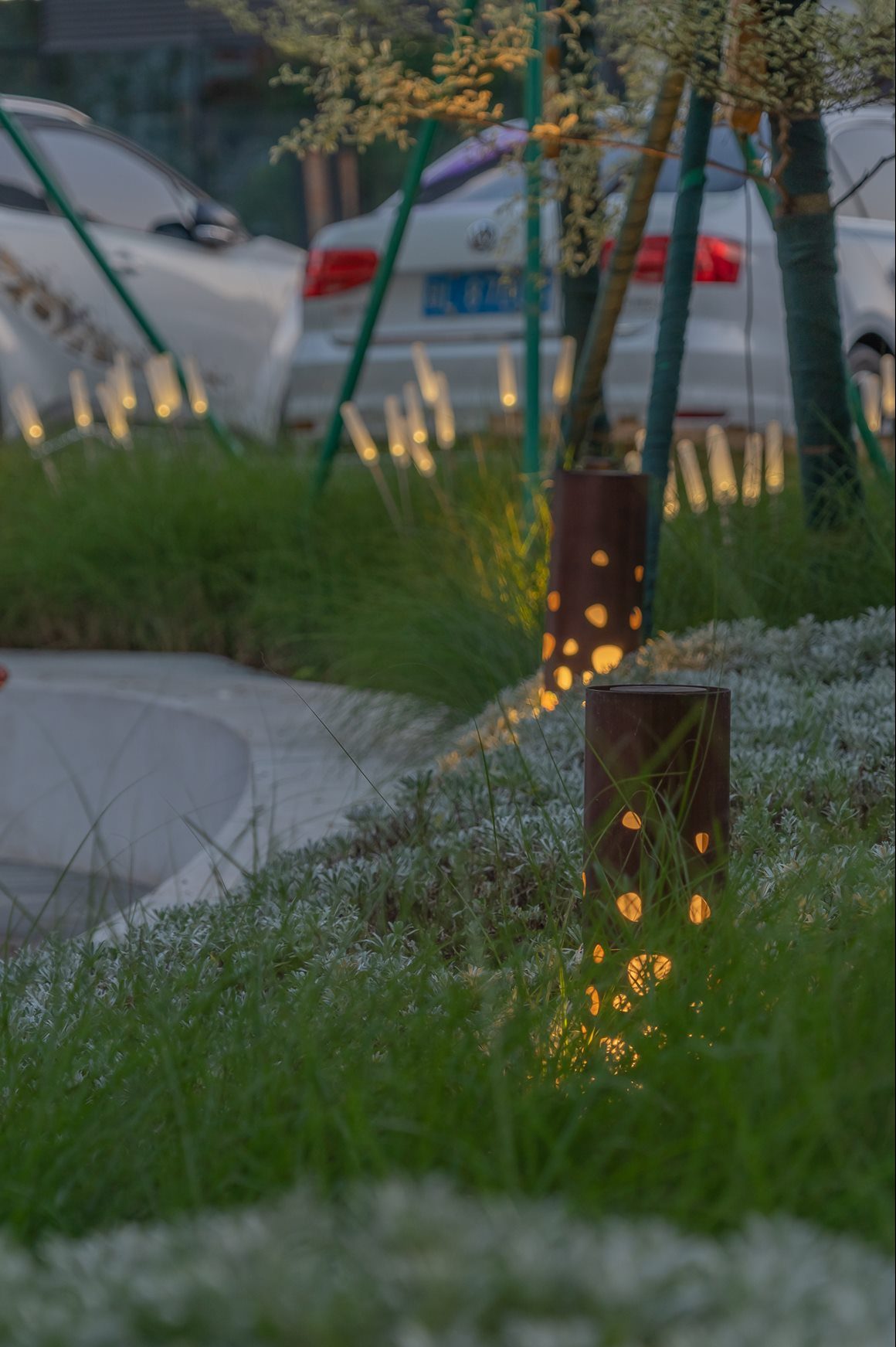 小结 Conclusion

首创龙华中心是一个小而美的项目,由于项目用地紧张,功能又十分的复合,给设计也带来了很多的难度和思考。在城市用地紧张,空间不断收缩的背景下,如何做出小中见大的都市景观,是需要我们用更多的设计实践去探索的话题。
Shouchuang Longhua Centre is a small and neat project. Because the landscape area is so limited and the programs are complicated, it brought to us a lot of re-thinking about the urban environment. In the context of ever-shrinking urban spaces, how to create interesting and popular small is a topic that we need to explore in future practices.
项目位置:中国深圳
委托方:深圳首创
设计内容:景观设计
主持景观建筑师:黄晓锋
设计团队:郑亚龙,吴美娟,邓如含,叶晨,郑颖
施工图设计:深圳本末度
景观面积:8895平方米
设计/完成时间:2018年4月-2019年5月
摄影师:余立峰
Location: Shenzhen, China
Client: Shenzhen Capital Land
Design content: Landscape Design
Landscape architect: Brandon Huang
Design team: Zheng Yalong, Wu Meijuan, Deng Ruhan, Ye Chen, Zheng Ying
Construction drawing design: Shenzhen Benmodu à Shenzhen OEA
Landscape area: 8895 square meters
Design / Completion time: April 2018 – May 2019
Photographer: Yu Lifeng
更多 Read more about: LOCUS ASSOCIATES 源点设计