本文由 Alexandra Steed URBAN 授权mooool发表,欢迎转发,禁止以mooool编辑版本转载。
Thanks Alexandra Steed URBAN for authorizing the publication of the project on mooool. Text description provided by Alexandra Steed URBAN, No reproduction without permission.
Alexandra Steed URBAN:英国天空电视台是一个充满想象力、创造力和联系的地方。为了支撑延续这些崇高的发展愿景,Alexandra Steed Urban设计公司在此建立了广阔的景观,以提供坚实的基础,拥抱和温柔地培育建筑和人。更新后的场地通过一系列精彩的体验式花园,将大地、建筑和天空合而为一。
Alexandra Steed URBAN: SKY TV is a place of imagination, creation, connection. To support these lofty pursuits, the expansive landscape was established to provide a strong grounding, embracing and softly nurturing buildings and people. In a wonderful series of experiential gardens, the campus landscape, seamlessly connects earth to building to SKY.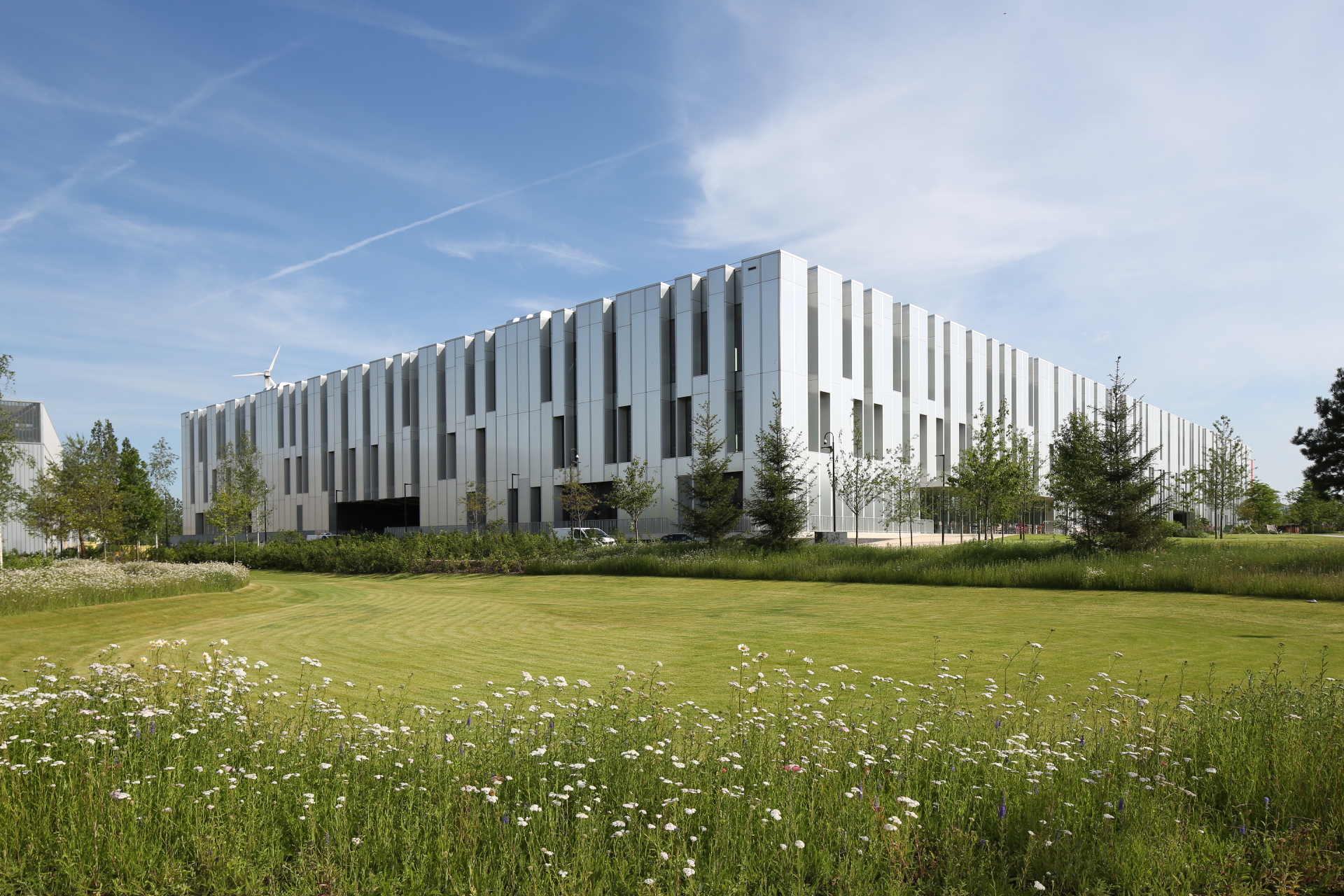 天地相接之处 Where land and SKY meet
英国天空广播公司近期在其场地内进行了大规模的重建工作,以整合公司的业务,同时创造超1.2万个就业机会。整个场地就像一个独立的社区,包括办公空间、工作室、生产设施、研发区、健康中心、咖啡馆和零售店,令人流连忘返。我们景观设计的目的就是以一种清晰而美丽的方式将这些场所连接在一起。
Sky UK recently undertook extensive redevelopment works on their campus to consolidate the company's operations and create up to 12,000 jobs. The impressive campus is a community in its own right, encompassing office space, studios, production facilities, research and development zones, health centre, cafes and retail. The purpose of the landscape is to knit this site together in a clear and beautiful way.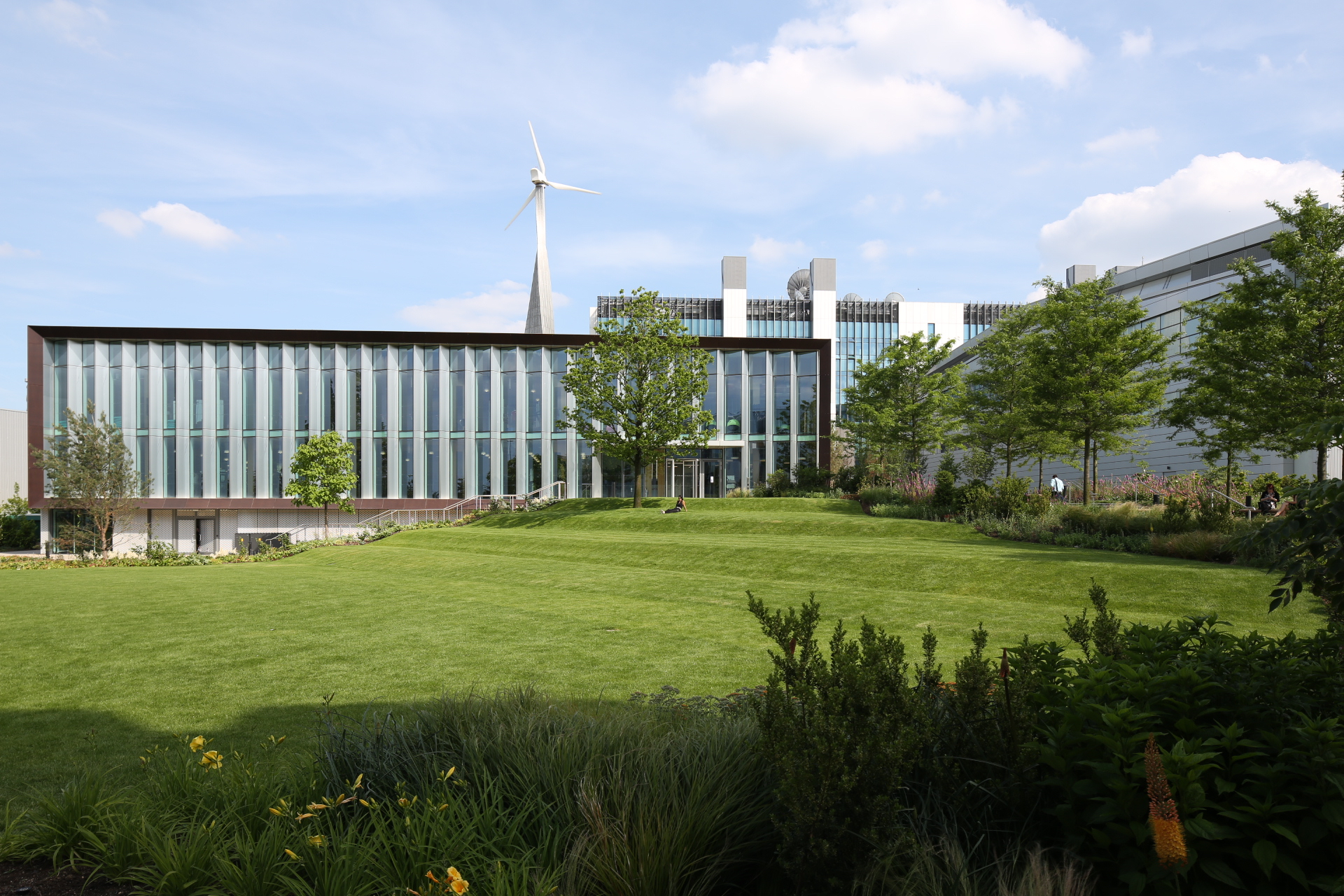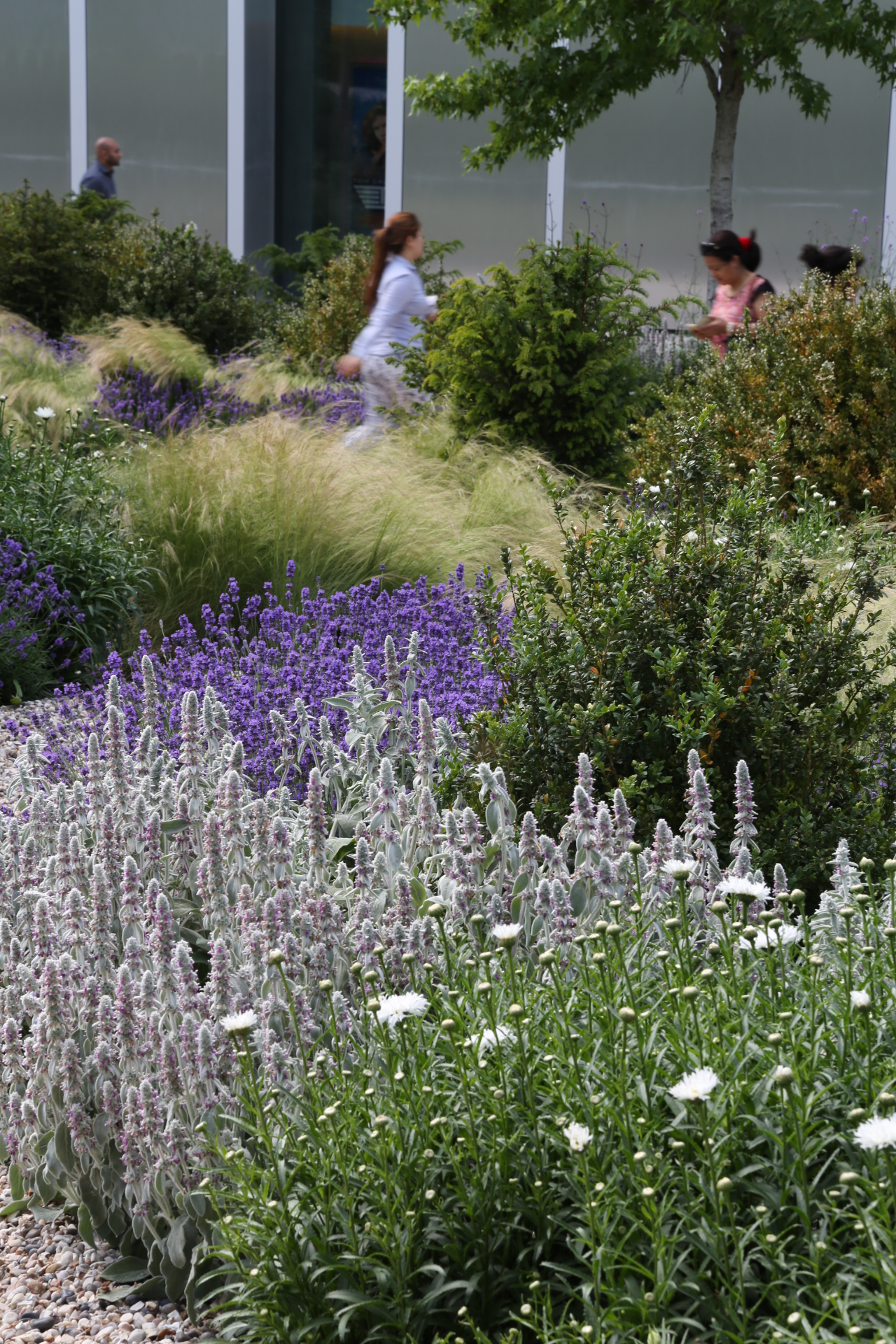 设计公司与客户携手发展的最终愿景是创造一个世界级的园区景观,给人们的日常体验带来欢乐。目的是创建一个现代的英国花园,并将其诠释为丰富的、精心设计的景观,贯穿一年四季和全天的各个时间段。它探索了各种各样的花园类型,包括多年生植物花园、孤植橡树的大草坪、草地和林地。这些区域为人们提供了思考、心灵焕新、获得灵感、聚会社交,举行户外会议、散步、跑步或参与许多其他活动的机会。
The vision, developed hand-in-hand with the client, was to create a world-class campus landscape that brings joy to people's everyday experience. The brief was to create a contemporary English garden, interpreted as a rich and choreographed landscape, considered throughout hours of the day, and seasons of the year. It explores a variety of garden typologies, including perennial garden, great lawn with a single oak, meadows and woodlands. These areas provide opportunities for people to contemplate, be refreshed and inspired, to meet others and socialise, to hold outdoor meetings, and to have a walk, run, or participate in many other activities.
▼各种类型的花园 A variety of garden typologies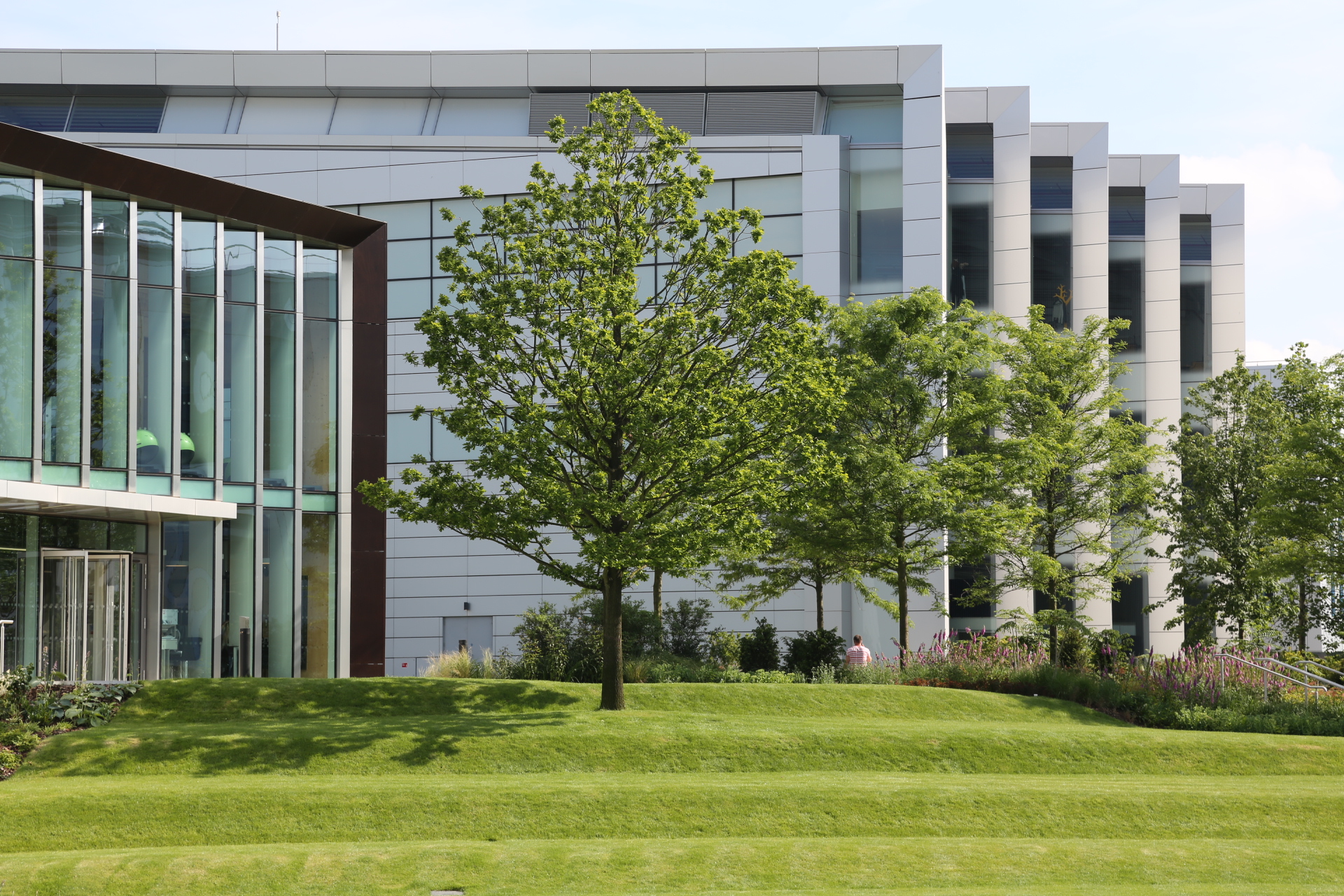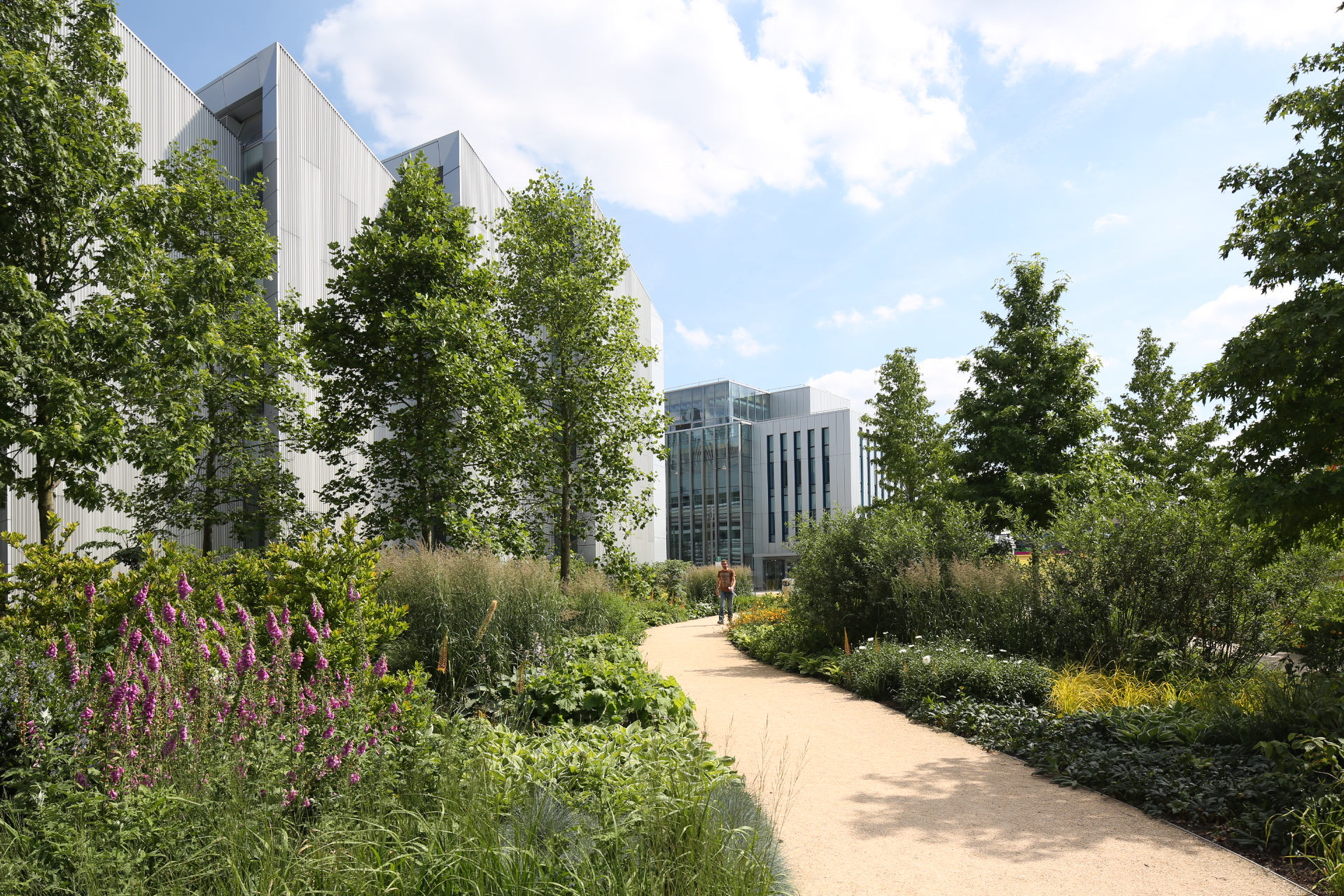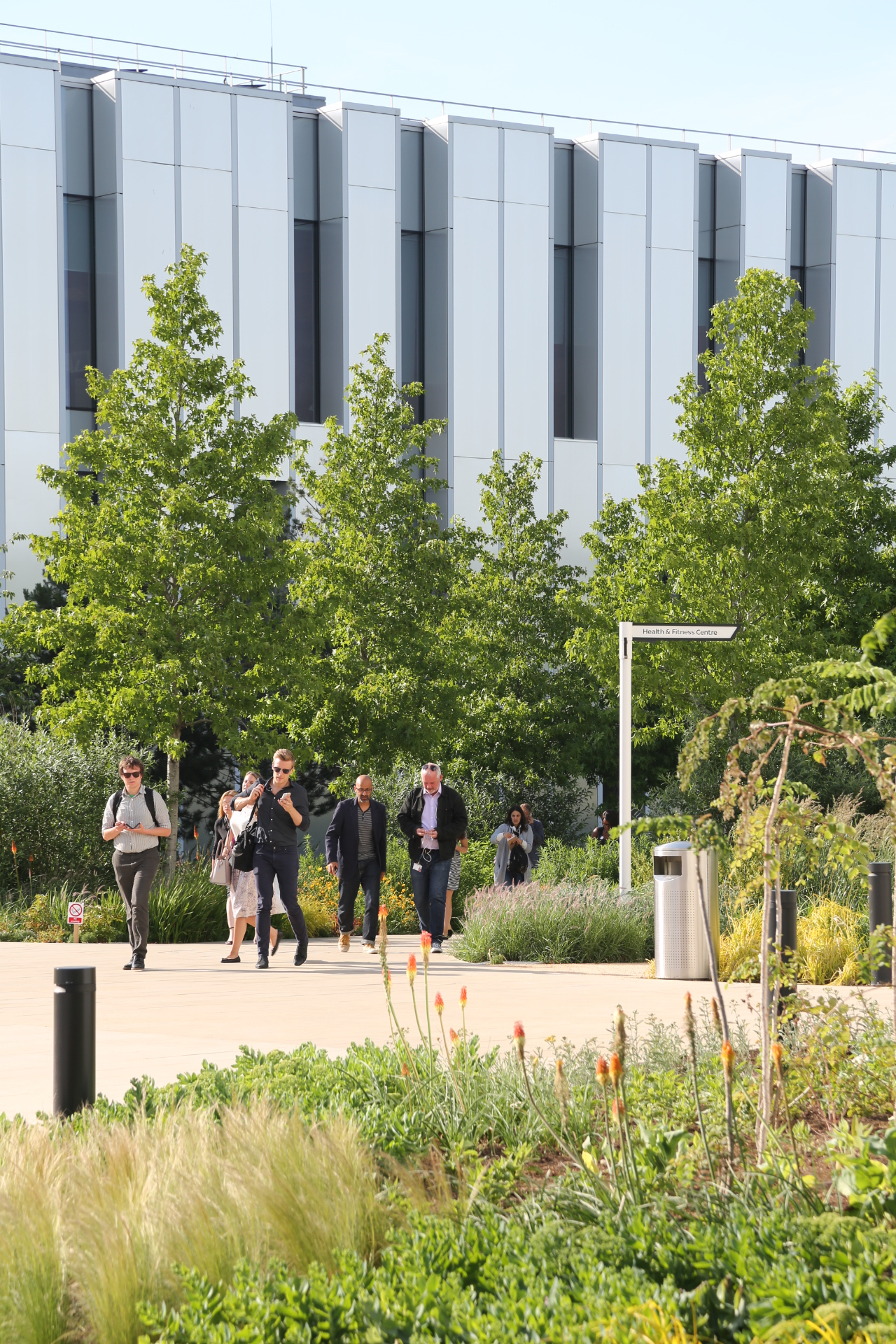 10万种不同的植物,分布在250米长的生态长廊、120米的连续原生灌木篱墙、2500平方米精心挑选的吸引蝴蝶和蜜蜂的草地,创造了丰富的植物环境。场地上种植的264棵新树,这些树点缀在其中,形成了特殊的景观空间,也成为了焦点,同时阻挡了远处垃圾填埋场的视线。
100,000 diverse plants – including a 250m long ecological corridor, 120m of continuous native hedgerows, and 2,500 sqm of carefully selected meadows to attract butterflies and bees – create a rich environment. 264 new trees were planted on site, and were placed to create outdoor rooms, frame special views, act as focal points, or to obstruct views to the landfill beyond.
▼丰富而自然的植物种植 Rich and natural planting design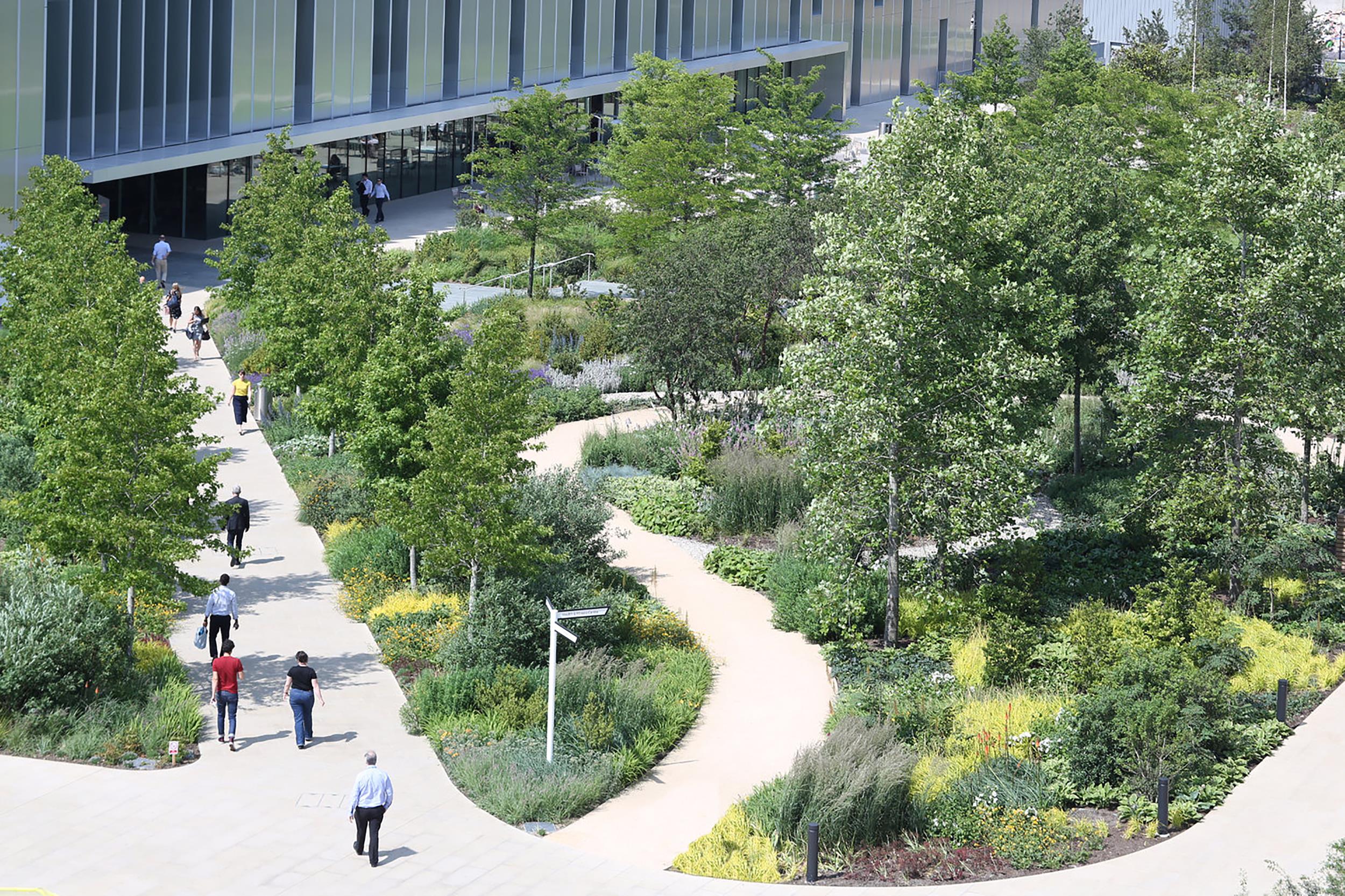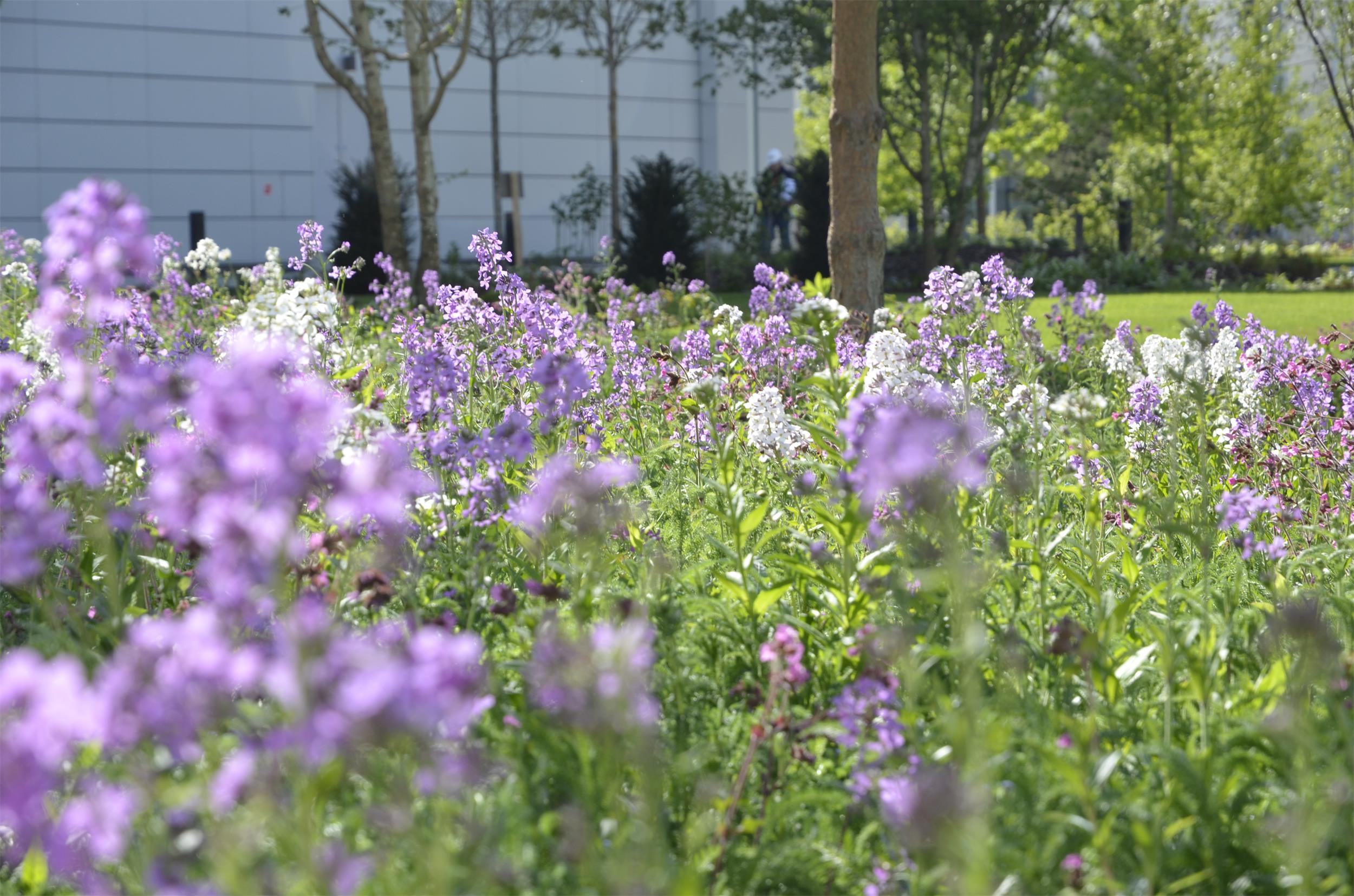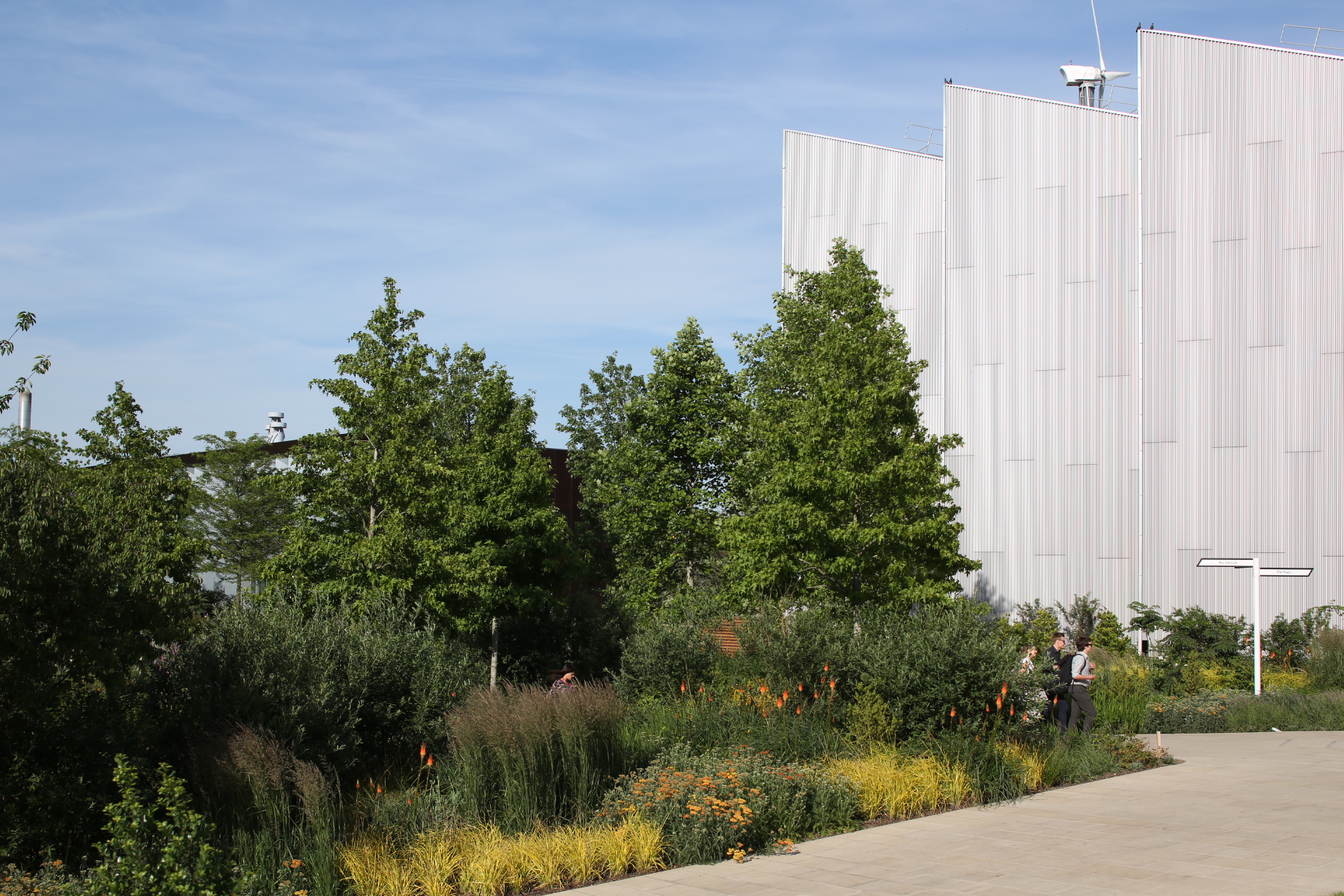 这一景观将持续激发人们的兴趣和灵感,并且已成为世界级的先例,许多书籍、杂志和线上平台都在热烈讨论它是如何通过创建一个企业园区,丰富人们的生活,增强生态健康,促进连通性,将曾经荒无人烟的场所变成一个充满欢乐和美丽的地方。最有收获的是我们从天空电视台工作人员那里得到的反馈:风景"壮丽"、"令人赞叹",将天空电视台的园区彻底脱胎换骨成一个美妙之地。
This landscape contributes interest and inspiration at all times, and has become a world-class precedent, sought out by numerous book, magazine and online publications, of how to create a corporate campus that enriches the lives of people, enhances ecological health, promotes connectivity, and simply creates a place of joy and beauty out of a once forlorn site. Most rewarding is the feedback we receive from SKY staff that the landscape is 'spectacular', 'breath-taking', and that it makes the Sky campus a wonderful place to be.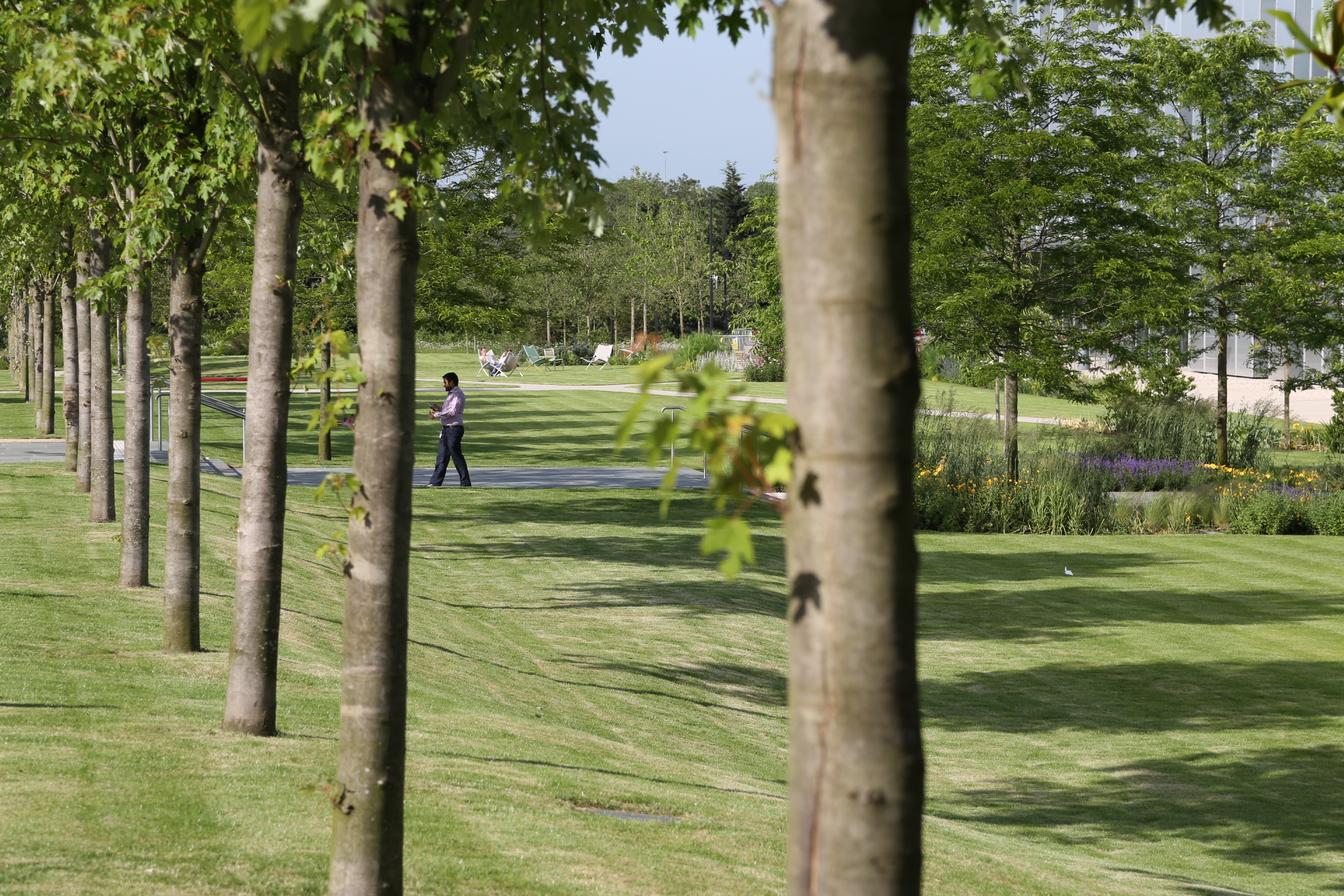 亲和又充满活力的园区入口 A welcoming and dynamic entry to SKY headquarters
南部堤是连接中央园区广场、多层停车场及西边草坪树林景观的一条重要的东西向路线。
The Southern Embankment provides a key east-west route between the central campus plaza, a multi-storey car park, and the Western landscape of lawns, meadows and orchards.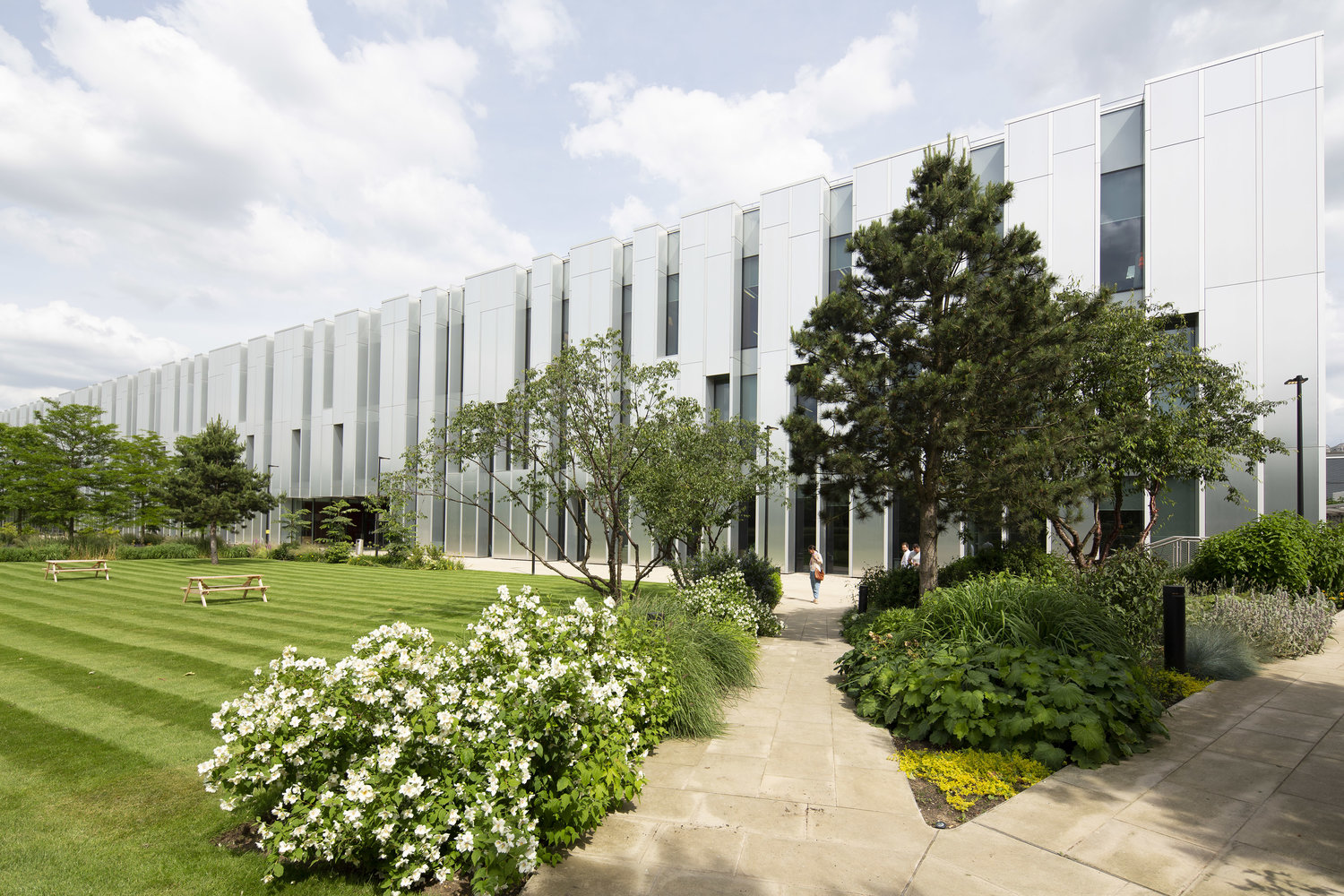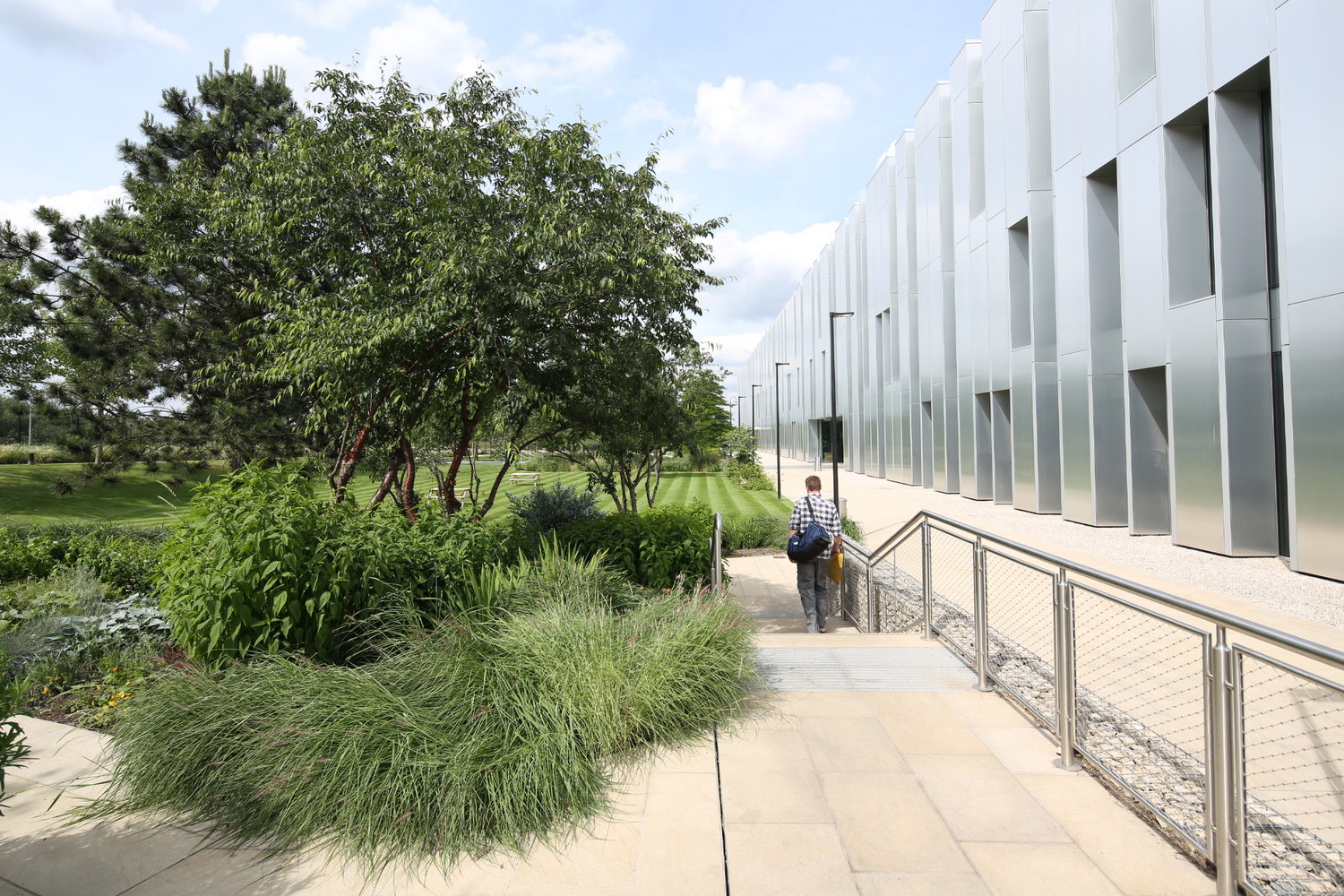 北侧沿线可见一条栽培品种丰富的线性植床,包括大型观赏山茱萸、灰柳树和黑刺李,其间点缀着娇嫩的紫罗兰和山谷百合,在下方的便道之间形成了茂密的植被屏障。修剪整齐的狭长草坪形成了边缘过渡,与抬升的、有纹理的林地形成了鲜明的视觉对比。
A linear planting bed of rich woodland understorey, consisting of large ornamental dogwood, grey willow and blackthorn interspersed with delicate sweet violets and lily of the valley runs along the north side of the path, creating a vegetated screen between the service road below. A narrow strip of neatly mown grass forms the edge condition creating a visual contrast between it and the taller, textured woodland.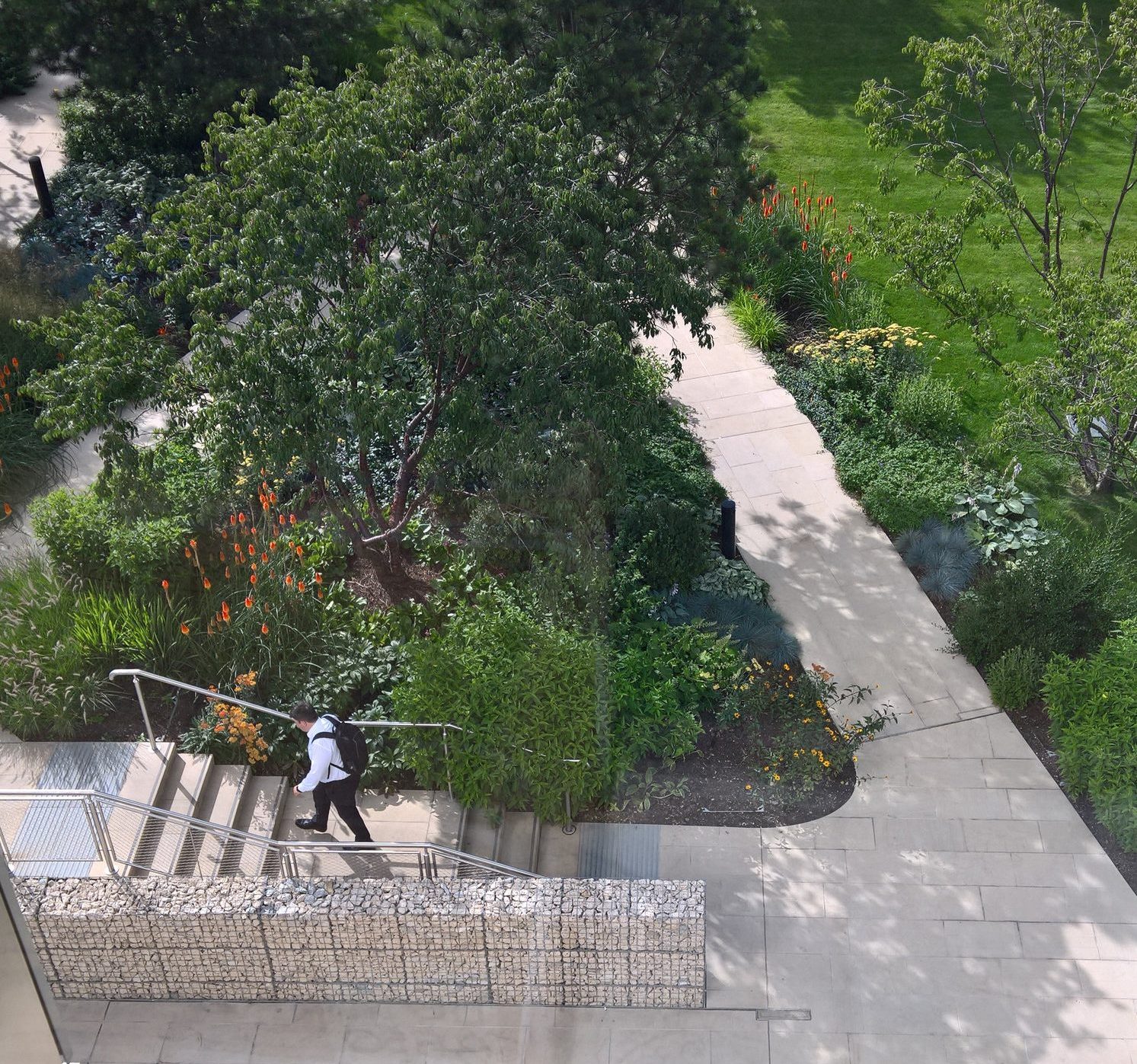 喜阴的多年生植物比如海鞘、玉簪和紫苑等,为场地带来了色彩、平衡和自然主义。
Beds of shade-loving perennials expressed through plants such as hellebore, hostas and asters bring colour, balance and a naturalistic character.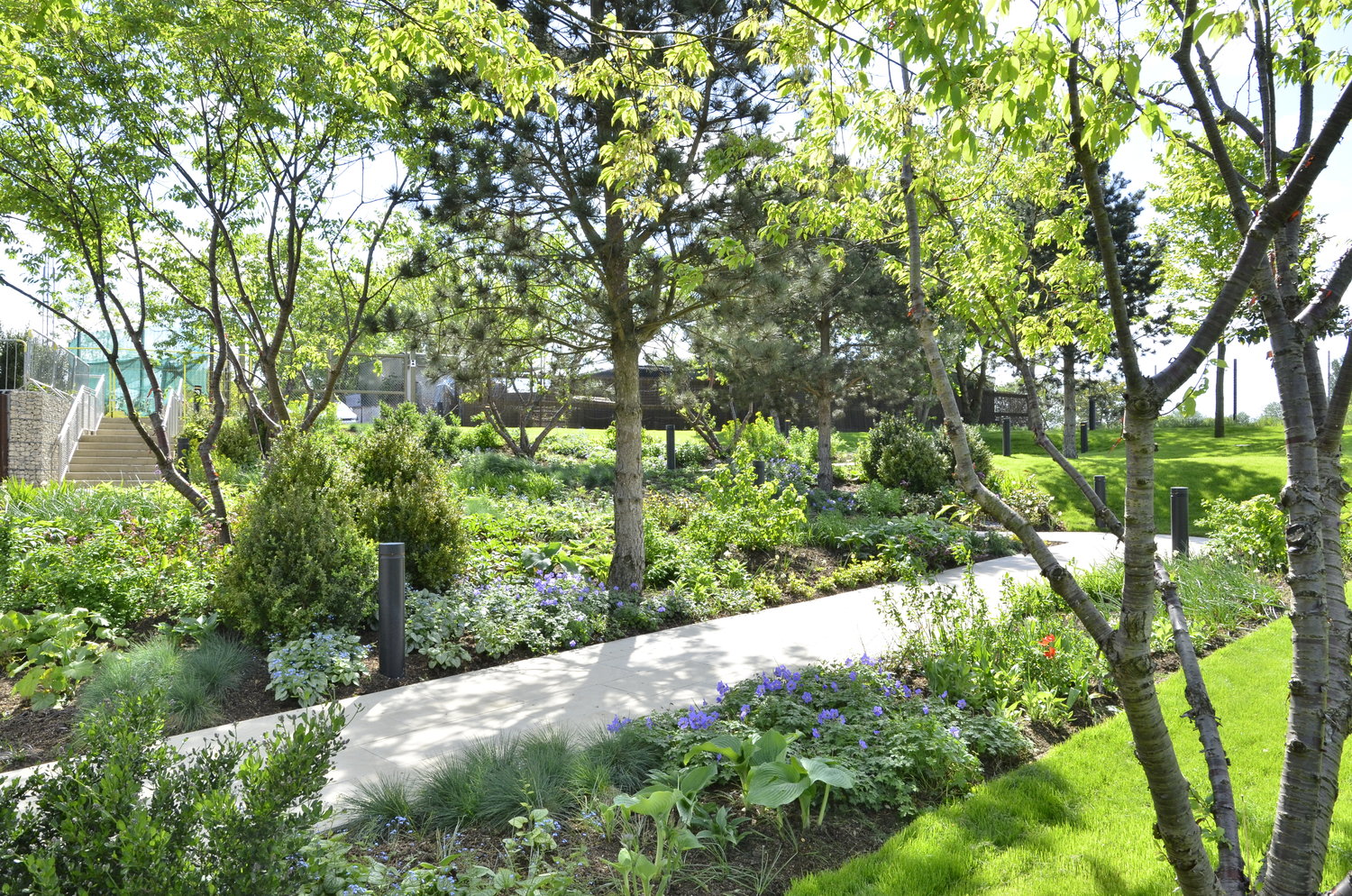 两条蜿蜒的小路将行人引向新员工停车场,周围是郁郁葱葱的斜坡植物群,上面种植有苔草、羽毛芦苇草等观赏草。
Two sweeping paths connect pedestrians to the new staff car park surrounded by lush, sloped planting beds brimming with ornamental grasses such as carex and feather reed grass.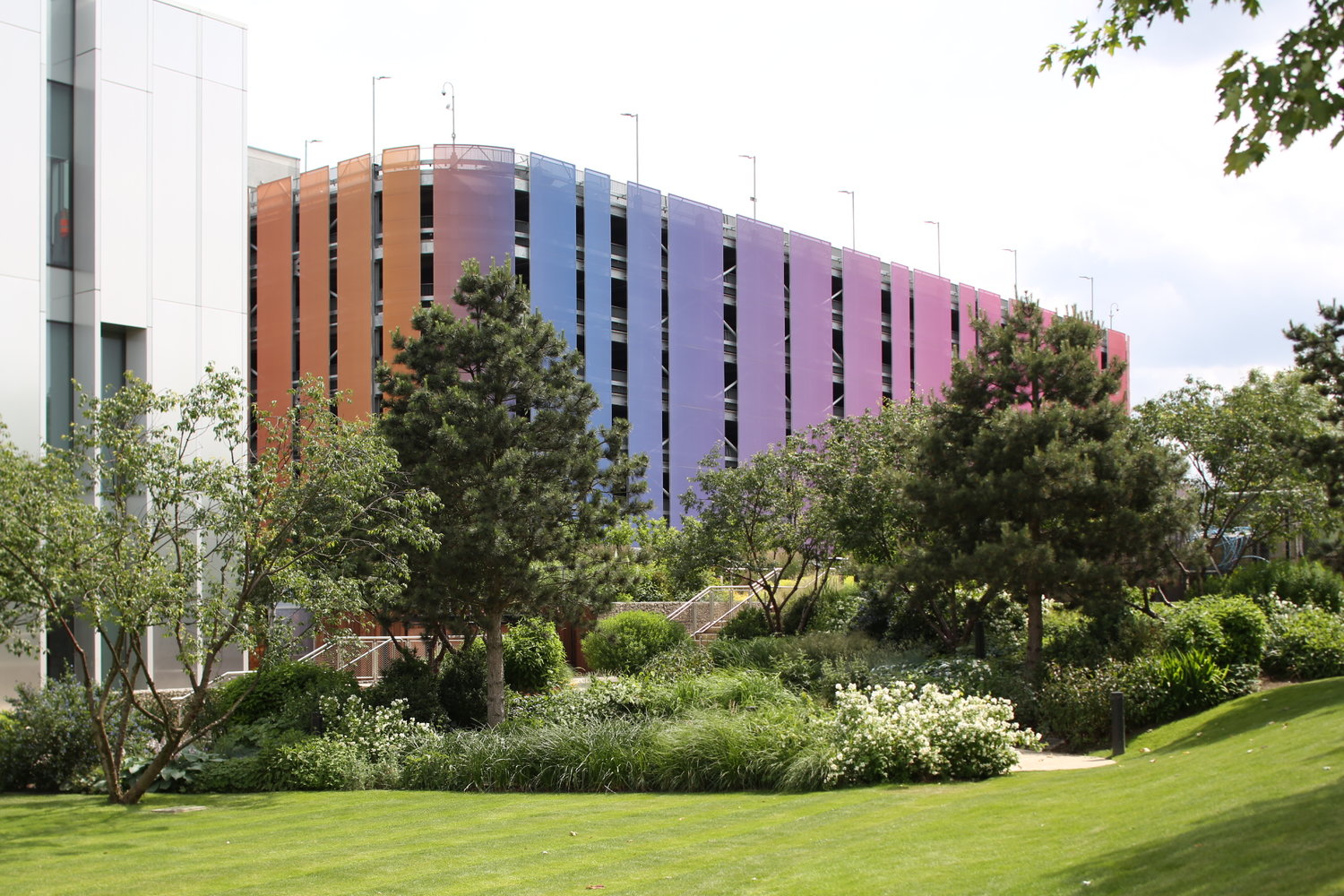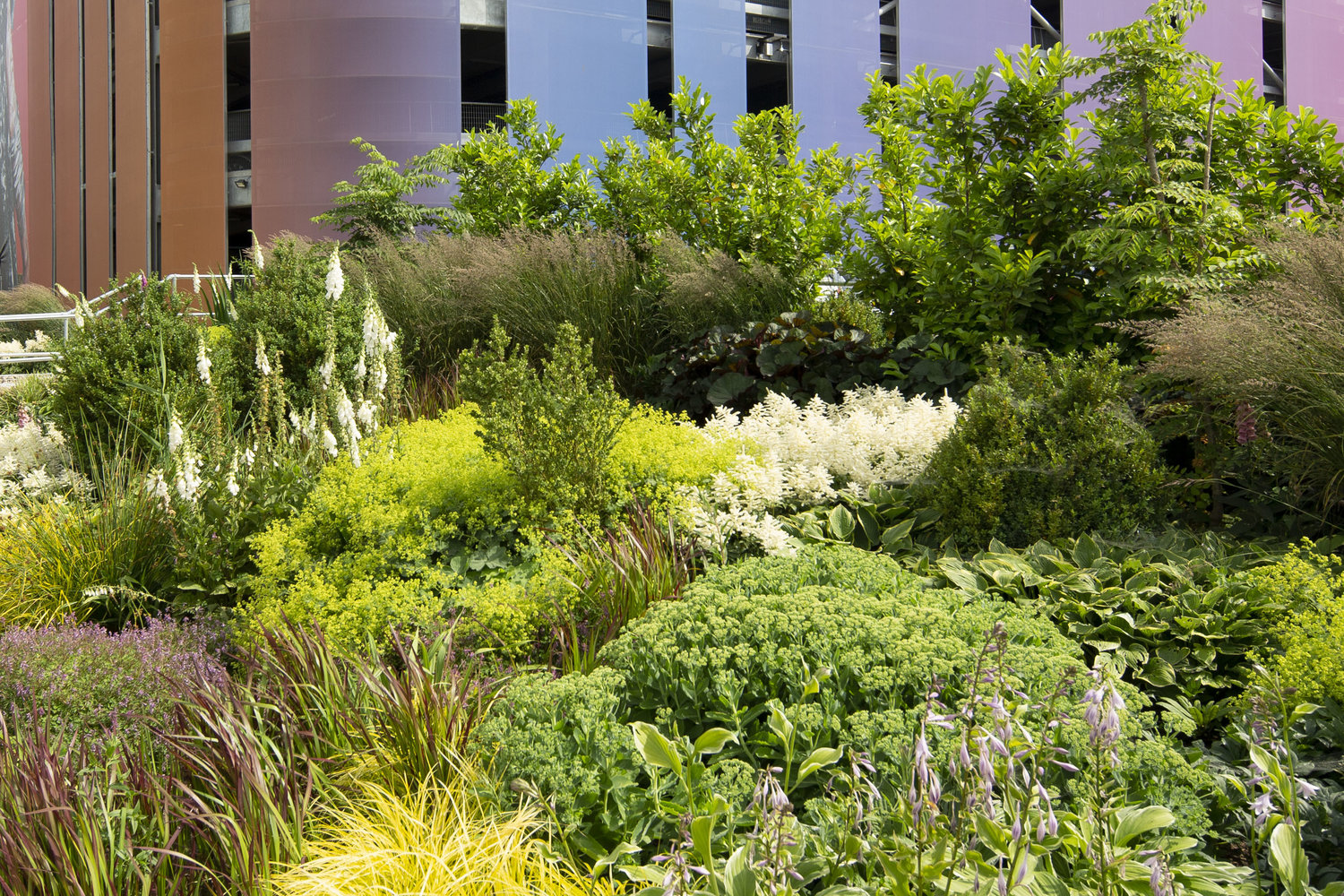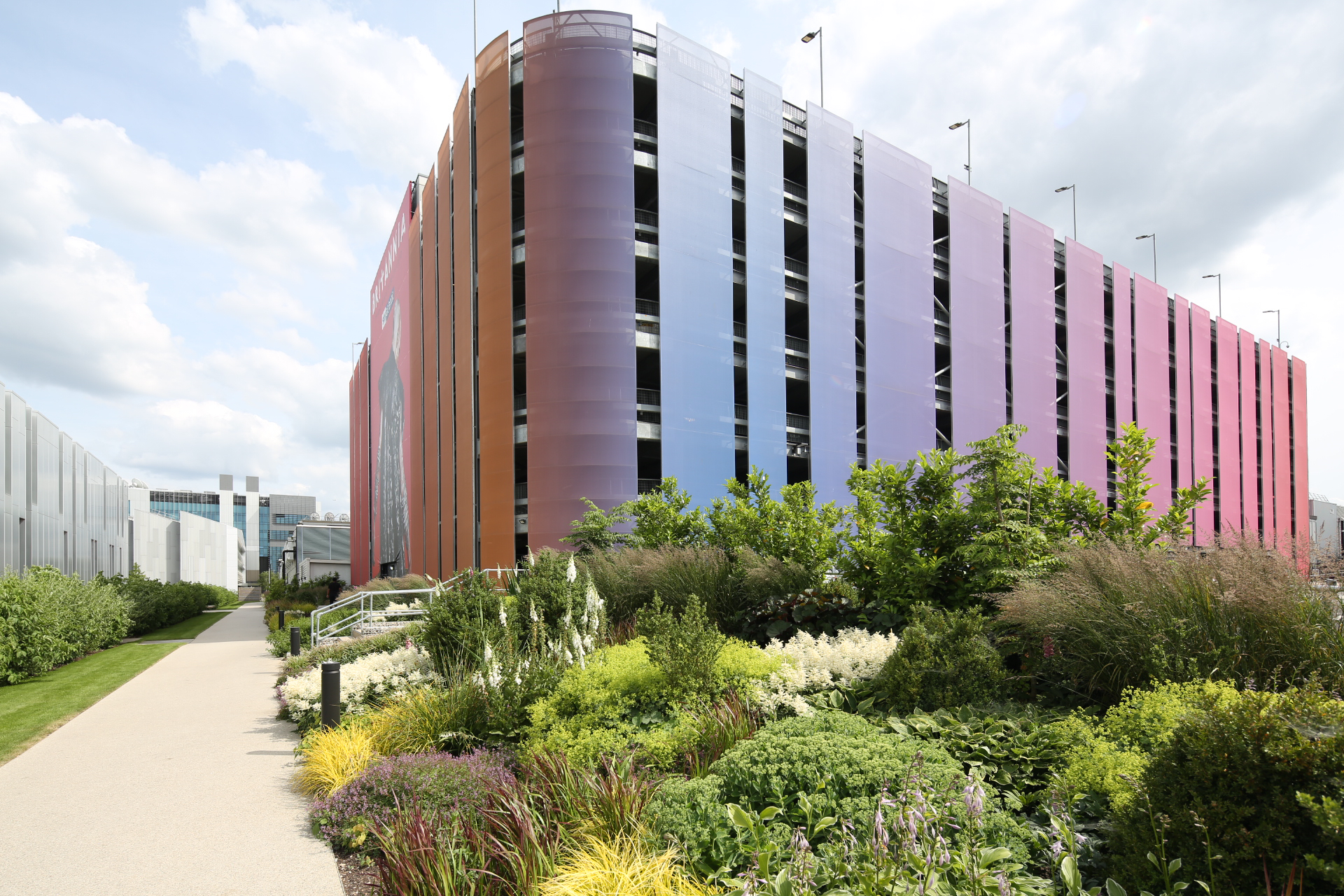 项目名称:天空电视台园区及南部堤区
完成年份:2017年
面积:天空电视台园区:5公顷;南部堤区:2600平方米
项目地点:英国伦敦
景观/建筑公司:Alexandra Steed URBAN
公司网站:http://www.alexandrasteedurban.com/
联系邮箱:info@alexandrasteedurban.com
总承包商:Mace
景观承包商:Careys and Gavin Jones
土木工程:Arup
无障碍顾问:Arup
照明设计:Arup
造价顾问:Aecom
安保:Arup
种植及苗木:Hilliers
客户:Sky UK Limited
图片来源:Alexandra Steed URBAN & Edward Denison
Project name: Sky TV Campus and Sky Southern Embankment
Completion Year: 2017
Size: Sky TV Campus: 5 hectares, Sky Southern Embankment: 2600 m2
Project location: London, UK
Landscape/Architecture Firm: Alexandra Steed URBAN
Website: http://www.alexandrasteedurban.com/
Contact e-mail: info@alexandrasteedurban.com
Main Contractor: Mace.
Landscape Contractor: Careys and Gavin Jones.
Civil Engineer: Arup.
Accessibility Consultant: Arup.
Lighting Designer: Arup.
Cost Consultant: Aecom.
Security: Arup.
Tree and planting nursery: Hilliers.
Clients: Sky UK Limited
Photo credits: Alexandra Steed URBAN & Edward Denison
更多 Read more about:Alexandra Steed URBAN