2021: 斯特拉尼克是一座小山,可以很好地看到斯洛伐克西北部的工业城市——西里纳。自20世纪30年代以来,斯特拉尼克山一直被用于滑翔机运营。人们可以在好天气里欣赏风景,也可以看到罗加略、滑翔伞和滑翔机起飞。山顶是受保护的国家遗产——这里有一座大约公元前10-12世纪建造的山堡。虽然这里还没有复杂的考古发掘和研究,但这只是时间问题。
2021: Straník is a hill with an excellent view  of Žilina – an 80 thousand industrial city in the Northwest Slovakia. Since the 1930's the hill of Straník has been used for flying gliders. In a favorable weather, one can enjoy the view as well observe rogallos, paragliders and gliders taking off. The crest of the hill was a protected national heritage site – around 10th – 12th century B.C. a hill-fort had existed here. Although no complex archeological excavations and research have taken place here just yet, it is only a matter of time.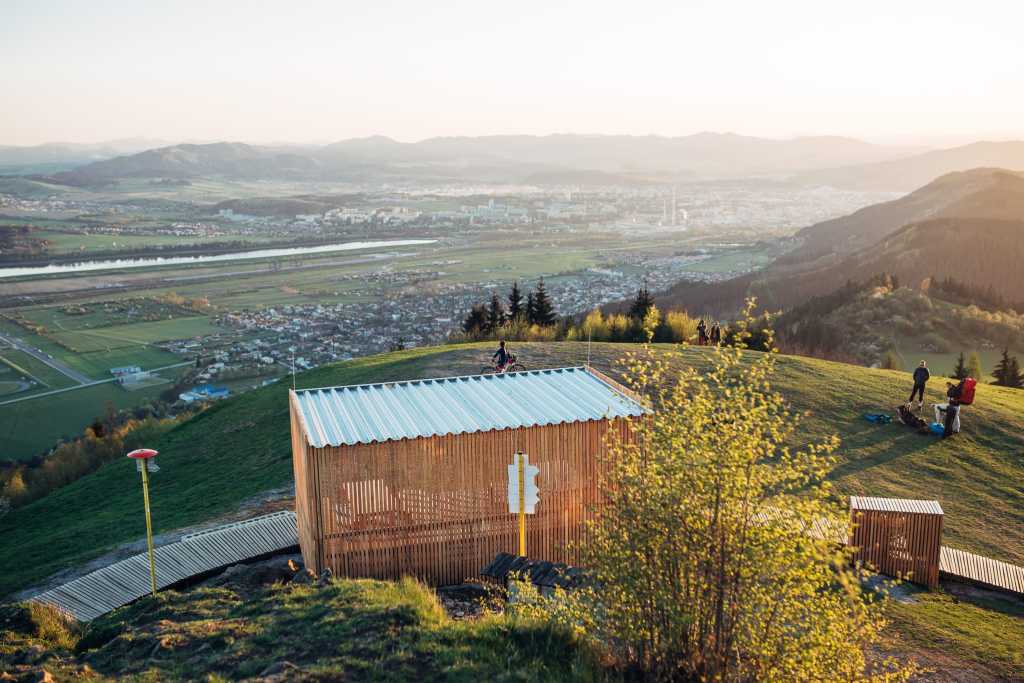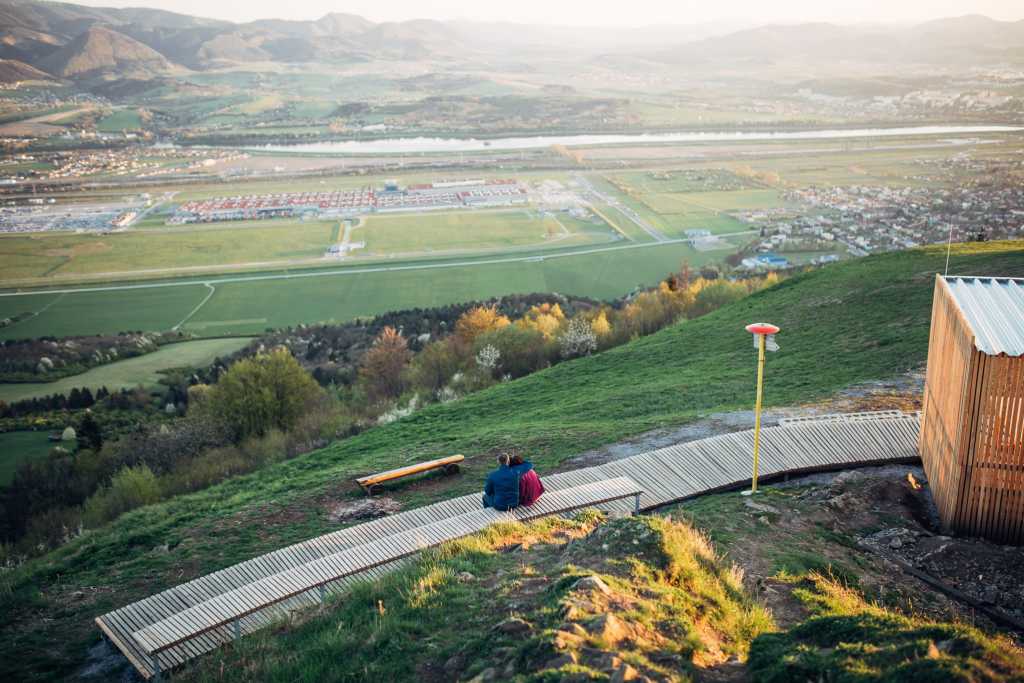 2021和LABAK规划了现有的基础设施——路径、临时住所和长凳,并将其转换成当代的建筑语言。
人行桥旨在可控地引导游客的游览路线,同时为行动不便的游客提供一条通往山顶的便捷通道。人行桥悬浮在地面上,唯一与地面的接触是通过接地螺钉。可以在需要时调整或移动它。
2021 and LABAK mapped the existing infrastructure – the pathway, provisional shelter and the bench and translated it into contemporary architectonic language.
The subtle footbridge aims to controllably manage movement of tourists, away from the flying, and at the same time provide an easy access to the top of the hill for visitors with limited mobility. The footbridge levitates above the terrain and the only physical contact is through ground screws.In case a need emerges, it can be adjusted or moved.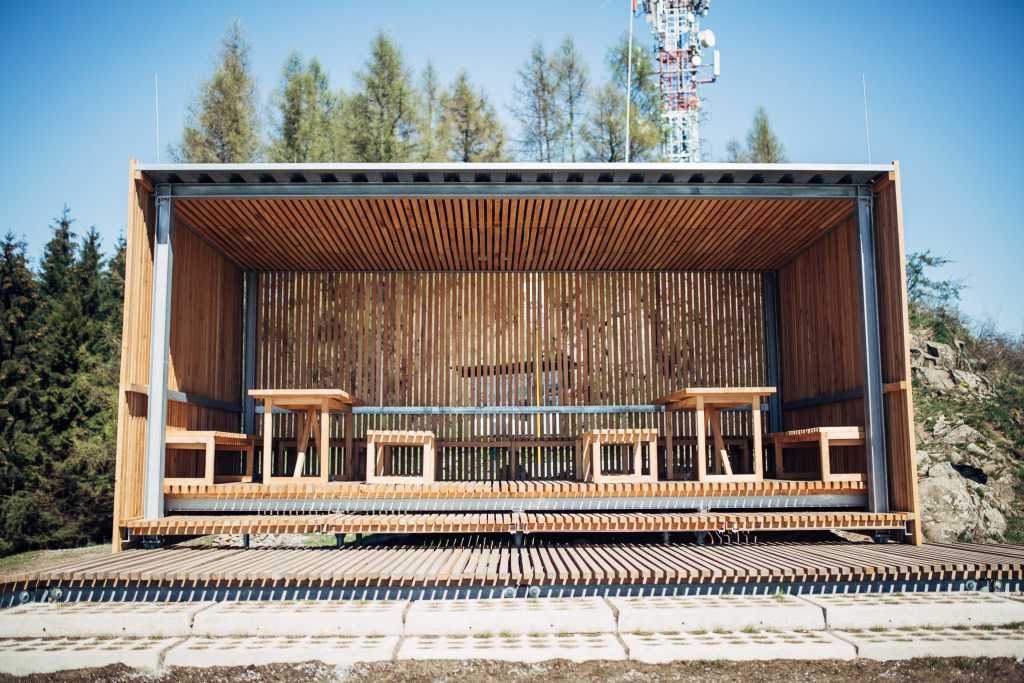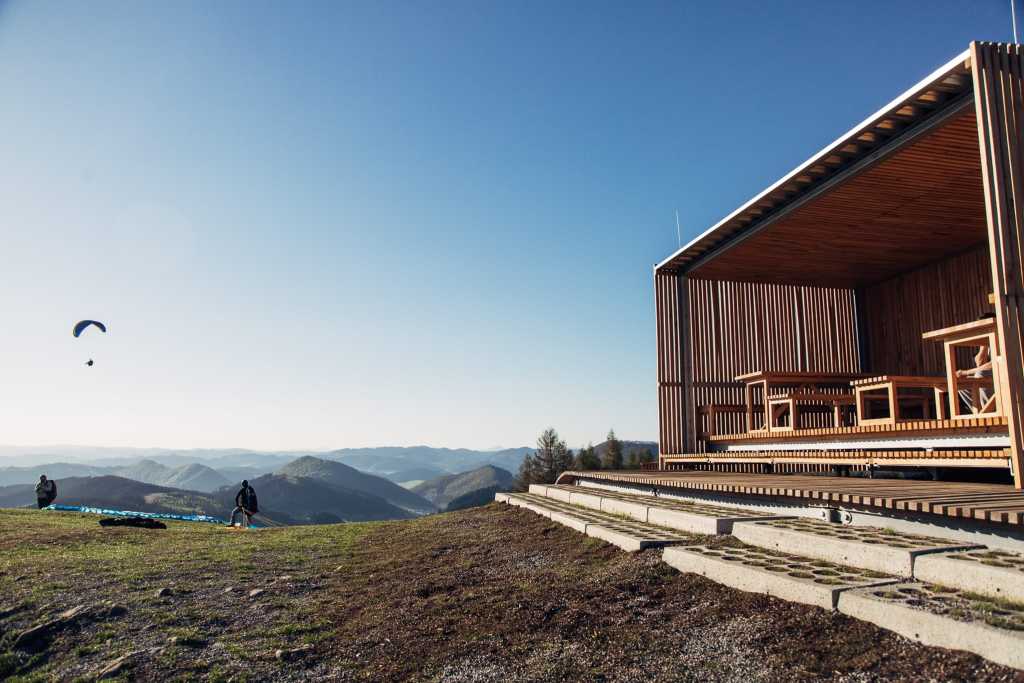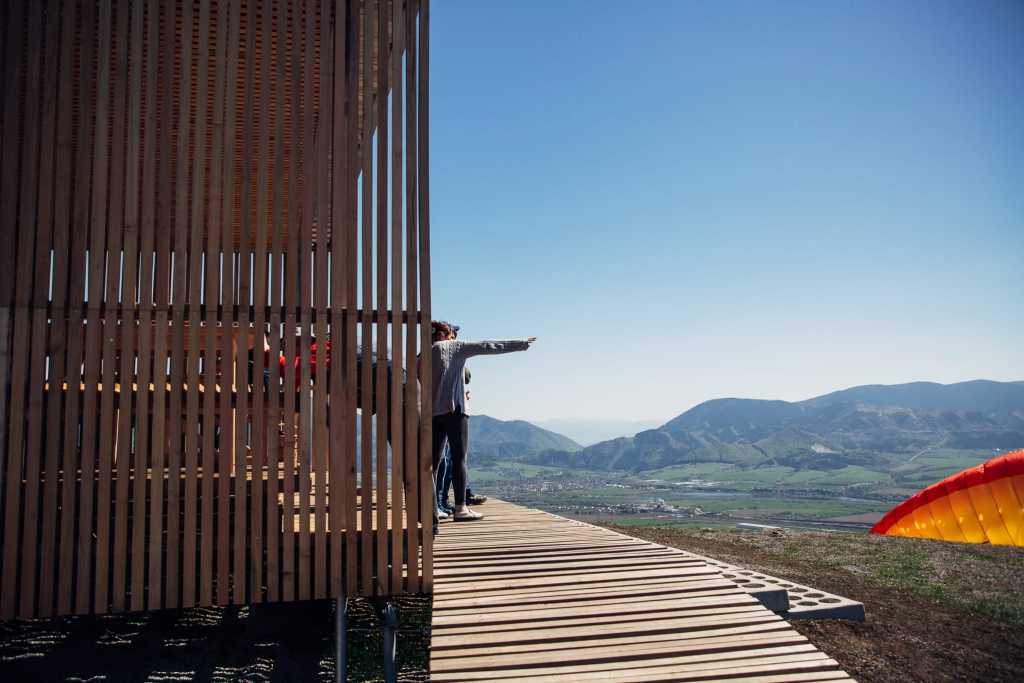 ©Jana Makroczy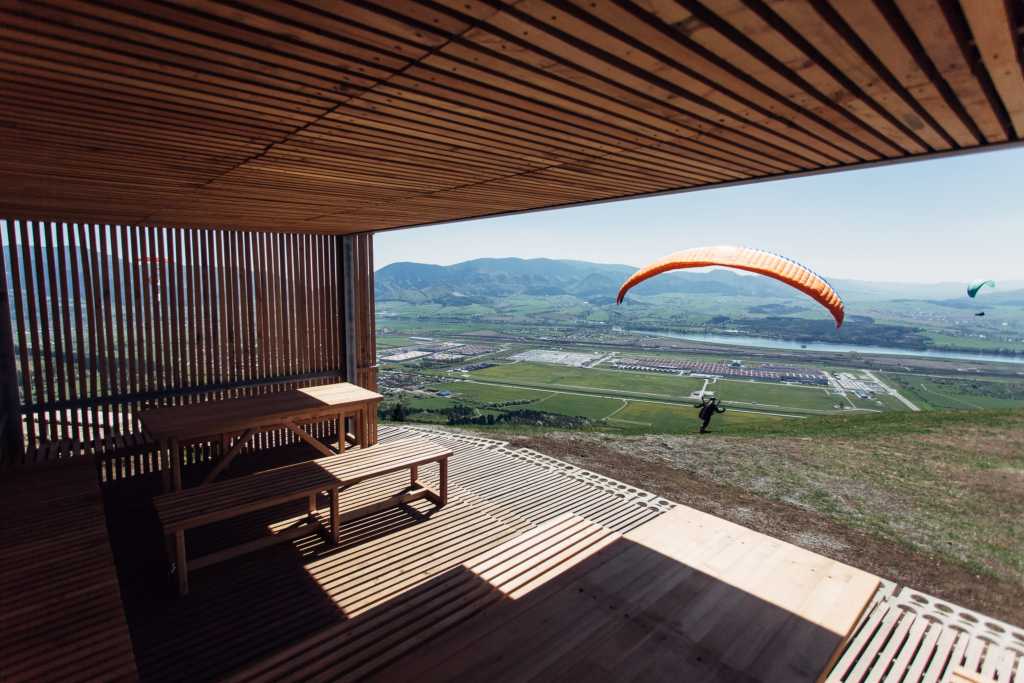 在最后延伸至山顶的地方,人行桥是中断的,以便为木材采伐提供通道。然后,它继续延伸到一个休憩所的屋顶,在那里游客可以看到罗加略、滑翔伞和滑翔飞机起飞的画面,同时还可以在附近的食品摊上吃香肠。沿着小路上的长凳走到尽头,游客可以坐在那里欣赏法特拉山脉和国家公园的全景以及Žilina的汽车工厂。
这个项目使用了当地的刺槐木材,这种木材无需维护,对蠕虫和不断变化的天气有良好的弹性空间。
In the last stretch to the crest of the hill, the footbridge is discontinued in order to allow passage for the timber-logging logistics. Then it further continues to a shelter roof, from where visitors can observe the picturesque images of rogallos, paragliders and gliding planes taking off and flying above the landscape, while munching on a sausage from a near-by food stall. The pathway leads visitors to its end with a bench, where they can sit and enjoy the panoramic view of Small Fatra mountain range and national park, as well Žilina's car factory.
This project used local black locust wood, which is maintenance-free, resilient to vermins as well as to changing weather conditions.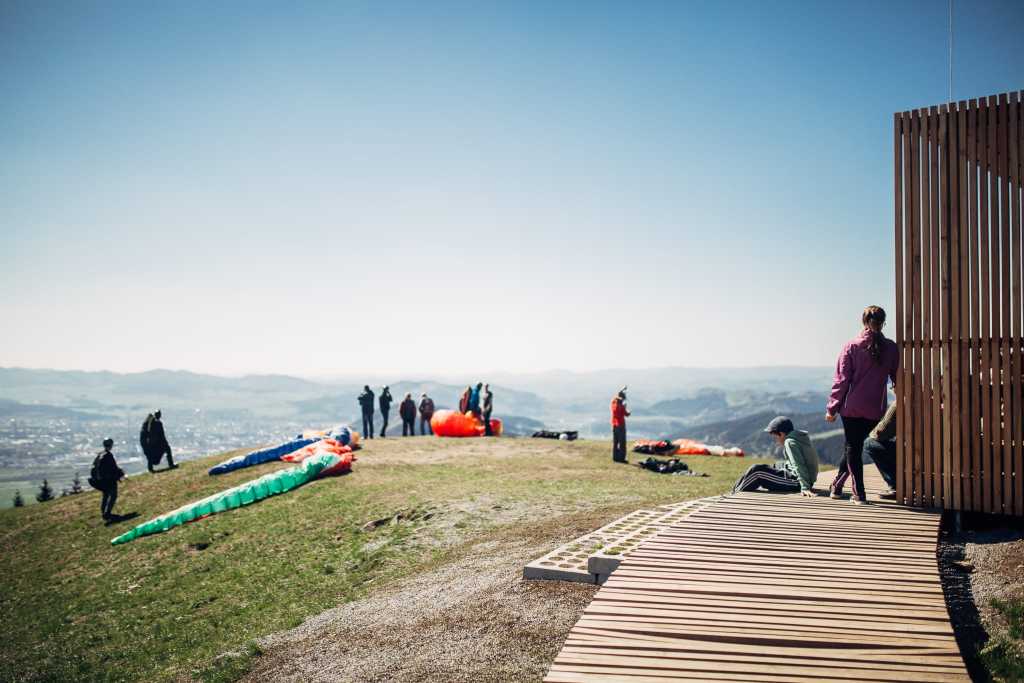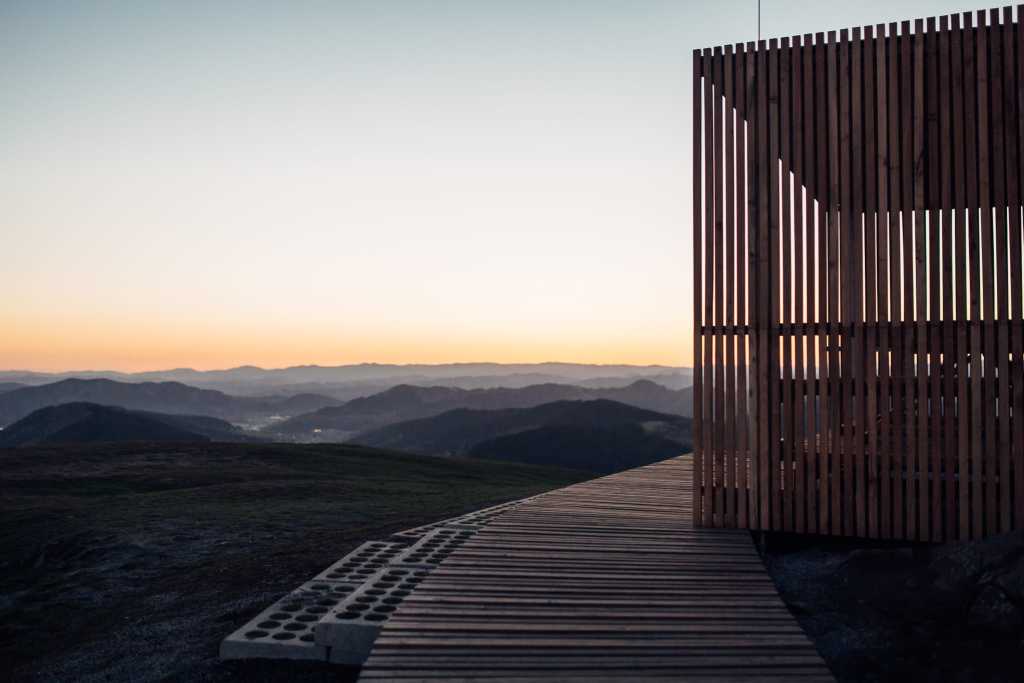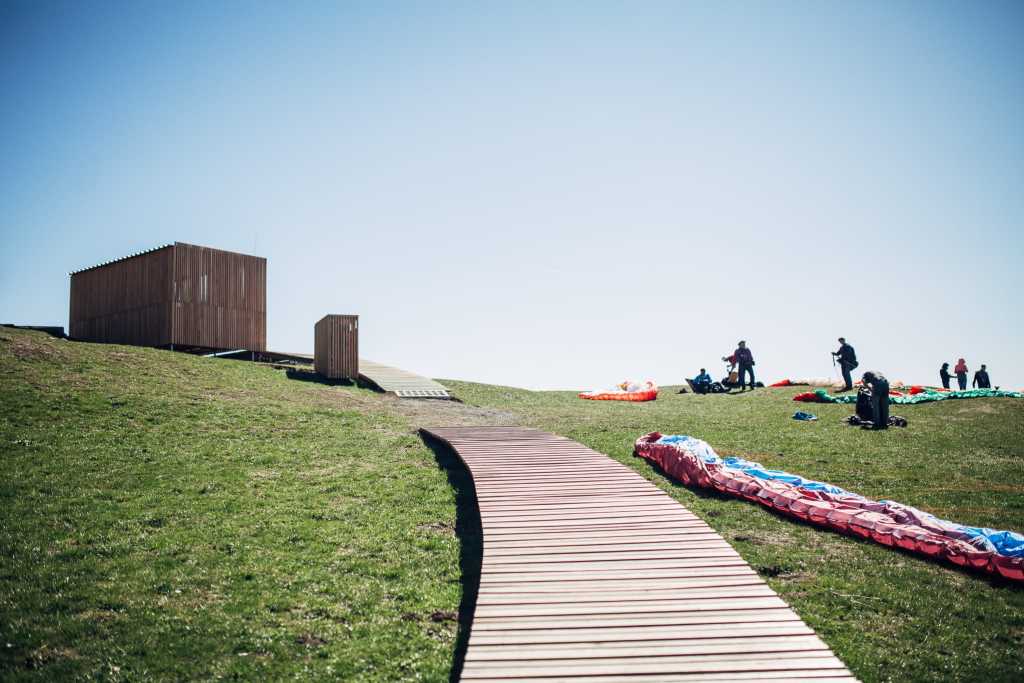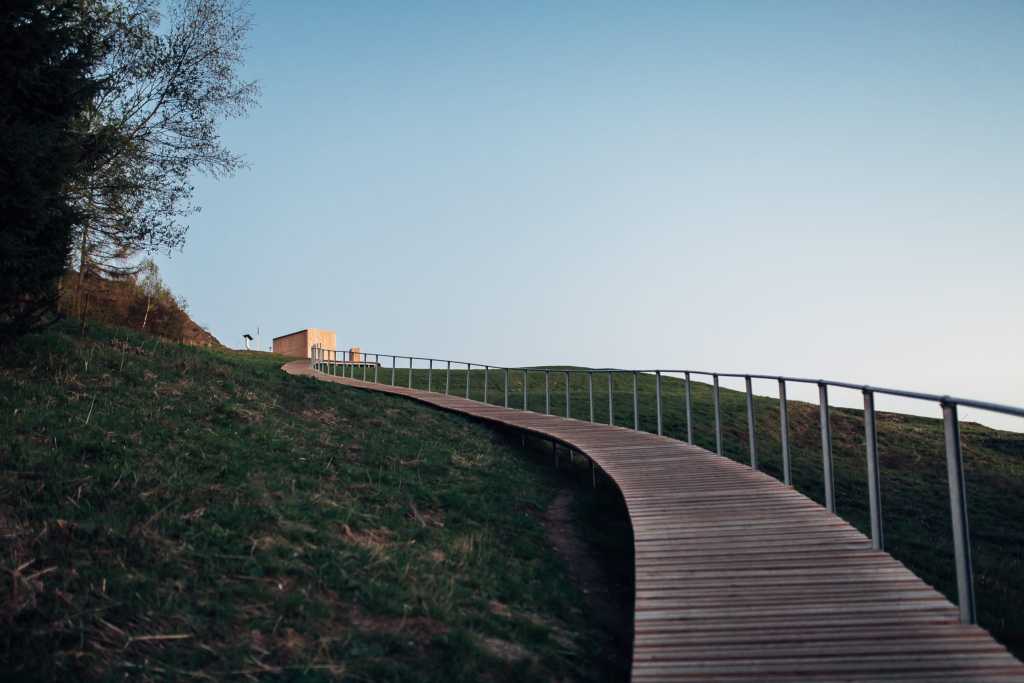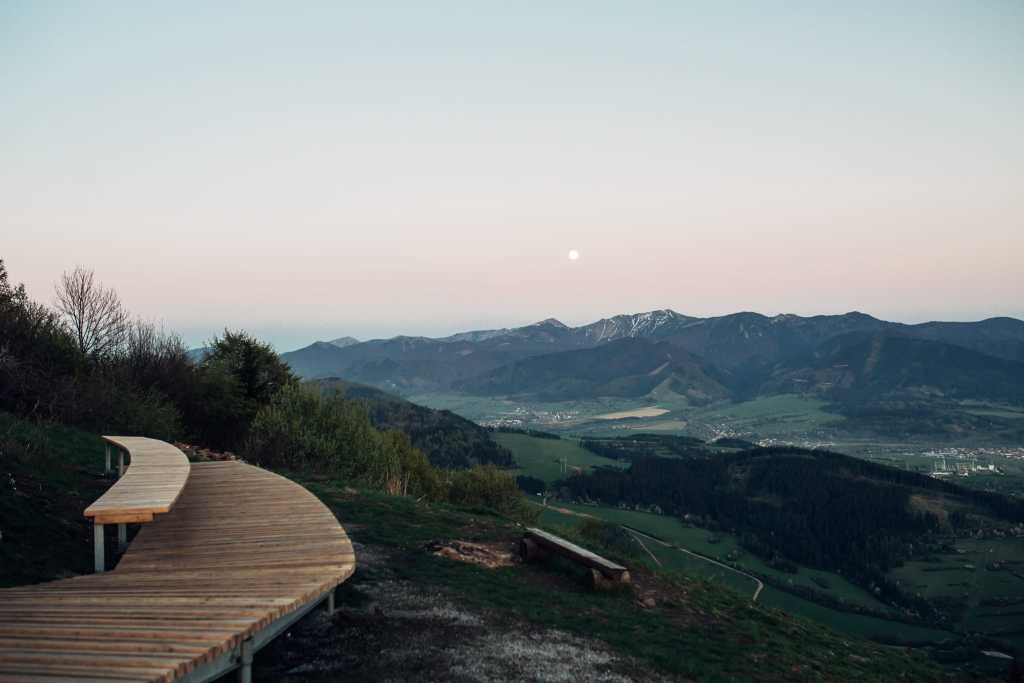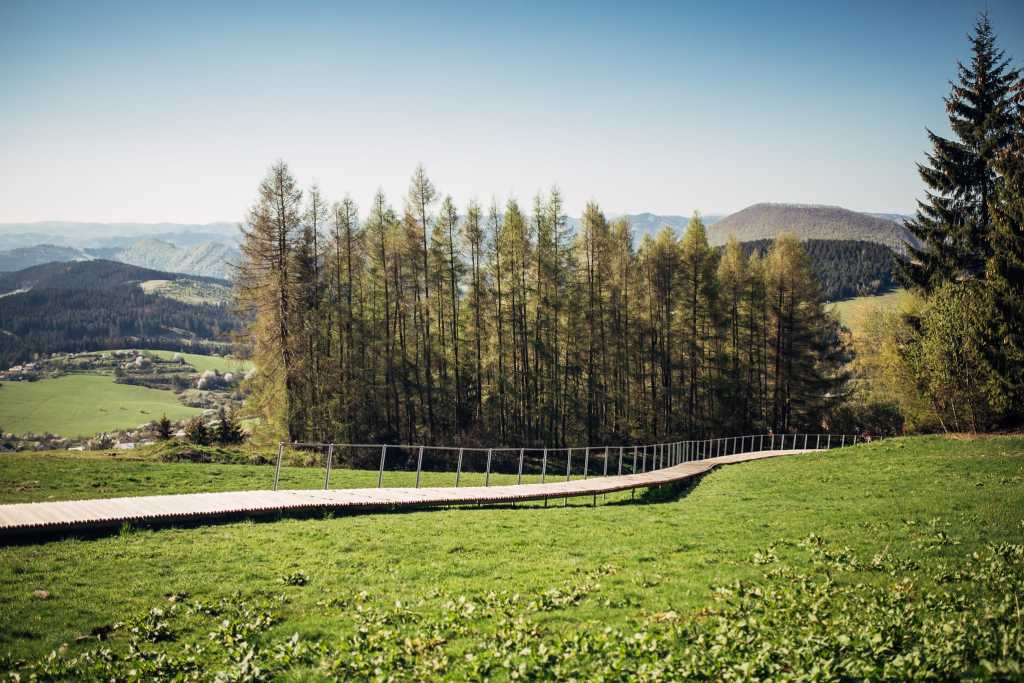 ©Jana Makroczy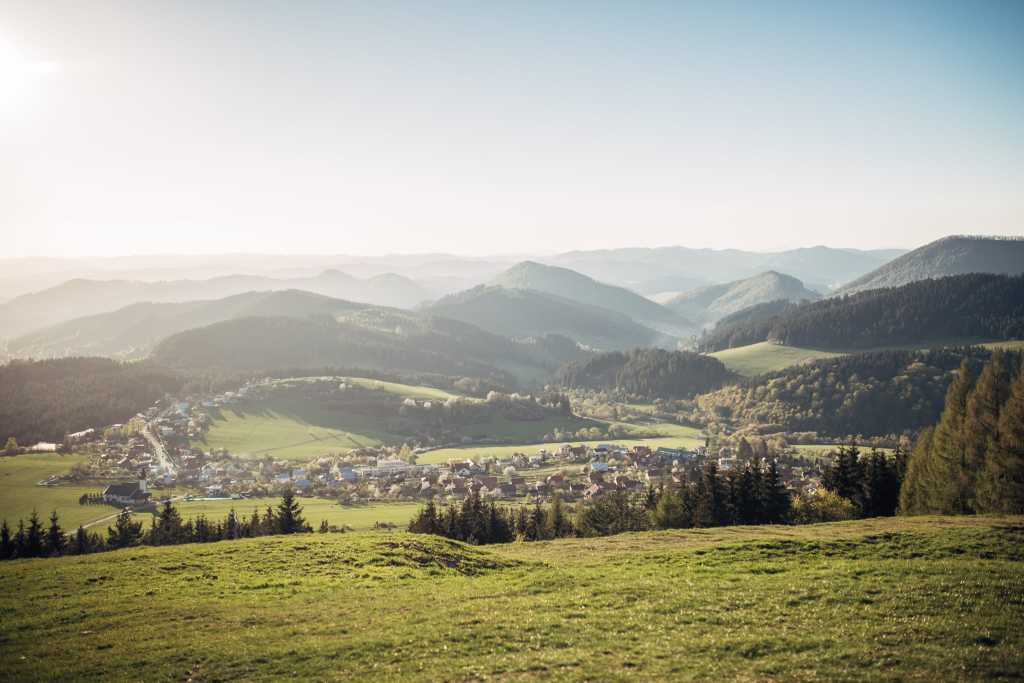 轴测图  Axonometric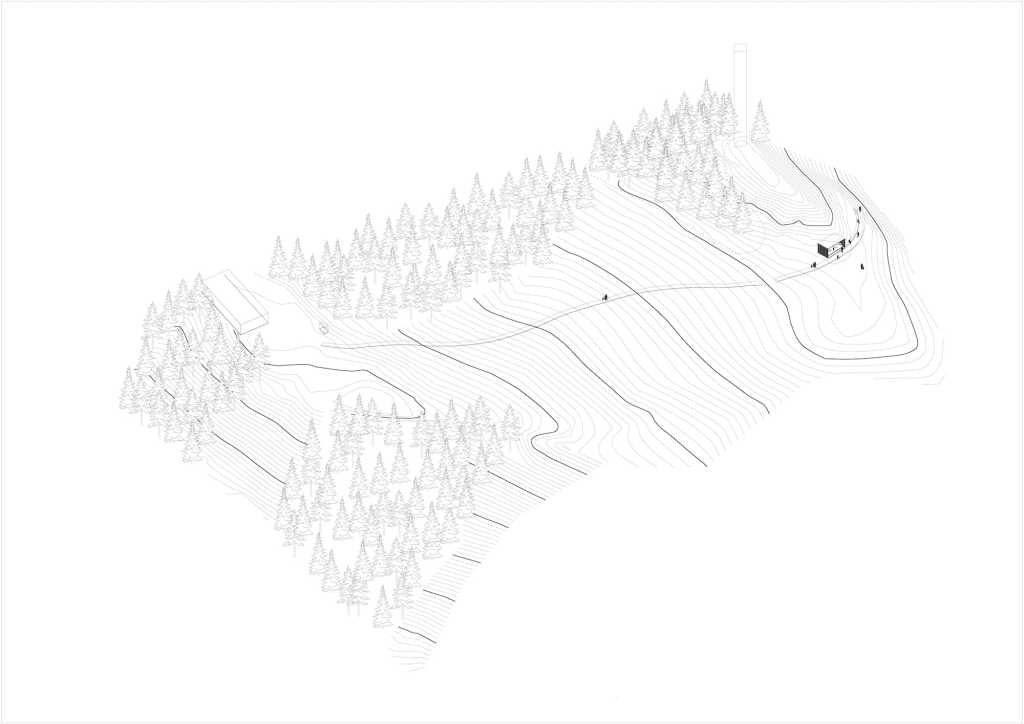 项目名称: 斯特拉尼克山的人行桥、休憩所和长凳
建筑设计:
-2021 :Peter Lényi, Ondrej Marko, Marián Lucký
-LABAK: Michal Marcinov, Andrej Badin, Zuzana Demovičová
项目地点: 斯洛伐克西里纳的斯特兰尼克山
完成年份: 2016年
总建筑面积(平方米或平方英尺) : 1227平方米
照片版权: Jana Makroczy
其他参与者(如合作者、客户、顾问等) :
客户: Small Fatra区旅游局——由西里纳市、其他8个城市和16家私营公司创建的组织
建设公司: SOAR
品牌/产品
1. 来自某个锯木厂的刺槐木材
2. 接地螺钉/Krinner
3. 镀锌钢——供应商未知,SOAR有自己的材料工厂,他们在那里加工钢
Project name: Footbridge, shelter and bench on Straník hill
Architects: 
-2021: Peter Lényi, Ondrej Marko, Marián Lucký
-LABAK: Michal Marcinov, Andrej Badin, Zuzana Demovičová
Project location: Straník hill, Žilina, Slovakia
Completion year: 2016
Gross Built Area (square meters or square foot): 1. 227 sqm 
Photo credits: Jana Makroczy
Other participants (eg. collaborators, clients, consultants, etc): 
Client: District Tourist Board Small Fatra – an organization founded by the city of Žilina, 8 other municipalities and 16 private companies 
Construction company: SOAR
Brands / Products
1. black locust wood from some unknown sawmill
2. ground screws / Krinner
3. galvanized steel – we do not know the supplier, SOAR has its own metal workshop, the have worked the steel there 
更多 Read more about:2021