本文由 Carlos Castanheira Architects 授权mooool发表,欢迎转发,禁止以mooool编辑版本转载。
Thanks Carlos Castanheira Architects for authorizing the publication of the project on mooool, Text description provided by Carlos Castanheira Architects.
Carlos Castanheira Architects:走在Serralves的步道上就像穿越时空。新的步道补足了现有步道的不足之处,穿梭在美丽的森林公园的树冠之间。步道从公园最东端"电影院之家"开始,缓缓地上升,把我们带到了树冠上,地面渐渐远离我们的脚下,仿佛向天空延伸。
Carlos Castanheira Architects:A visit to Serralves is always a walk through space, in time or in the time of space. Creating a new walk that complements the existing ones, could only be IN THE CANOPY of the beautiful and imposing trees of the Park. The walk starts at the furthest eastern end of the Park – just where the "Casa do Cinema" is now being built – it rises gently, bringing us up into the tree canopy, as the ground runs away beneath our feet, it rises skyward.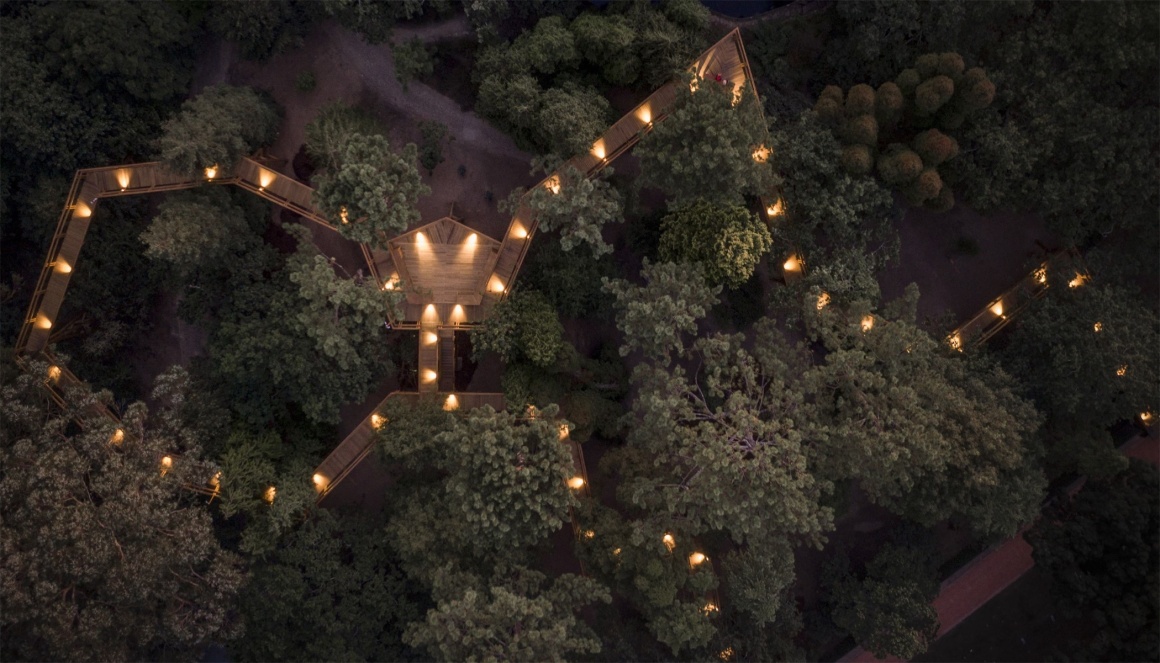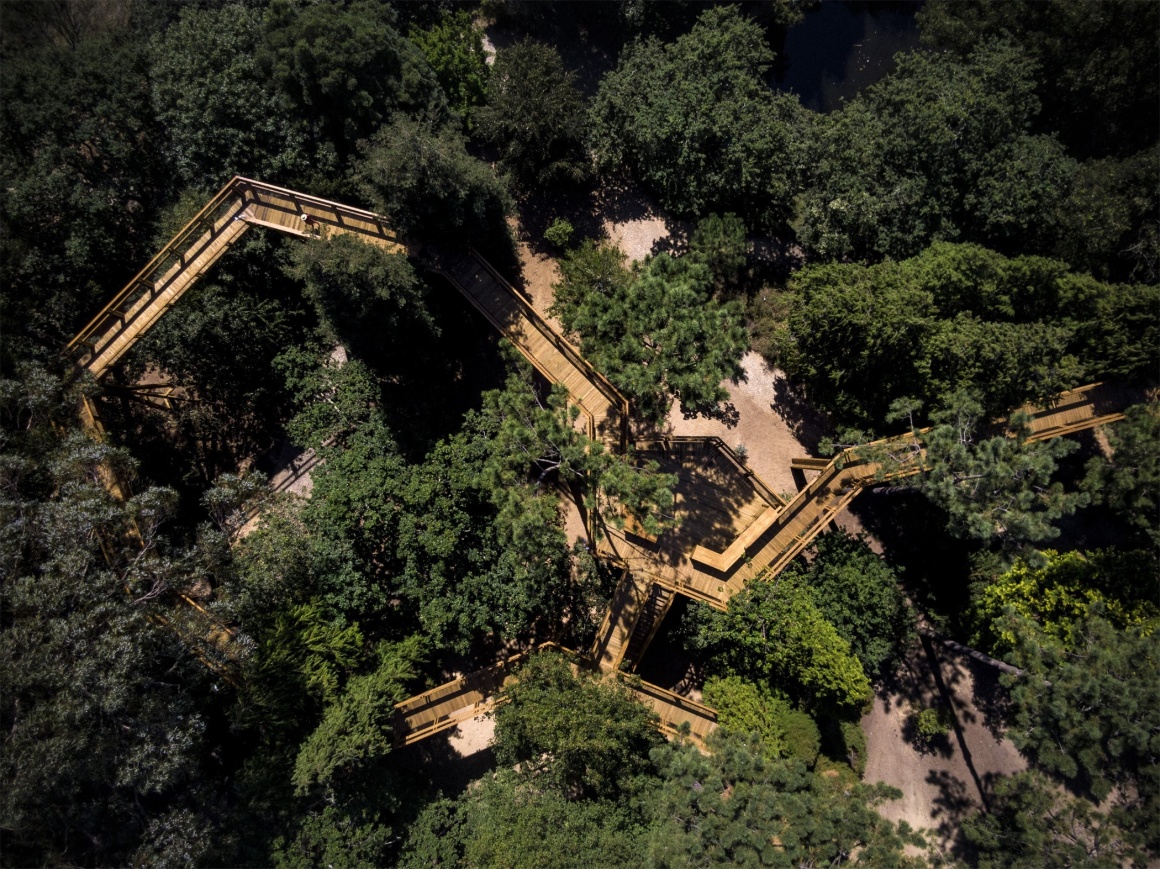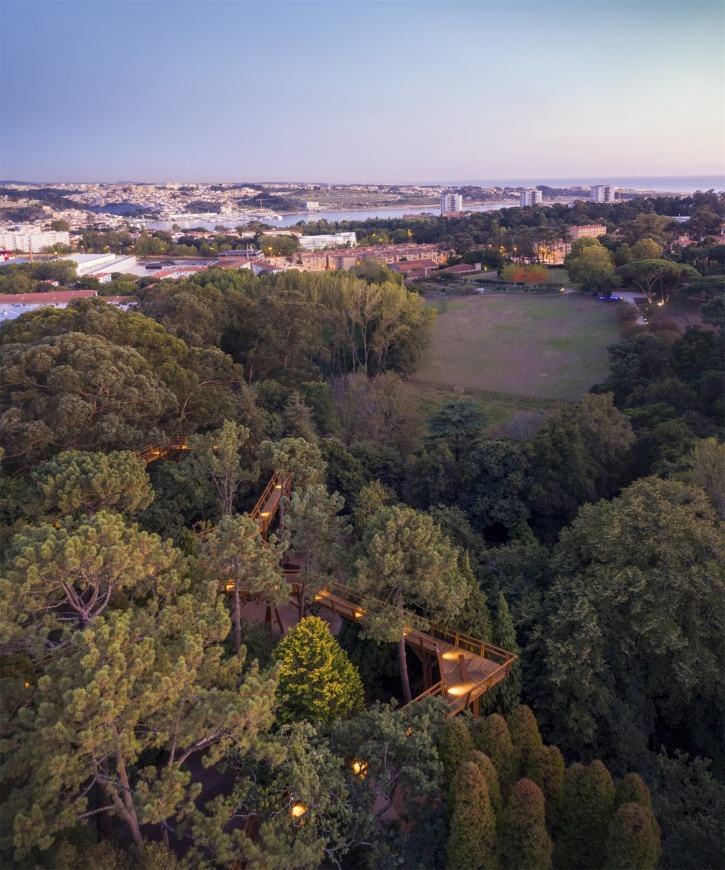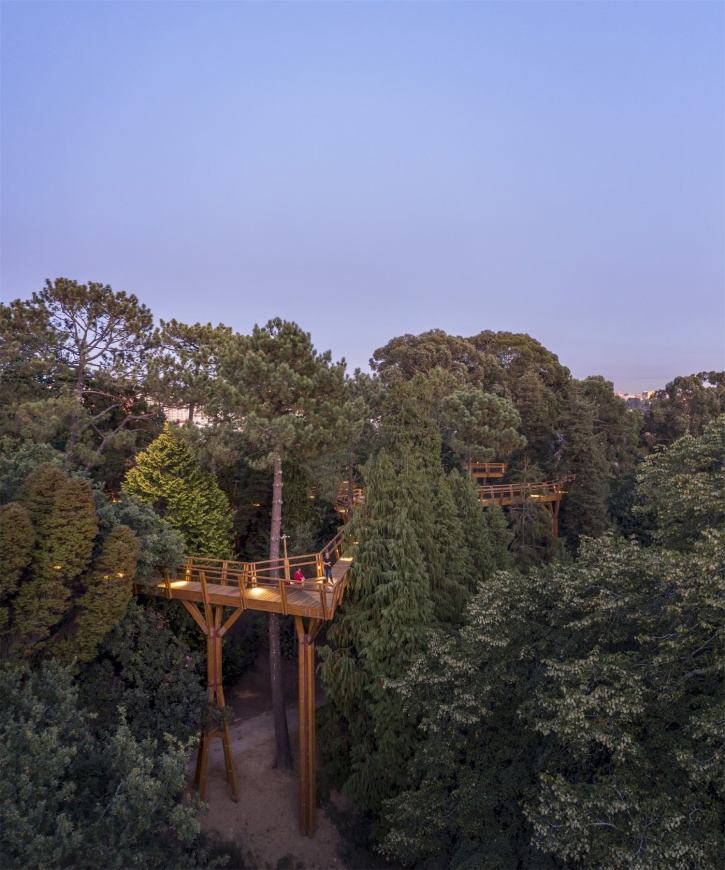 步道通向一棵橡树,没有触碰它,而是绕过它粗糙的软木皮树干,继续延伸向一棵优雅的红杉。在步道上行走的感觉就像飞翔一样,可以看到喂鸟器、害羞的野鸽子、在树枝间攀爬的画眉鸟,还有一只似乎在空中跳跃的松鸦。我们听到啄木鸟在树上搜寻昆虫时发出的啄木声。我们知道一棵树本身就是一个世界,充满了生命,丰富而复杂。我们停在可以休息的地方,观察它们。
We approach a cork tree, without touching it, we go around its rough cork trunk and continue on towards an elegant sequoia. Almost flying ourselves, we approach some bird feeders. We catch sight of a shy wild pigeon, a blackbird clambering between branches and a jay that appears to be hopping through the air. We hear the hammering of a woodpecker as it searches out insects from the bark of a tree. We understand that a tree is a world in itself, full of Life. A diverse and complex Life. We stop at the points where we can take a rest and spy on the life that is taking place in the tree canopy.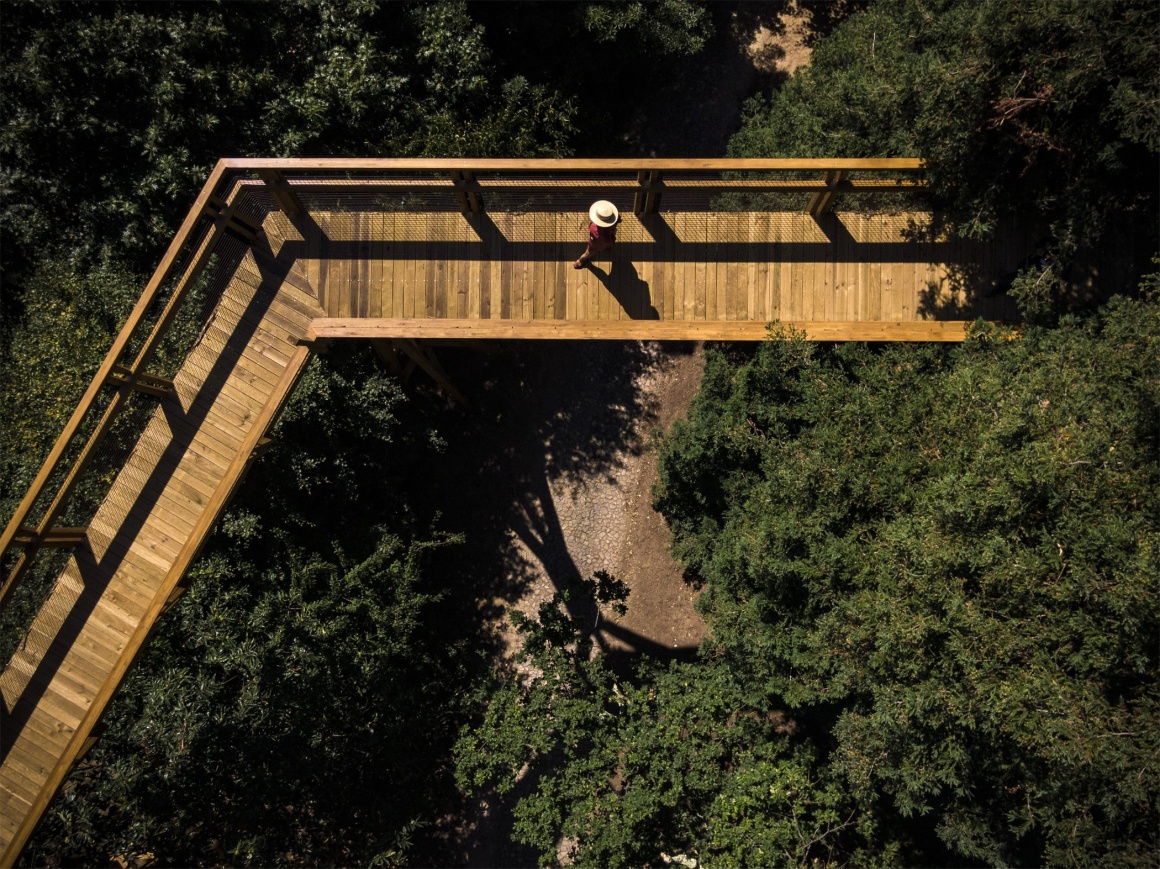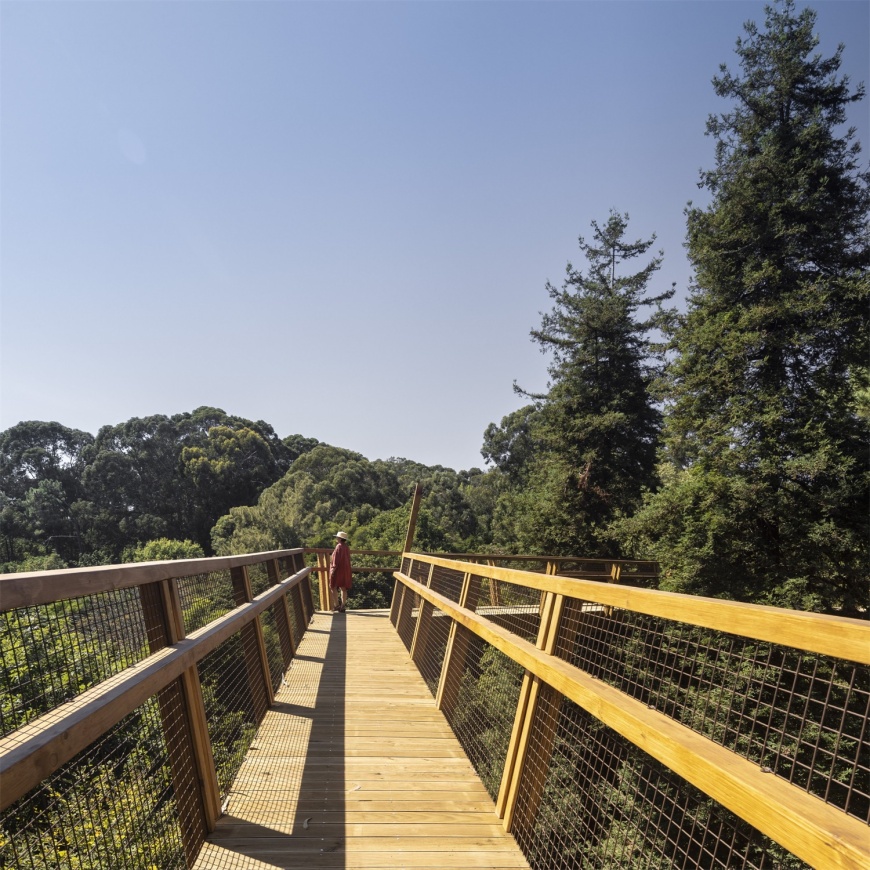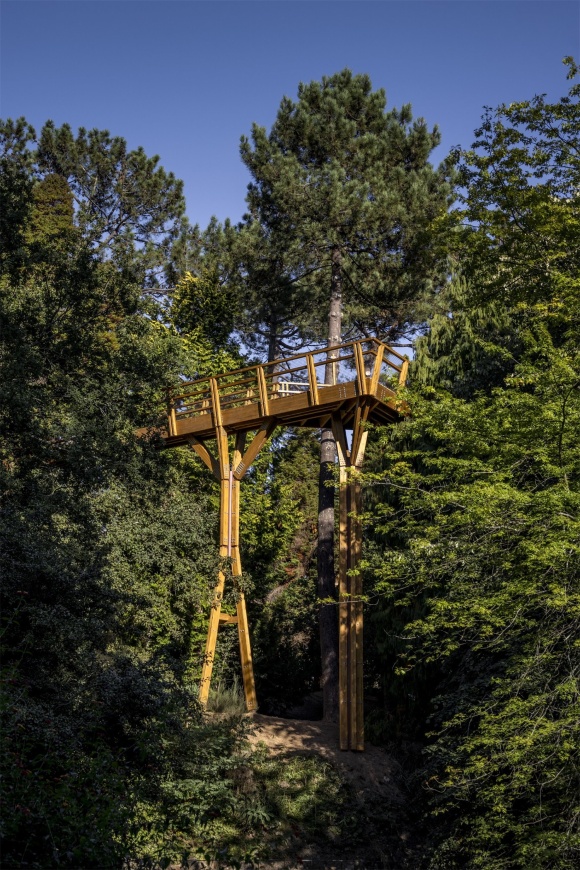 我们遇到一群学校的孩子,他们不停地提问题,渴望满足自己的好奇心。一个家庭在步道上散步,最小的孩子正从婴儿车里往外看,老人则坐在轮椅上欣赏。在这里很容易就能享受散步的乐趣,并把自己融入环境。在圆形剧场空间里能听到一名导游向人们讲解一路上动物和植物的一些细节。路人驻足徘徊,认真享受。
We cross paths with a group school of children, their questions produce a tremendous chirping sound as they look for answers to satisfy their curiosity. One family, represented by all its generations is passing along the walkway; the youngest looking out of a pram, while the oldest uses a wheelchair. It is easy to enjoy the walk and take it all in. In the amphitheatre space, a guide addresses a group, explaining some detail of the fauna and the flora of the route. Passers-by stop and linger. They take it all in.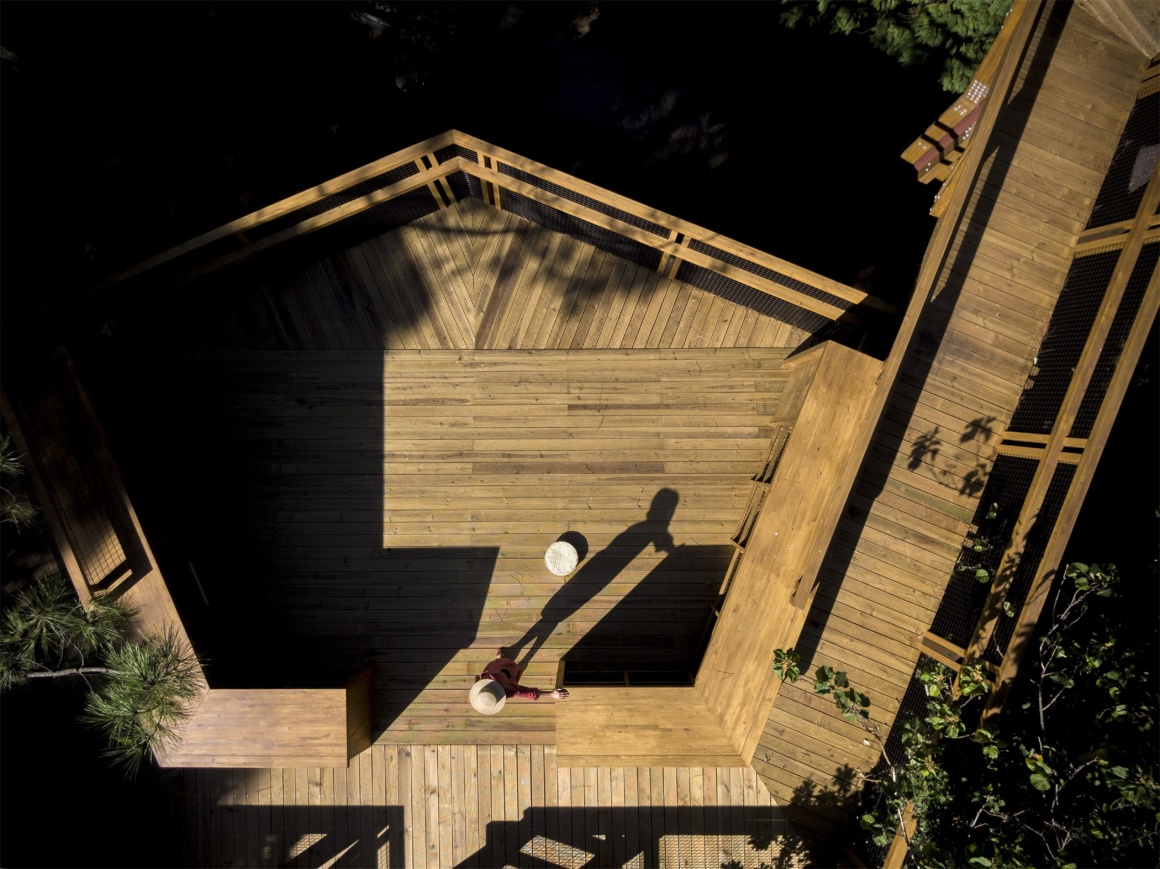 我们现在的位置很高了,是公园的树冠高度。我们在寻找新的、从未见过的、从未感受过的景色,我们渴望看到杜罗岛的全景和无限的大西洋,无论多么短暂。
We are now quite high up; such is the height of the Canopy in the Park. We search for new, never seen, never felt views and we long for, however brief, some panoramic view of Foz do Douro and the infinite Atlantic.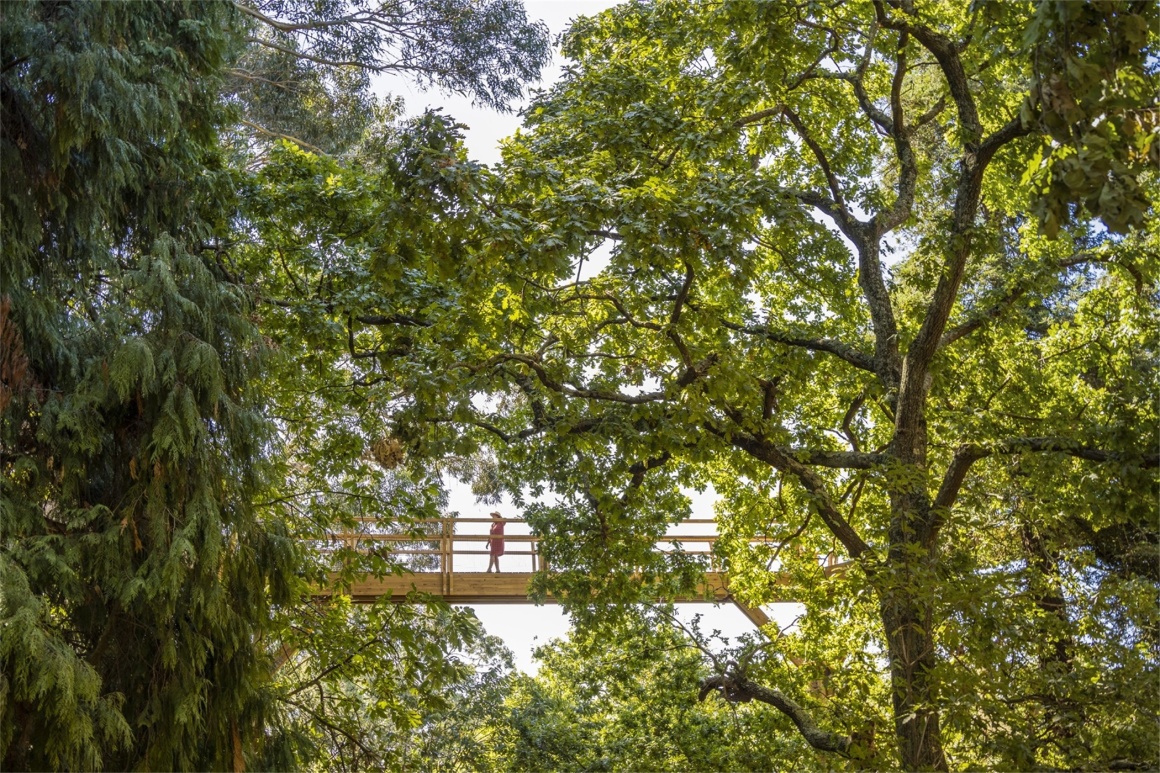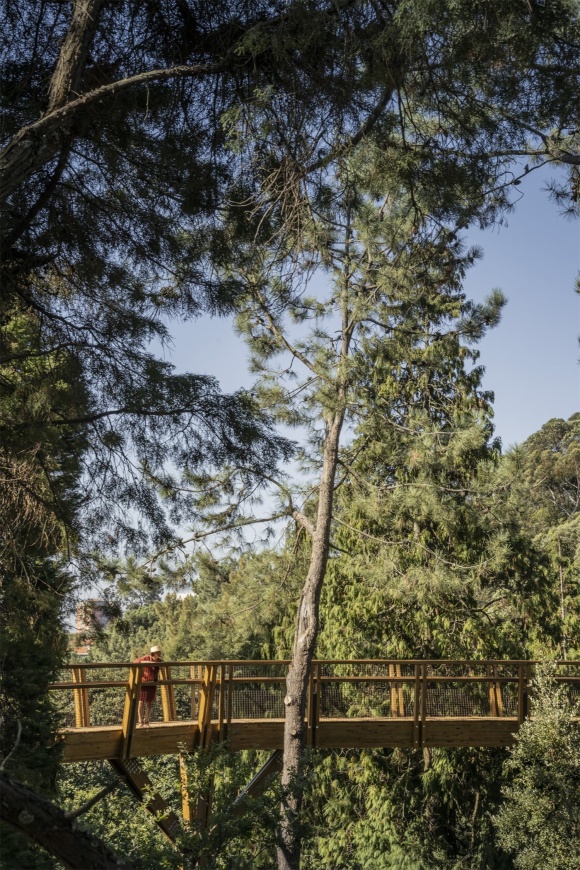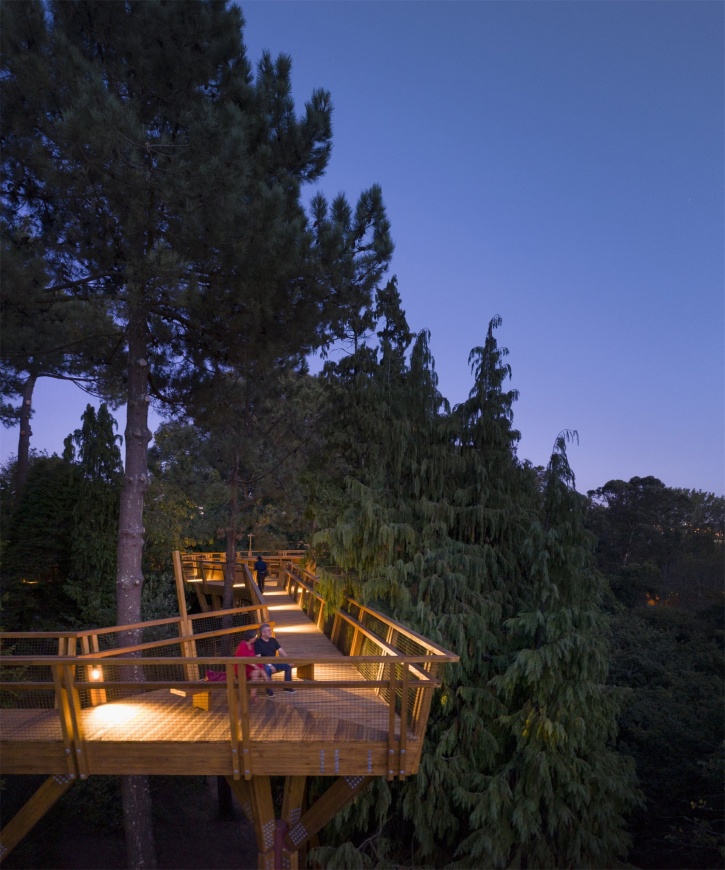 我们在木板上行走,几乎所有的东西都是木材。结构、走道、栏杆与树干、树枝融为一体。随着时间的推移,它会变得越来越相似,人行道最终会像它一直都在这里一样。就像一棵正在生长的树,自然地占据了自己的位置。最勇敢的人可以爬上爬下连接较低场地和走道最高点的楼梯,为逃生和安全提供通道。
We are walking on timber, almost everything in timber. Structure, walkway, balustrades become one with the trunks and branches. In time they will become ever more alike and the walkway will eventually be as if it had always been there. Like a growing tree that asserts its place naturally. The bravest or most courageous can climb up or down the stairs connecting the lower level of the site with the highest point on the walkway, which allows for escape and safety.
步道的样子从始至终一直没变,但是我们变了,我们在丛林间,离天空更近,但仍连接着土地。
We complete the walkway almost where we started it. But we return changed, after another, but different, experience in Serralves. We are IN THE CANOPY, up nearer to the Sky, but still close to Earth.
▼模型 Model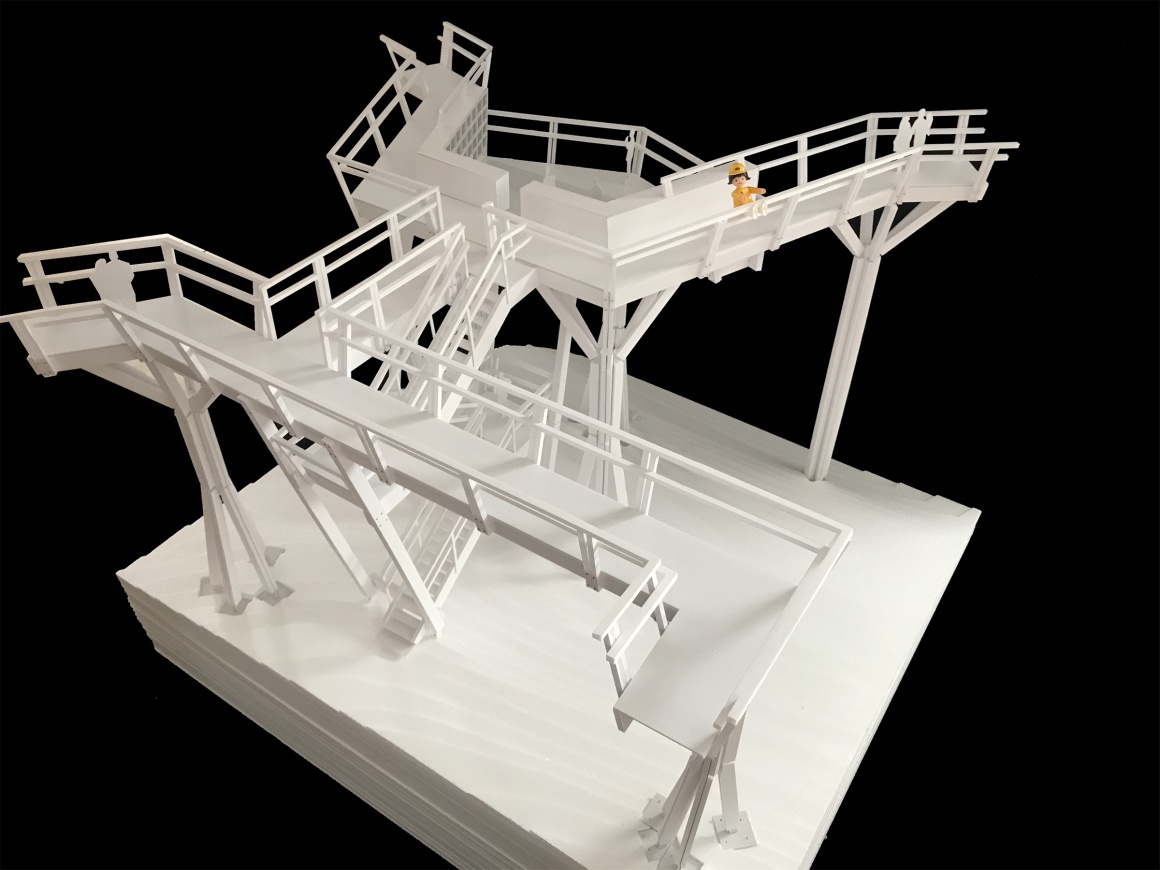 ▼总平面 Master plan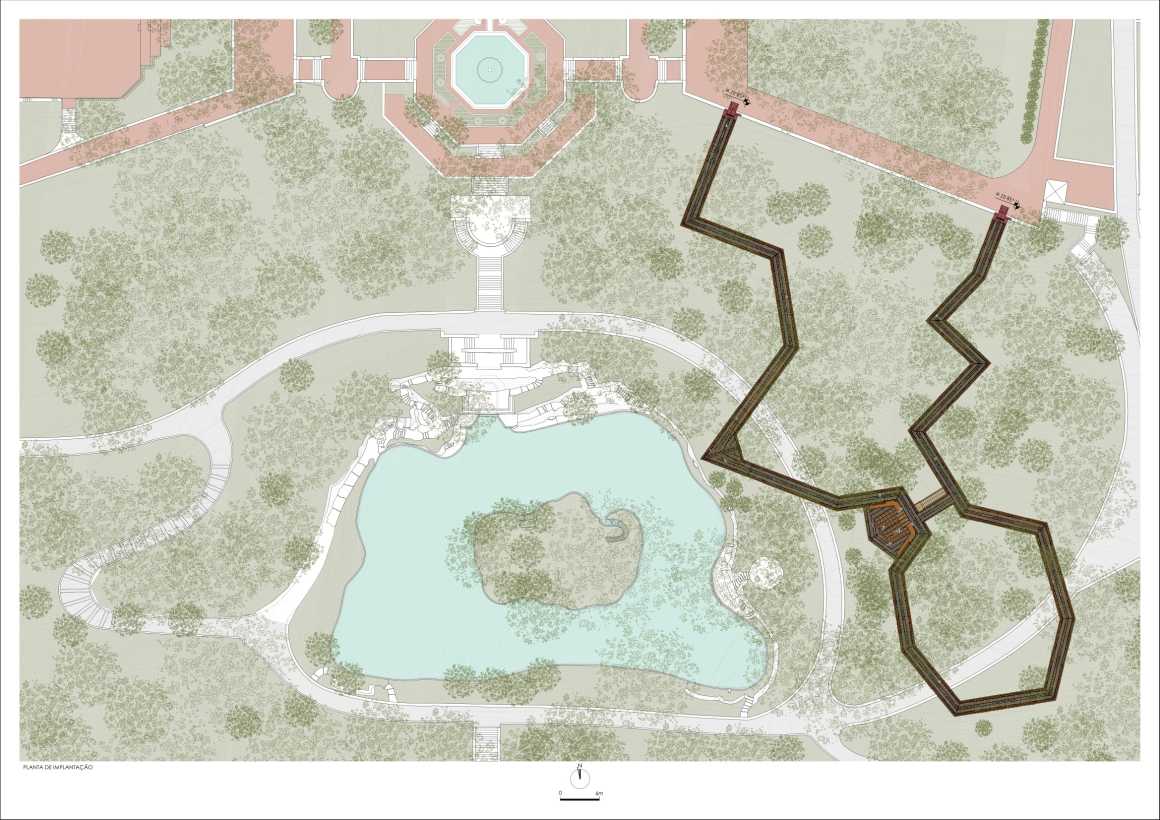 ▼细节平面 Detail plan
▼剖面图 Section
▼施工细节 Construction detail
设计公司:Carlos Castanheira Architects
项目设计师:Nuno Rodrigues
设计团队:Filipe Mota, Diana Velho, Catarina Araújo, Gil Lima, Sara Cabral
效果图:Germano Vieira
结构设计:Paulo Fidalgo – HDP,Lda
结构设计团队:Rui Almeida, Paulo Cachim, Pedro Neto
ITED:Fernando Ferreira – Gatengel, Lda
施工:Portilame, Lda
摄影:Fernando Guerra (FG+SG)
编辑:寿江燕
Office: Carlos Castanheira Architects
Project Architect: Nuno Rodrigues
Project Team: Filipe Mota, Diana Velho, Catarina Araújo, Gil Lima, Sara Cabral
3D and Rendering: Germano Vieira
Structural Project: Paulo Fidalgo – HDP,Lda
Structural Project Team: Rui Almeida, Paulo Cachim, Pedro Neto
ITED Project: Fernando Ferreira – Gatengel, Lda
Contractor: Portilame, Lda
Photography: Fernando Guerra (FG+SG)
Editor: Jiangyan Shou
更多Read more about: Carlos Castanheira Architects