ASPECT Studios:悉尼高线公园是由澳派景观设计工作室ASPECT Studios 和 CHROFI为悉尼海港管理局合作设计的一个全新的独特公共空间。基地位于悉尼港内的Ultimo,为具有历史性的前铁路线所在地, 如今已经成为了一个汇集文化、教育、媒体机构的特色之地,其中包括悉尼科技大学,动力博物馆,悉尼TAFE学院,澳洲广播集团及悉尼议会。 这一长达500米的抬高城市空间,创新地将城市西边的工业废地转变为悉尼郊区Ultimo的都市绿化空间。此外,悉尼高线公园以其一系列抬高的绿色空间或平台为特色,极大改善了该区域的社会及环境状况。
ASPECT Studios:Sydney high line park is a completely new and unique public space jointly designed by Australian landscape design studio aspect studios and chr ofe for the Sydney harbor authority. Ultimo, which is based in Sydney harbor, is a historic former railway station and has now become a unique place for cultural, educational and media institutions, including Sydney university of science and technology, power house museum, Sydney TAFE college, Australian broadcasting group and Sydney Council. This 500 – meter – long elevated urban space has innovatively transformed industrial wasteland in the west of the city into urban green space in ultimo, a suburb of Sydney. In addition, Sydney high line park is characterized by a series of elevated green spaces or platforms, greatly improving the social and environmental conditions in the region.
这个独特的高架公园已经看到一条废弃的铁路走廊,从铁路广场一直延伸到达令港,在悉尼人口最稠密的地区中心,被重新构想为绿树成荫,充满活力的公民脊柱。
This unique elevated park has seen a disused rail corridor running from Railway Square to Darling Harbour reimagined as a leafy, energised civic spine in the heart of Sydney's most densely populated area.
Ultimo的The Goods Line的开业将更加连通,可持续和创新的悉尼的愿景更接近现实。
The opening of The Goods Line in Ultimo brings the vision of a more connected, sustainable and innovative Sydney one step closer to reality.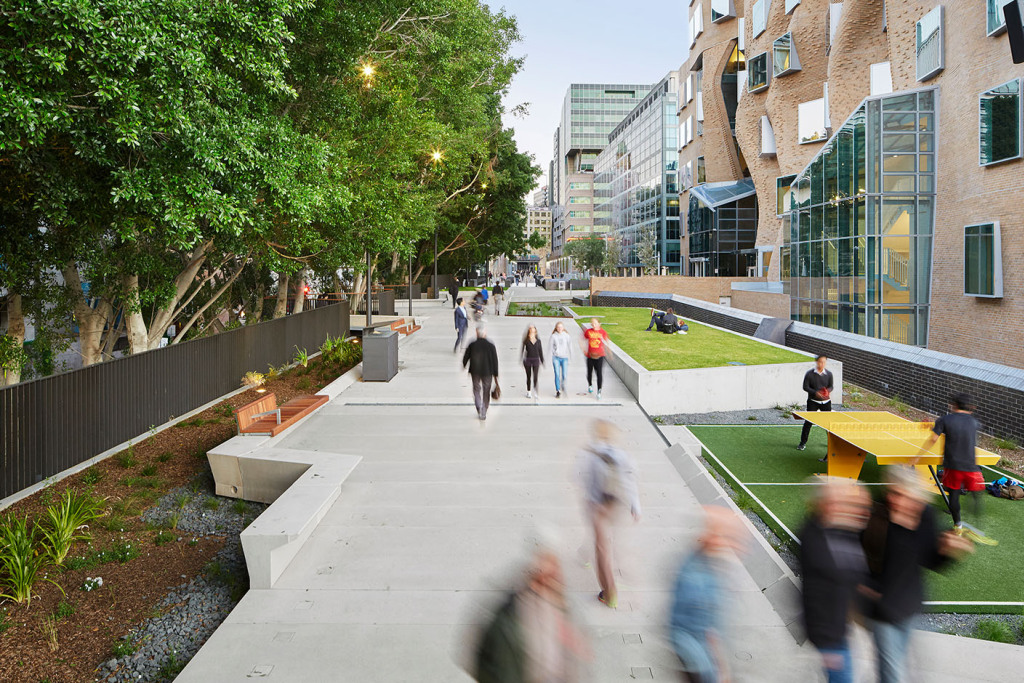 这条货运线是新南威尔士州政府的一项举措,由悉尼港前滨管理局(现新南威尔士州物业)交付,是这座城市这个新兴地区的关键战略纽带和重要的绿色空间。它连接到中央车站下的德文郡隧道、唐人街和达令港,以及各种文化、教育和媒体机构,如UTS的Frank Gehry设计的Chau Chak Wing大楼、ABC和悉尼TAFE与公园接壤。
The Goods Line, a NSW Government initiative and delivered by Sydney Harbour Foreshore Authority (now Property NSW), is the key strategic link and an important green space for this burgeoning part of the city. It provides a connection through to the Devonshire Tunnel under Central Station and Chinatown and Darling Harbour, as well as tapping into the various cultural, educational, and media institutions such as UTS's Frank Gehry designed Dr Chau Chak Wing Building, the ABC, and Sydney TAFE that border the park.
地点:上月的,悉尼,澳大利亚新南威尔士州
年:2015
客户:Property NSW
范围:概念设计、开发应用、招标文件、施工管理
团队:方面工作室,CHROFI ACOR,两点设计、GML,JBA,照明艺术+科学,AR-MA,Gartner玫瑰
摄影:Florian Groehn
Location:Ultimo, Sydney, NSW, Australia
Location:2015
client: Property NSW
scope:Concept Design, Development Application, Tender Documentation, Construction Administration
team:ASPECT Studios, CHROFI, ACOR, Deuce Design, GML, JBA, Lighting Art + Science, AR-MA, Gartner Rose
Photograph:Florian Groehn