本文由JTL Studio授权mooool发表,欢迎转发,禁止以mooool编辑版本转载。
Thanks JTL Studio for authorizing the publication of the project on mooool, Text description provided by JTL Studio.
JTL Studio: 重庆龙湖春江天镜,紧邻长江。当设计团队第一次现场探勘, 沿着陡峭蜿蜒的山坡,在浓密的植被间,向上攀爬20多米的高度, 很是辛苦,终于来到预计的建筑室内高度,回首一望,立刻被眼前壮美的江面风光所震撼,登高远眺,之前攀爬的辛苦变得值得。这种最初的、强烈的场地体验也给了我们设计的灵感与原则,希望在今后的设计中保留这种由场地自发的林地穿行与回首震撼的感觉。
JTL Studio: The Honour of Chongqing is close to the Yangtze river. It is hard for the design team's first field exploration, climb up more than 20 meters along the steep winding hillside in the dense vegetation. Finally, when we came to the expected indoor height of the building and looking back, we were immediately shocked by the magnificent river scenery. It is worth ascending a height to enjoy a distant view. This initial, intense site experience also inspired and guided our design. We hope to keep this feeling of wandering in woodland and looking back from the site spontaneously in the future design. 
▼总平图 Master Plan
大瀑布
除了山坡上建筑的惊艳亮相,还有热情澎湃的长达50米的大瀑布也在致敬长江,深深的吸引路边的过客。
Waterfall
In addition to the stunning appearance of buildings on the hillside, the passionate 50-meter long waterfall also pays tribute to the Yangtze river, which attracts passers-by along the roadside.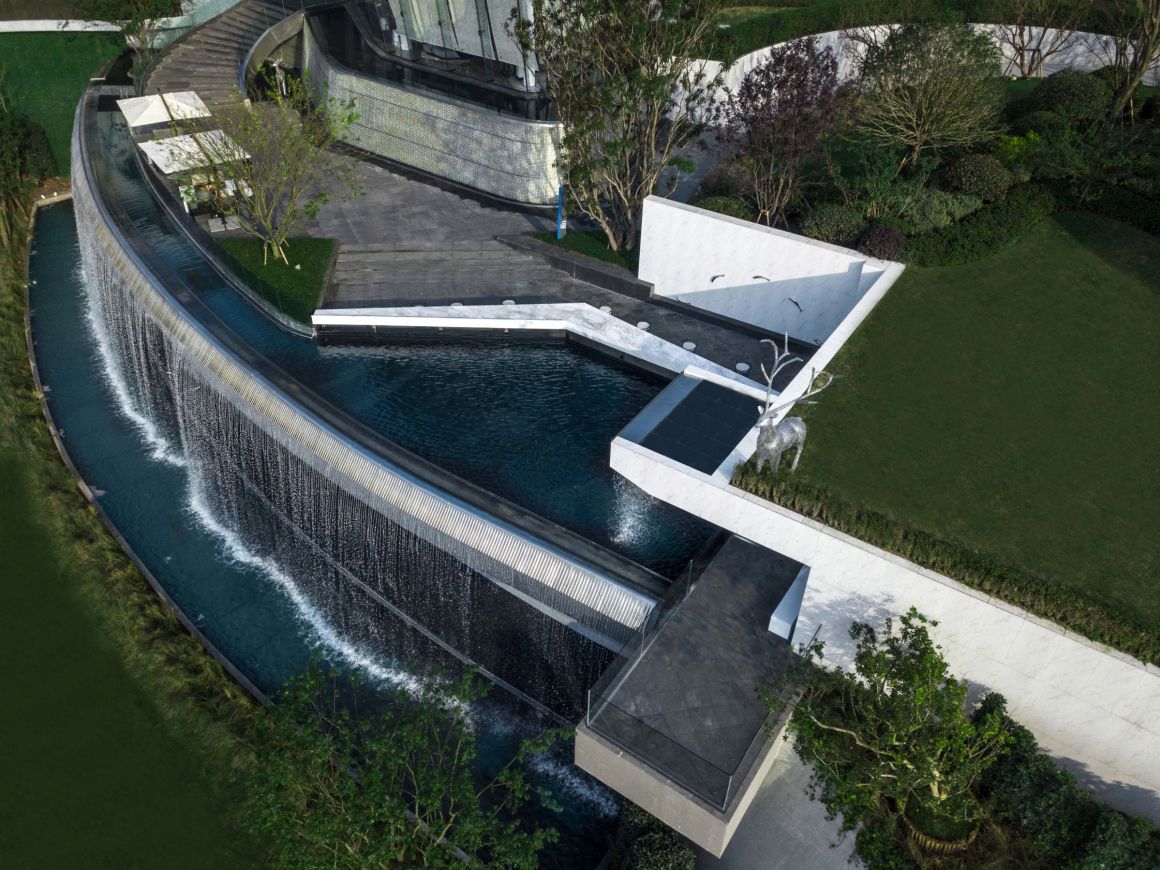 ▼瀑布挑台  Waterfall cantilever platform
江边绽放的惊艳
被你的热情所吸引
你说——
悄悄的,随我来
登高远眺
静静地感受壮丽山河
抒发心中的澎拜
The amazing blooming river
Was attracted by your passions
You say 
Quietly, come with me
Climbing to enjoy distant view
Quietly, enjoy the magnificent mountains and rivers
Express the heart splash worship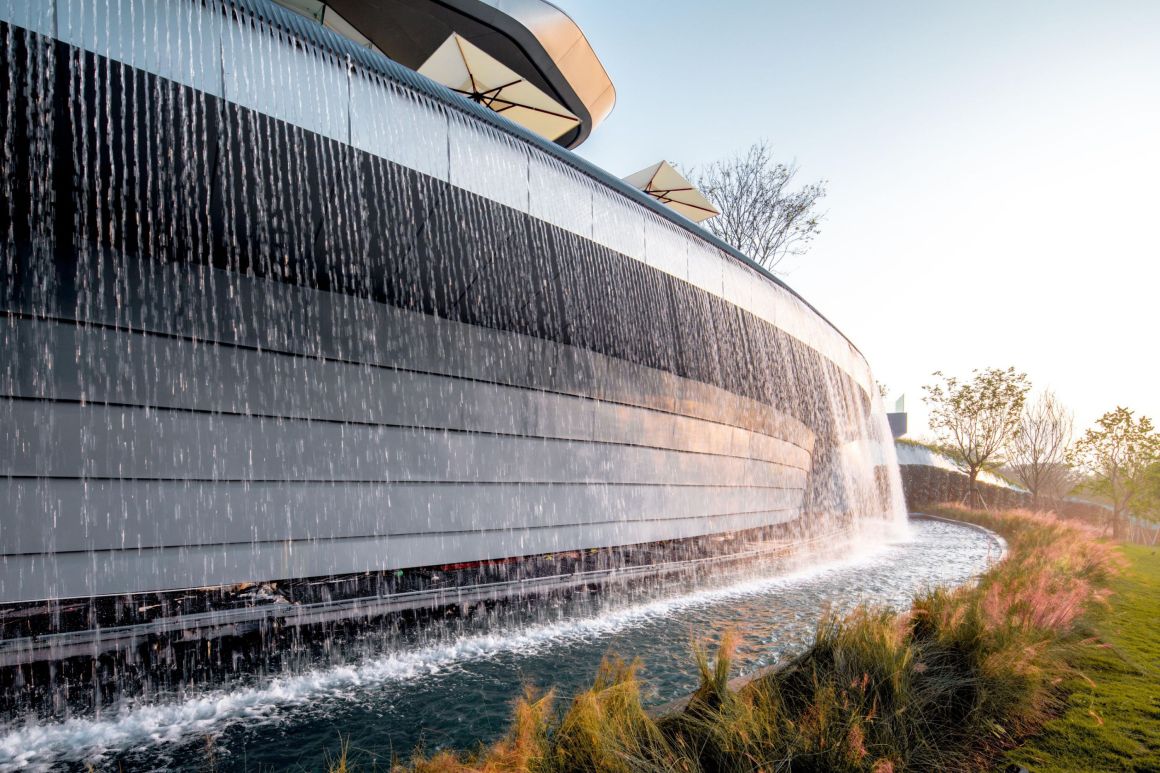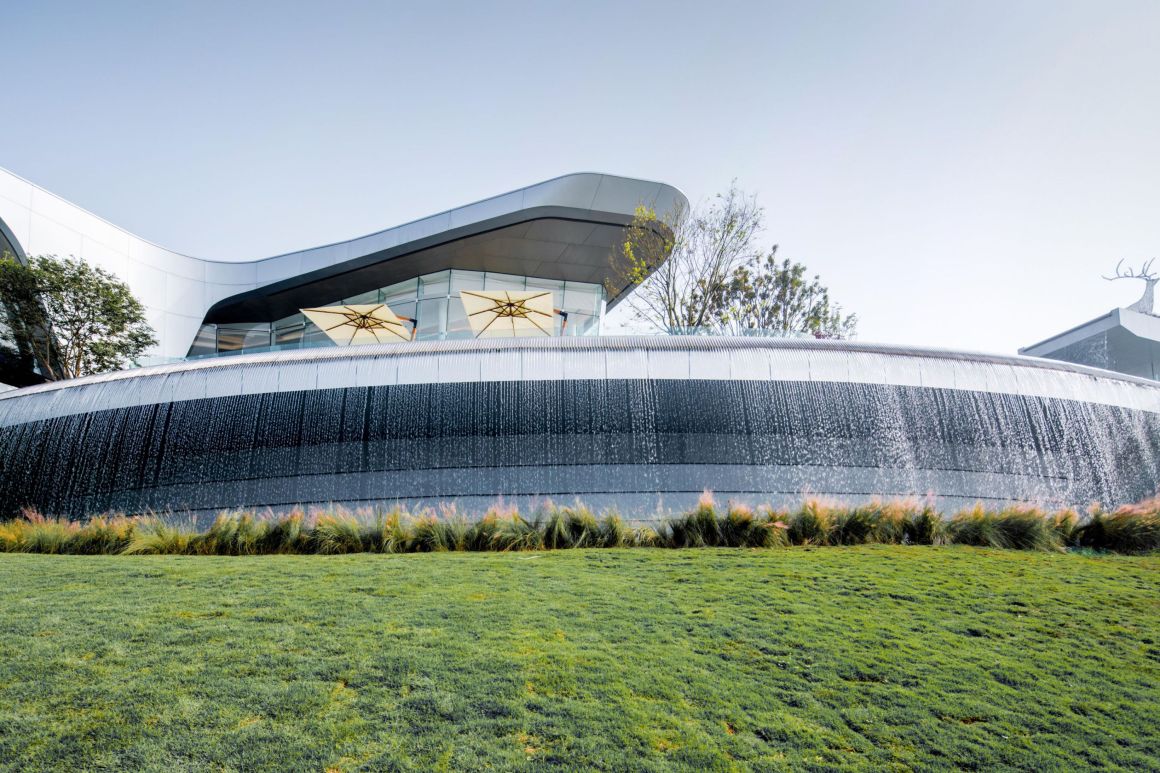 入口区域
个性张扬的挑顶和7米高的景墙,昭示着进入的方向,一段美妙的旅程的即将展开。
Entrance
Dramatic roof brushing and 7 meters landscape wall indicate the direction of entry, a wonderful journey is about to start. 
林地穿行
静静地穿行在林间的步行桥上,向着雕塑般存在的建筑,蜿蜒上行,感受着林间的惬意,这里不需要浮夸的装饰,只是两侧剔透的玻璃扶手提醒着,即将访问到极具现代感的景观建筑。
Walking In Woodland
Walking quietly through the forest on the bridge, towards the sculptural building winding up, feel the comfort of the woodland.  There is no need for pomp and circumstance here. Carved glass handrails on both sides remind visiting of very modern landscape architecture. 
观景平台
景观平台,便是最初那回首一望的地方。看到的,是平静地水面,联系了江面;听到的,是瀑布的澎湃。为了不阻挡从山下仰视建筑的角度,和室内的观江视线完整,我们将平台比室内降低了3米, 沿着弧形台阶,面向江面,徐徐而下。
Viewing Platform
Viewing platform is the initial place we looking back. You can see the calm water and hear surge waterfall here. In order not to obstruct the view of the building from the hill and ensure the view of the river from the interior is complete, the platform is 3 meters lower than the indoor level, along the arc steps, facing the river, slowly down.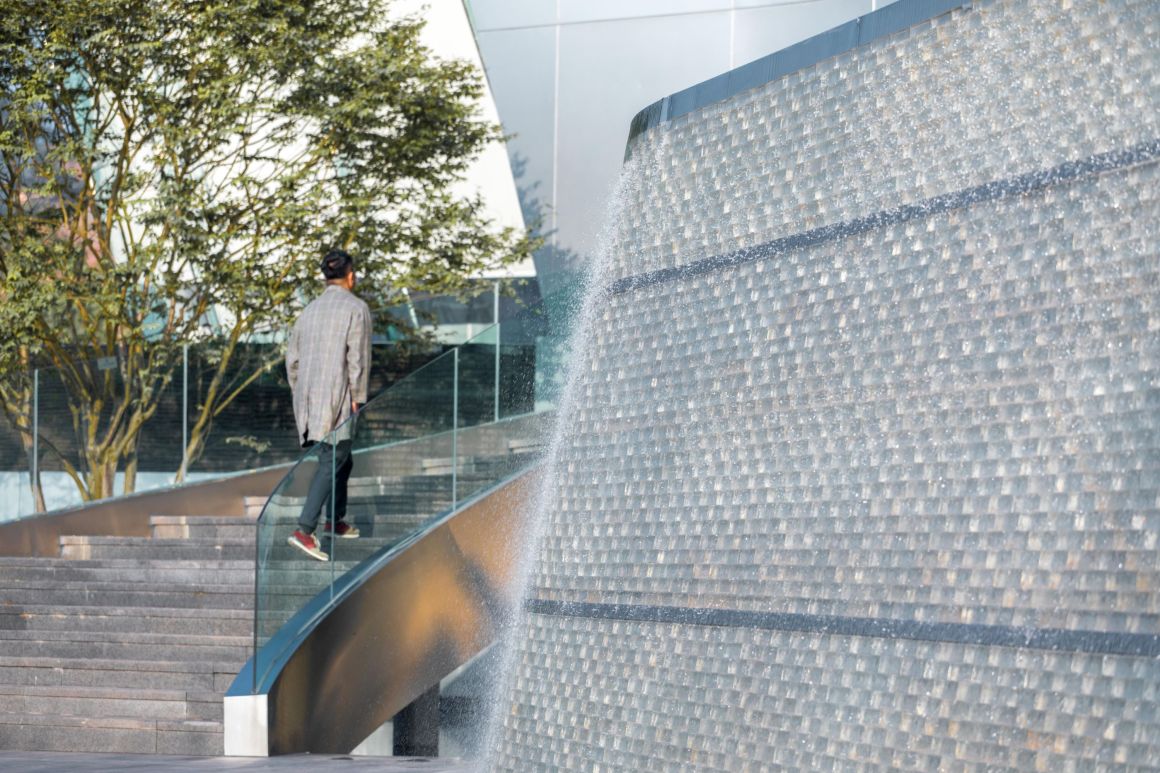 ▼夜色中的观江平台  River viewing platform  
静谧花园
穿过景观平台,缓坡环绕着静谧花园徐徐而上,便来到旅程的末端-样板间,在这里,憧憬未来的生活场景。
Tranquil Garden
After passing through the landscape platform, a gentle slope edged up the tranquil garden, it is the end of journey-sample room. You can look forward to the future life scene here. 
项目名称:重庆龙湖春江天镜体验中心
开 发 商:龙湖地产
甲方团队:重庆龙湖景观团队
景观设计:JTL Studio Pte. Ltd, 新加坡
设计团队:Pax Ju 、刘展、Wasin Treetharatip、Mark Santos、楚岭伟、李应鹏、刘章、陈琳
项目面积:10000㎡
建成时间:2018.10
建筑设计:上海天华
室内设计:SYY尚壹扬
软装单位:言瓷映画
施工单位:重庆吉盛园林景观有限公司
景观摄影:河狸摄影 何震环
Project name: The Honour of Chongqing
Developer: Longfor real estate
Client team: Chongqing Longfor landscape design team
Landscape design: JTL Studio Pte. Ltd, Singapore
Design team: Pax Ju, Liu Zhan, Wasin Treetharatip, Mark Santos, Chu Lingwei, Li Yingpeng, Liu Zhang, Chen Lin
Project area: 10000㎡
Completion: October, 2018 
Architectural design: Shanghai Tianhua
Interior design: SYY Shang Yi Yang
Soft decoration: Fancy China
Construction: Chongqing Jisheng Garden Landscape Co., LTD
Landscape photography: Holi Photography, He Zhenhuan
更多 Read more about: JTL Studio