!MELK:拉斯维加斯一项史无前例的独特城市公共空间项目刚刚竣工。
拉斯维加斯大道如今是世界上游客最多的旅游目的地之一。最近该地带迎来了它的第一个公园,一个由!melk设计的壮观的公共空间,这注定会成为世界上最繁忙的公园。
!MELK:An unprecedented and unique urban infill project in Las Vegas has just been completed.
The notorious Las Vegas Strip, today, is the most visited tourist destination in the world. The Strip recently received its first-ever park, a spectacular public space designed by !melk, that is destined to become the most trafficked park in the world.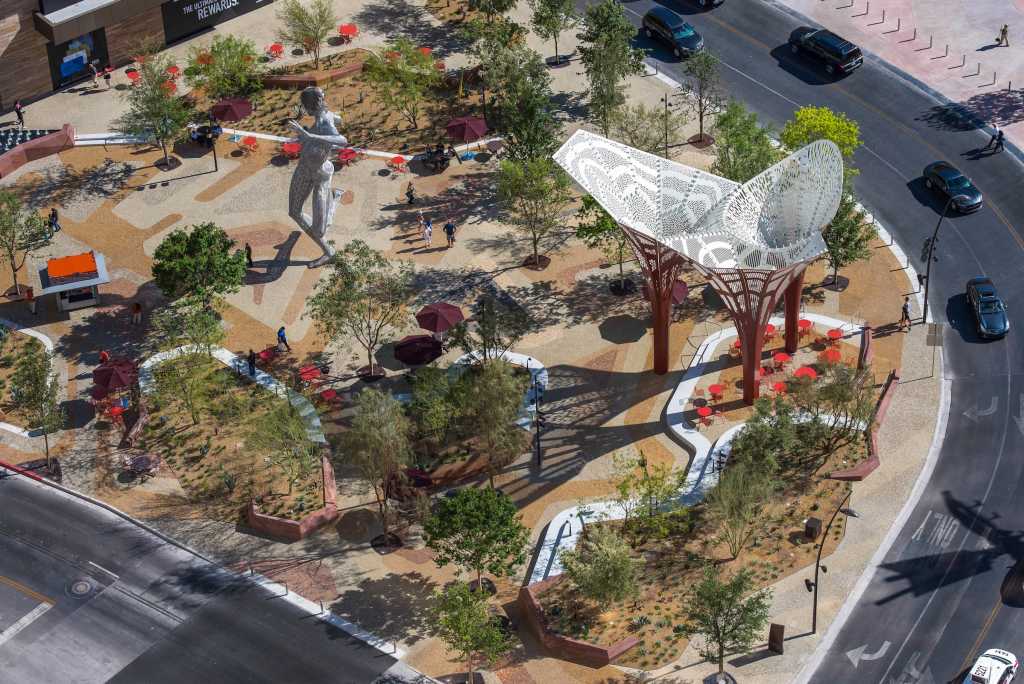 这个项目之所以引人注目,是因为私人企业,也就是拉斯维加斯大道沿线房产的所有者,最近意识到投资公共空间与传统建筑产业之间的对比。他们也看到了可持续的、真实的设计的经济和营销价值。现在在拉斯维加斯,一个更完整、更成熟的都市环境已经形成,与现在人们熟悉的流行主题和人工景点形成了对比。
What makes this project remarkable is the fact that private corporations, the owners of the properties along Las Vegas Boulevard, recently came to realize the value of investing in outdoor public space versus traditional (buildings) real estate development. They also see the economic and marketing value of sustainable, authentic, and contextual design. A more complete and mature urban condition has begun to form as a contrast to the prevailing thematic and artificial attractions that gave Las Vegas its familiar reputation to date.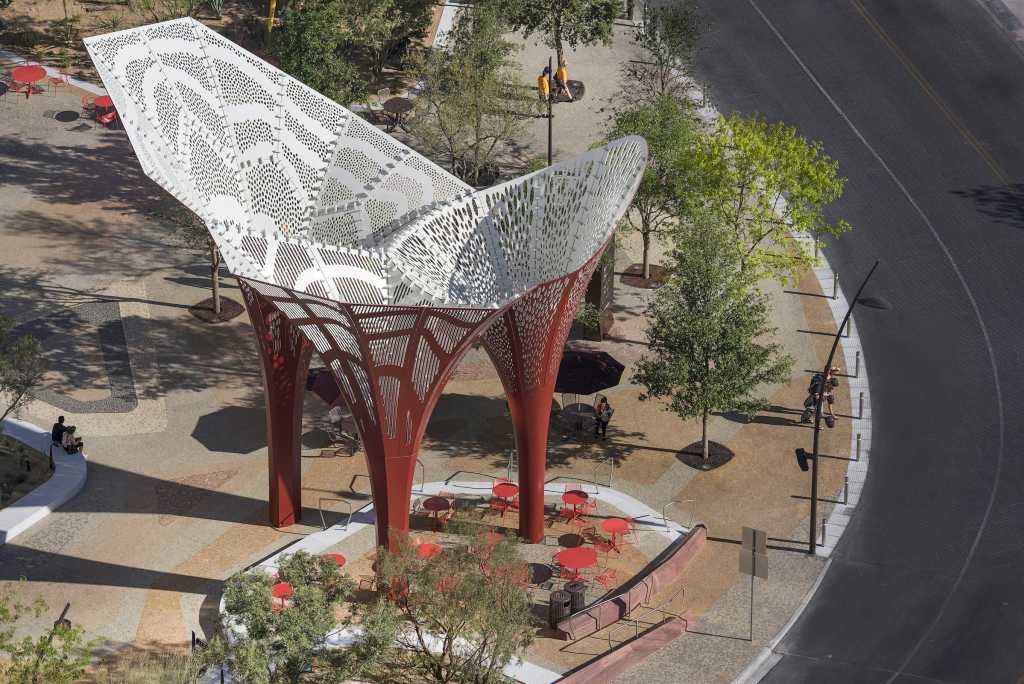 "The Park"用最前沿的设计展示了莫哈韦地区的环境,恢复了拉斯维加斯曾经的样子——沙漠中的绿洲。
The cutting-edge design of "The Park" celebrates the context of the Mojave region and reinstates what Las Vegas once was – an oasis in the desert.
拉斯维加斯位于极具挑战性的干旱地区,暴露在阳光、炎热、沙尘暴和缺水的环境中。所有的设计元素都缓和了这些极端因素,创造了一个令人愉快的城市体验。"The Park"采用了"最佳管理实践"可持续用水指导方针,标志性的遮阳结构,水景,和沙漠植物与耐旱树木有助于缓解拉斯维加斯的炎热。
Las Vegas exists in an extremely challenging arid location, exposed to sun, heat, dust storms, and scarcity of water. All design elements mitigate these extremes to create the most enjoyable urban experience possible. Iconic shade structures, water features, and desert plantings with drought resistant trees help temper the Las Vegas heat. "The Park" utilizes "best management practice" sustainability guidelines for water use.
设计师的陈述
在!melk,我们总是努力创造出一个能体现项目背景独特性的空间。《公园》在这方面是完全成功的。它利用莫哈韦沙漠的颜色、图案、材料和植被来反映沙漠景观。在舒适、安全、餐饮和娱乐方面,没有其他地方能与拉斯维加斯媲美。在熙熙攘攘的拉斯维加斯大道,我们不仅能够创造出一个可持续的,也能真实的反映了城市独特性的公共空间。除了它的地标性,"公园"重现了拉斯维加斯曾经的样子: 沙漠中央的绿洲。
—— Jerry van Eyck,melk景观建筑与城市设计创始人兼首席设计师
statement from the designer
At !melk, we always strive to create spaces that exude an identity that is authentic to the context of a project. "The Park" is a complete success in that regard. It celebrates the Mojave desert, using its colors, patterns, materials and vegetation. In terms of comfort, safety, food, and entertainment, there is no other place like it in Las Vegas. Amidst the hectic hustle and bustle of the Strip, we were able to create something that is not just sustainable, but also genuinely authentic to the City. In addition to its iconicity, "The Park" reinstates what Vegas once was: an oasis in the middle of the desert.
—— Jerry van Eyck, Founder & Principal, !melk landscape architecture & urban design
客户: MGM Resorts International
竣工日期: 2016年4月
施工时间: 20个月;2014年8月至2016年4月
项目类型: 城市景观/步行区/公园
面积: 5英亩
造价: 1亿美元(包括餐馆的建筑)
地点:内华达州拉斯维加斯
摄影师: Hanns Joosten
项目团队
首席设计: !melk landscape architecture & urban design 
规划设计: Cooper Robertson & Partners
建筑设计: Marnell Architecture
土木工程,结构工程: Lochsa Engineering
电气工程: JBA Consulting Engineers 
照明设计(场地) : Lighting Design Alliance 
照明设计(遮阳结构) : Arup, Leni Schwendinger 
水景工程: Water FX
Client: MGM Resorts International
Date of completion: April 2016
Construction time: 20 months; August 2014 – April 2016
Project type: urban landscape / pedestrian realm / park
Size: 5 acres
Cost: $100 million (including the architecture of the restaurants)
Location: Las Vegas, Nevada
Photographer:Hanns Joosten
Project Team
Lead designer: !melk landscape architecture & urban design 
Planner: Cooper Robertson & Partners
Architect: Marnell Architecture
Civil engineer, structural engineer: Lochsa Engineering
Electrical engineer: JBA Consulting Engineers 
Lighting design (site): Lighting Design Alliance 
Lighting design (shade structures): Arup, Leni Schwendinger 
Water feature engineer: Water FX
更多 Read more about: !melk