本文由 朴乔景观 授权mooool发表,欢迎转发,禁止以mooool编辑版本转载。
Thanks POPJOY DESIGN for authorizing the publication of the project on mooool. Text description provided by POPJOY DESIGN.
朴乔景观:  "于真山真水间,构筑一段风景" ,项目位于浙江省千岛湖,不同于以往示范区的设计逻辑,它将同千岛湖风景区长存,成为未来湖岸风景线的组成部分。
POPJOY:  "Construct A Scenery In Nature" , the project is located in Qiandao Lake, Zhejiang Province. It is different from the design logic of the previous project . It will survive with the Qiandao Lake Scenic Area and become a part of the future lakeshore scenery.
平面图 Master Plan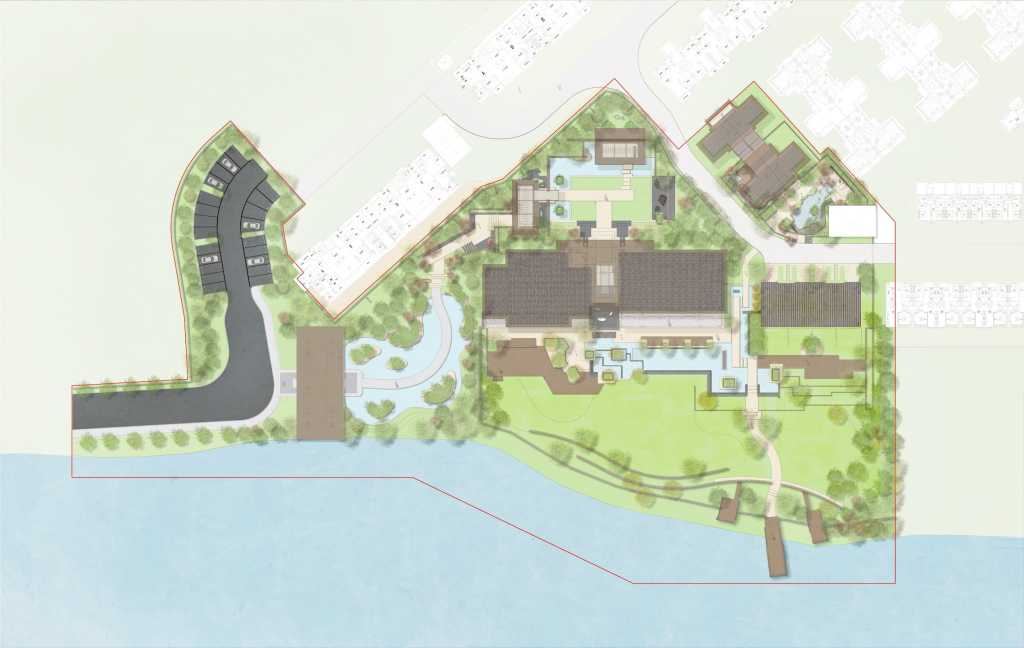 设计灵感来源于千岛湖的芊芊美景,天水相接,山河共融,与场地共同生长便是设计的初衷。
The design is inspired by the beautiful scenery of Qiandao Lake. The sky and the lake are connected. The mountain and the lake are merged together. The growth with the site is the original intention of the design.
微风时的波光粼粼、细雨时的缱绻涟漪、夕阳下的水光潋滟,山影的昼夜变换,"观水"、 "听水"、"忆水"便是前场庭院的主题。
The waves formed by the breeze, the ripples formed by the drizzle, the water surface shining in the setting sun, The combination of water and the environment is the theme of the front yard.
将湖面岛屿的形态进行抽提,错落布置于入口的水面上,植上丛丛翠竹,再引入蜿蜒的小路,一种是古非今的岛屿穿梭感便油然而生。
The form of the lake island was extracted, placed on the water surface of the entrance, planted with clumps of bamboo, and then introduced into the winding road. A feeling of passing through the islands in the past was born.
我看湖,湖也看我。"看"与"被看",一种颇有意味的互动关系。对杂乱湖岸线重新整理,不施加过多人工干扰,便能成为最好的风景线。
朝起,云卷云舒。霞归,五色平湖。枕卧碧水,听山风唱歌。
I look at the lake, and the lake also looks at me. "Looking" and "being seen" are an interesting interaction. Re-combing the lakeshore line, without excessive artificial interference, can be the best landscape.
In the morning, the clouds change. At sunset, the lake becomes colorful. Sleep in the green lake, listen to the mountain wind and sing.
项目名称:千岛湖·天湖甲著
开发商:杭州瑞景置业有限公司
景观设计:朴乔景观
项目面积:1.3万平方米
项目区位:杭州市淳安县千岛湖镇
建成时间:2017年6月
摄影:存在建筑摄影
Project name: Tian Hu Jia Zhu
Developer: Hangzhou Ruijing Real Estate Co., Ltd.
Landscape design:Popjoy
Landscape area:  13000m²
Project location:  Qiandao lake Town, Chun'an County, Hangzhou, China
Completion date:  June 2017
Photograph: Arch-Exist photography