一个家庭休闲的灵感来自于其西部环境的优雅美景,周围的山谷和毗邻的国家公园和森林,表现出一种诚实简单的形式和材料。在设计过程中,计算的约束是不间断的,允许建筑物和美化环境静静地融入到设置中,并深刻地尊重位置的戏剧性自然之美。
A family retreat, whose inspiration was taken from the elegant beauty of its western setting, the surrounding valley and adjacent National Parks and Forests, expresses an honest simplicity of forms and materials. Calculated restraint was a constant refrain during the design process to allow the buildings and the landscaping to blend quietly into the setting and show a deep respect for the dramatic natural beauty of the location.
该家庭遗址位于一个古老的牛牧场,这是位于怀俄明州杰克逊洞的格罗斯·孔特勒和蛇河交汇处的35英亩土地的一部分。虽然该场址受过去牧场活动的干扰,但该物业拥有丰富的野生动物和与河流相邻的沿岸走廊相关的自然资源。该家园被各种各样的栖息地所包围,包括向西延伸的湿地马赛克,南部陡峭的森林山坡,东面的广阔草原,以及直接向北的原始春溪, Snake River Cutthroat Trout的重要产卵栖息地。蒂顿山脉的壮观,一览无余的景观延伸到西部和北部,而格罗斯·孔特拉山脉在东部牧区草原可见。
The home site is situated within an old cattle pasture that is part of a 35 acre property located at the confluence of the Gros Ventre and Snake Rivers in Jackson Hole, Wyoming. Although the site had been disturbed by past ranching activity, the property is rich in wildlife and natural resources associated with the riparian corridors adjacent to the rivers. The home site is surrounded by a diverse range of habitats, including rich mosaics of wetlands extending to the west, a steep forested hillside to the south, a broad expanse of grasslands to the east and a pristine spring creek directly to the north, which provides important spawning habitat for the Snake River Cutthroat Trout. Dramatic, sweeping views of the Teton mountain range extend to the west and north, while the Gros Ventre mountain range is visible to the east across pastoral grassland.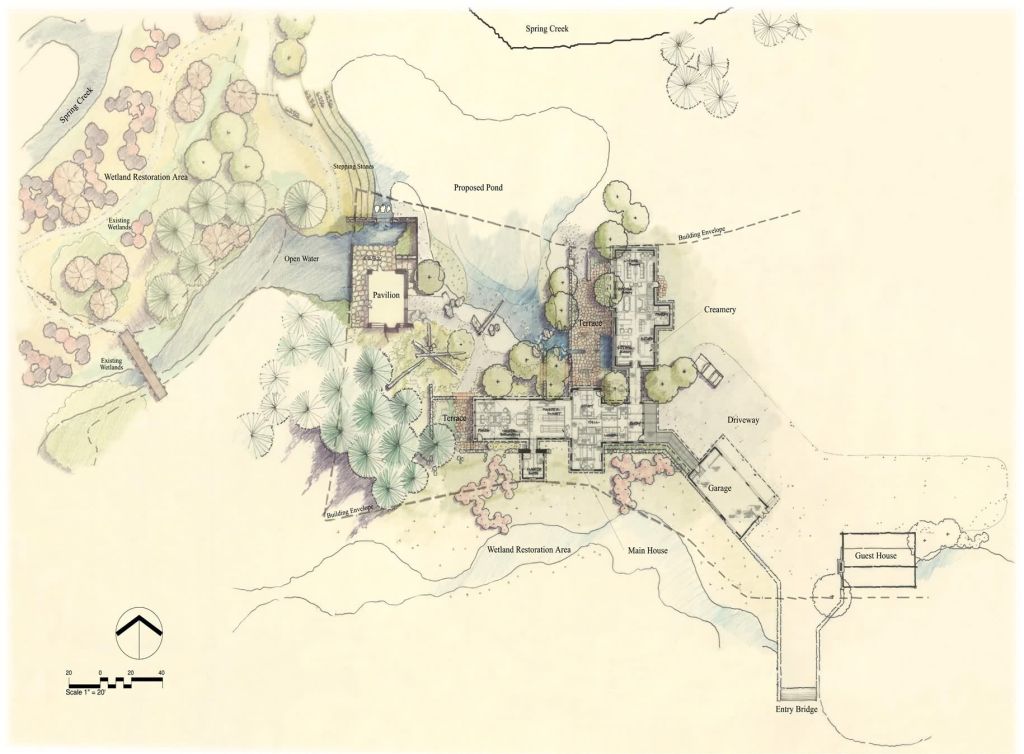 平面图
从项目规划开始,客户希望设计"低调、周到、简单",适合西方景观。接近项目对环境敏感性的坚定承诺,客户非常诚恳地希望与大自然相连,不与现有的土地自然风光竞争。房子和园林绿化将被无缝地融入到环境中,进入山谷,进入更广泛的西方体验。
From the onset of project planning, the Clients desired for the design to be "understated, thoughtful and simple" and true to the western landscape. Approaching the project with a strong commitment to environmental sensitivity, the Client was very sincere in their desire for the house to be connected with nature and not in competition with the existing natural beauty of the land. The house and landscaping was to be seamlessly integrated into the setting, into the valley, and into the broader western experience.
Photos by David Swift.
更多:Verdone Landscape Architects