本文由 makeAscene 授权mooool发表,欢迎转发,禁止以mooool编辑版本转载。
Thanks makeAscene for authorizing the publication of the project on mooool, Text description provided by makeAscene.
makeAscene:该项目位于宗甸海滩沿线,距离芭堤雅市中心仅5分钟的路程,在离海滩仅几米远的一片未完成的建筑地基中,醒目又耀眼。
makeAscene:Locate on the seaside of Jomtien beach, 5 minutes from the coastal city of Pattaya, U Jomtien emerge from the foundation of unfinished building which locate just a few meters away from the beach.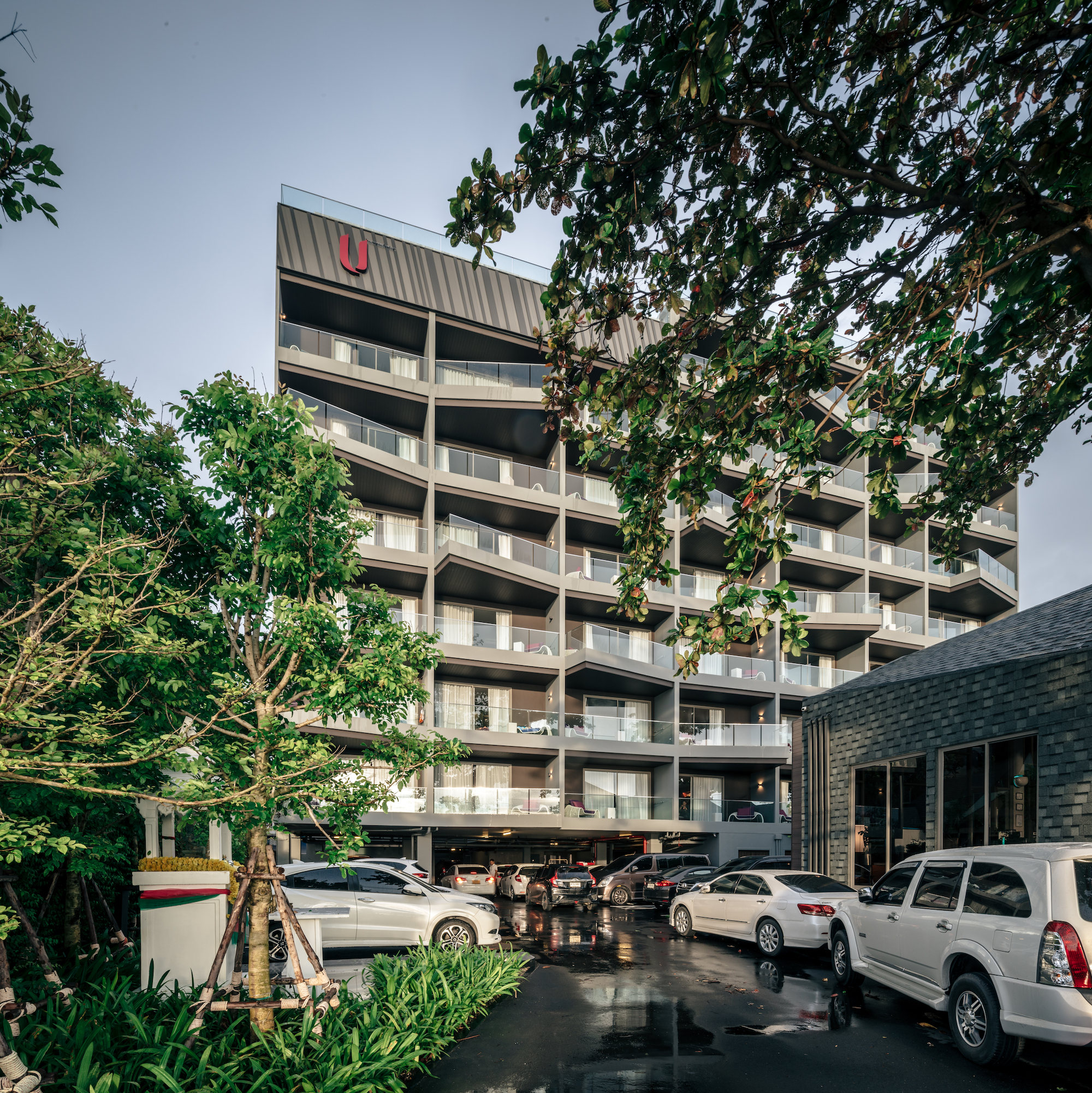 建筑设计以这片令人惊叹的开放海景为灵感,削弱建筑本身的存在感,使其充当用户和空间体验之间的媒介。如果说海洋是一件艺术品,那么这座酒店就是一个美术馆。外观上,建筑呈浅灰色矩形状,简约而内敛,这样设计意图旨在让建筑保持低调,不与周围优美的自然文脉相争。
The breath-taking ocean view without any blockade became the inspiration of the architectural design. Rather than making the building itself eye-catching, the building act as the medium between user and experience. Where the ocean is a piece of art and the hotel is an art gallery. From the exterior the building takes on the minimalistic look, with form of light grey rectangular box. The intention is to keep the building low profile and not to compete with its beautiful context.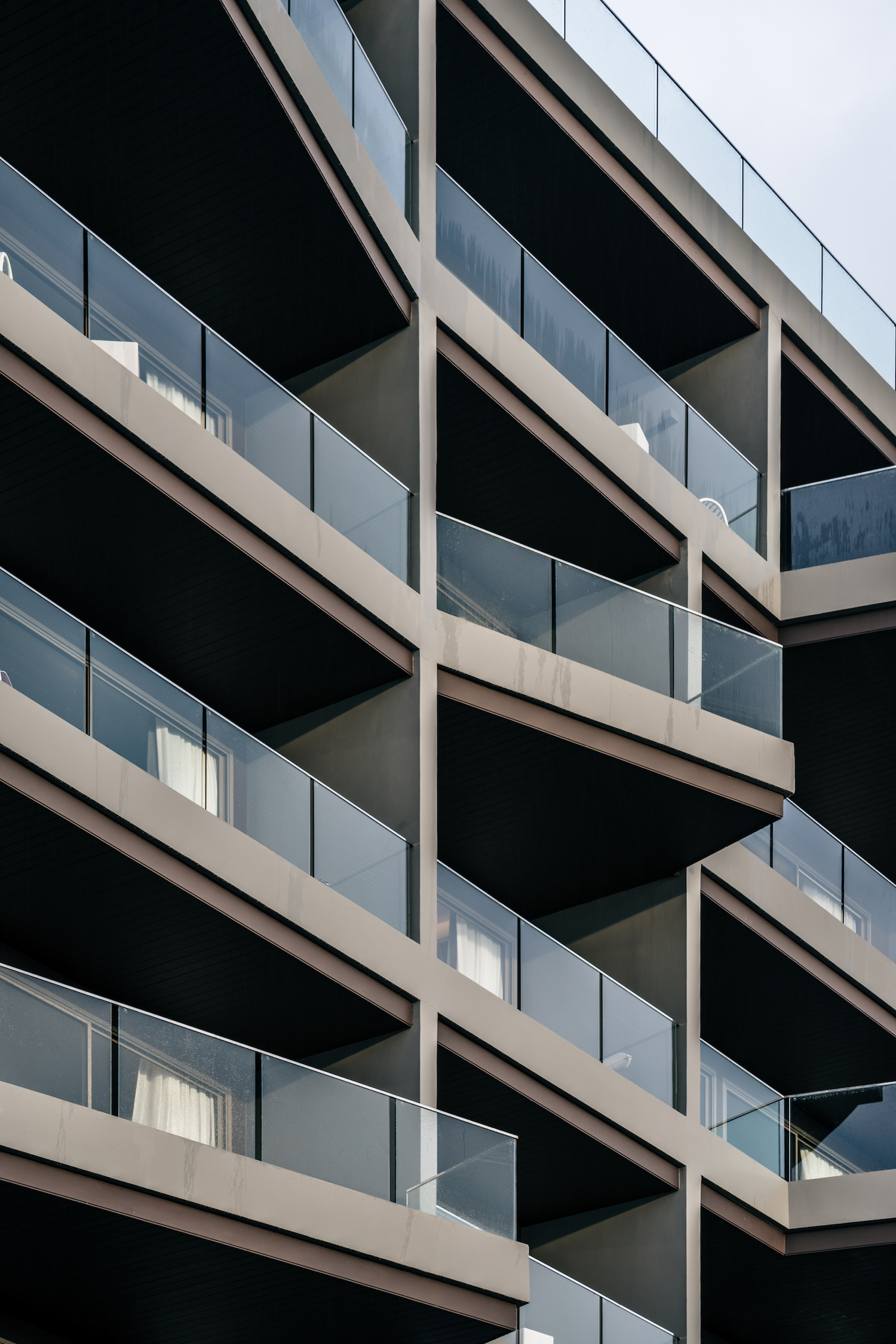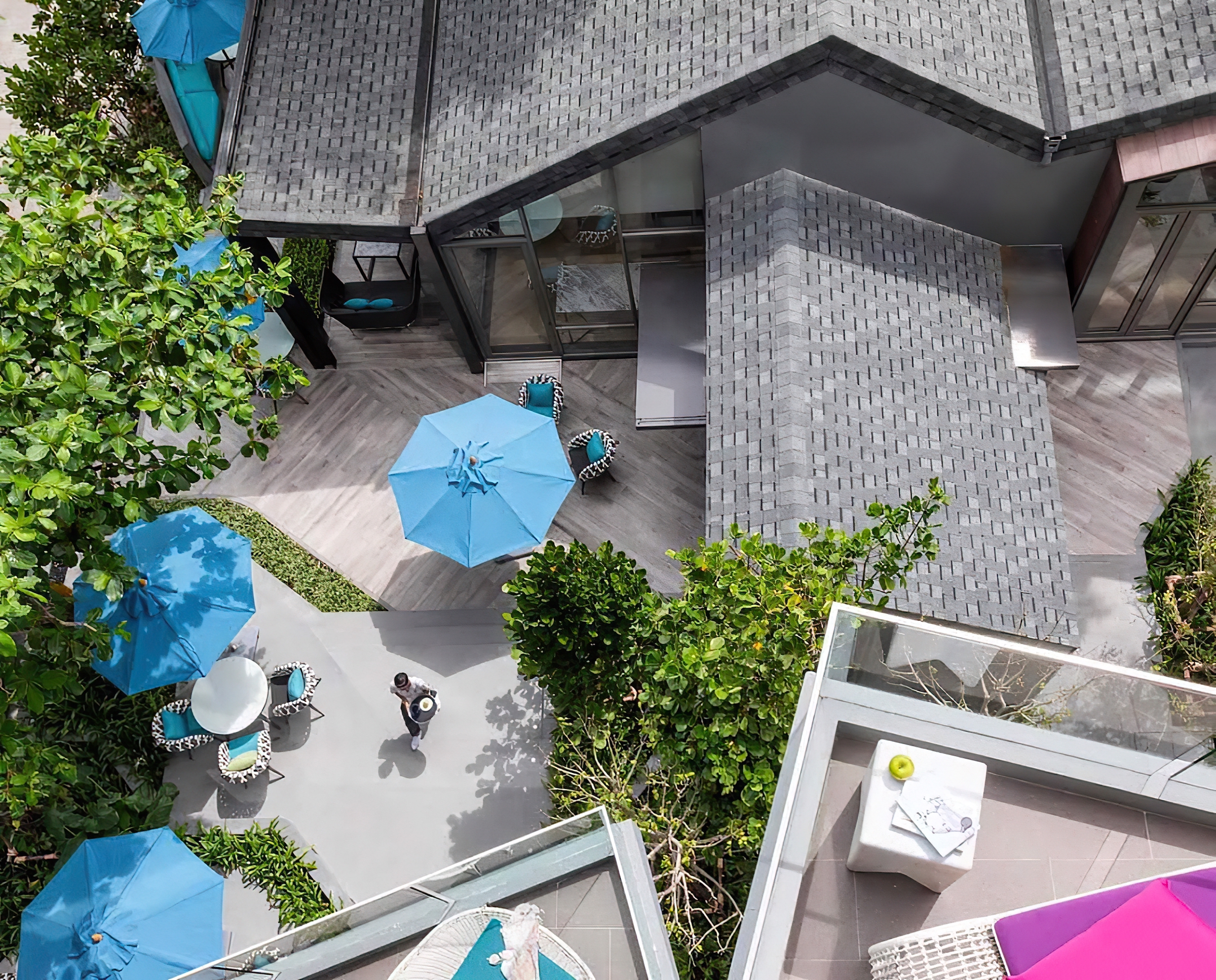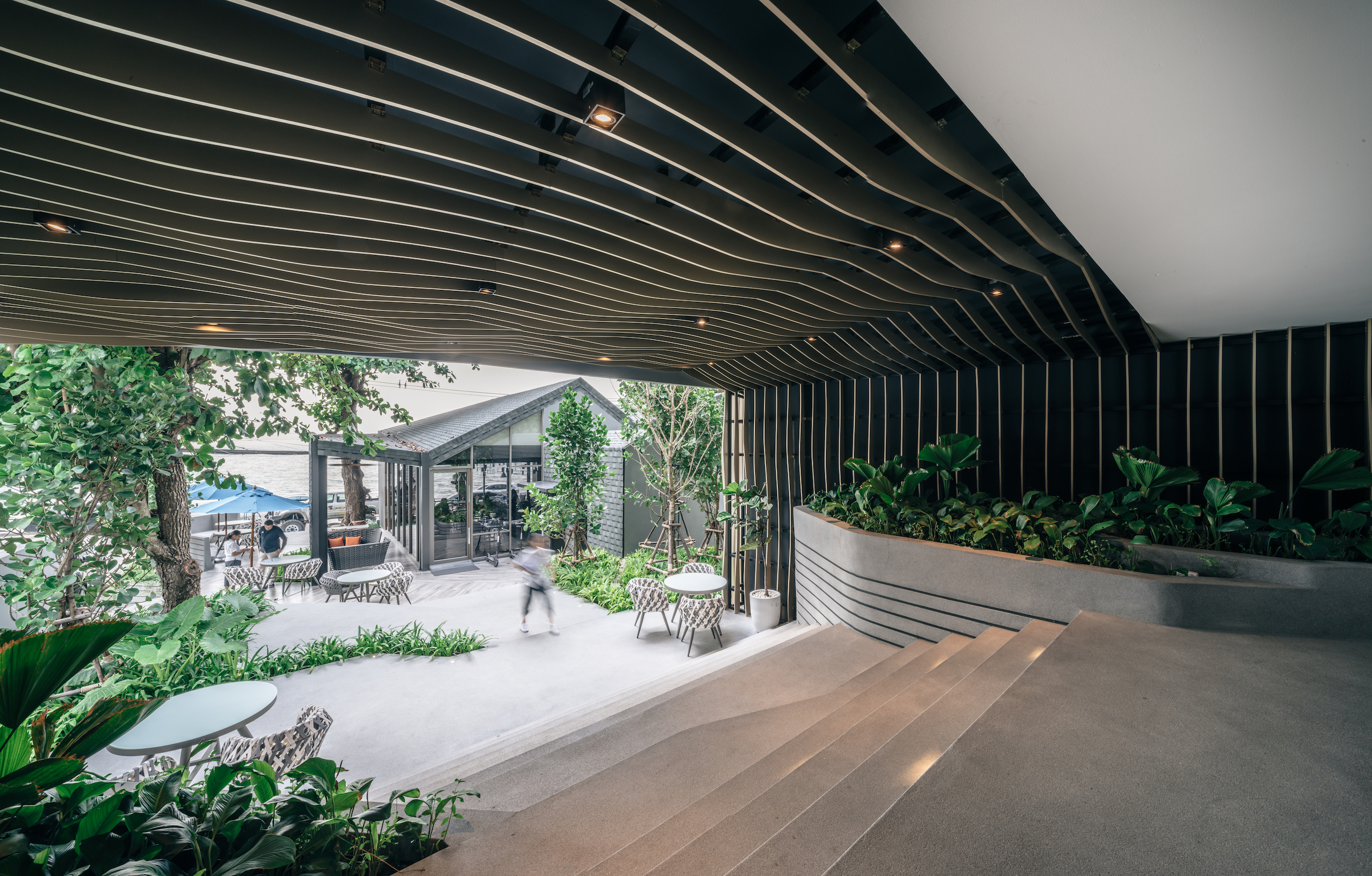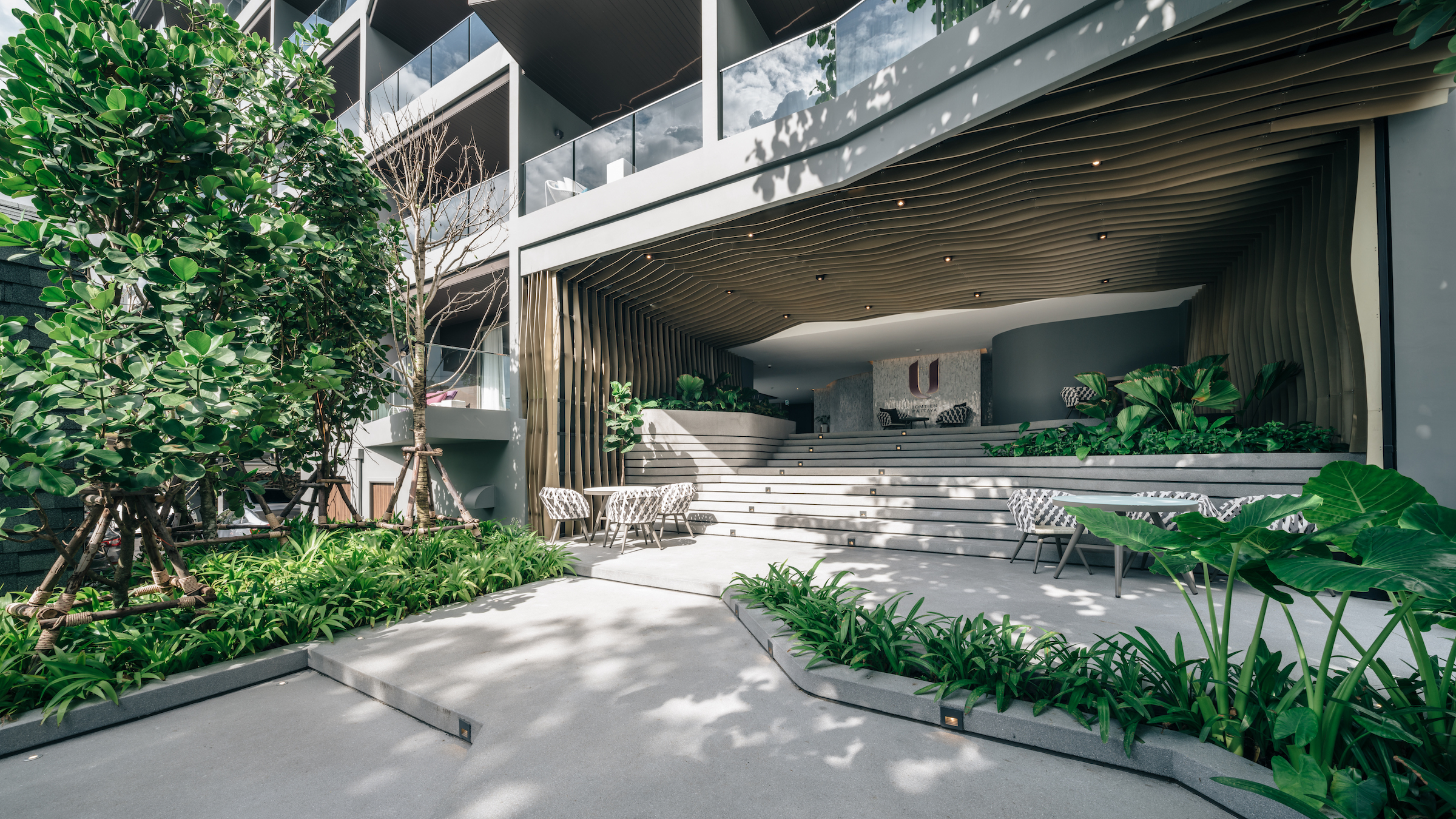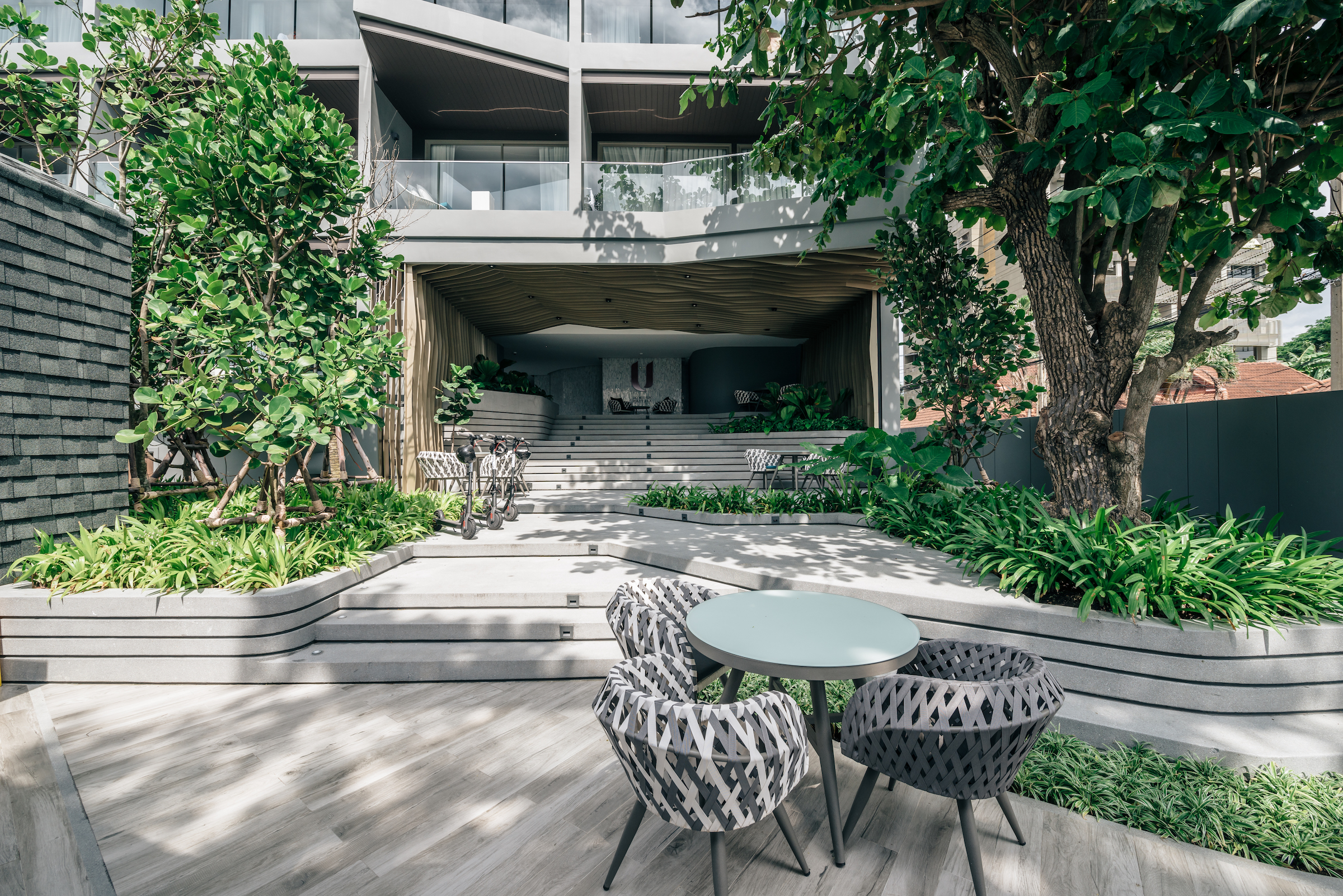 酒店大部分的房间都配有一个大型开口面向大海,没有任何建筑元素的干扰,就将这无边的壮阔海景引入室内。建筑立面的设计灵感来自海面的波浪和光线反射。阳台的不规则形状为用户提供了多种不同的观景视角,也给每个房间带来了不同的居住体验。
Most of the room facing the ocean with large portion of opening, fill in the interior with ocean view without any distraction from any architectural element. The design of the façade inspired by the reflection of light and wave. The irregular shape of balcony also creates differences angle of view, offer variation of experience to each room.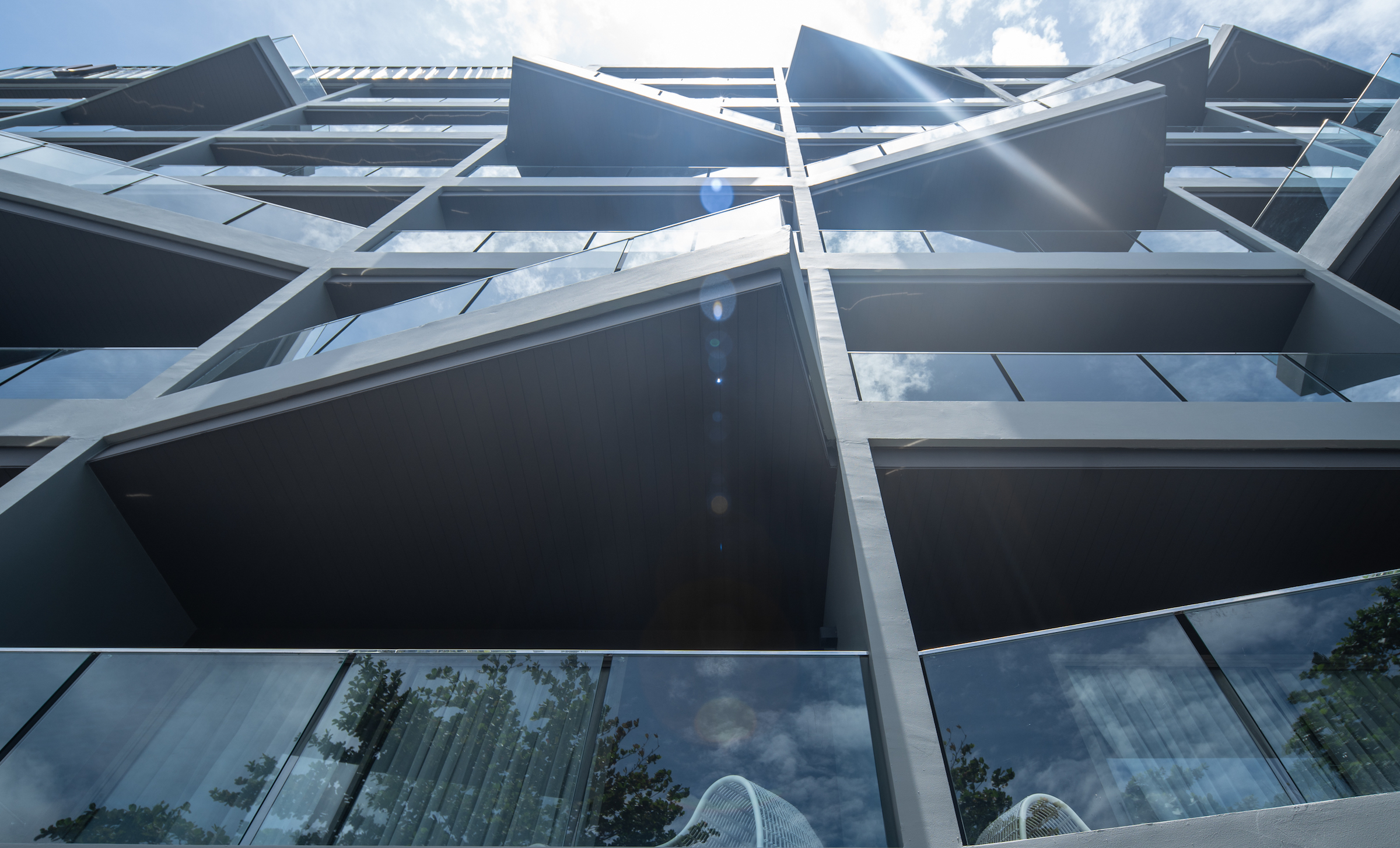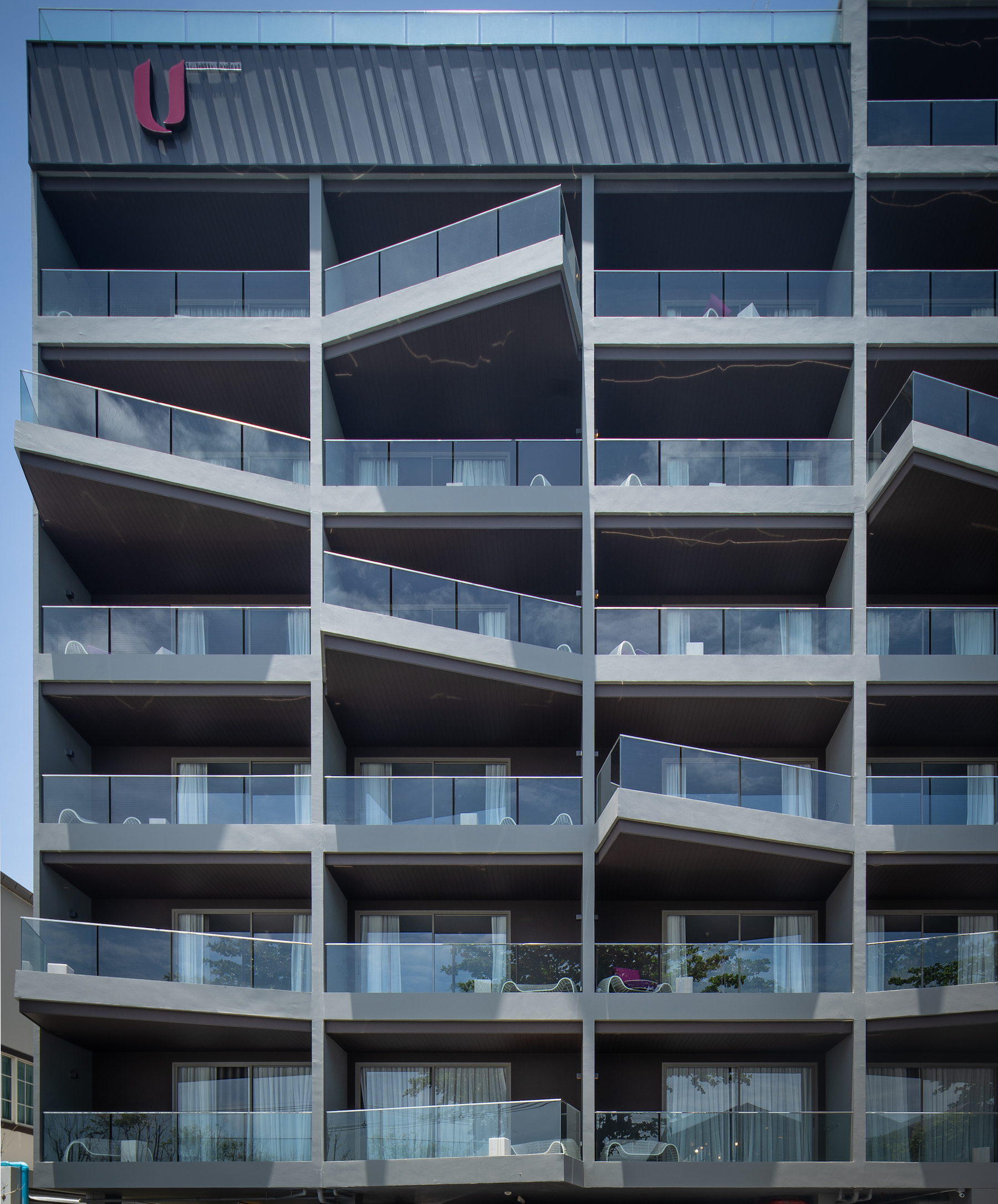 建筑的中心有一个7层楼高的中庭,它让海风在这里穿过走廊和大堂,不仅从视觉,更从感官上,让场地自然元素充盈整个空间。
At the center of the building is 7 story-tall atriums where the sea breeze flow through the corridor and lobby area. Fill in the space with its context not visually but sensory.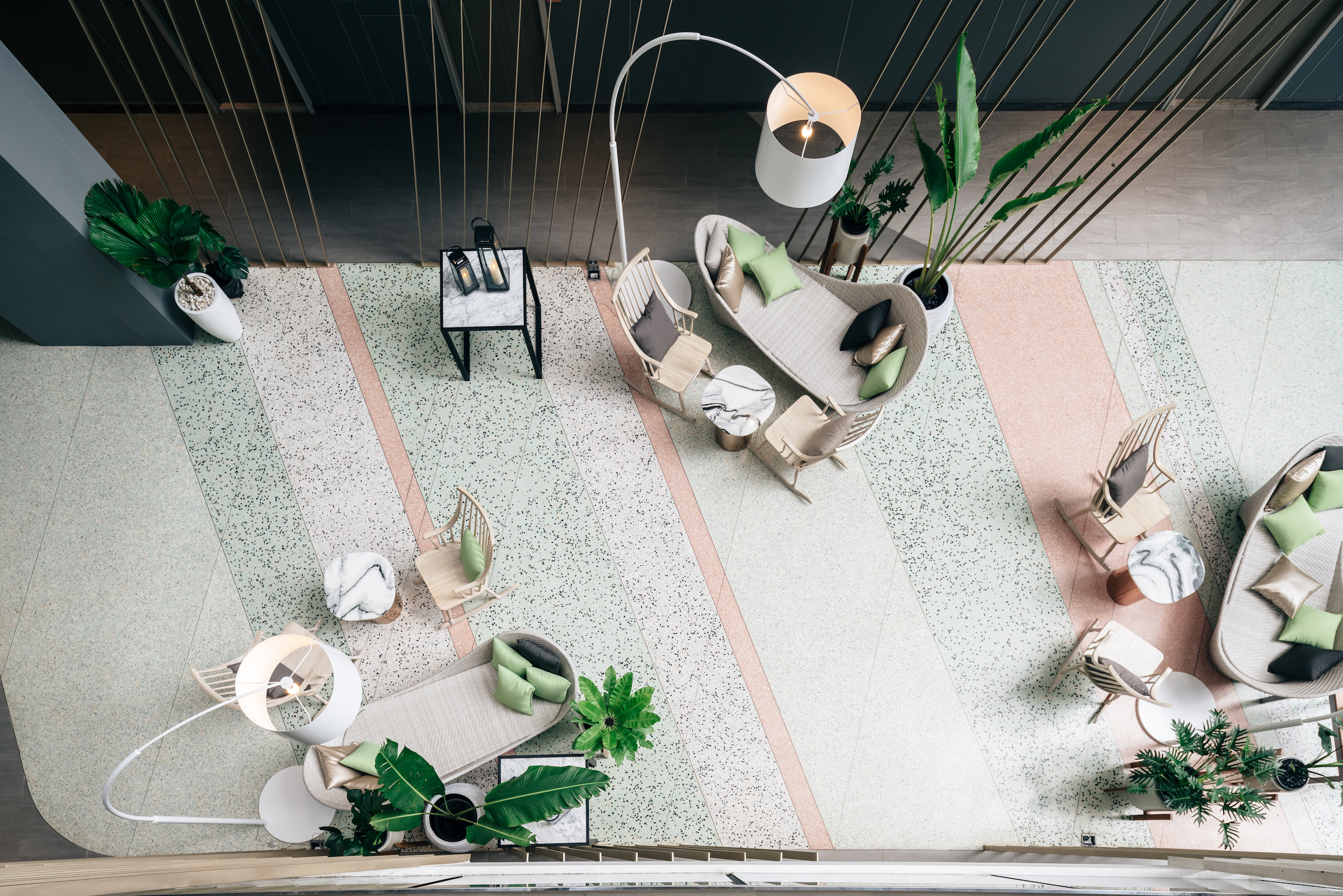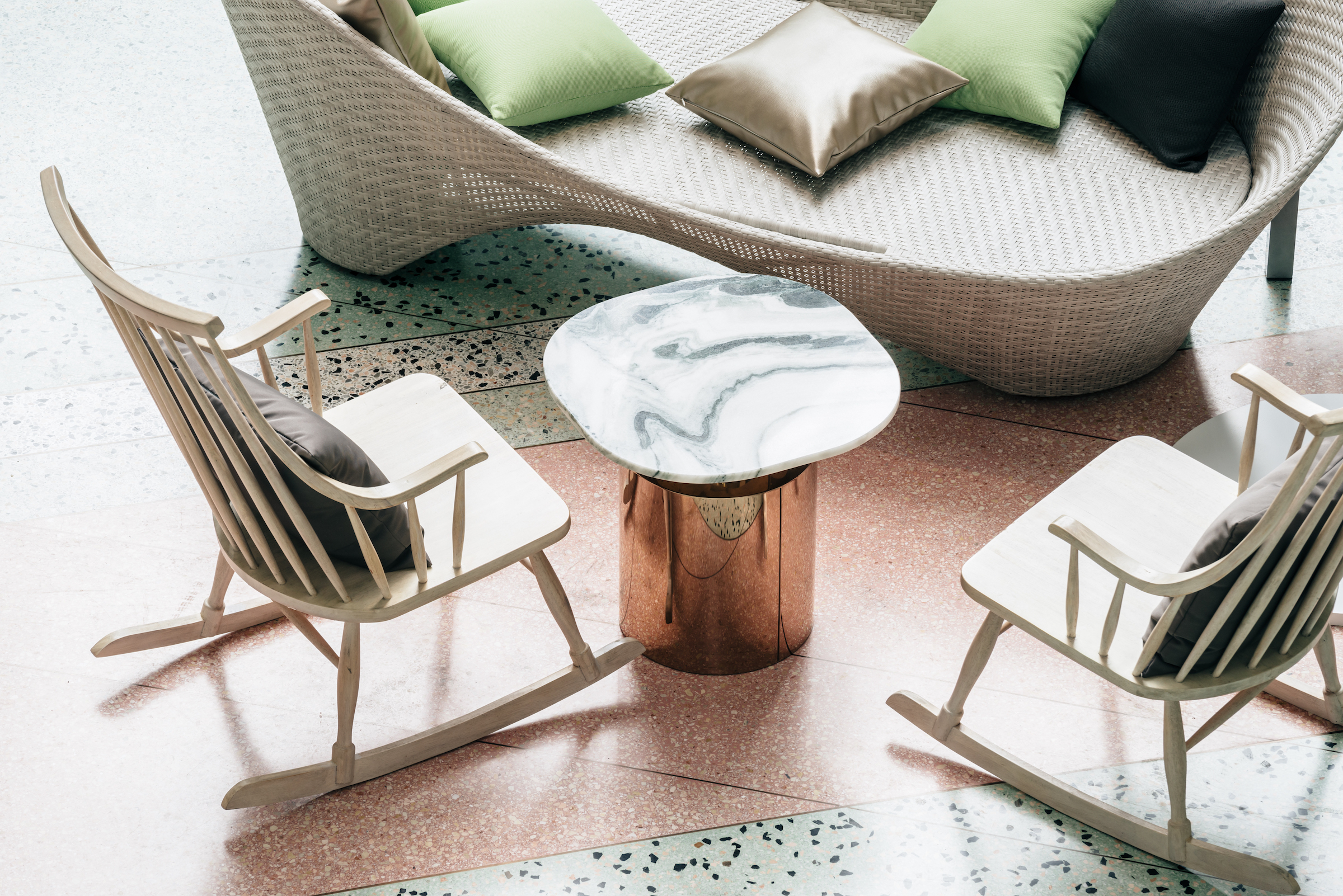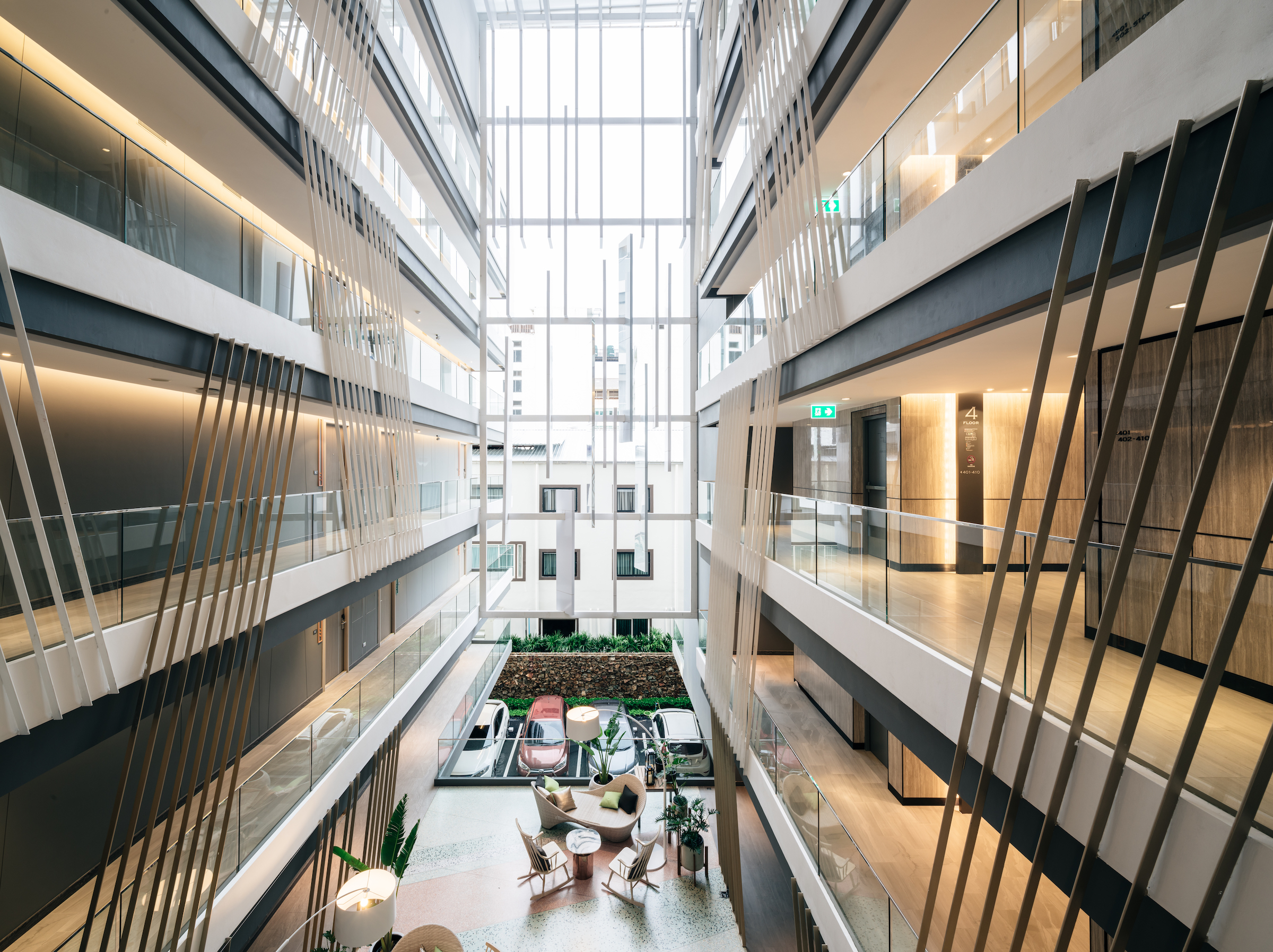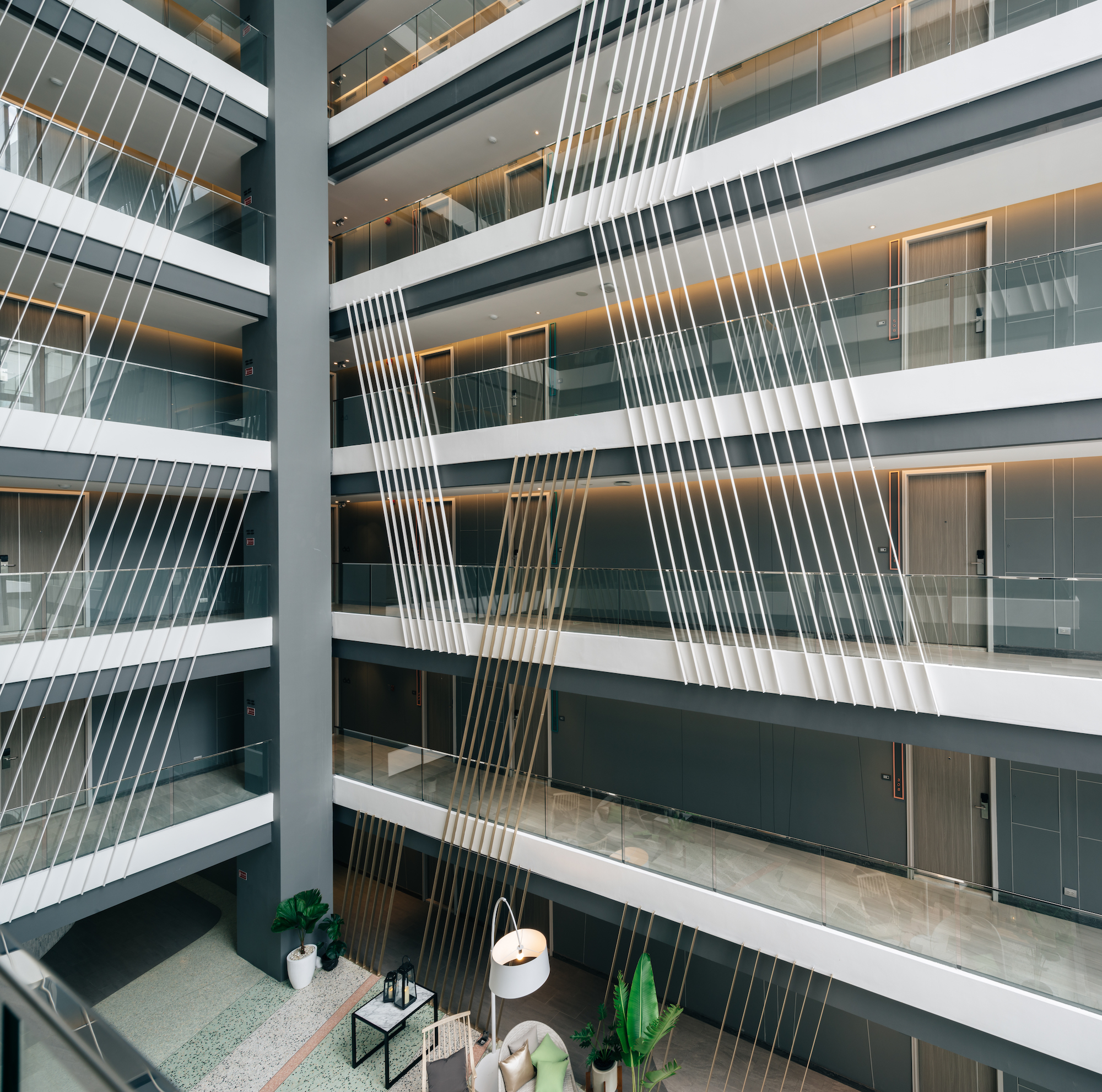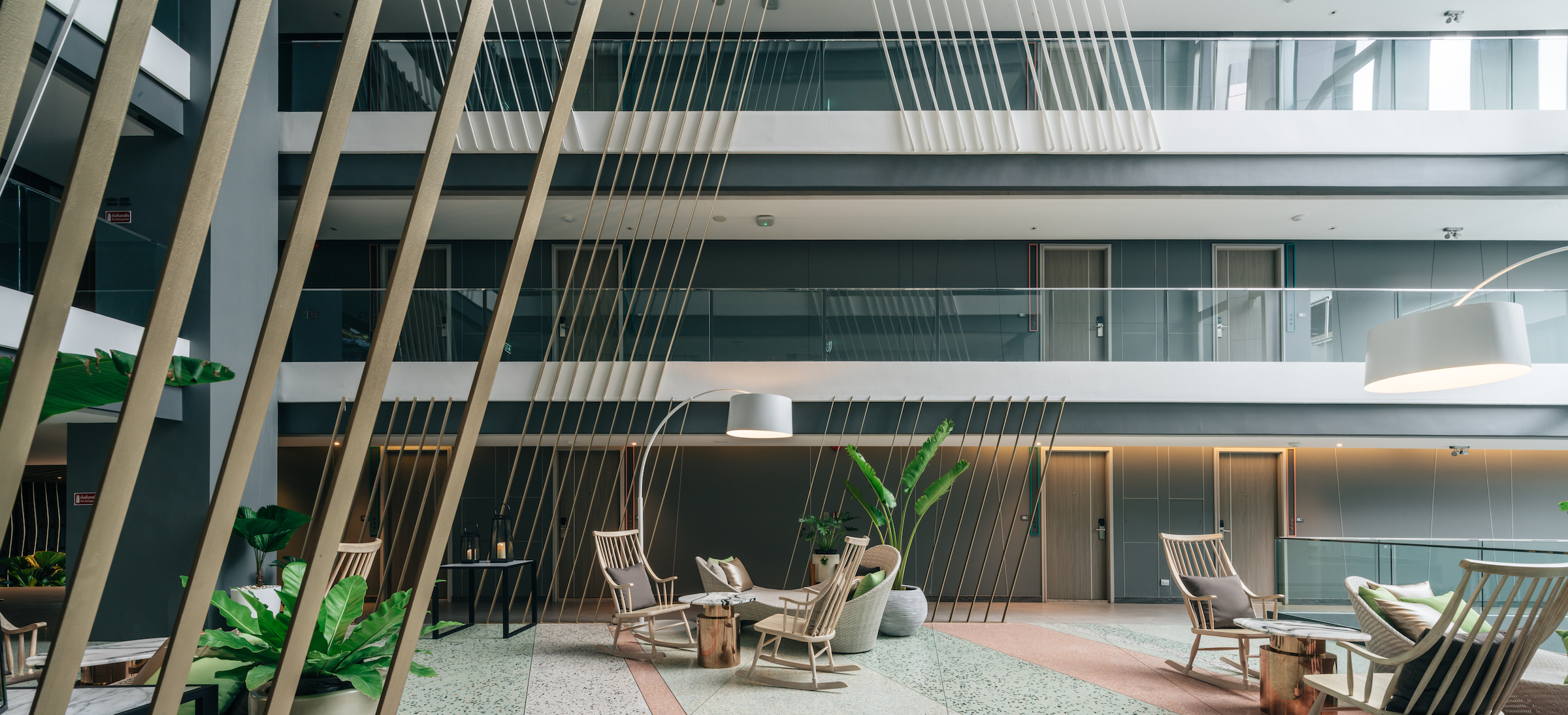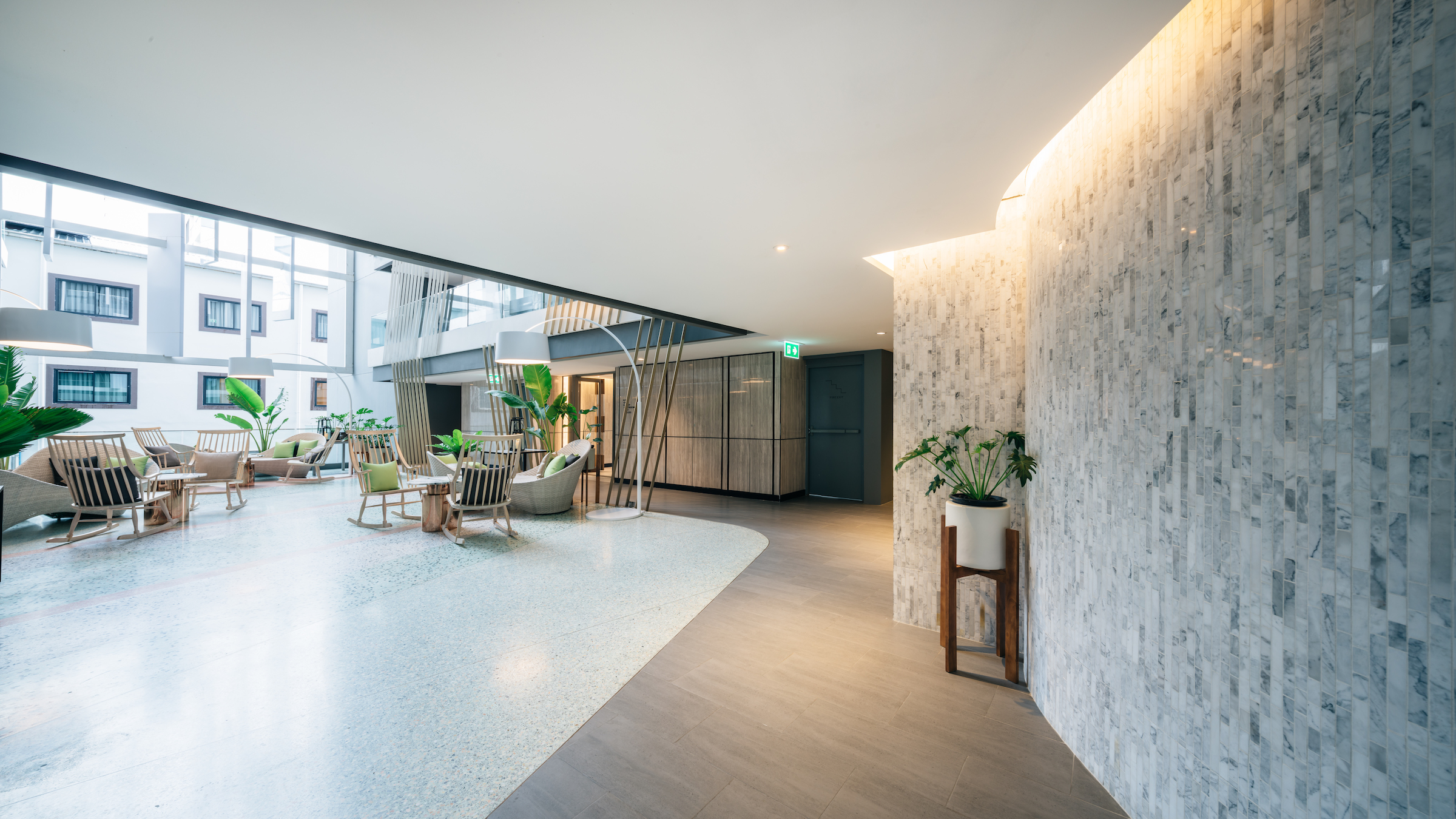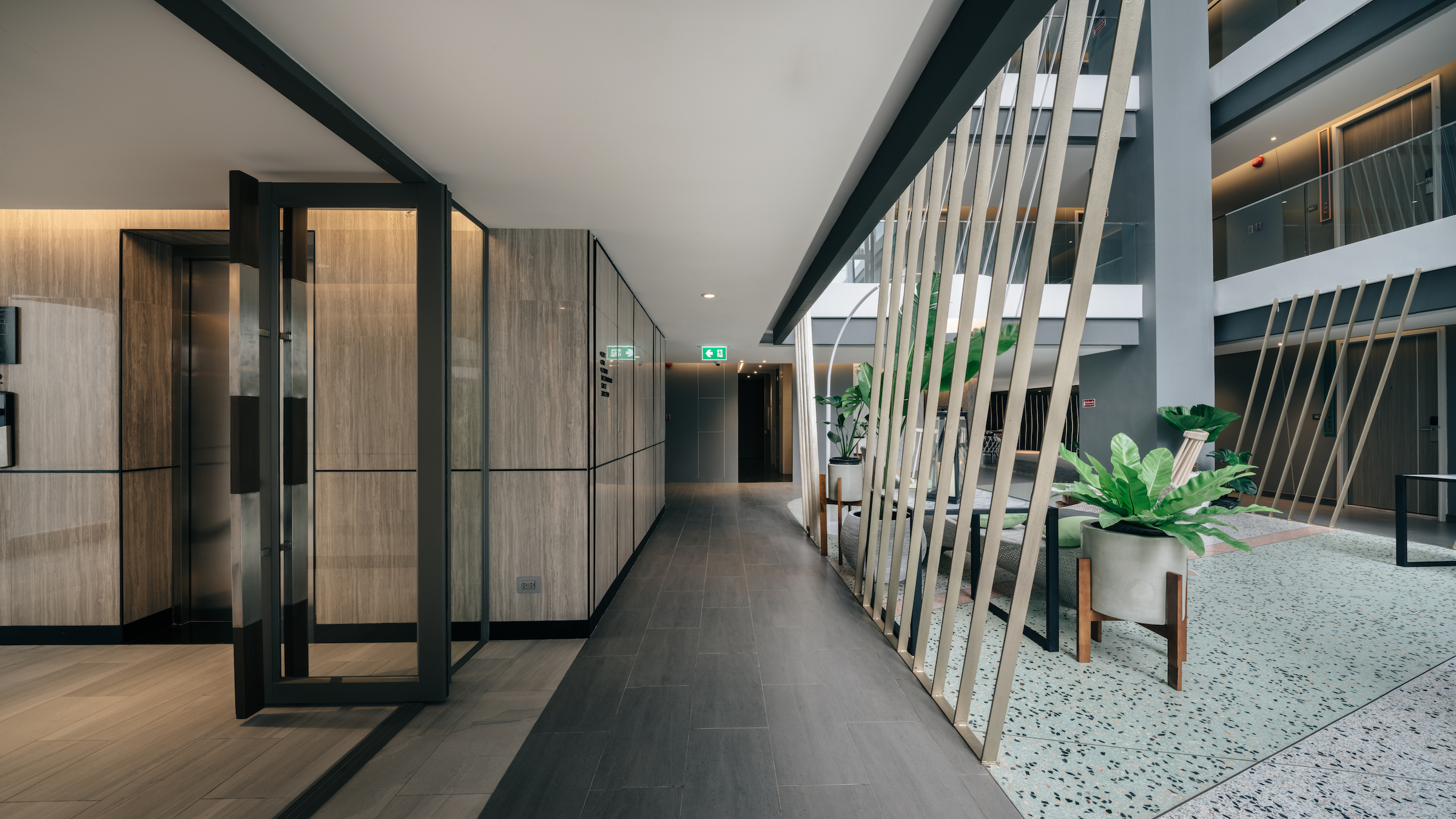 当然,美术馆的概念也延续到了室内设计中,每间客房都用不同的中性色彩装饰,只突出几件特色家具和空间的柔和色彩,在室内空间中营造博物馆般的体验。
The concept of art gallery also carries on to interior design, each guest room decorate with variation of neutral color, highlight only few pieces of feature furniture and space with gentle color to create museum-like experience within interior space.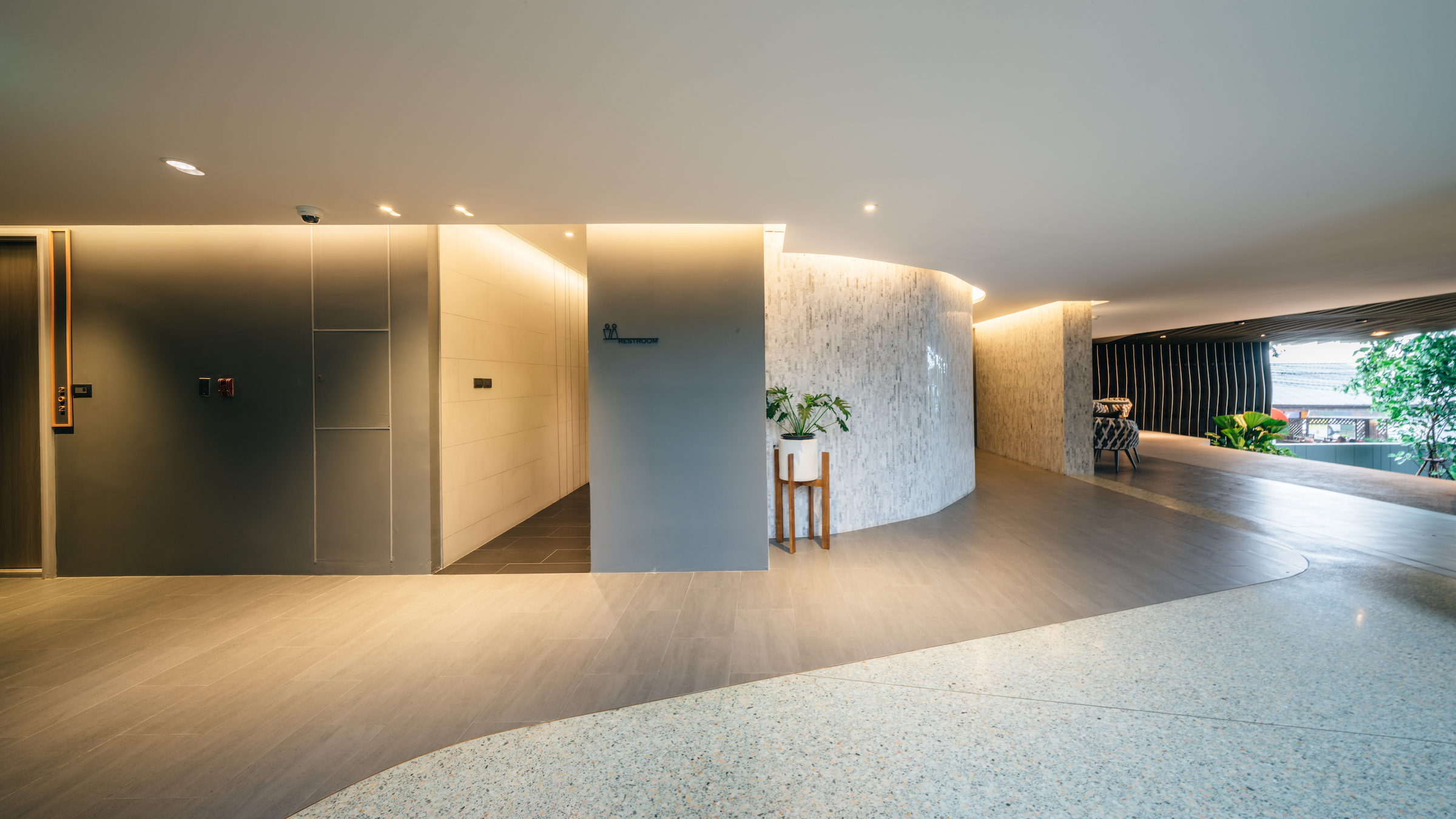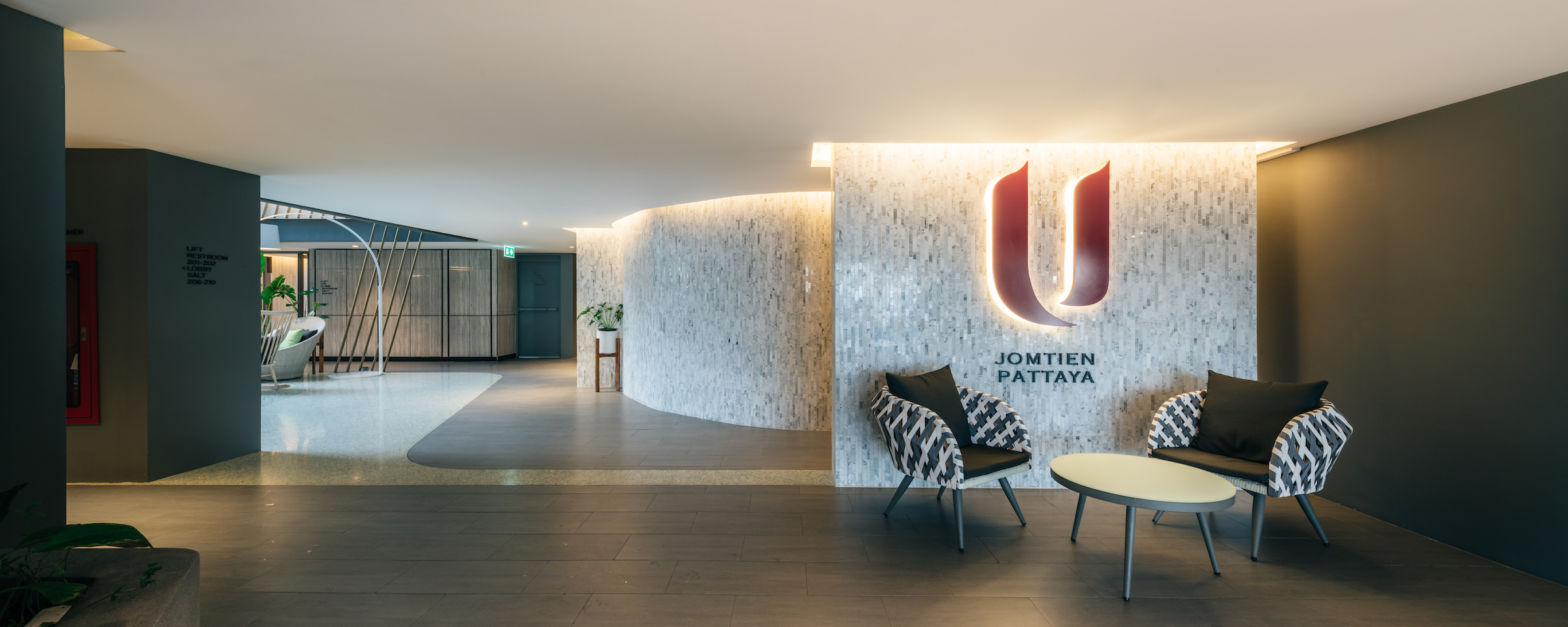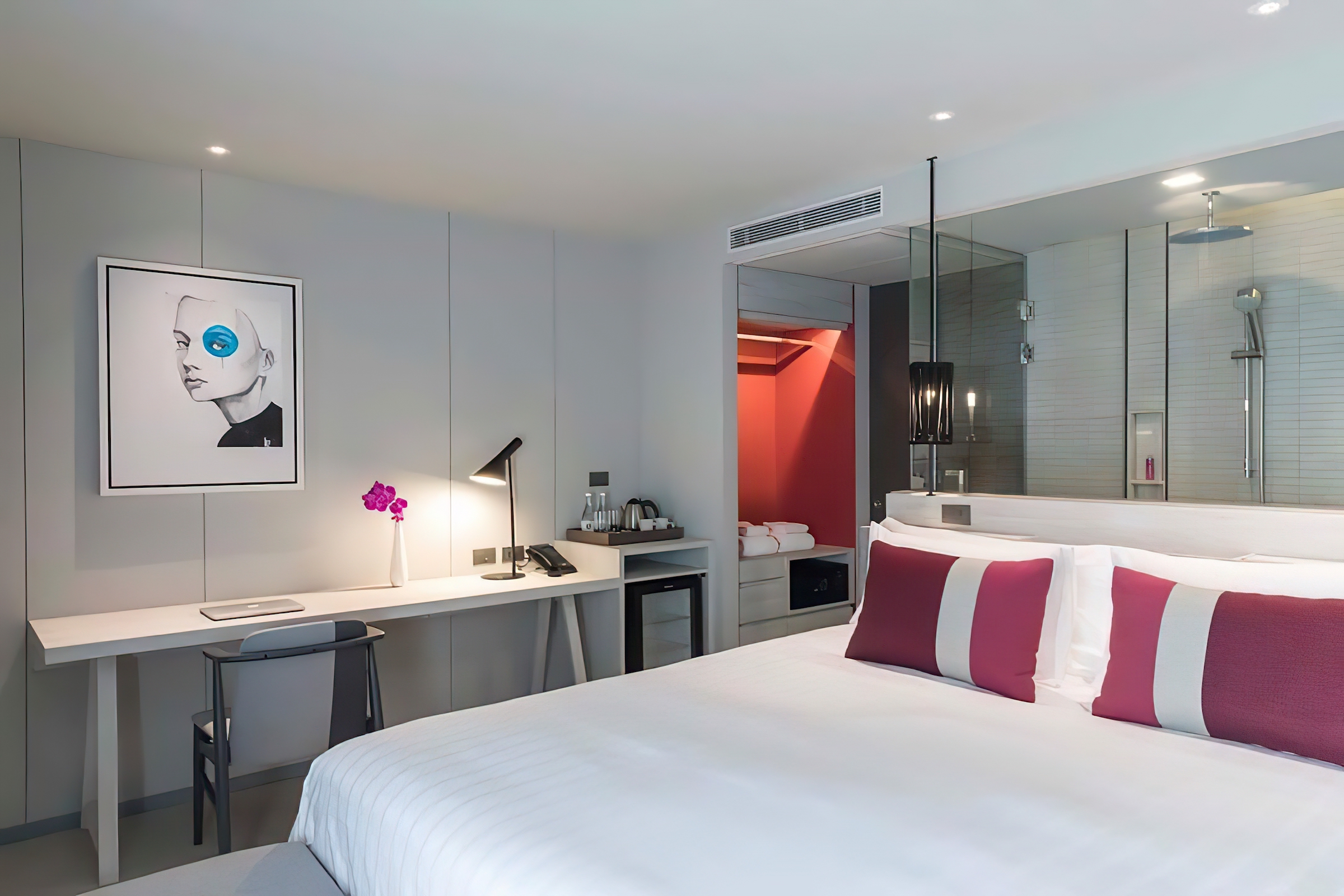 酒店屋顶上设有屋顶酒吧,以及白色的无边界泳池,一眼望过去,泳池仿佛与海洋连为一线。
On the rooftop is rooftop bar with white infinity-edge pool where the pool surface visually connects with the ocean.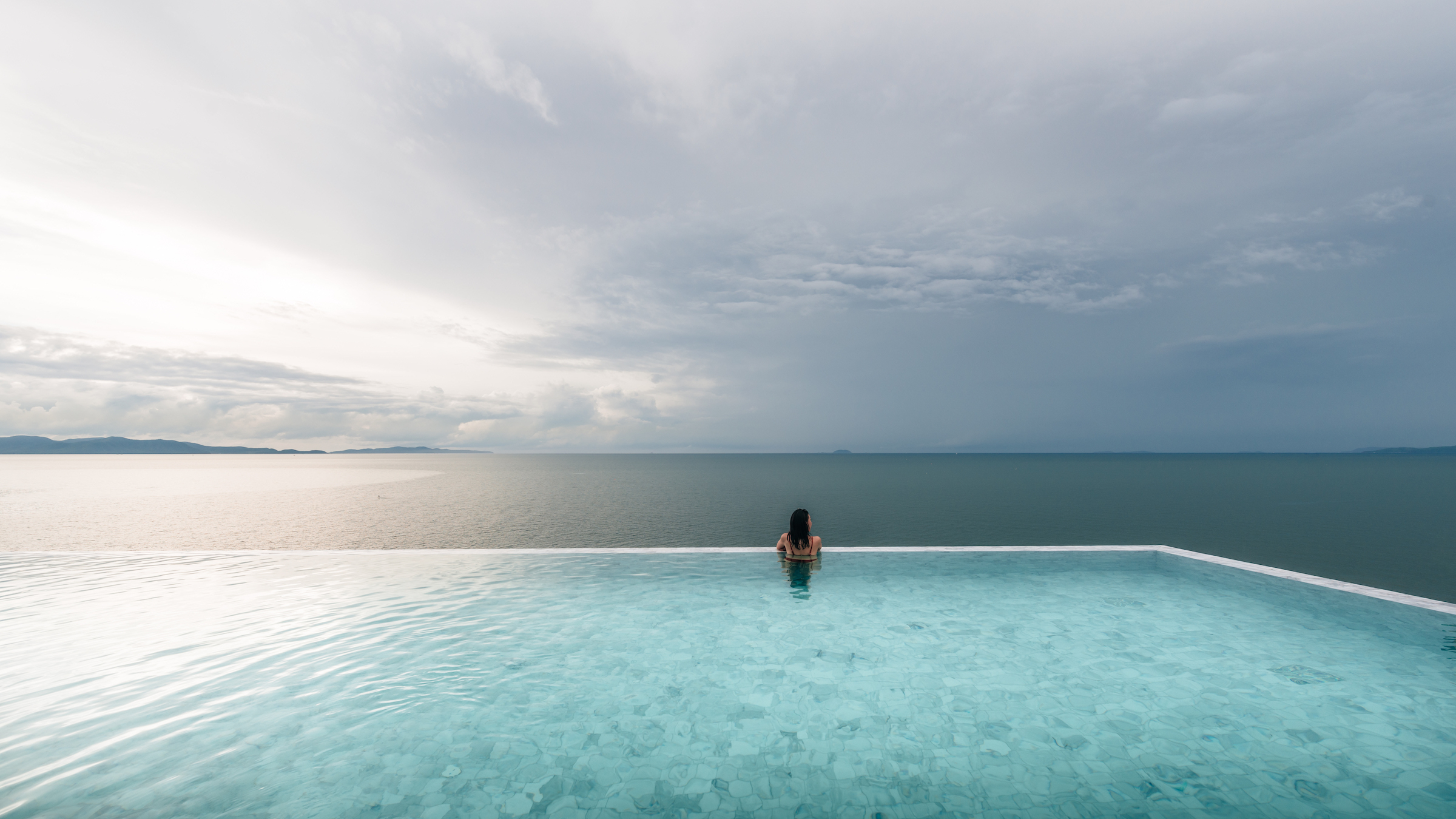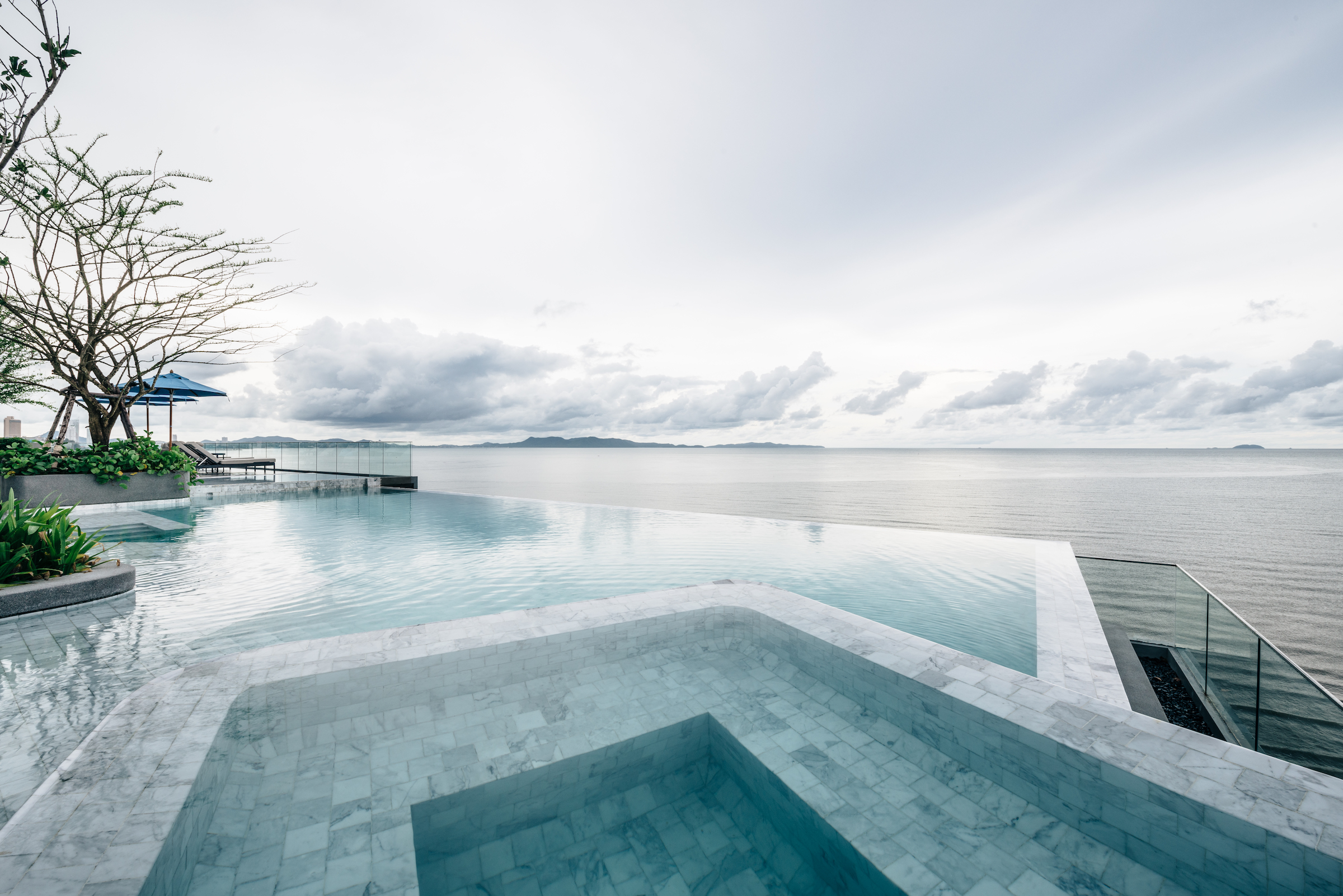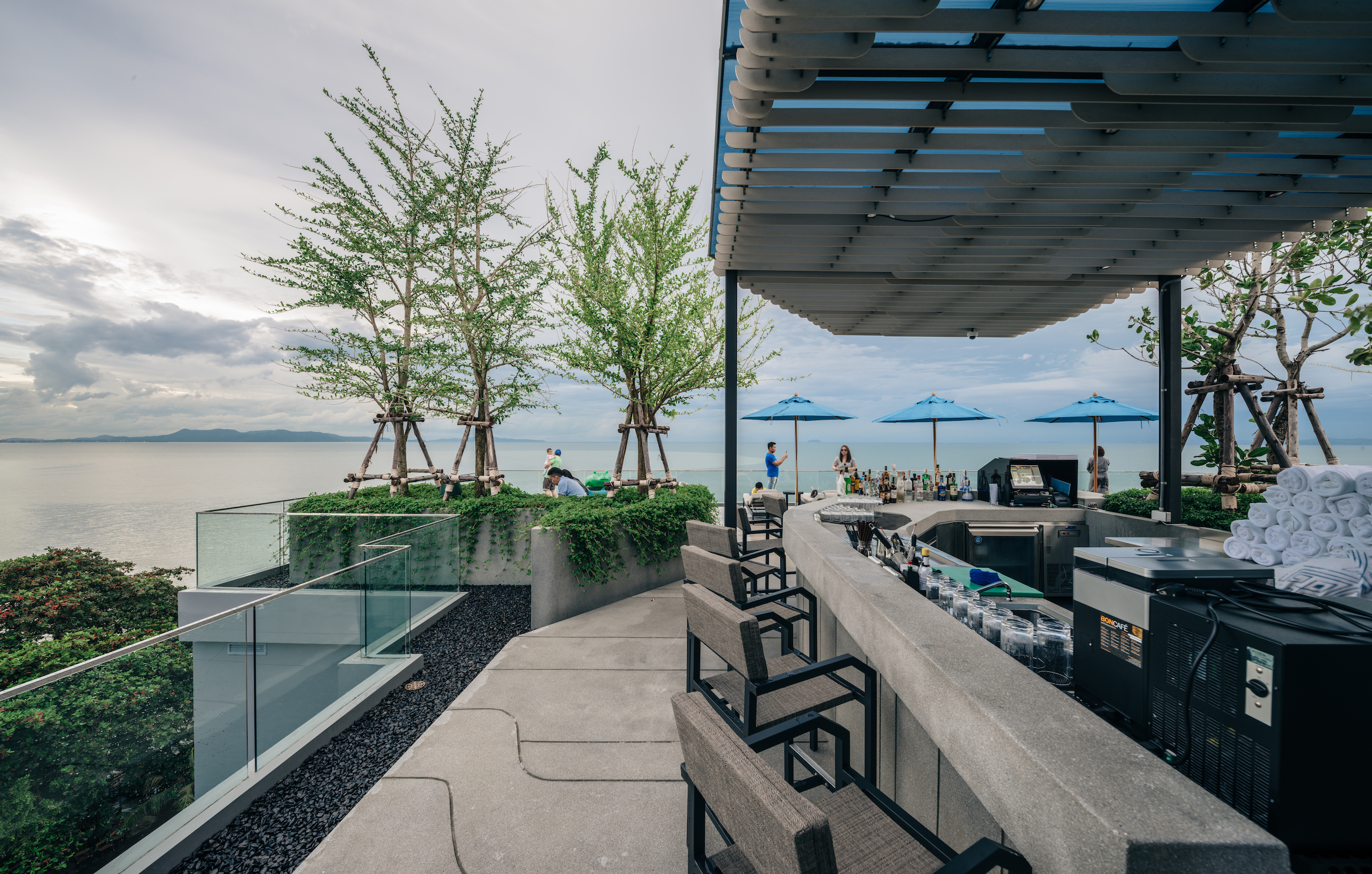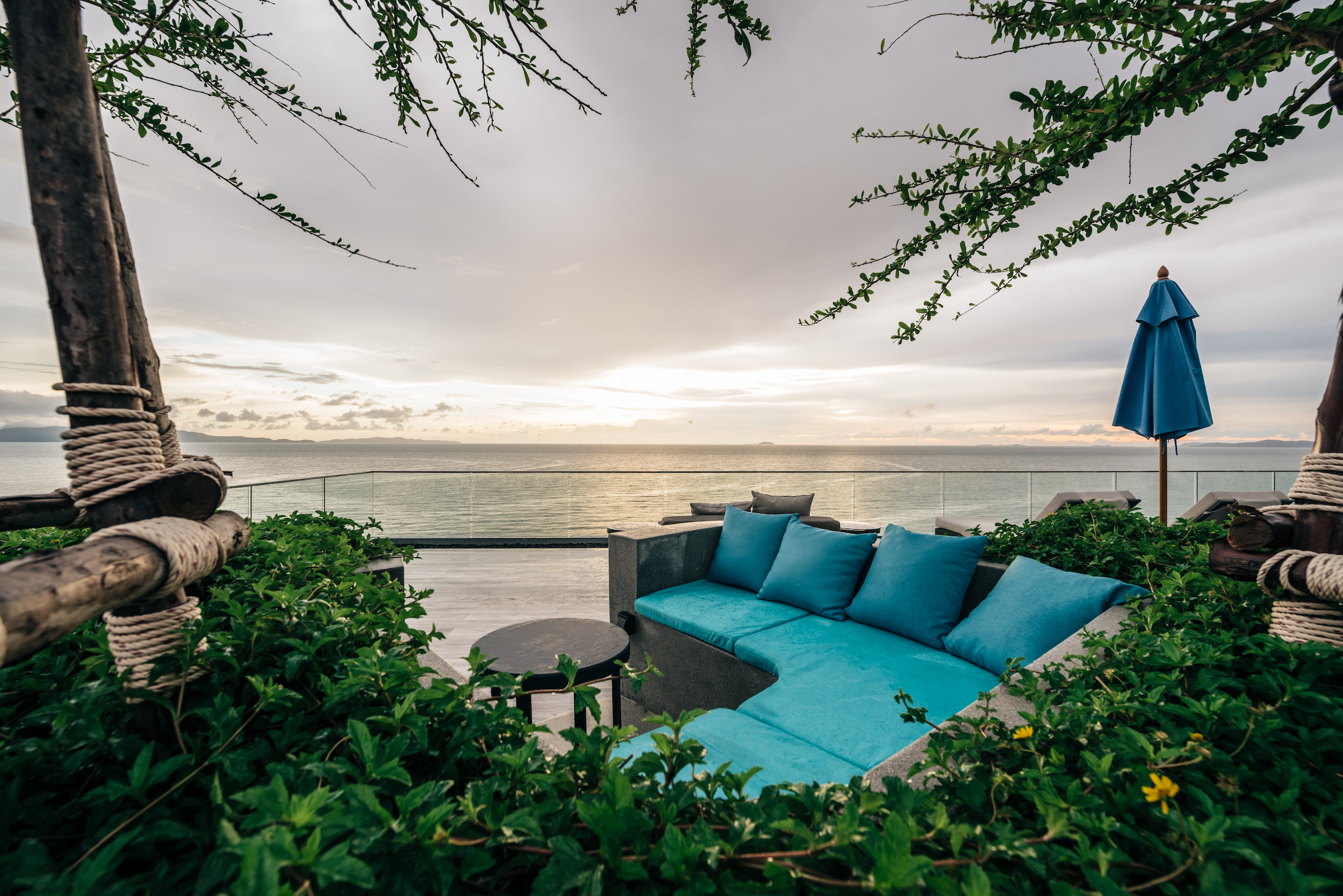 酒店主要建筑前面的餐厅和咖啡厅,同样呼应了不规则阳台的设计理念,以不规则山墙为特色。山墙屋顶也模仿了反射光和波浪,但它们的组合形式各不相同。
In front of the main hotel building locate restaurant & café with irregular gable. Again, the design of the café borrows the idea from irregular balcony. The gable roof depicts the reflection light and wave but with difference synthesis.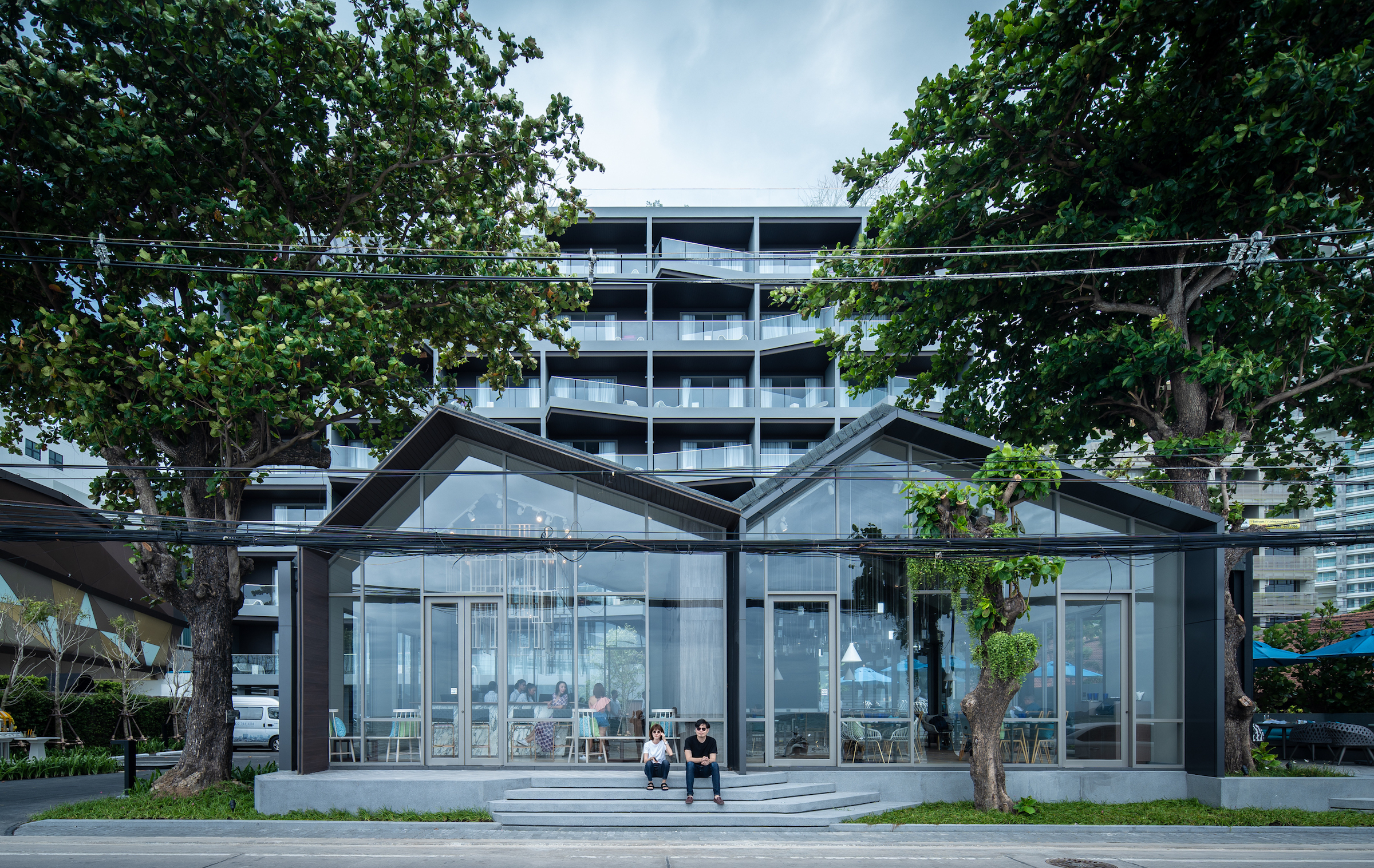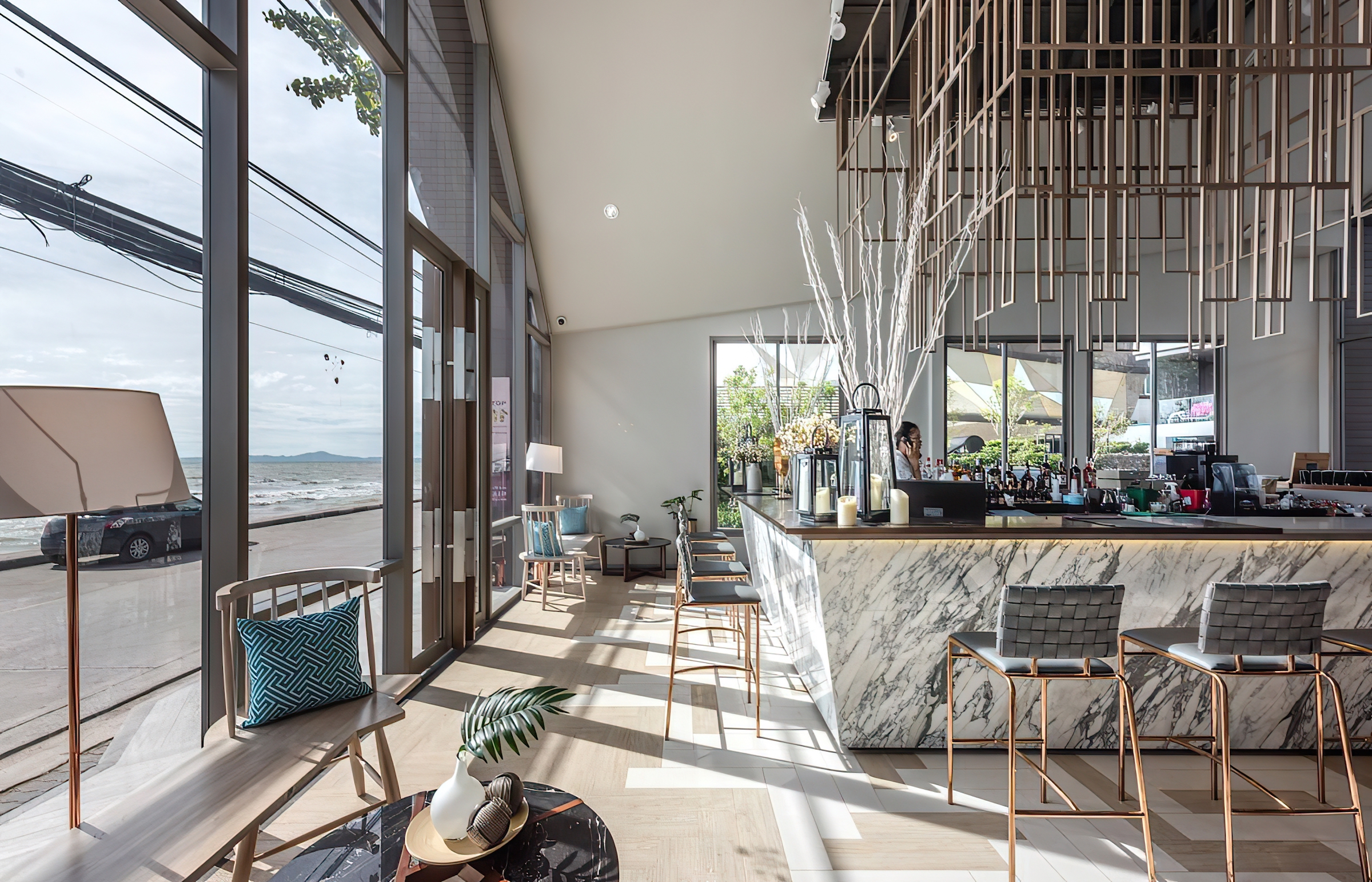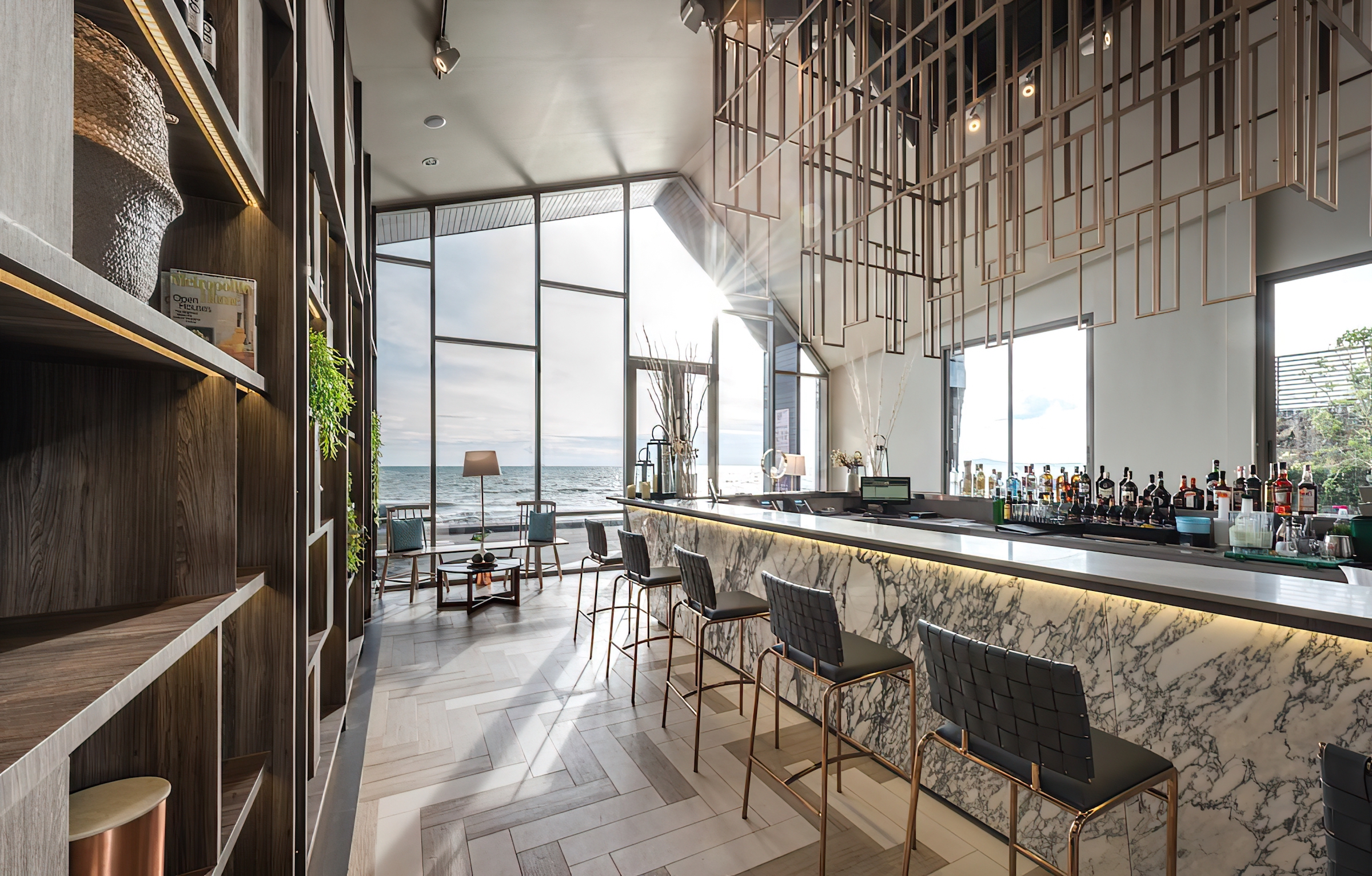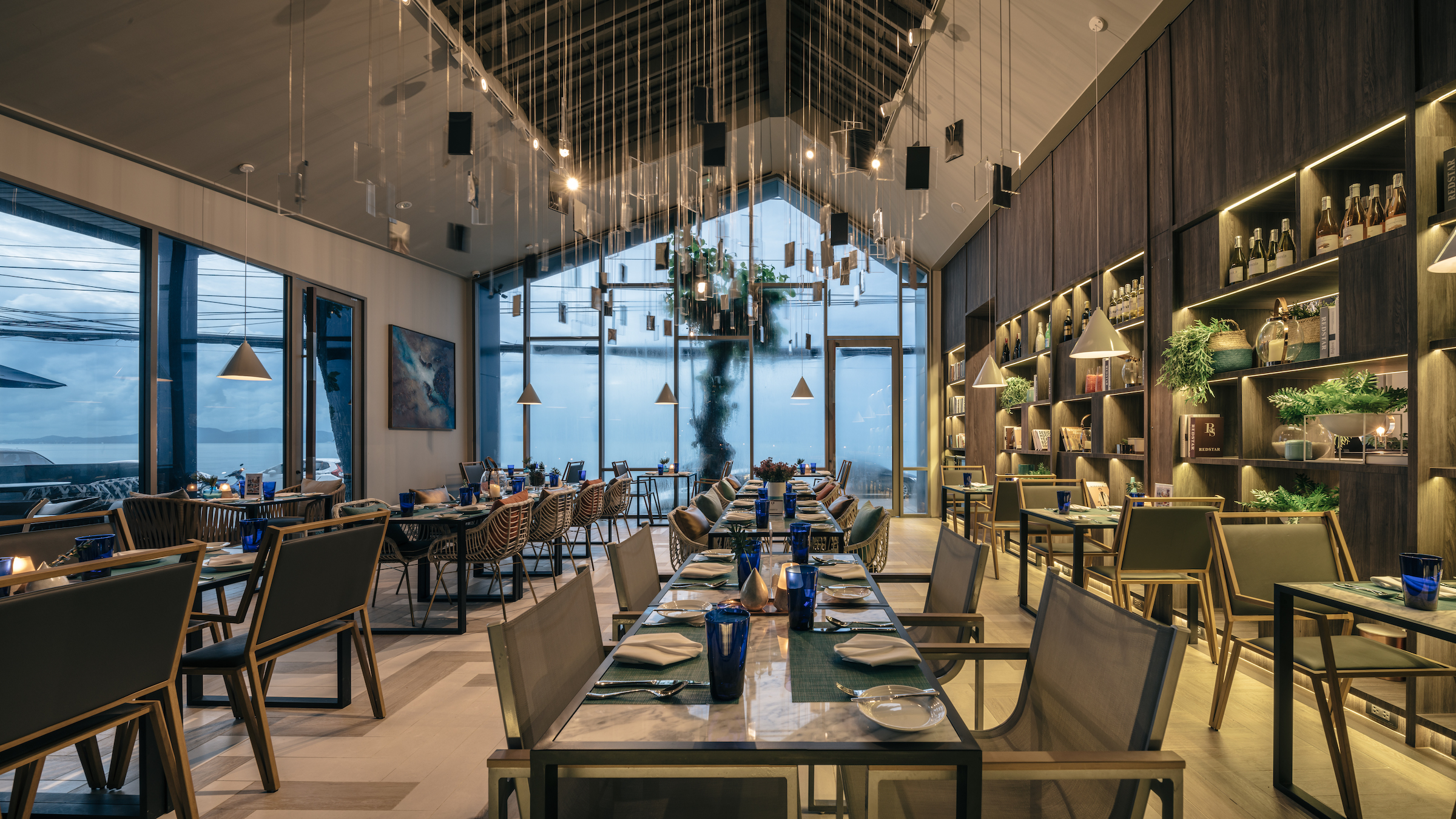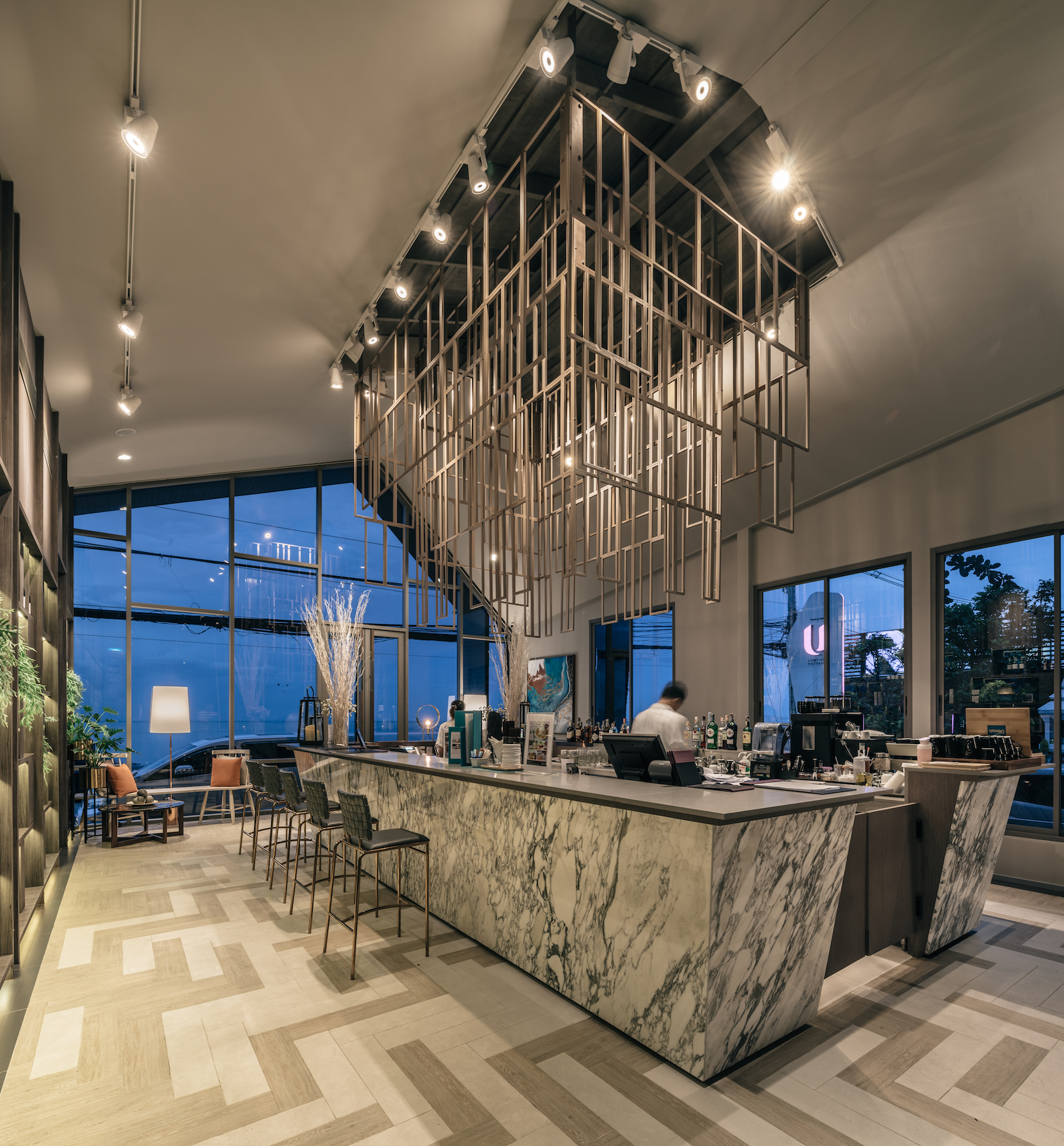 ▼设计过程图 Diagram  
▼各层标准平面图 2F & 3F & 8F & Roof Plan
项目名称:U Jomtien Pattaya
建筑设计:makeAscene
公司网址:www.makeAscene.co.th
联系邮箱:info.makeAscene@gmail.com
公司地址:泰国曼谷瑞丰大厦9楼拉玛路4号
完成年份:2018年
总建筑面积:3979.5平方米
项目地点:泰国芭提雅纳郑初美提安宗甸一路
首席建筑师:Pitchaya Ratpiyasoontorn
图片版权:SkyGround architectural film & photography, makeAscene
摄影师网址:http://www.skyground.dof.co.th/
摄影师邮箱:admin@dof.co.th
建筑团队:Pitchaya ratpiyasoont,Viruth Purichanont | makeAscene
室内团队:Methiga Tangkaewfa,Sujima Nithipunyavanich,Jirawan Kangkayan | makeAscene
客户:The Urban Property
结构工程:WOR Consultant
系统工程:Bewtech
景观设计:VVdesine
照明设计:Studio Luxsit
Project Name: U Jomtien Pattaya
Architecture Firm: makeAscene
Website: www.makeAscene.co.th
Contact e-mail: info.makeAscene@gmail.com
Firm Location: 9th floor Srifuengfung Building Rama 4 Rd. Bangkok, Thailand
Completion Year: 2018
Gross Built Area: 3979.5 sq.m
Project location: Jomtien 1 Rd, Na Chom Thian, Pattaya, Thailand
Lead Architects: Pitchaya Ratpiyasoontorn
Photo credits: SkyGround architectural film & photography, makeAscene
Photographer's website: http://www.skyground.dof.co.th/
Photographer's e-mail: admin@dof.co.th
Architects: Pitchaya Ratpiyasoontorn, Viruth Purichanont | makeAscene
Interior Designer: Methiga Tangkaewfa, Sujima Nithipunyavanich, Jirawan Kangkayan | makeAscene
Clients: The Urban Property
Structural Engineer: WOR Consultant
System Engineer: Bewtech
Landscape: VVdesine
Lighting designer: Studio Luxsit
更多 Read more about: makeAscene