本文由 Surfacedesign, Inc. 授权mooool发表,欢迎转发,禁止以mooool编辑版本转载。
Thanks Surfacedesign, Inc. for authorizing the publication of the project on mooool, Text description provided by Surfacedesign, Inc.
Surfacedesign, Inc.:史密斯广场和联合广场改造工程将位于UNM(新墨西哥大学)主校区中心的3.3英亩土地转变为UNM标志性的社交聚会空间。新的中央广场被学生、教职员工和当地社区成员占据,成为一个平等、丰富而包容的社会空间。史密斯广场面向历史悠久的齐默尔曼图书馆、学生会大楼和学术大厅,以开放的姿态展现了UNM的校园生活。
Surfacedesign, Inc.:The Smith Plaza & Union Square Renovation transforms 3.3 acres at the heart of UNM's main campus into UNM's signature social gathering space. Intensely occupied by students, faculty, staff and local community members, the central plaza redesign acts as a social space of equity, diversity and inclusion. Addressing the historic Zimmerman Library, Student Union Building, and academic halls, Smith Plaza is the welcoming gesture and representation of UNM campus life.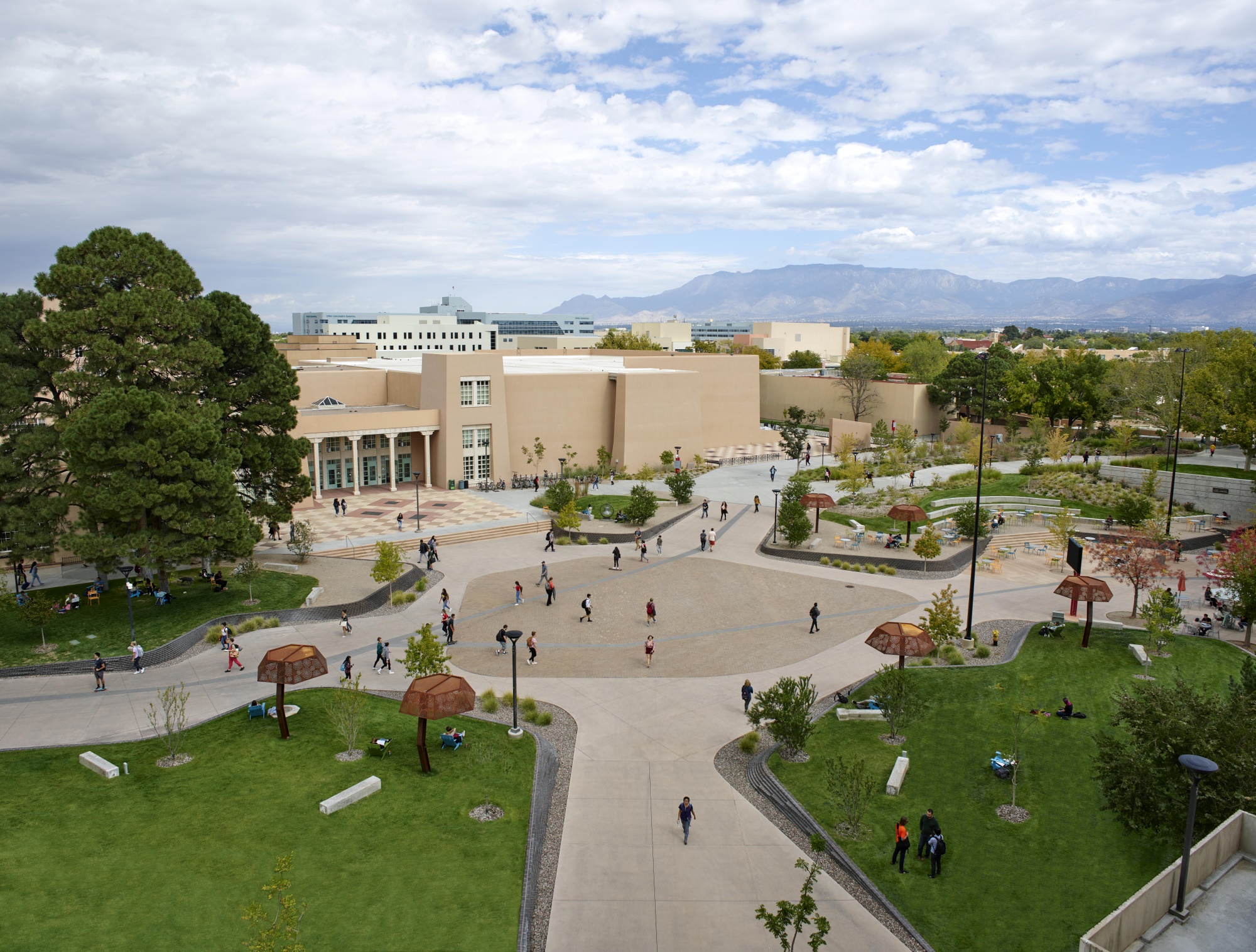 作为众多学生户外生活和活动的场所,该广场不仅需要具有强大的功能,还需要尊重地方的真实性。该广场以西面的台地和附近的高原为灵感,在布局和使用空间上均富有层次。下层广场犹如该地区干枯的河道,提供了多种运动空间,而可供休闲停留和绿化的梯台形成了广场的统一特征,适宜生动活泼的校园生活。
As the exterior host for numerous student life functions and events, the plaza not only requires robust functionality, but also authenticity to place. Inspired by the West Mesa and nearby plateaus, the plaza is layered in formation and use. The lower plaza, analogous to arroyos of the region, allows for multitude of movement networks while a hierarchy of occupiable and planted plateau terraces create a unifying identity to the plaza and support the dynamic characteristics of campus life.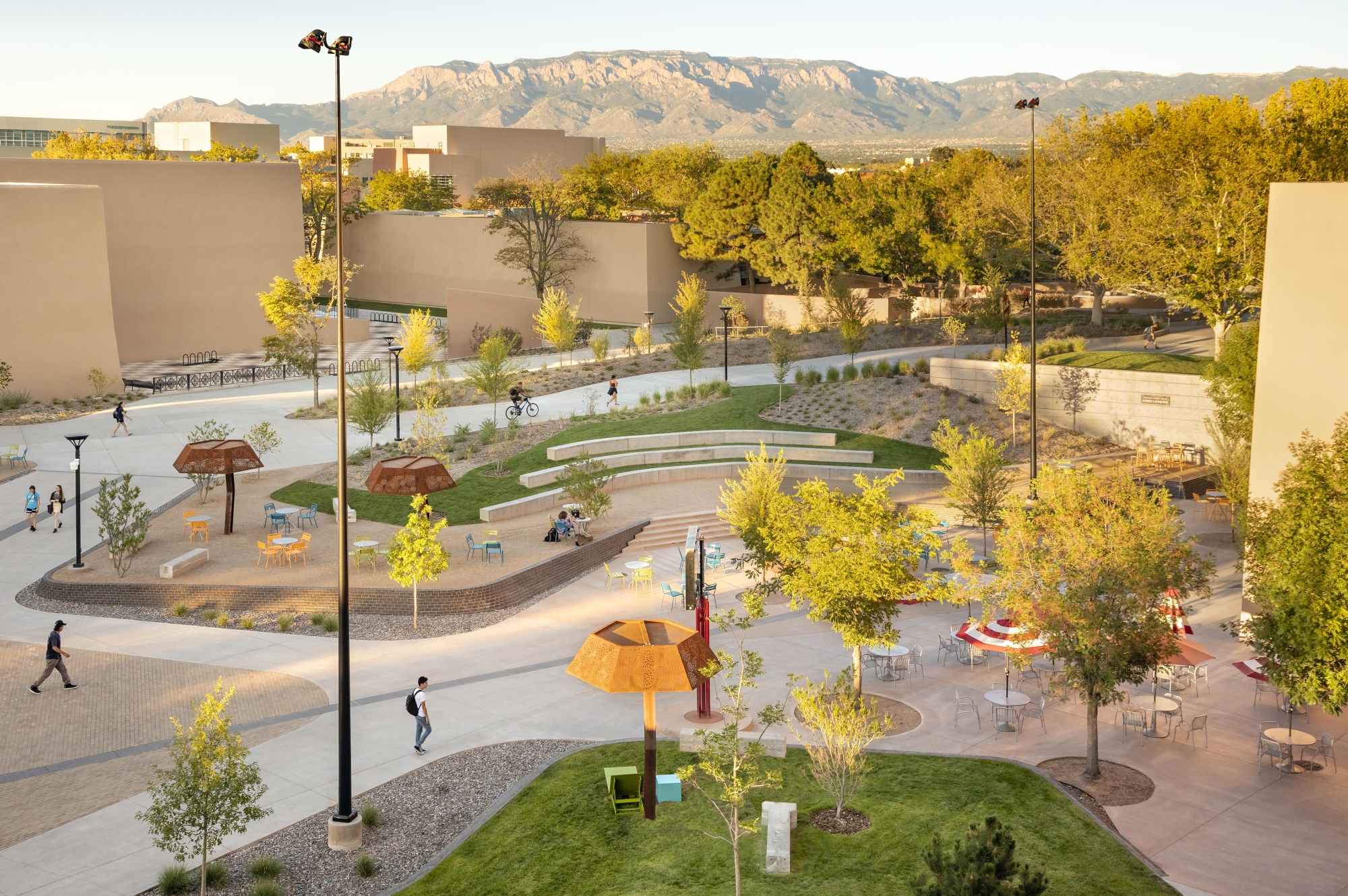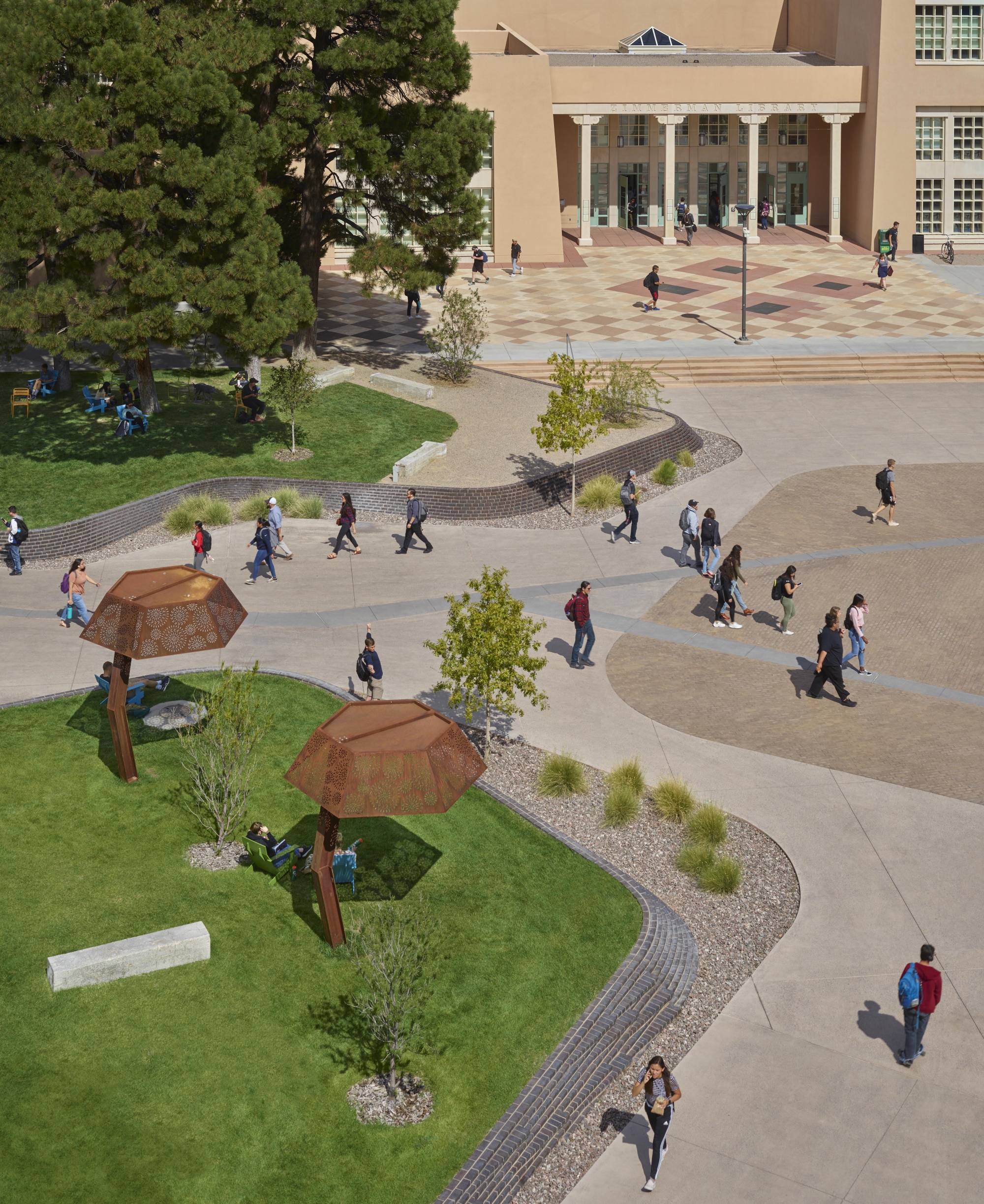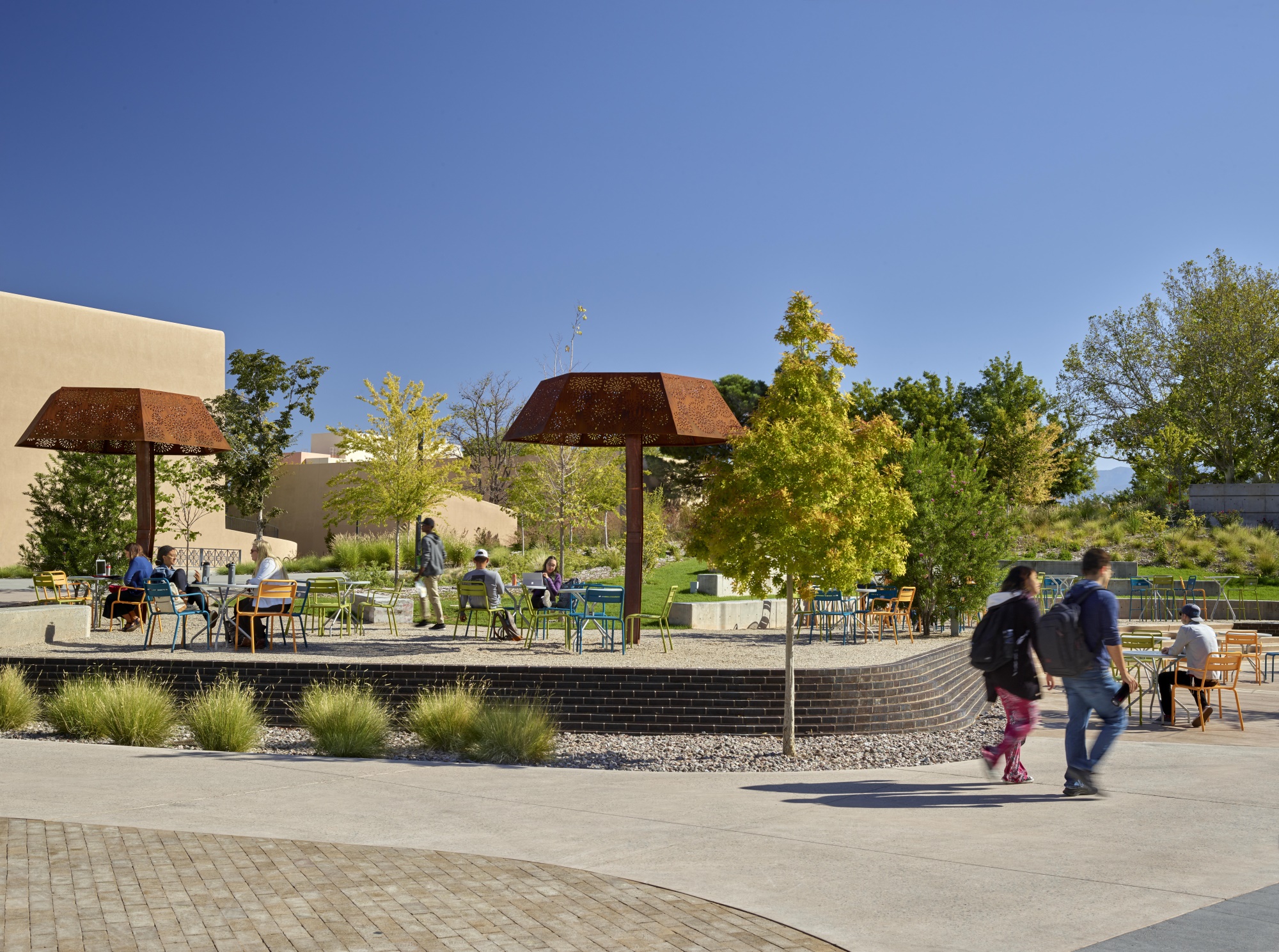 设计中注重材料的选择,会优先考虑当地实用性和代表性材料。砖块铺设的变幻的墙面让人想起阿尔伯克基盆地的土壤和场地记忆。从旧人行道表面回收的砖块被重新用于下层广场铺装,铺装图案和布局营造了一个宏伟的中心区域,与露出天然石骨料的浇铸混凝土地面相协调。具有丰富色彩和纹理的石料可使雨水径流沿着边缘下渗。本地适应性植被在软化硬质边缘的同时也增加了绿化体量,起伏的草坪成为校园中心异常宁静的绿洲。
The design placed importance on material selection to prioritize local availability and representation. Use of brick for the shifting wall surfacing recalls the earthen clay character and material recollection of the Albuquerque Basin. Salvaged brick from the past pavement surface was repurposed in the lower plaza pavement. The paving pattern and layout provide the great room centerpiece that is complemented by a ground finished cast concrete that exposes the native stone aggregates. Deeply colorful and textural stone aggregates allow stormwater runoff to infiltrate at the plaza edges. Native and adapted plantings soften the edges, providing vegetative massing, while rolling lawns provide for the exceptional calming oasis at the campus core.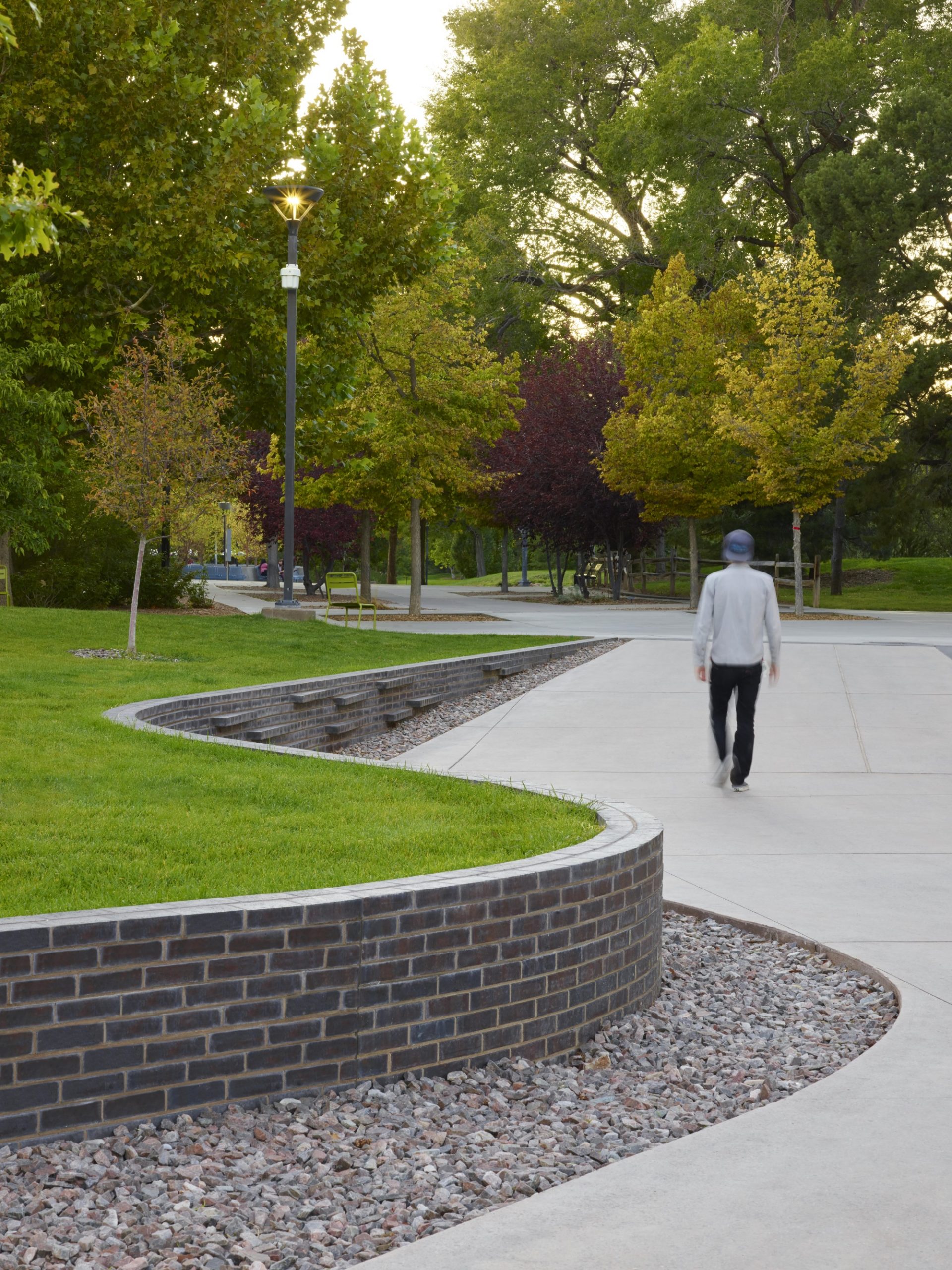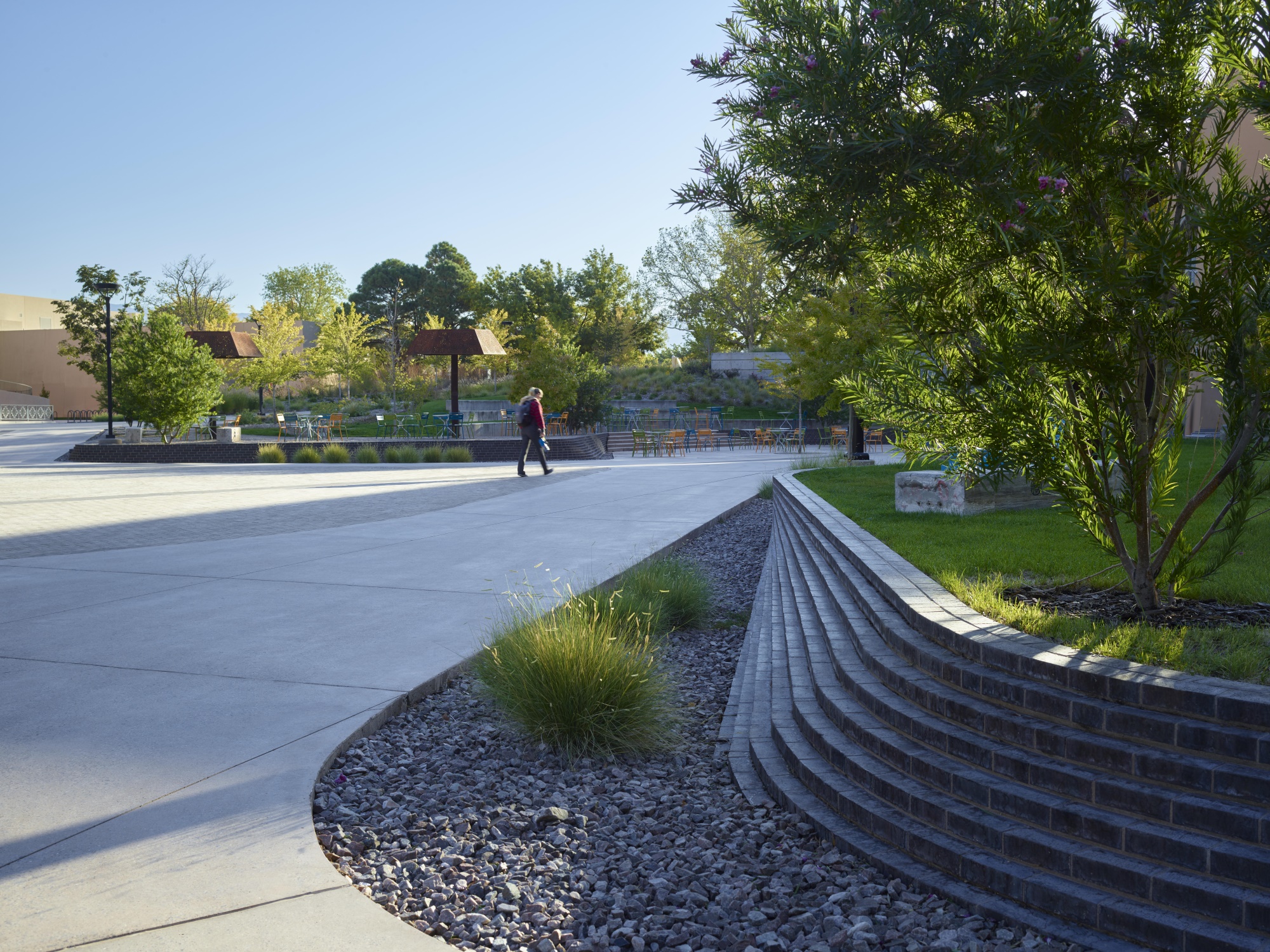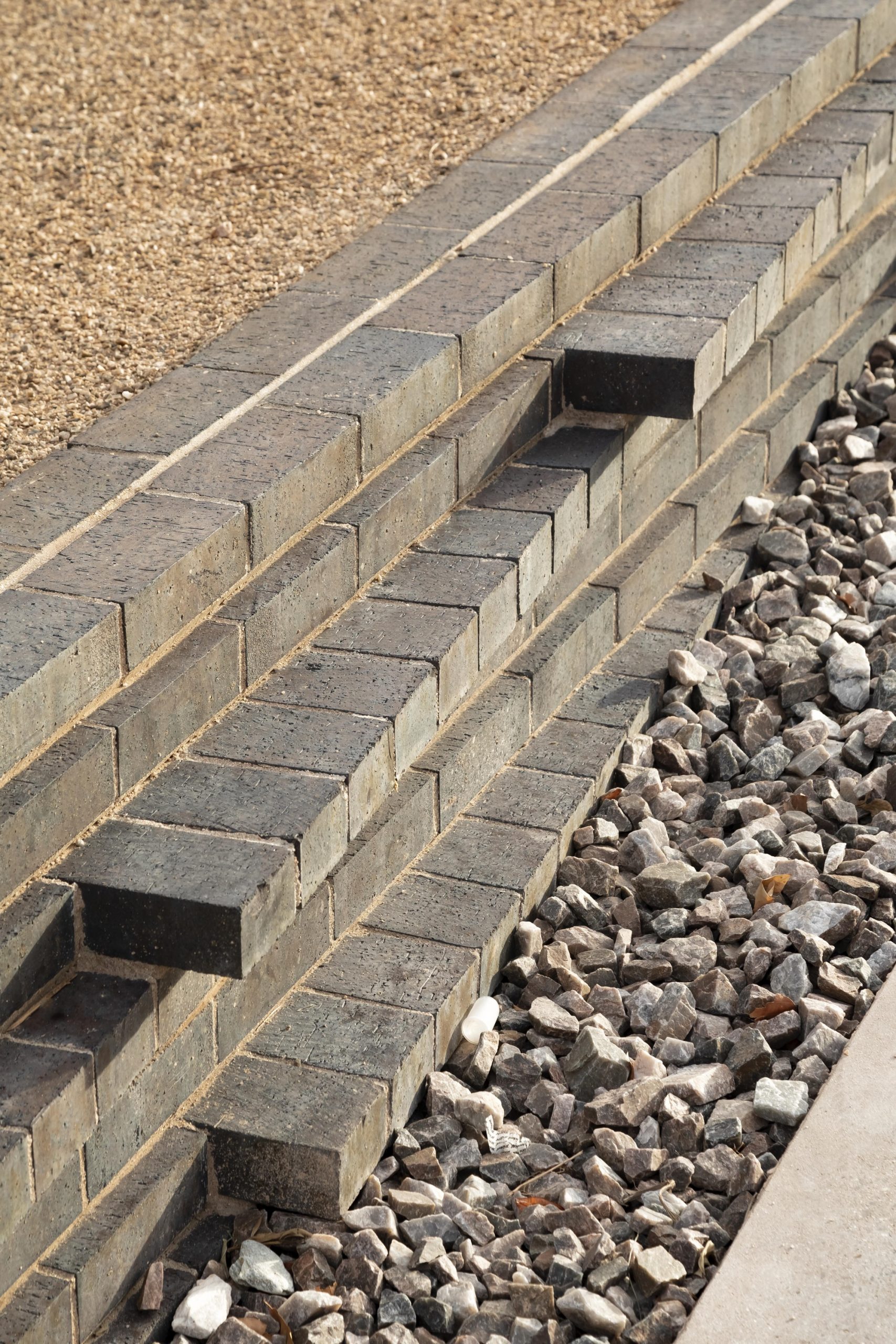 游客被鼓励和允许在露台周围的座位上移动,培养他们对空间的使用权和自豪感。可移动的家具支持适应性场地规划,而来自UNM水库建筑的预制混凝土墙被重新组合为固定的座椅和休闲元素,满足全天使用。主要的道路整合了对比鲜明的色彩和丰富纹理的混凝土饰面,有助于视力障碍者游览场地。
Visitors are encouraged and empowered to move seating around the terraces, fostering ownership and pride for their space. The movable furniture supports adaptable site programming, while segments of precast concrete walls from the UNM reservoir building were reconstituted as fixed seating and lounging elements for full day usability. Major path routes integrate contrasting colors and a textured concrete finish that helps aid visually impaired visitors to navigate the site.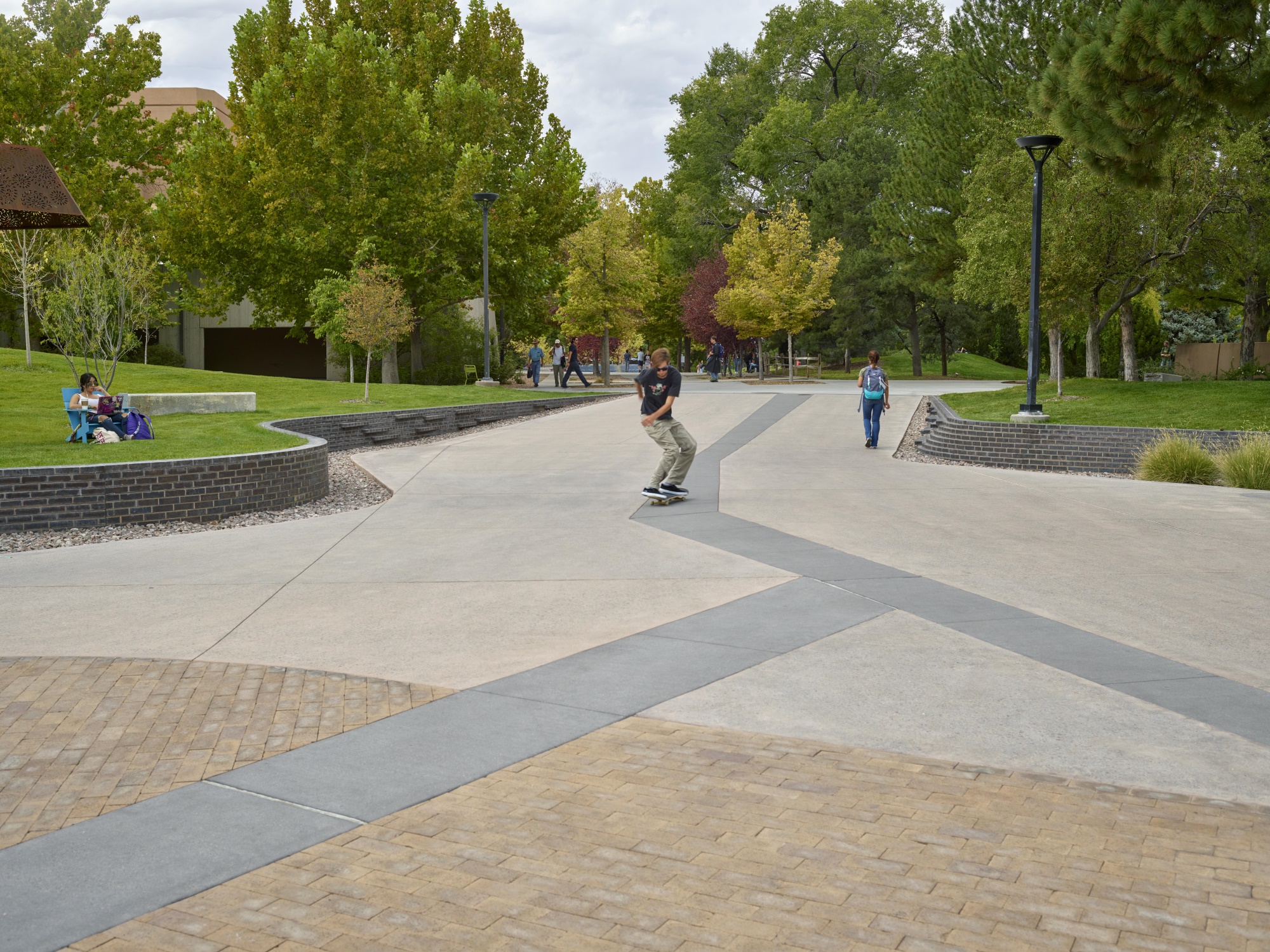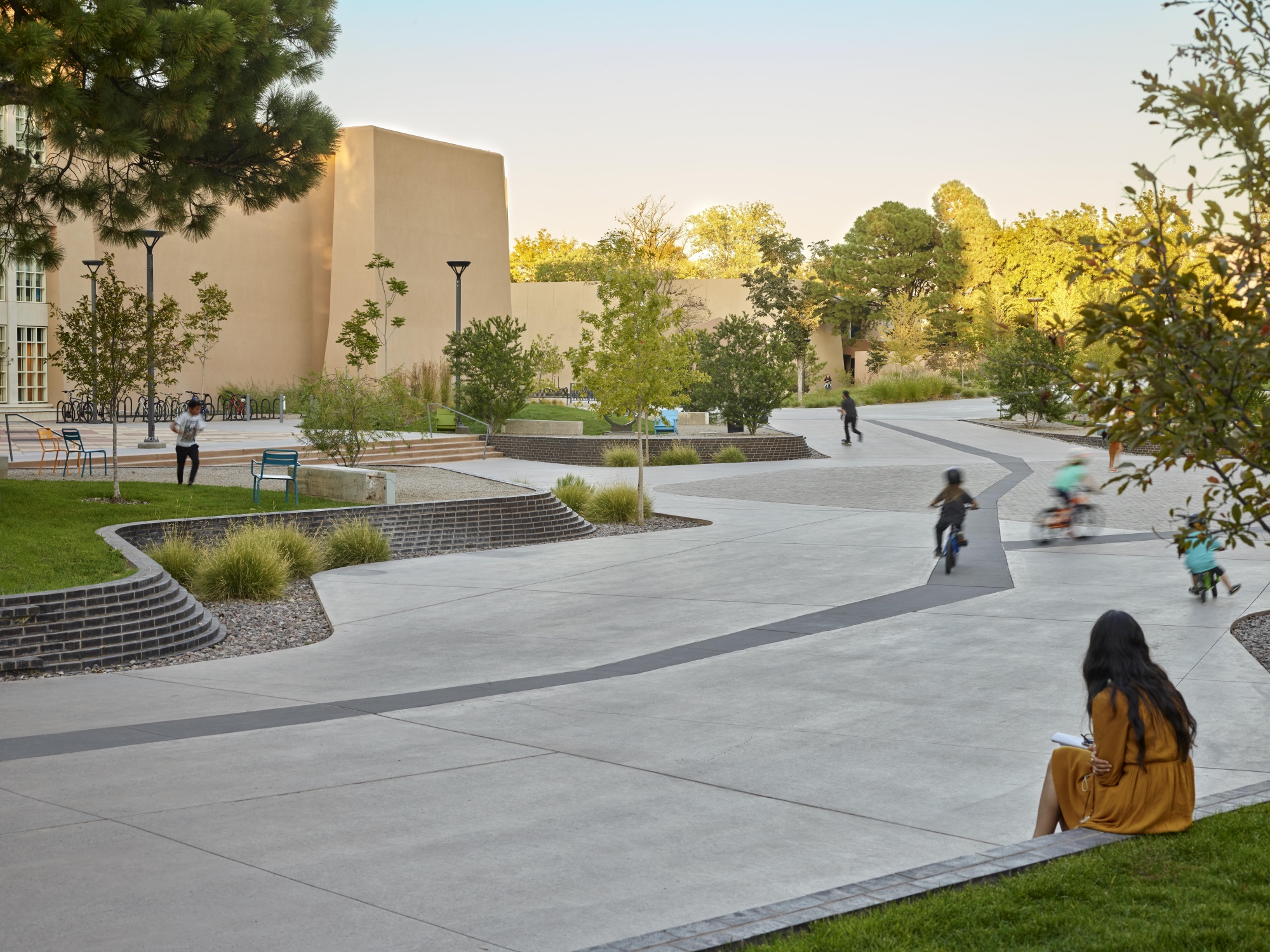 新墨西哥州的文化传统为耐候钢遮阳元素的开发提供了灵感,这也对受土地的启发而形成的梯台起到了补充作用。通过对新墨西哥州特有的装饰性铁制品和锡制品的阐释,雨篷提高了环境舒适性,同时保护人们免受高原沙漠气候的严酷光照影响。
Complimentary to the land inspired formations and active plateau terraces, New Mexico culture and tradition provided guidance in the development of the weathering steel shade elements. Presenting an interpretation on ornamental ironwork and tinwork characteristic to New Mexico, the canopies improve environmental comfort and protection from the high desert climate's harsh sun.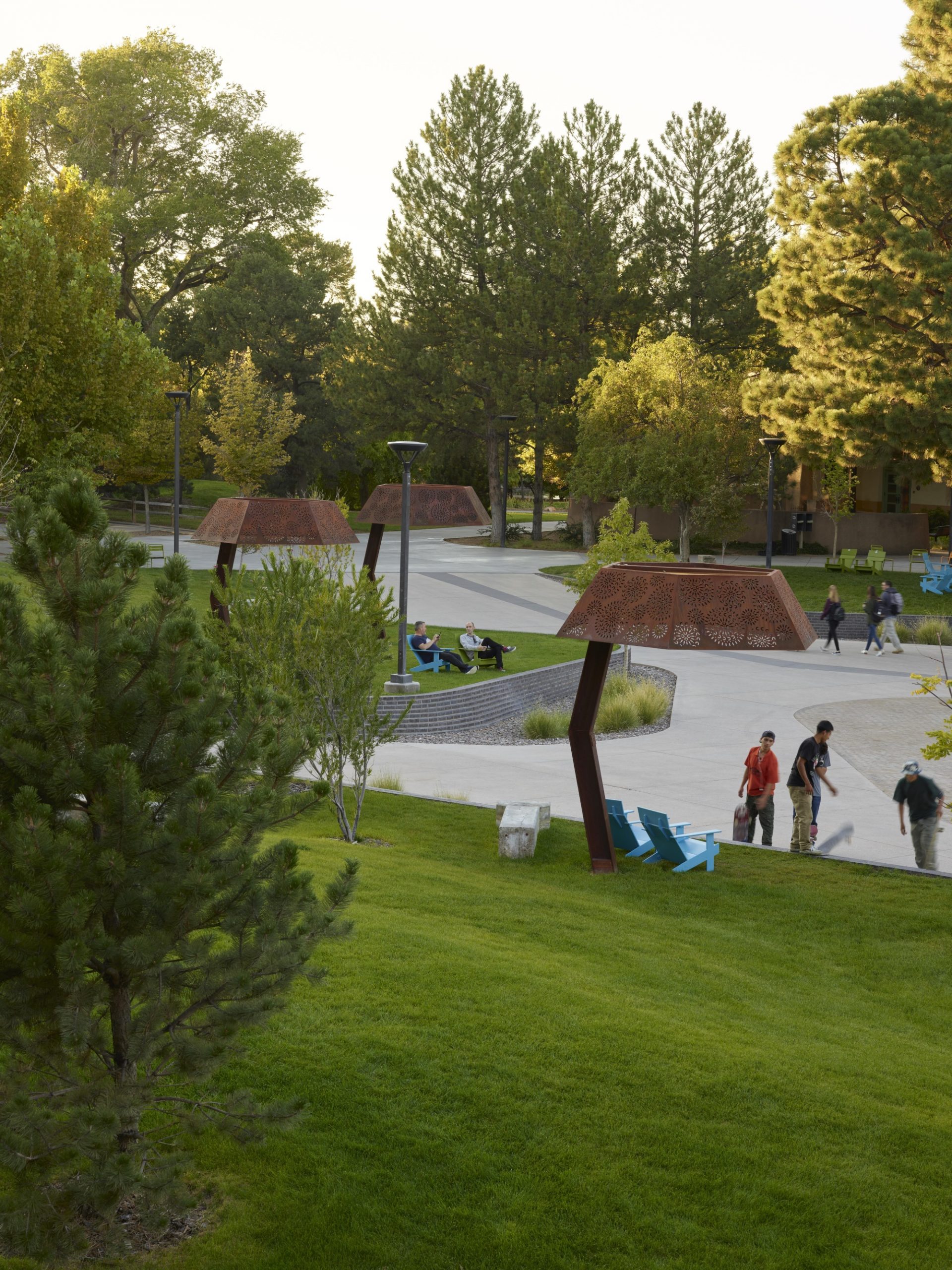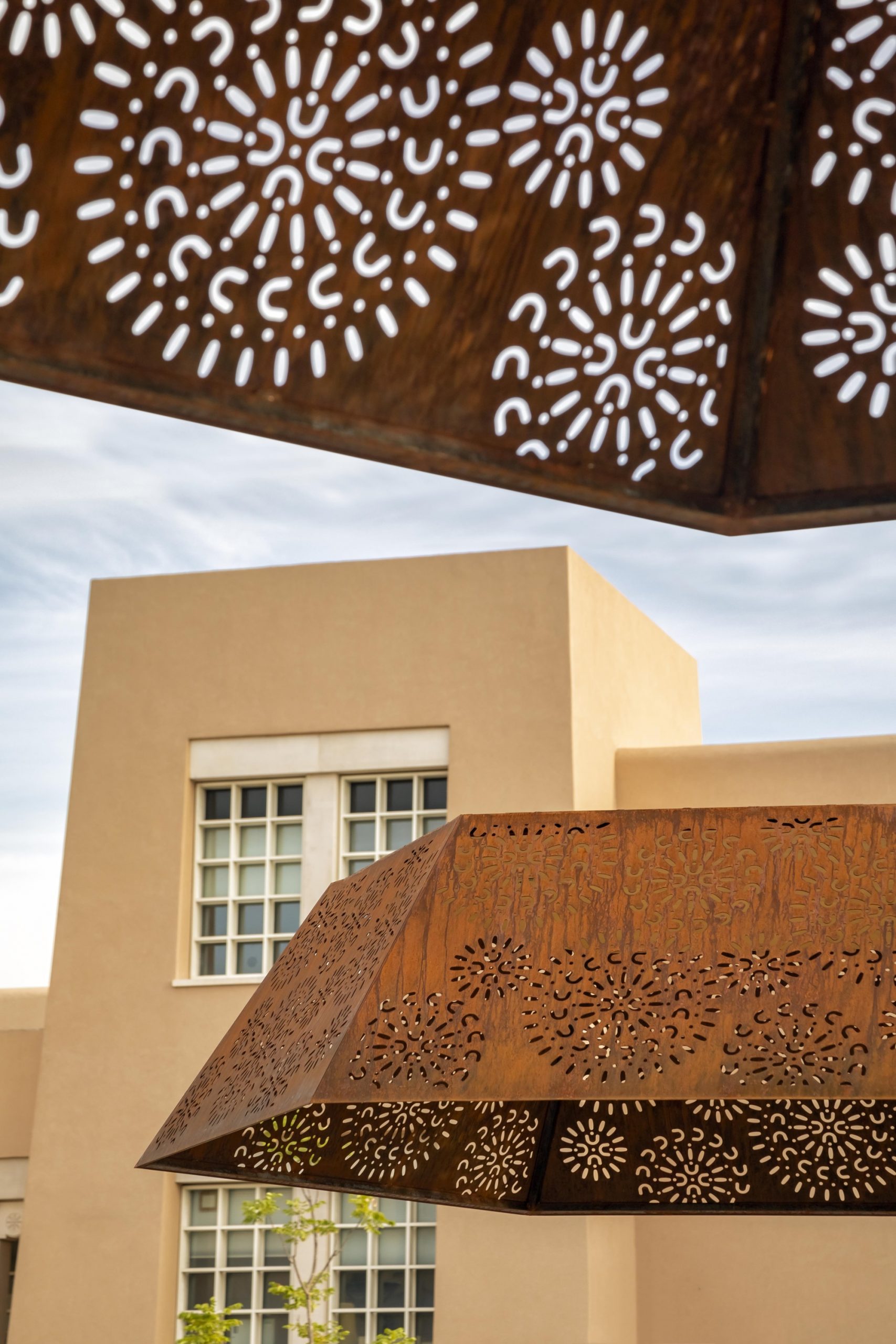 为了成功实现史密斯广场和联合广场的设计,该过程需要利益相关者的宝贵投入、严格的参与和公开的对话。这一合作过程获得了反馈,为构思和设计过程提供了基本的洞察力、真实性和权威性。为了充分发挥设计的潜力,项目设计团队还采用了项目交付的合作方式。 SURFACEDESIGN担任景观主创设计师,与阿尔伯克基的景观设计师MRWM和建筑师McCLAIN + YU合作。
To successfully achieve the Smith Plaza/ Union Square design, the process required invaluable stakeholder input, rigorous engagement and open dialogue. This collaborative process garnered feedback that provided foundational insight, authenticity and ownership to the ideation and design process. To push the design to its full potential, the project design team also employed a collaborative approach toward project delivery. SURFACEDESIGN served as the lead design landscape architect in partnership with Albuquerque based landscape architect MRWM and Albuquerque based architect McCLAIN + YU.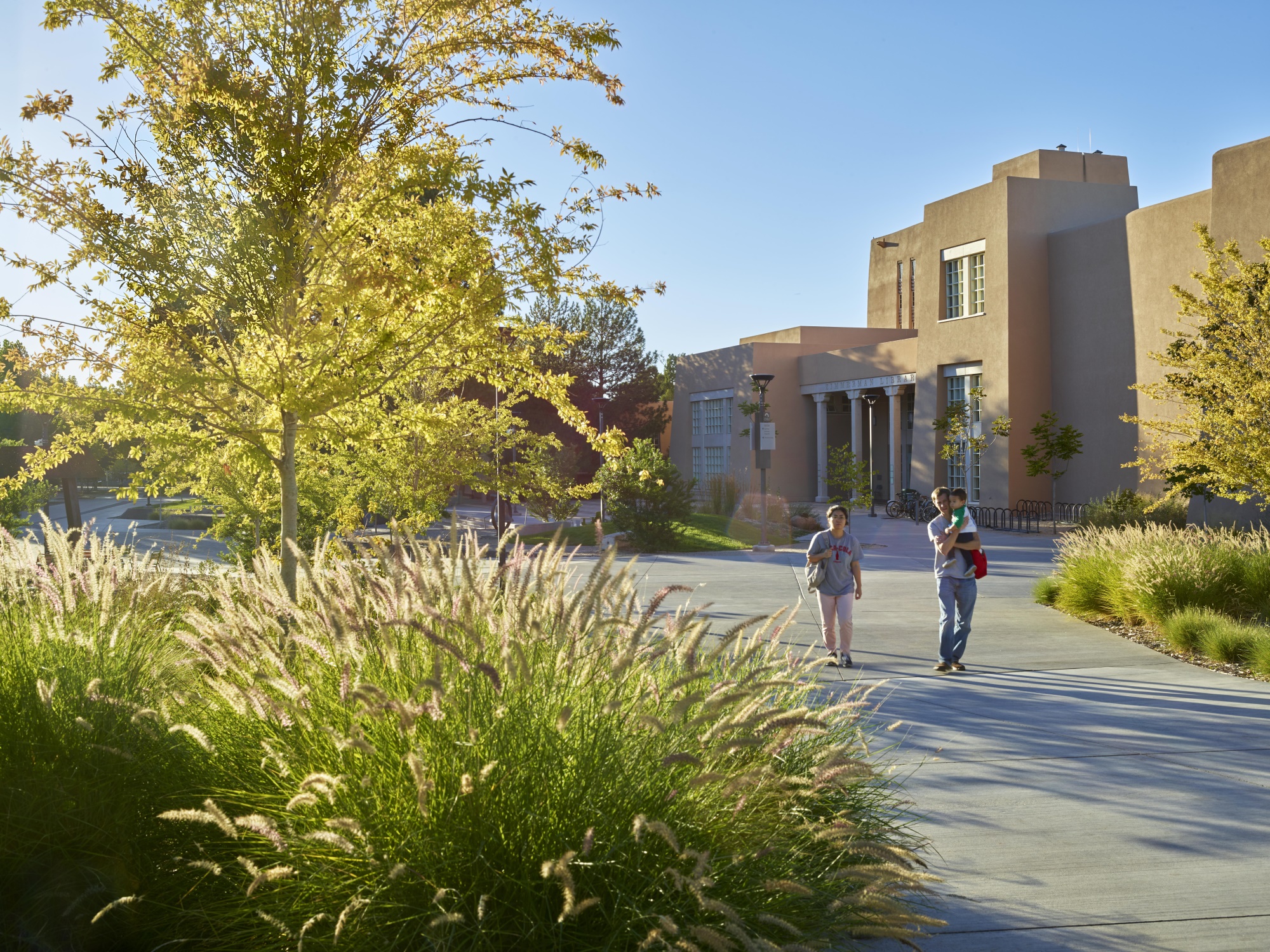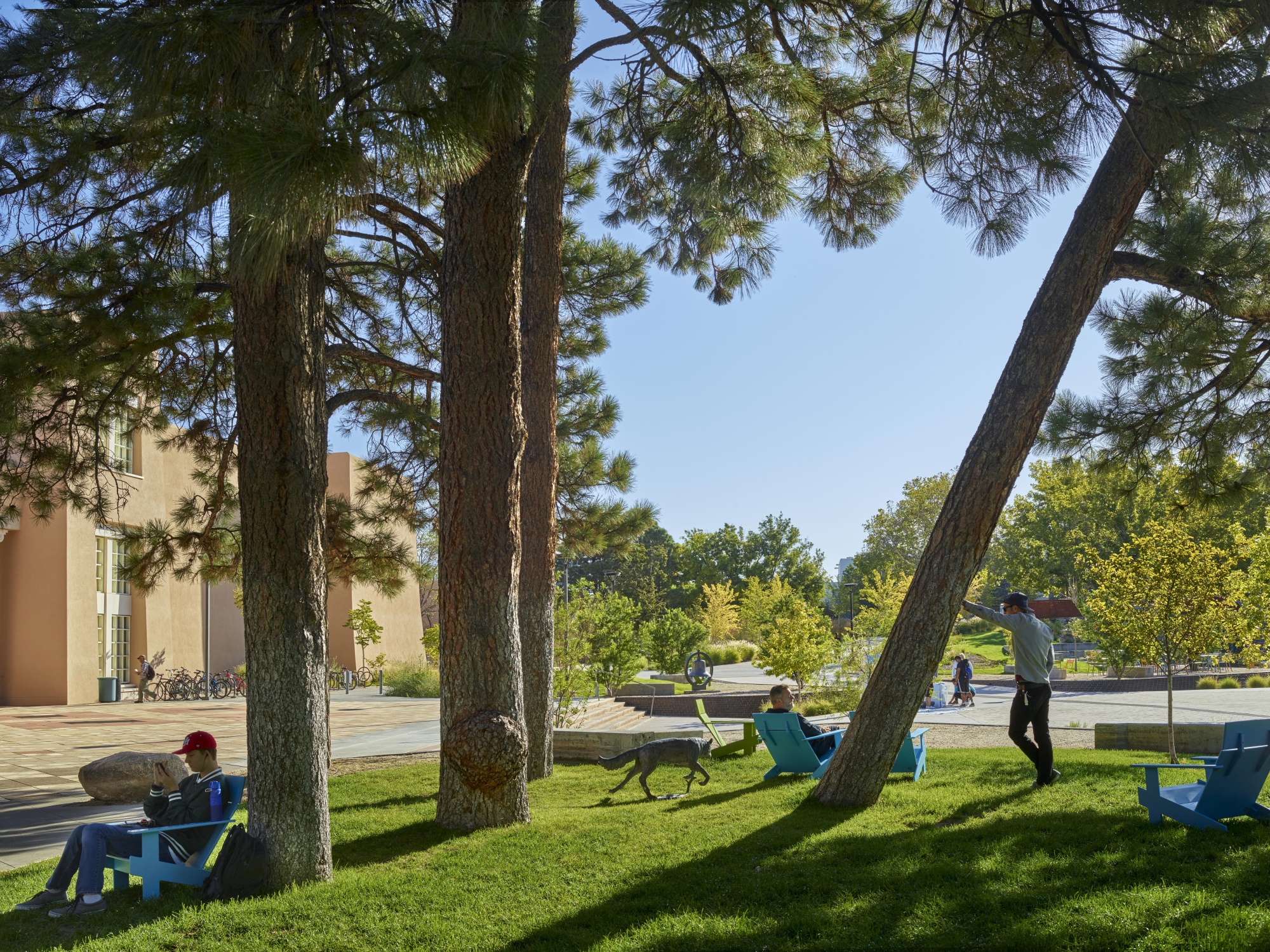 项目名称:新墨西哥大学-史密斯广场
完成年份:2018年
面积:3.3英亩
项目地点:新墨西哥州阿尔伯克基
景观/建筑公司:Surfacedesign, Inc.
公司网站:http://www.sdisf.com/institutional#/university-of-new-mexico-smith-plaza/
联系邮箱:alex@theivaagency.com
设计团队:创始合伙人James A. Lord; 校长Tim Kirby;助理 Matt Bombard
客户:新墨西哥大学
合作者
建筑师:McClain + Yu Architecture and Design;
助理景观设计师:MRWM Landscape Architecture
图片来源:Marion Brenner、Blake Marvin
摄影师网站:https://marionbrenner.com/
Project name: University of New Mexico – Smith Plaza
Completion Year: 2018
Size: 3.3 acres
Project location: Albuquerque, NM
Landscape/Architecture Firm: Surfacedesign, Inc.
Website: http://www.sdisf.com/institutional#/university-of-new-mexico-smith-plaza/
Contact e-mail: alex@theivaagency.com
Design Team: James A. Lord, Founding Partner; Tim Kirby, Principal; Matt Bombard, Associate
Clients: University of New Mexico
Collaborators
Architect: McClain + Yu Architecture and Design;
Associate Landscape Architect: MRWM Landscape Architecture
Photo credits: Marion Brenner, Blake Marvin
Photographer's website: https://marionbrenner.com/
---
" 该广场以西面的台地和附近的高原为灵感,在布局和使用空间上均富有层次。"
审稿编辑: Simin
更多 Read more about: Surfacedesign, Inc.