本文由byMUNCH授权mooool发表,欢迎转发,禁止以mooool编辑版本转载。
Thanks byMUNCH for authorizing the publication of the project on mooool, Text description provided by byMUNCH.
byMUNCH:我们成功地在有限的预算下,将一个所谓的"非场所"空间转变成了一个形象鲜明的活力场所。这里根据用户的活动行为而创建的图标,可用于协调各种有趣的活动,同时,它作为公共空间中的一件雕塑艺术作品,对空间的日常占用与空间本身所代表的符号密切相关,由此它们之间产生了一种强烈的联系。
byMUNCH:Out of a very restricted and small budget, byMUNCH has managed to transform a so called "non-place" into an active place with a strong image. An icon for the area is created based on user-defined activities, with the area mediating playful activities. As a sculptural piece of art in the public space the everyday occupation of the space goes hand in hand with the place as an icon in itself and hereby creates this strong connection.
沃尔莫斯是丹麦第三大城市欧登塞市外的一个区,它的中心区域是一个与附近的原始混凝土表面形成鲜明对比的,充满活力的绿色城市空间,人们可以在这里参与各种活动,因此,在该项目中开发一个注重户外活动、变化、安全和绿色空间的生活、绿色区域至关重要。
The playful, green urban space in the central part of Vollsmose – a district right outside Denmark's third largest city, Odense – invites the public to a variety of activities and provides a contrast to the raw concrete surfaces in the neighborhood. In the project, it has been essential to develop a living, green district focusing on physical outdoor activity, variation, safety and green space.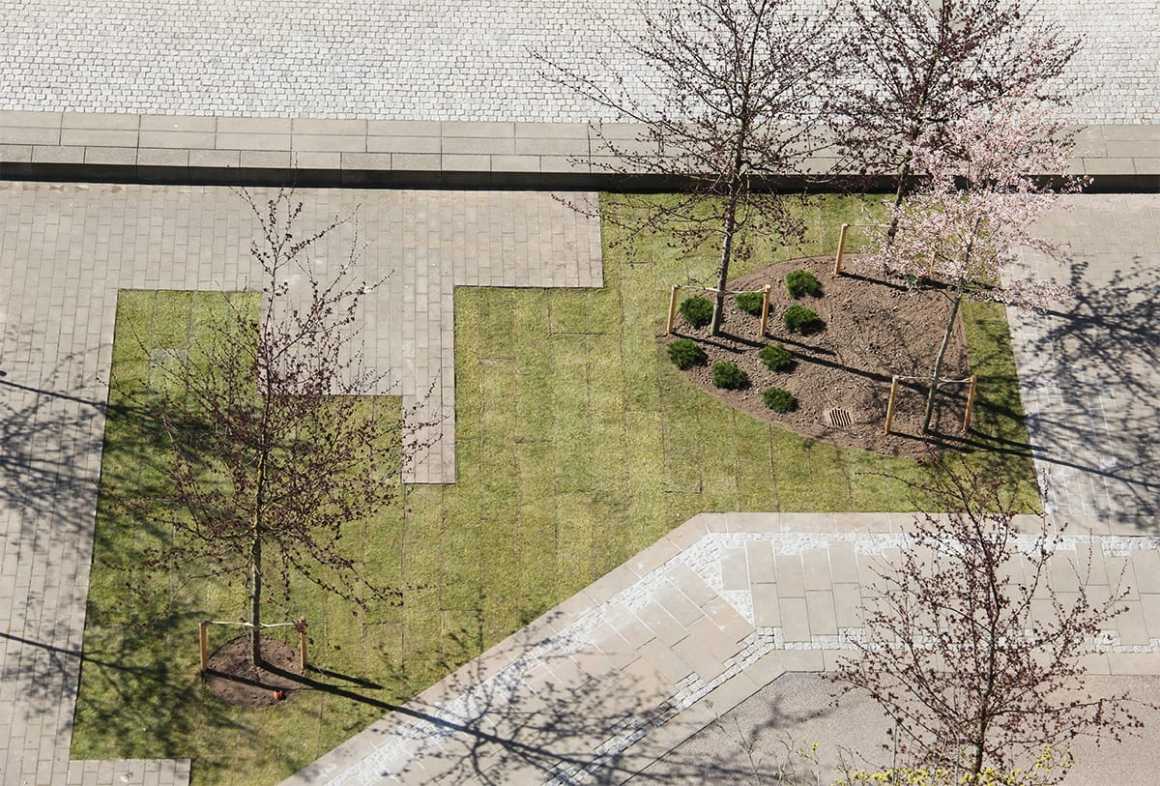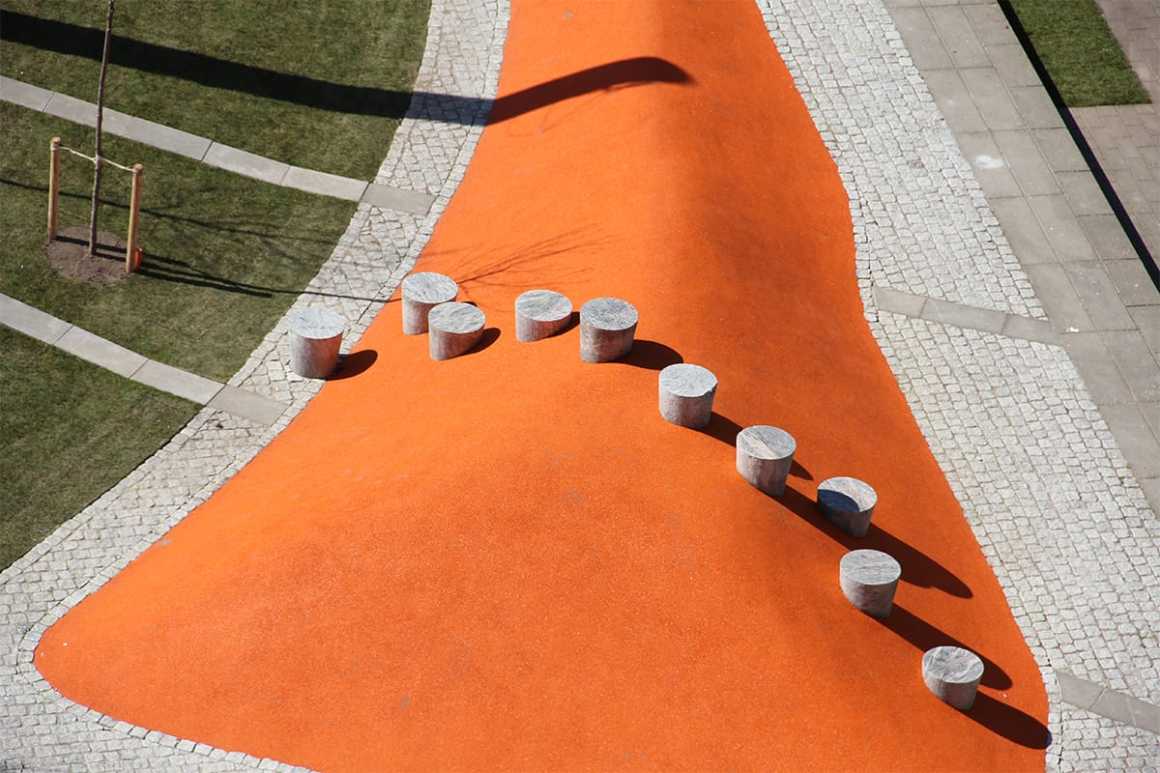 位于改造中心的标志性红色景点变成了一个相当疯狂和有趣的足球场,场地上起伏的小山丘,使比赛变得更有挑战性,而且最重要的是,它让游戏变得更加有趣了。该项目为我们探索出了一种与众不同的创新方法:我们的日常物品可以弯曲或扭曲成一个全新的东西。
The red iconic attraction in the center of the urban transformation becomes a rather crazy and playful football/soccer area with the field bumping up and down with small hills making the games both challenging but most of all a lot of fun. The place explores how a different and innovative approach to our everyday objects can be bended and twisted into a completely new thing.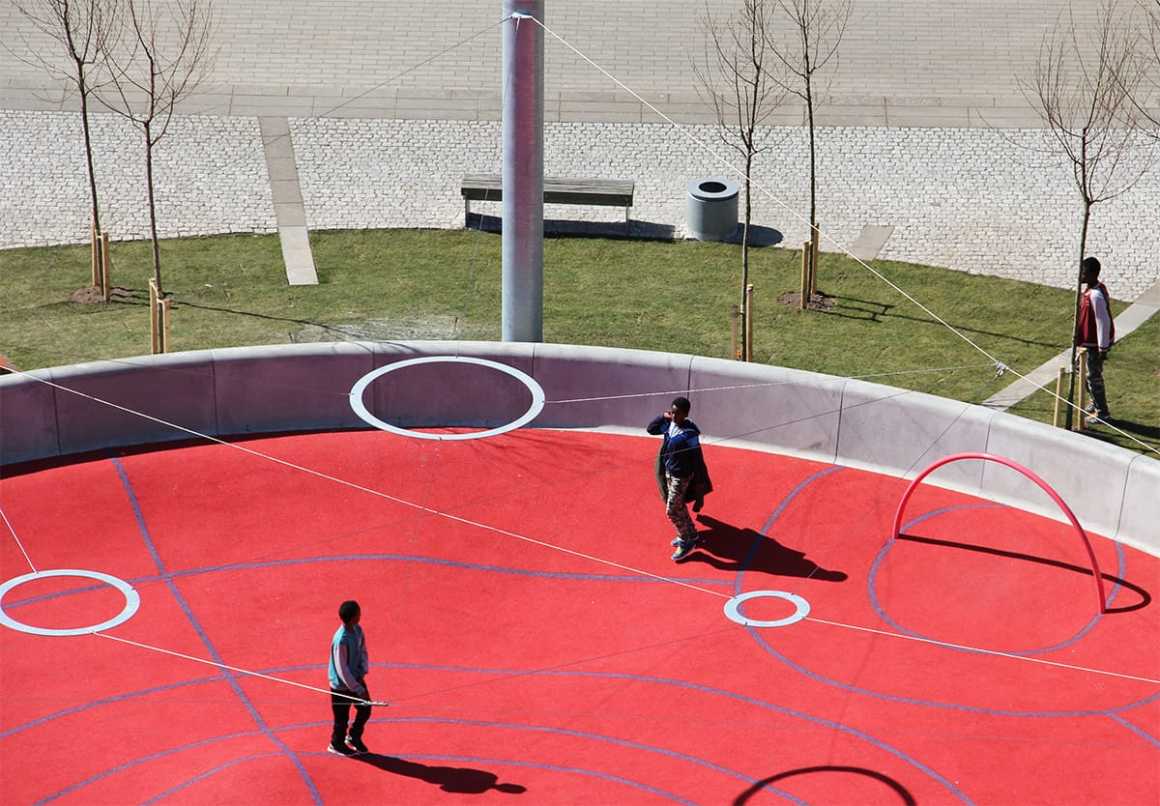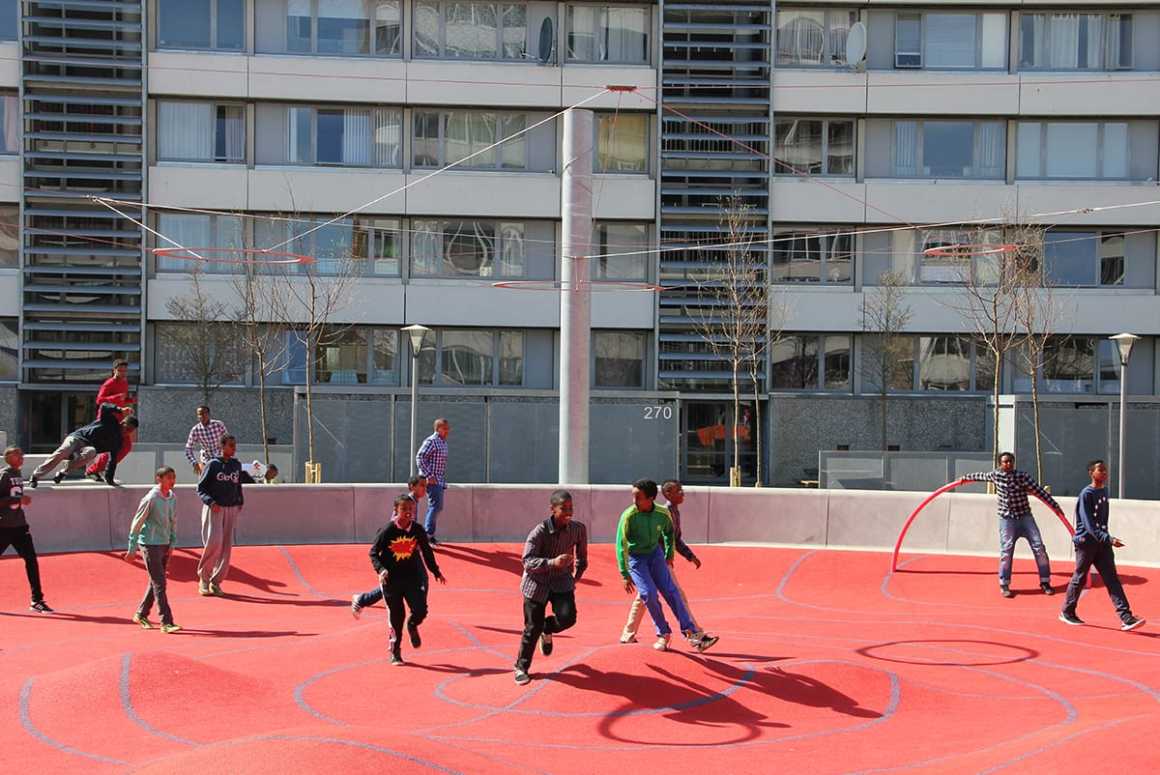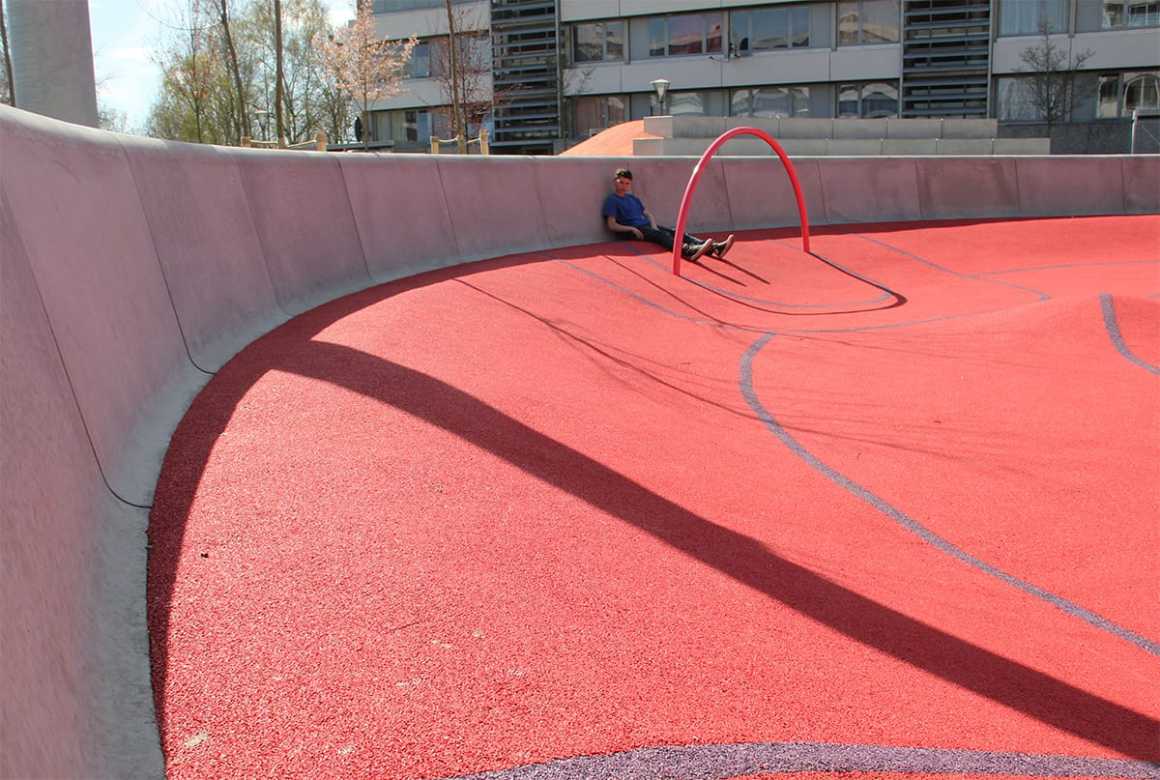 可以说,该项目标志性元素的主要设计理念和概念,是将附近的公园作为一个有价值的元素融入该场地,为该地提供一个绿色安全的环境。建筑之间的边缘因其强烈的娱乐性质而变得柔和,吸引了许多当地居民过来参与活动、娱乐和休息。
改造后的新场地为人们创造了一个可持续的聚会场所,当地或周围的人都可以在这里休憩逗留,并开展多样性的、不同种族和不同年龄群体的新活动。新种植的树木和其他植被作为防风和遮荫绿化,则为新的活动区创造了一个美丽的环境。
The main idea and concept of the project – among the iconic elements – is to drag, so to speak, the nearby park into the area as an valuable element to the district that provides a green and safe environment. Between the buildings, the edge is softened up with a strong recreational character, which invites for activities, playfulness and respite among the area's residents.
The new physical environment creates a sustainable meeting place where people in‐ and around the area are invited to stay and where new activities arise and unfold across social diversity, ethnicity and groups of different ages. New trees and other vegetation are planted as windbreaking and sheltering greenery and create a beautiful setting for the new activities.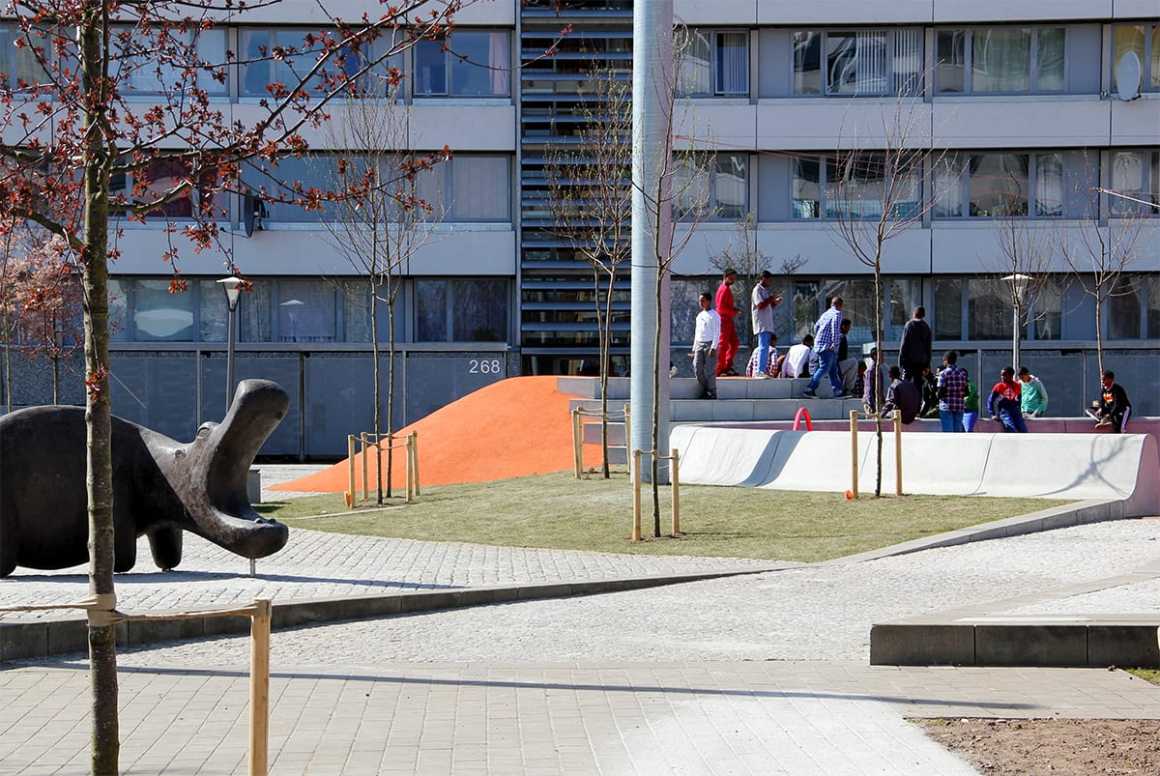 项目名称:沃斯莫斯城市空间改造
地点:丹麦 欧登塞 沃斯莫斯
完成:2015年
Project name: Vollsmose – Birkeparken
Location: Vollsmose, Odense, Denmark
Completion: 2015
更多 Read more about: byMUNCH