本文由 创浦景观 授权mooool发表,欢迎转发,禁止以mooool编辑版本转载。
Thanks T·Workshop for authorizing the publication of the project on mooool, Text description provided by T·Workshop.
创浦景观:  一个温暖的社交场所、一段愉悦的购物体验、一种美好的生活方式。绿色生态的新生活方式,街区商业与绿色自然共存。模糊场所边界,打破空间属性,空间与材料多元搭配与可迭代的特性。
T.Workshop:  A Warm Social Place, A Pleasant Shopping Experience, A Great Lifestyle. A New Environment-friendly Lifestyle and harmonious Coexistence of Block Business and Green Nature. Blur Spatial Boundary, break through Spatial Properties and diversified and Iterable Matches of Spaces and Materials.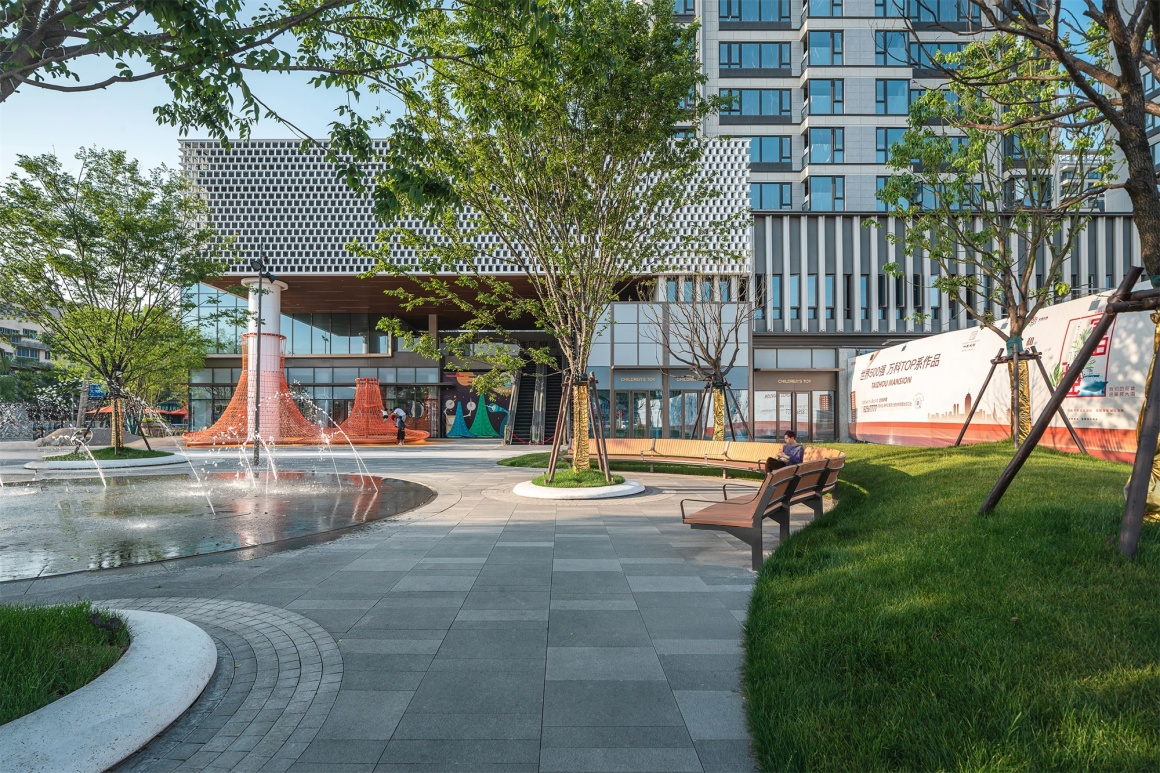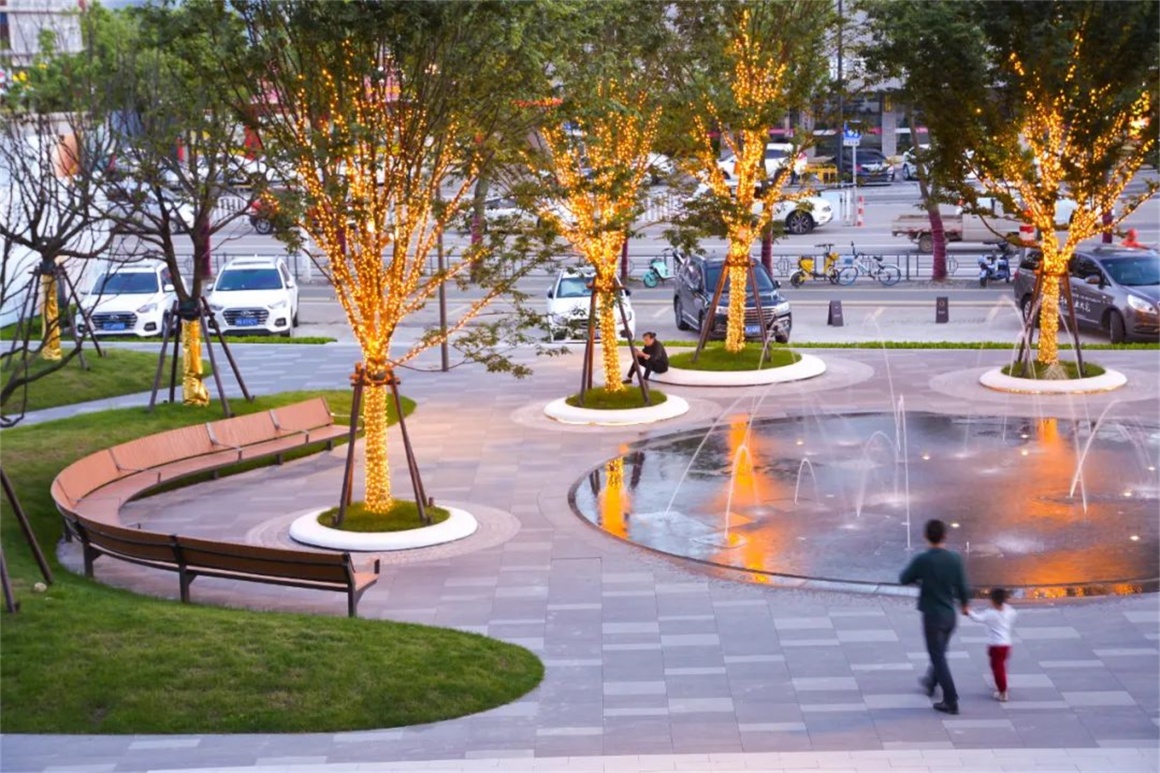 01 场地|Spaces
台州万科·十里观邸项目,打造包括商业广场、商业外街、商业内街和多个城市口袋公园的未来超级街区。目前项目仅开放了商业广场、商业外街区域。
我们希望用设计满足人们对生活的真实期待,在万科海上都会项目中,我们就实践检验了一把未来超级街区的对人们实现美好生活的愿景,产生了实质的效果。在交通上,方便快捷的串联起住宅/商业/办公/泊寓等的人流动线;在商业上,创造更多城市公共空间,产生了城市与商业共生的发展模式;在生态上,我们秉承着一贯的"打造绿色具有幸福感的人文空间"的核心理念。真实的展现了能够跟随城市脉动持续融合生长的超级街区。
The Taizhou Mansion Project in Taizhou will be a super block integrating a commercial plaza, an outer street, an inner street and several pocket parks.Only the commercial plaza and outer street are open to the public at present.
We expect to satisfy people's expectations toward life through our design. In the project of Vanke Corniche Land project, we practically demonstrated how a super block materially satisfied people's version of wonderful life. In the aspect of transportation, it connects people flow from residences, commercial areas, offices and apartments conveniently; in the aspect of commerce, it has more urban public spaces and a development mode which allows for coexistence of the city and the commerce; in the aspect of ecology, we adhere to the core principle of creating a green and happy human space. It is a real super block which follows the rhythm of city and grows and integrates well with the city constantly.
▼概念 Concepts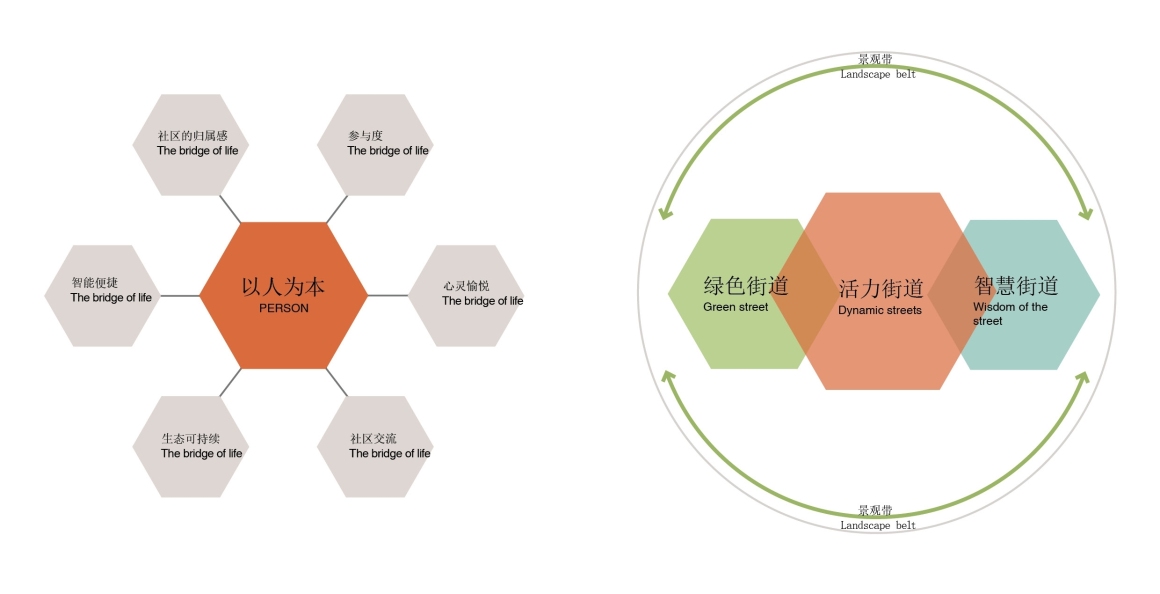 在人文关怀的设计出发点上,我们用更广泛的维度去研究场地的活力。削弱边界感的功能区域设计,环环相扣的连续多段式空间。极具可持续与适应未来发展的属性,它是具有生命力的空间。它象征着场地的巨大潜力,和人们对未来的期待。
In design of humanistic care, we explored vigor of the space from multiple dimensions, e.g., functional spaces with less sense of boundary and continuous interlinked multi-segment spaces. This is a powerful space which is sustainable and adaptable to future development. The vigor symbolizes huge potential of the space and people's expectation toward future life.
▼总平面图 The floor plan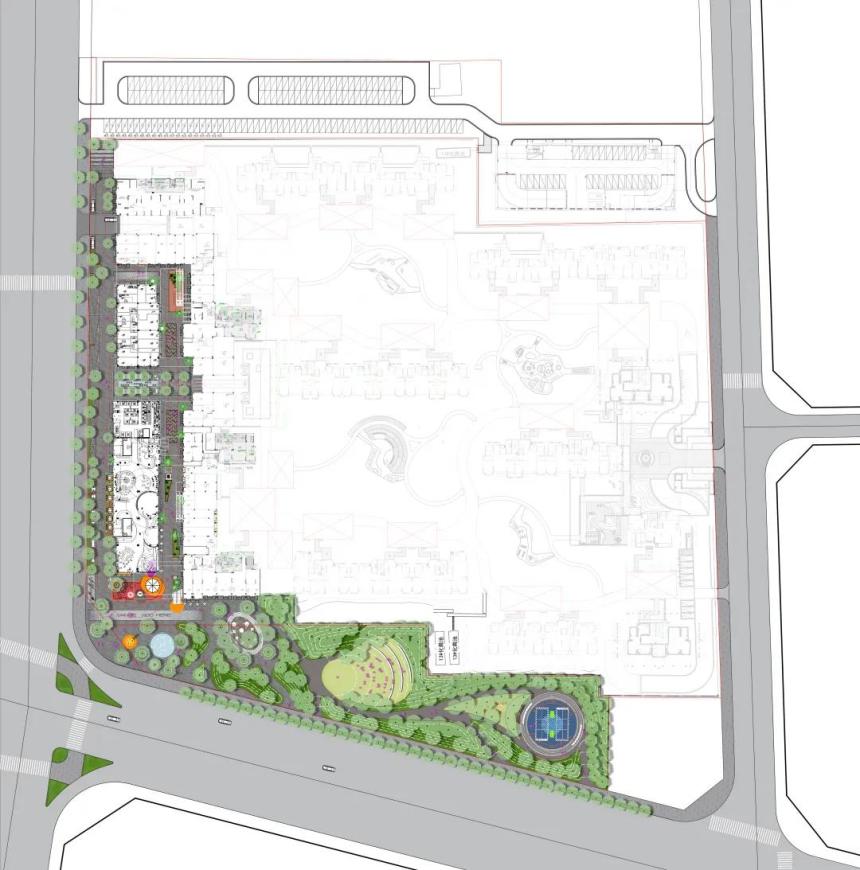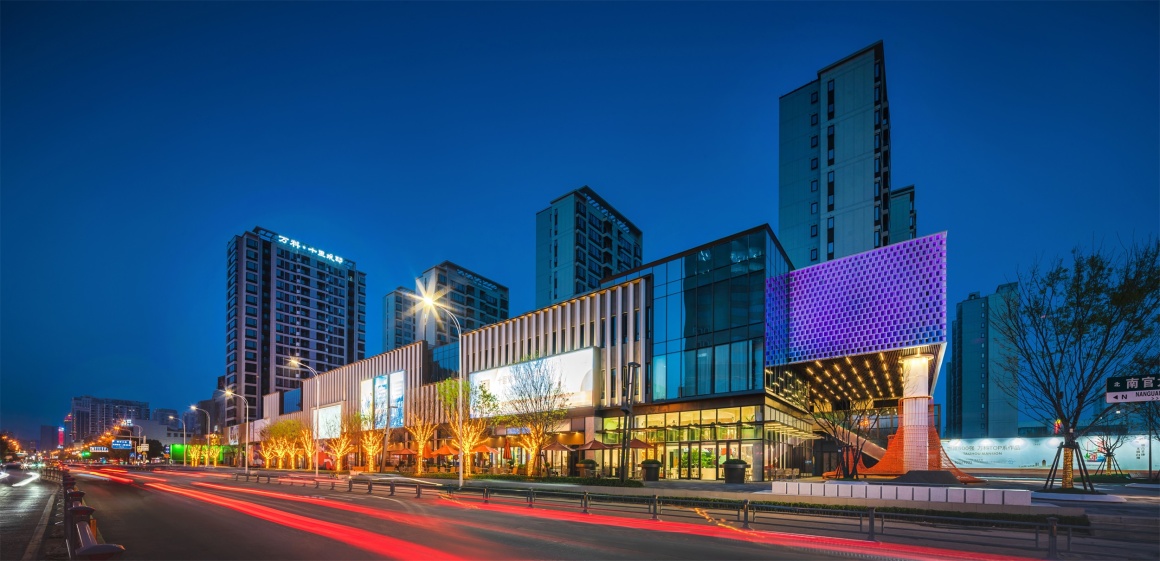 入口广场 Plaza
昭示性的标识与引导性的铺装,几株高大的乔木如星光散布,给商业广场以开阔的视野,假日T台秀/跳蚤市场将给这座城市带来新的活力。
The prominent logos and guiding ornaments together with scattered towering trees allow for open vision of the plaza, while the holiday T-stage shows and flea market bring new vigor to the city.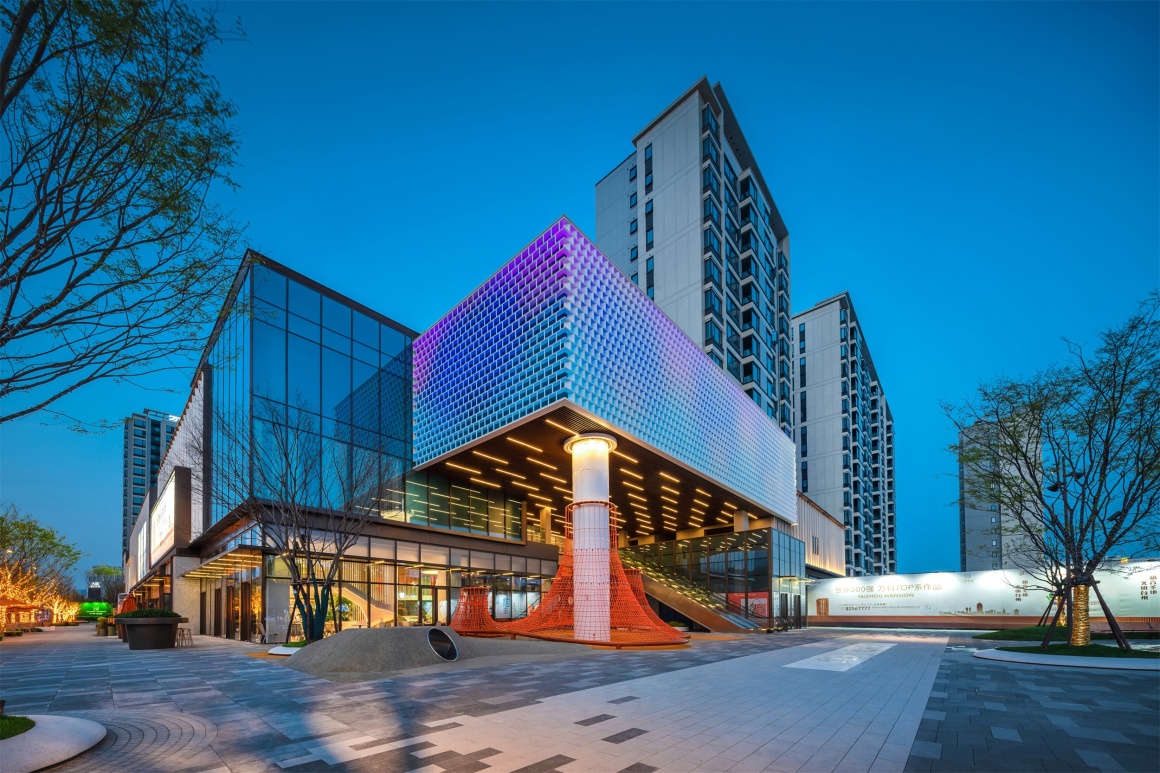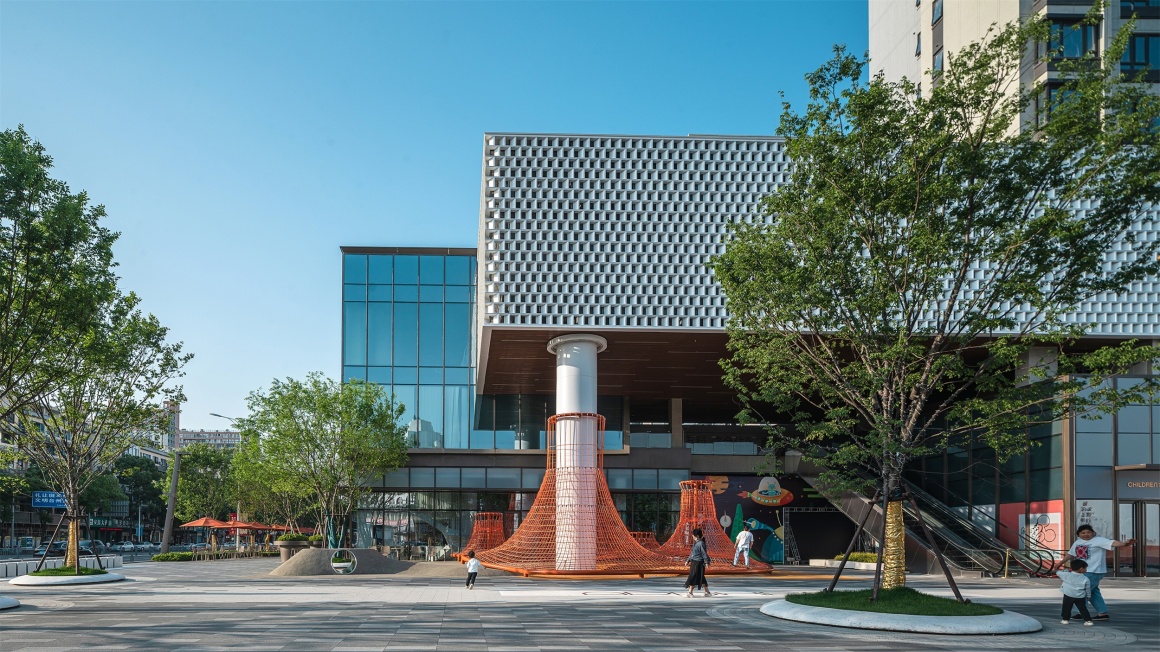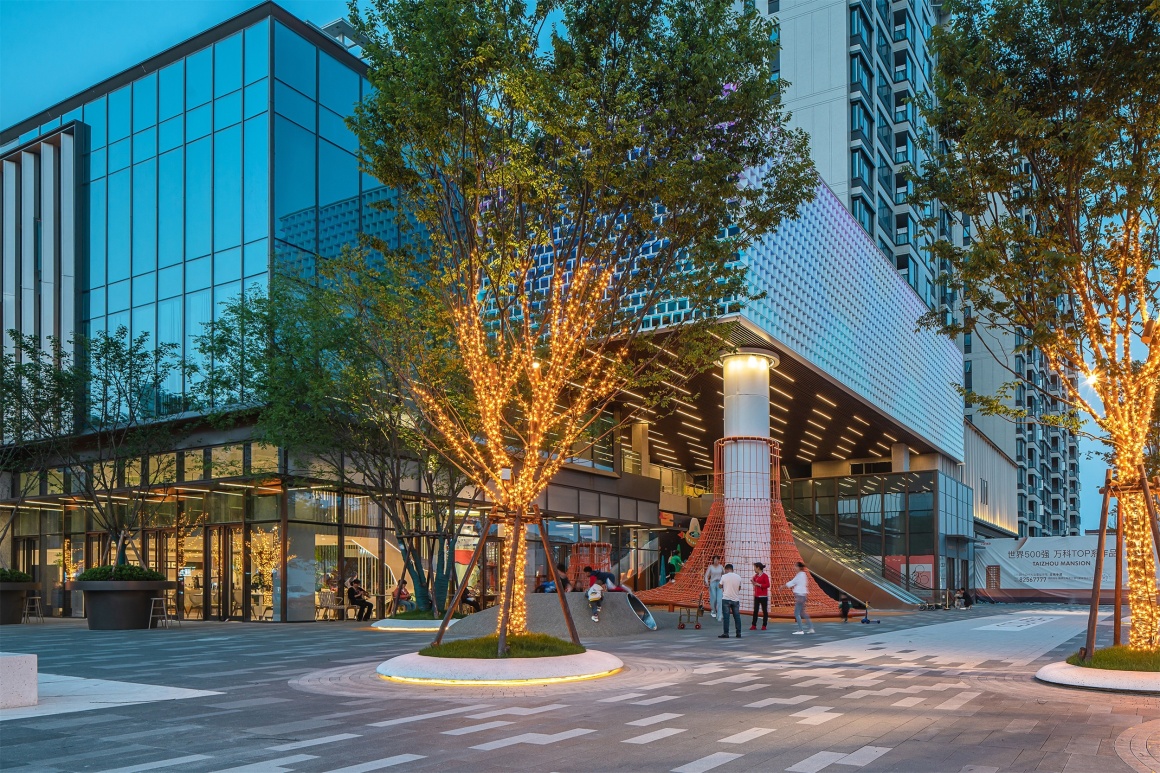 ▼儿童夜晚在广场上玩闹  The children ran wild in the square at night.
广场工作日的应用场景:网红打卡、旱喷广场、儿童游戏、地摊经济。
广场周末的应用场景:儿童游戏、T台秀场、展演活动、地摊经济、假日集市、网红打卡、旱喷广场、夜市、商业外摆等。
Scenarios of the plaza in working days: internet popular places, dry fountain, children games, street vending economy.
Scenarios of the plaza on the weekends: children games, T-stage shows, displays and performances, street vending economy, holiday market, internet popular places, dry fountain, night market, outside business places.
▼工作日广场活动分析 Analysis of weekday square activities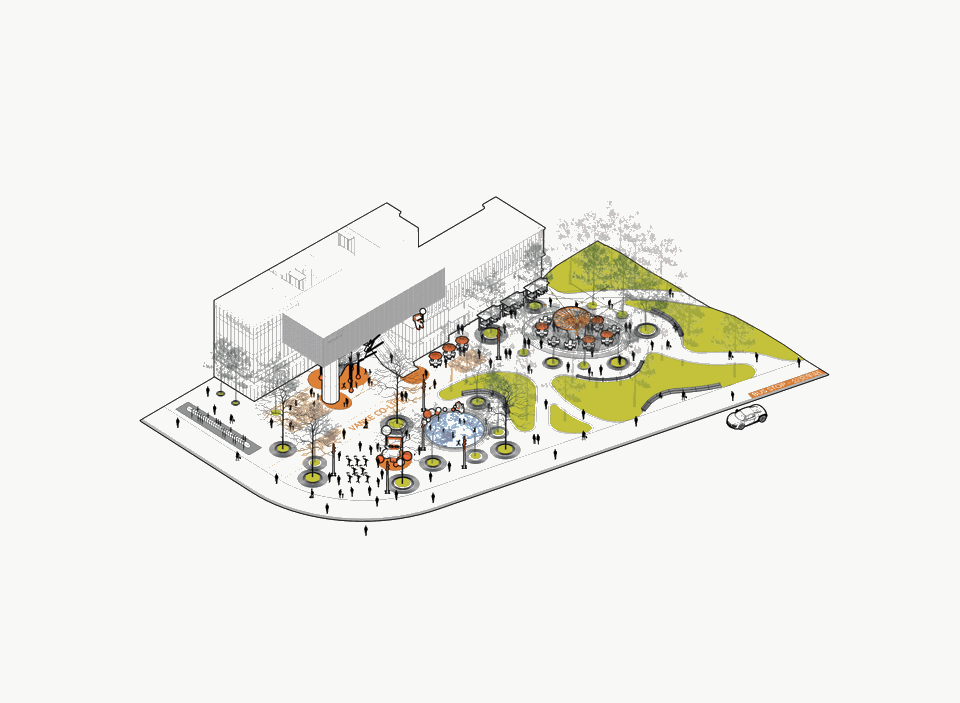 ▼周末广场活动分析 Analysis of weekend square activities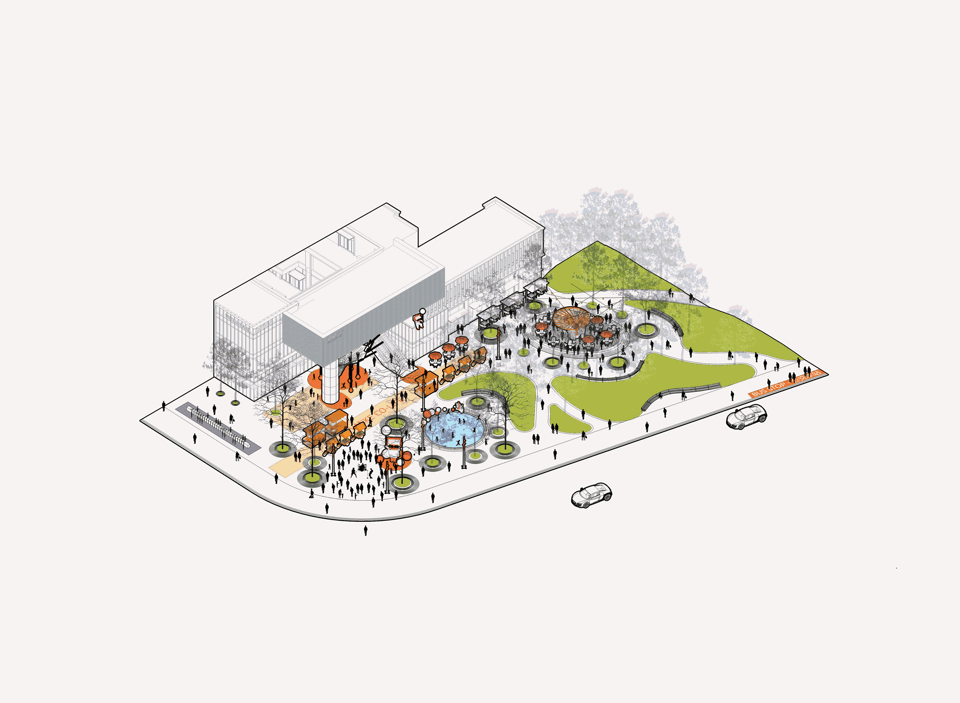 近些年来,大型的商业Mall层出不穷。商业地产经历了网购、电商的冲击,今年继续遇上疫情…人们更注重快捷便利的购物方式。万科十里观邸不仅有底商、商业街、商业广场等,我们还设计了"地摊经济"的外摆空间,在满足人们日常购物需要的同时,还不断壮大实体商业的影响力,更增添了城市的烟火气!
In recent years, large malls emerged one after another. After the shock of online shopping and e-commerce, commercial real estate underwent pandemic this year, which made people prefer fast and convenient shopping style more. Vanke's Shili Guandi has not only ground floor stores, high street and plaza, but also outside business space for street vending economy. It satisfies people's daily shopping needs, increases impact of brick-and-mortar business and also makes the city closer to people.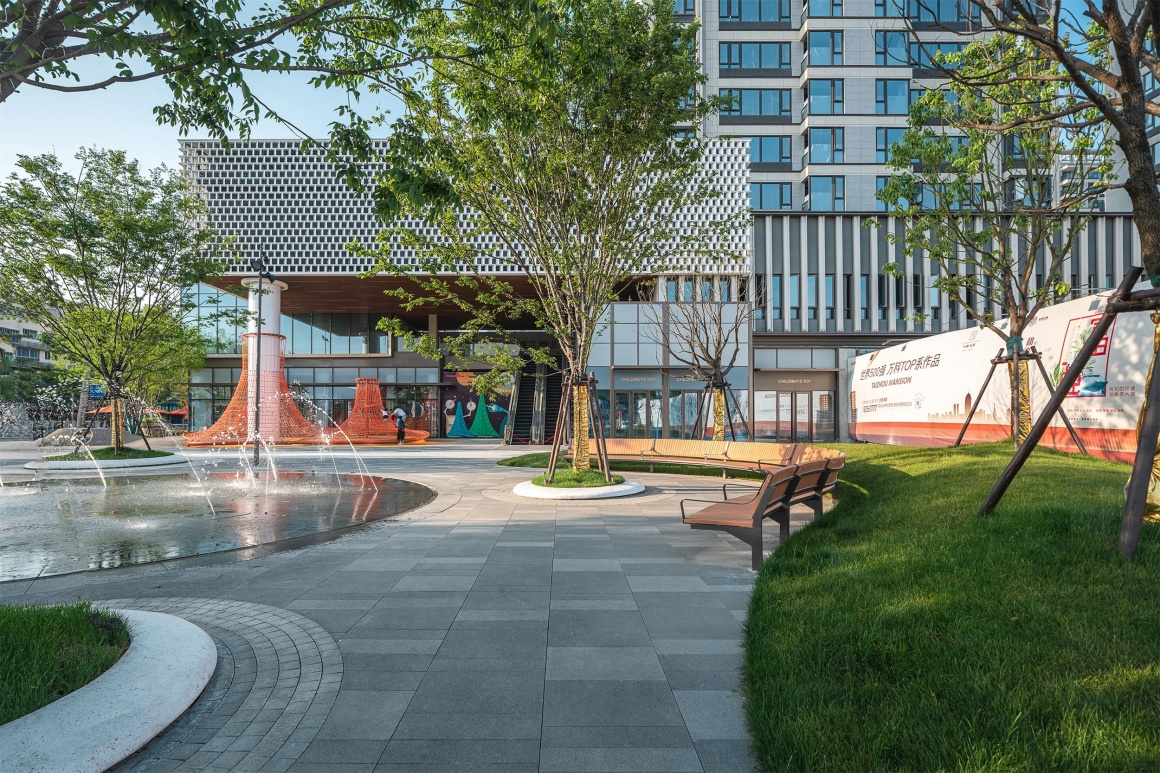 ▼旱喷是儿童嬉戏玩耍的挚爱,是夏天的美好光景 Dry fountain is children's favorite, which gives them a period of wonderful time in summer.
▼清晨的风夹杂着水汽带来舒适体验  The early morning wind mixed with moisture brings a comfortable experience
▼傍晚火树银花下的旱喷广场  The dry spray square under the evening fire tree silver flower
商场入口游戏装置 Entrance installation
精心设计的互动装置作为亲子活动空间,不仅赋予了商场更多活力,同时也促进了邻里社交。
The well-designed installation serves as a parent-child activity space, which not only endows the mall with more vitality, but also promotes neighborhood socialization.
▼火山锥爬网手绘效果 Volcanic Cone Crawler Hand – painted effect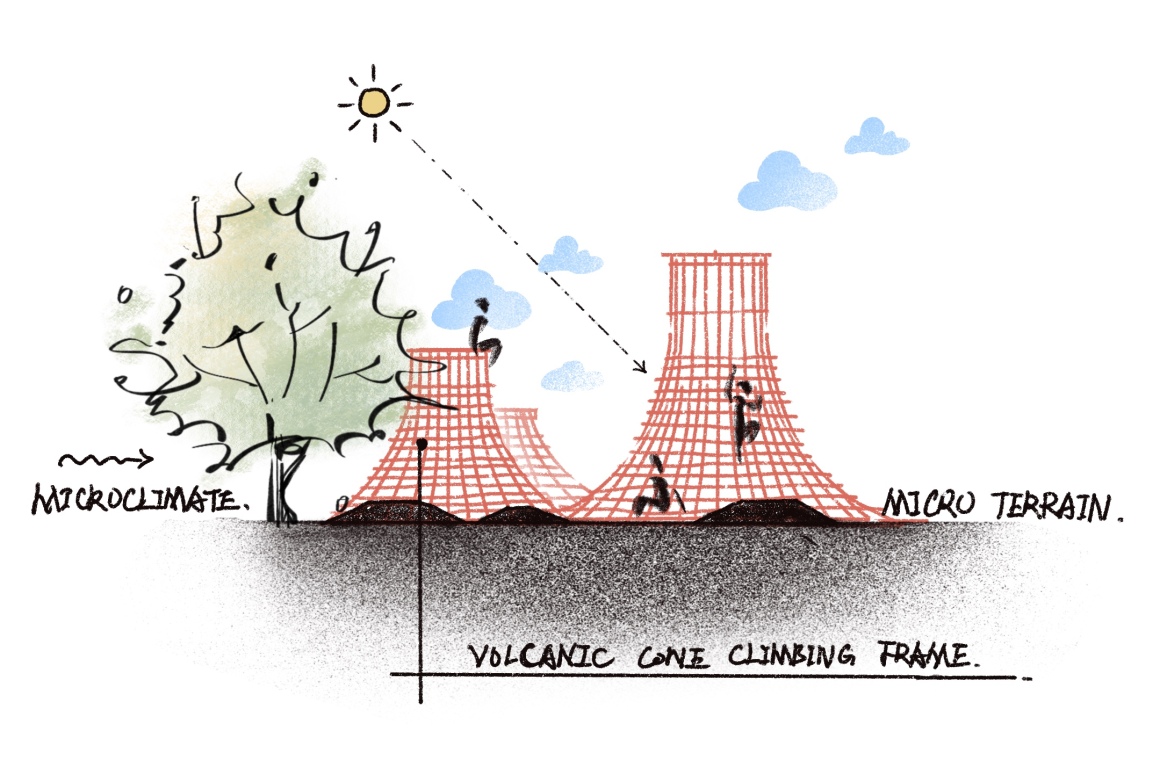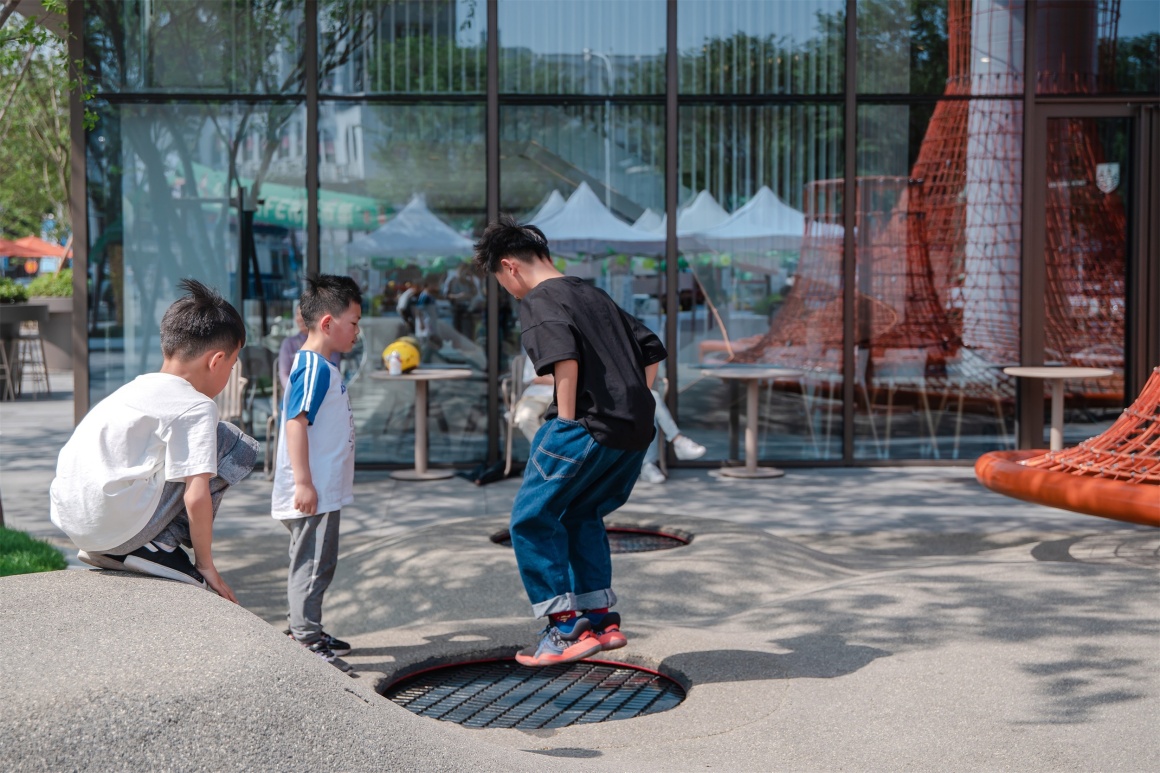 ▼给家长提供看护孩子的休闲空间 The outside swing provides a leisure space for parents to take care of their children.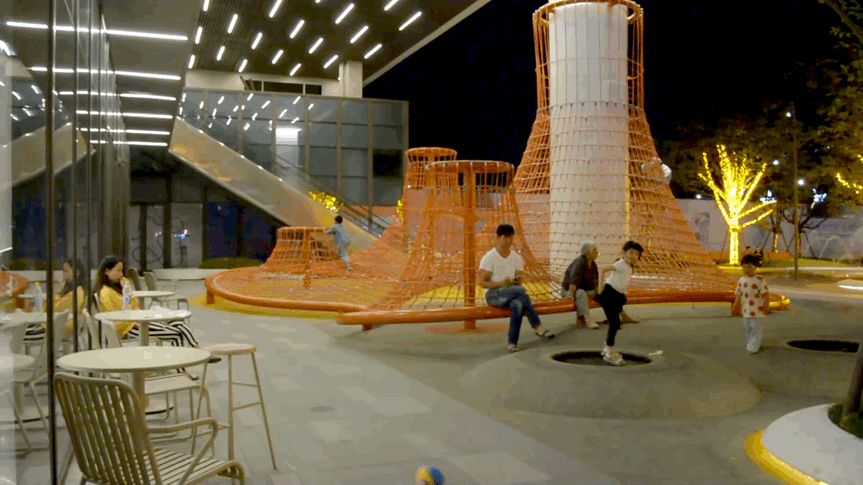 ▼亲子活动空间 Parent-child activity space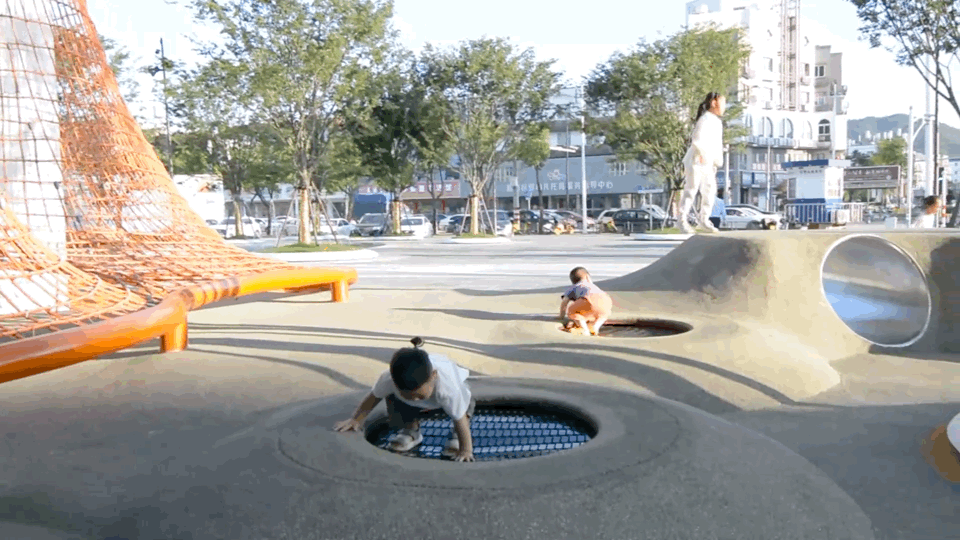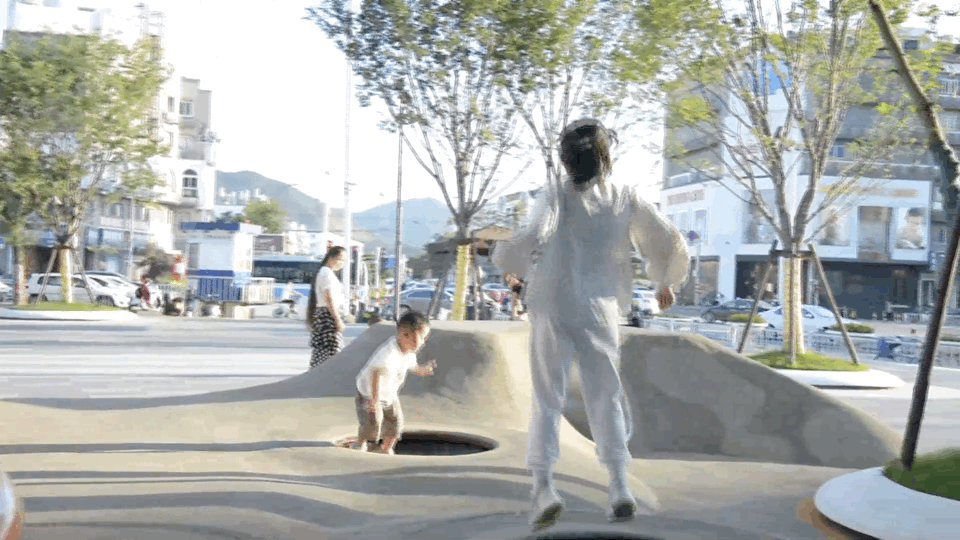 承载温暖社群互动的商业外摆设计。白天这里聚集了上班的白领,社区的服务人员,前来消费体验的顾客等。
Its outside business place has the function of community interactions. White-collar workers, community service staff and consumers and customers gather here in daytime.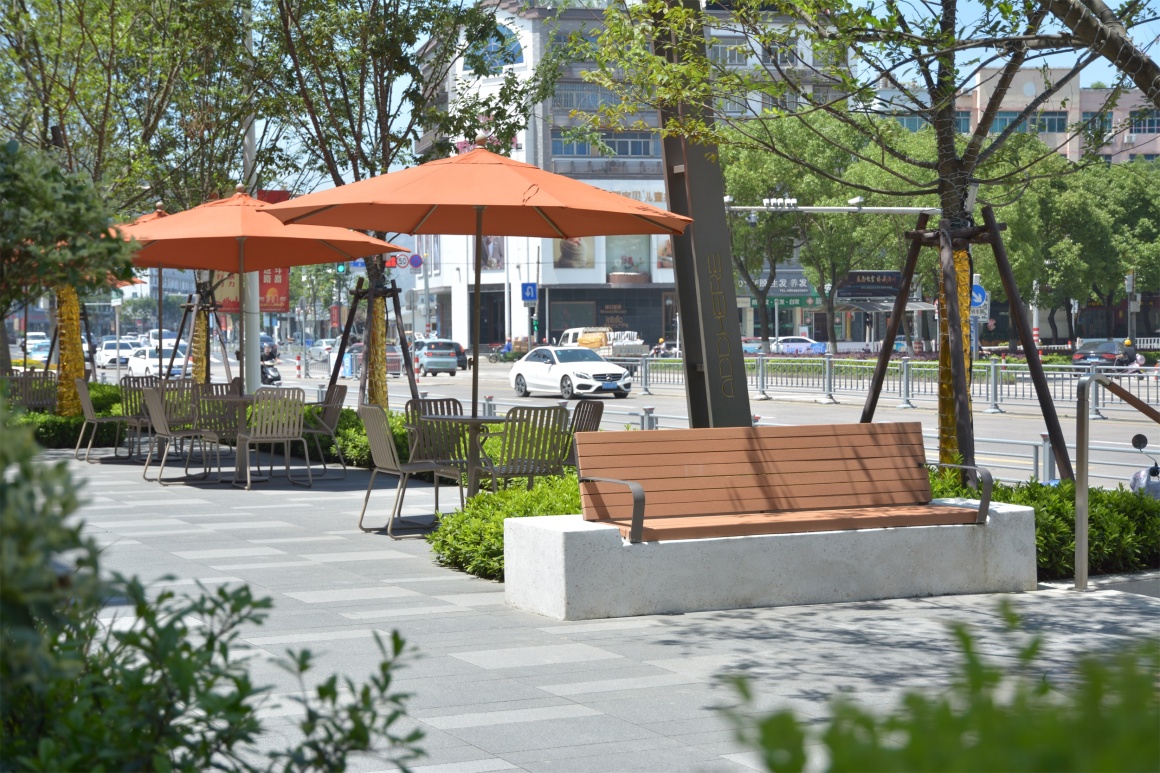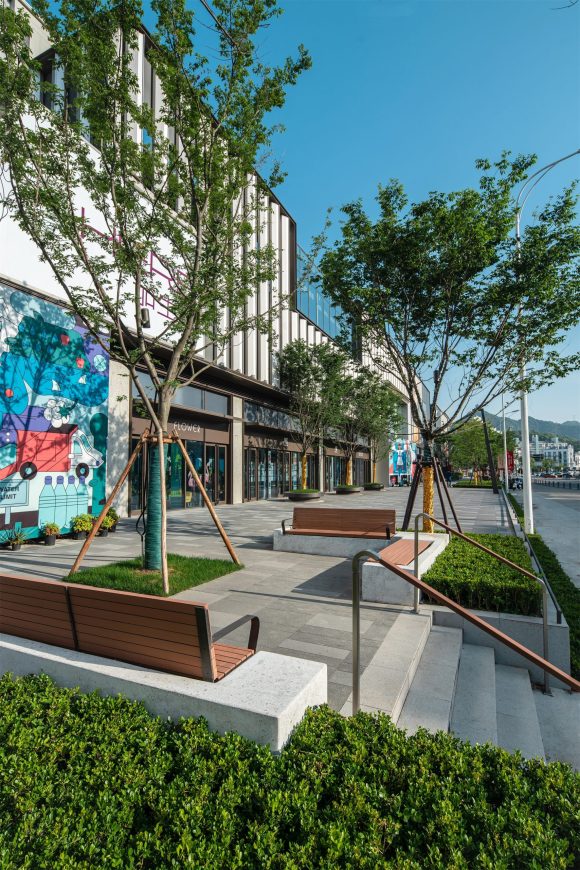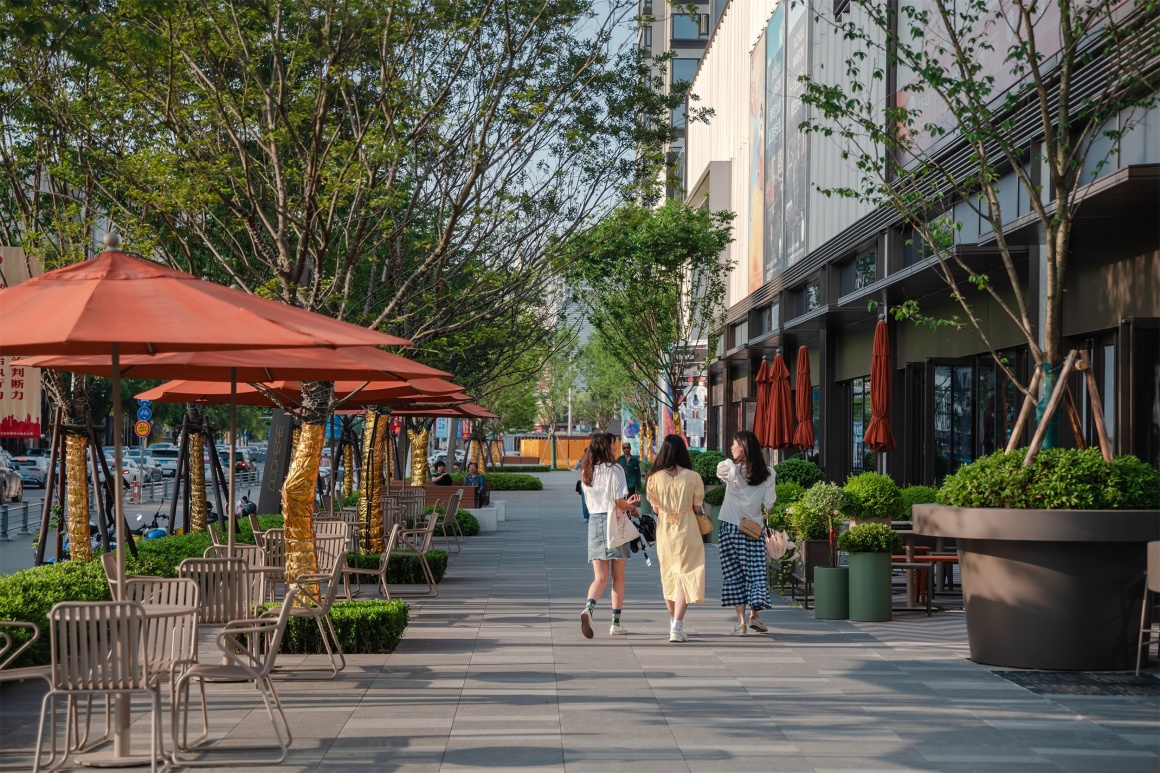 地毯式的地面铺装,装点着城市的精致氛围。
Carpet-style ground pavement creates an exquisite atmosphere of the city.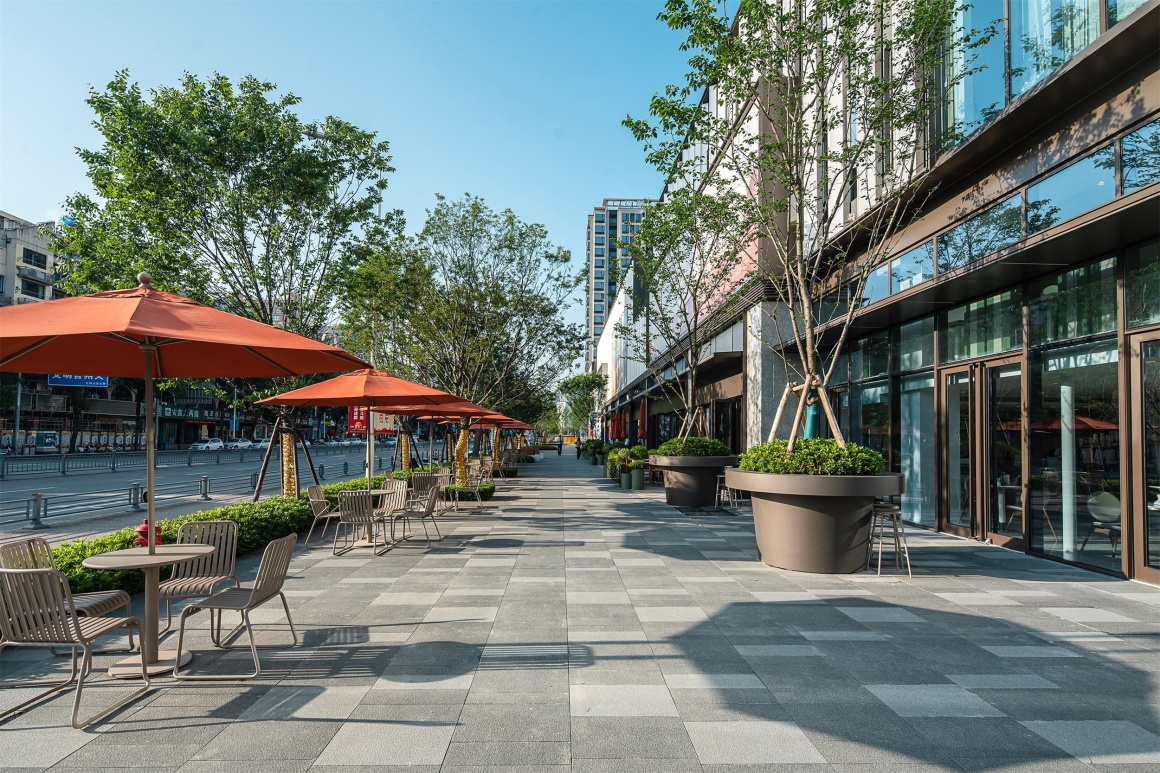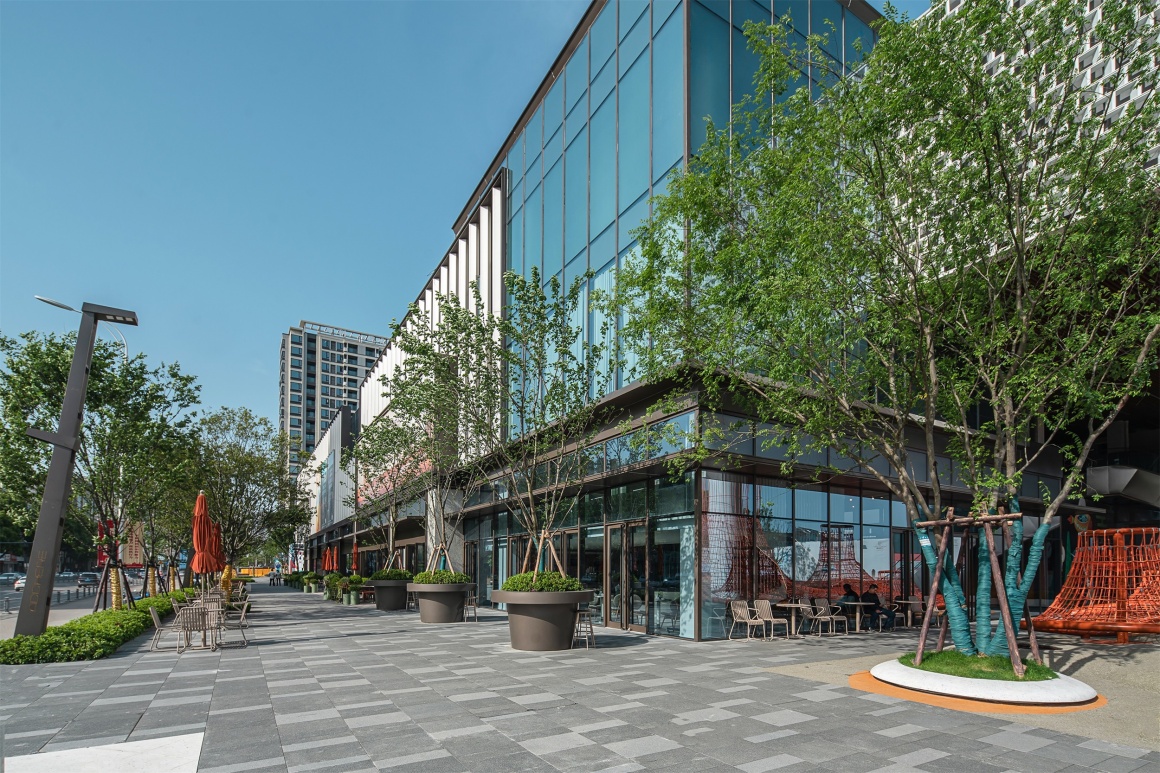 有趣的城市家具设计,将小花钵巨大化,给人以体量感。同时,搭配高矮不同的花钵可形成林下休憩空间;也可作为吧台使用;更是小朋友们捉迷藏的玩耍之地。多种使用方式,让城市不再枯燥无味。
This is a piece of interesting urban furniture. Small flower pots are piled up to create a sense of a great volume. Additionally, flower pots of different heights are used to create a rest space under trees; it also serves as a counter; children play hide-and-seek here as well. Multiple uses of the furniture make the city not dull and boring any more.
▼多功能树池手绘效果 Multi-function tree pool hand-painted effect

▼多功能树池 Multi-functional tree pool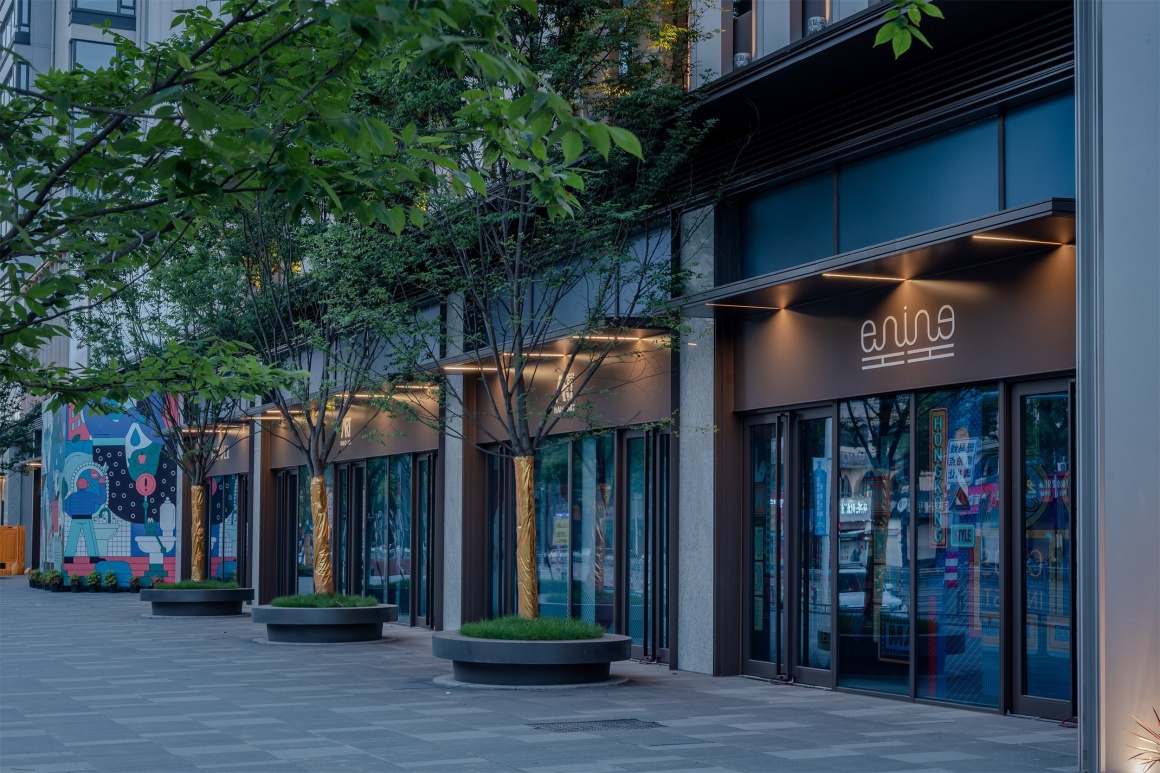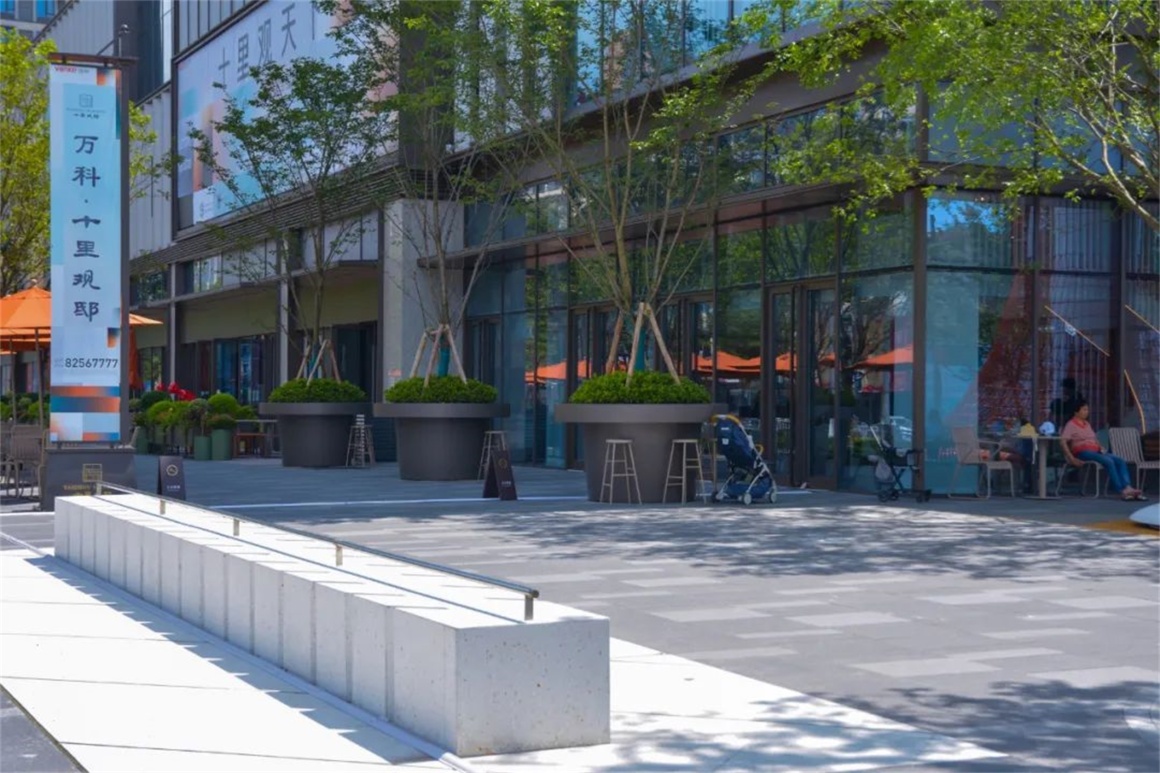 优雅的室内设计,时尚的色系搭配,点缀丝丝绿意。室内体验感可谓是十分精致与舒适了。室内的低龄儿童活动场地延伸致室外,与6-16岁活动区形成功能场所互补,交相呼应,突破了内外的界限。
Graceful interior design, fashionable color match and dotted green spaces make the interior space very exquisite and comfortable. Interior activity space for young children extends to outdoors and functionally complement the activity space for 6-16 years old children. They echo with each other and blur the boundary between the indoor and outdoor spaces.
02 思考|Insights
在未来社区及超级街区的发展和规划背景下,创浦景观致力为本项目打造具有归属感的生活场景;具有参与感的社区服务;具有体验感的社交场所。从而呼应及推动未来社区的场景化应用。未来也将结合政府关于推进未来社区数字化治理的理念,在景观及规划设计中予以实践,这也将是未来社区发展实现的必经之路。台州万科十里观邸项目作为路桥区建设的社会化专业力量,发挥它在城市开发、管理体系、治理机制及数字化建设的经验和优势,为未来社区试点的实践的提供了新模式和新样板,满足居民群众对多样性美好生活的向往,最终实现跟随城市脉动持续融合生长的超级街区!
T. Workshop is dedicated to creating life scenarios with a sense of belongingness, community services with a sense of involvement and a social place with a sense of experience in this project in the development trend of future community and super blocks. It aims at echoing with and promoting scenario-based applications of future communities. It will also refer to government's ideas about digital governance of future communities and implement them in landscape, planning and design. This is the way of development of future communities. Taizhou Vanke Taizhou Mansion Project, as a social professional force in Luqiao District, gives full play to its experience and advantages in urban development, management system, governance mechanism and digital construction. It will provide a new model for pilot practice of future communities, satisfy residents' longing for diversified and wonderful life and grow up to a super block by following the rhythm of the city eventually.
03 设计师说|Designers' Words
T.Workshop创浦景观在项目从设计至落地的过程中,参与度极高,除景观设计外,还完成了IP专项设计、景观软装设计、活动器材设计、灯光及精神堡垒等全专业设计服务,真正做到所见即所得。
T. Workshop has a high involvement in the project from design to construction. In addition to landscape design, it also accomplished IP design, landscape soft outfit design, exercise equipment design, lighting, corporate signage and other professional design services. It achieved the goal: what you see is what you get.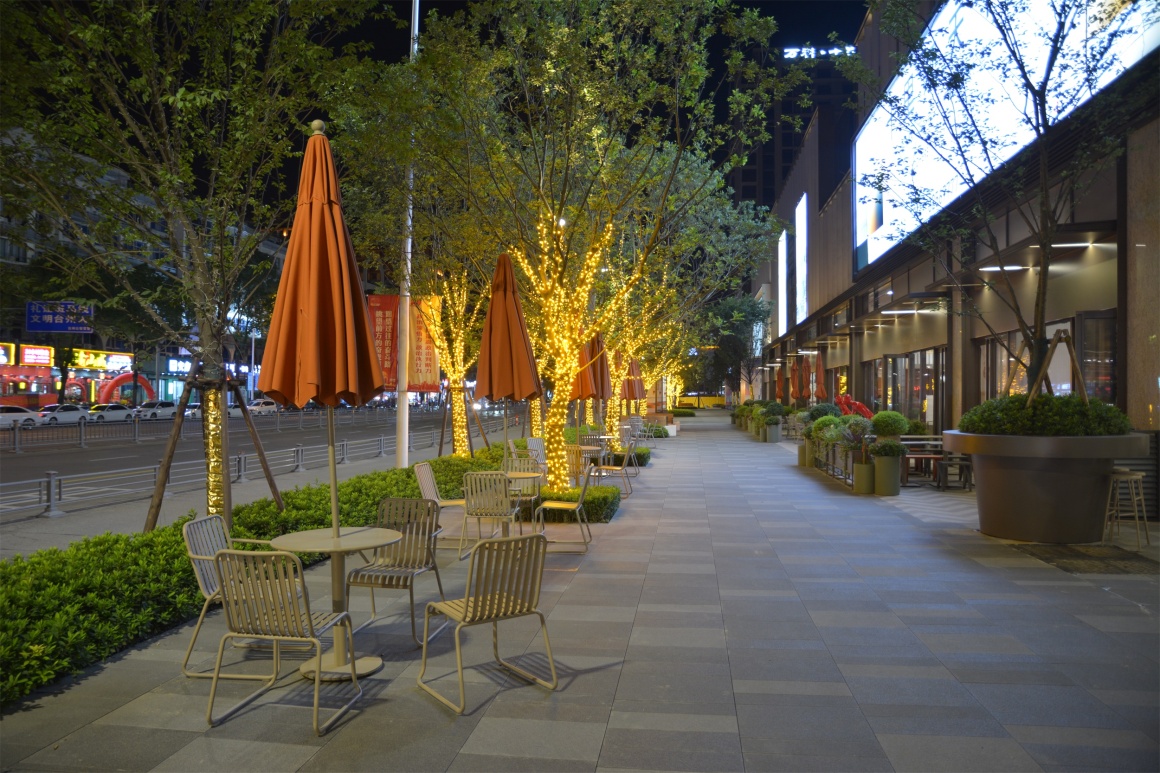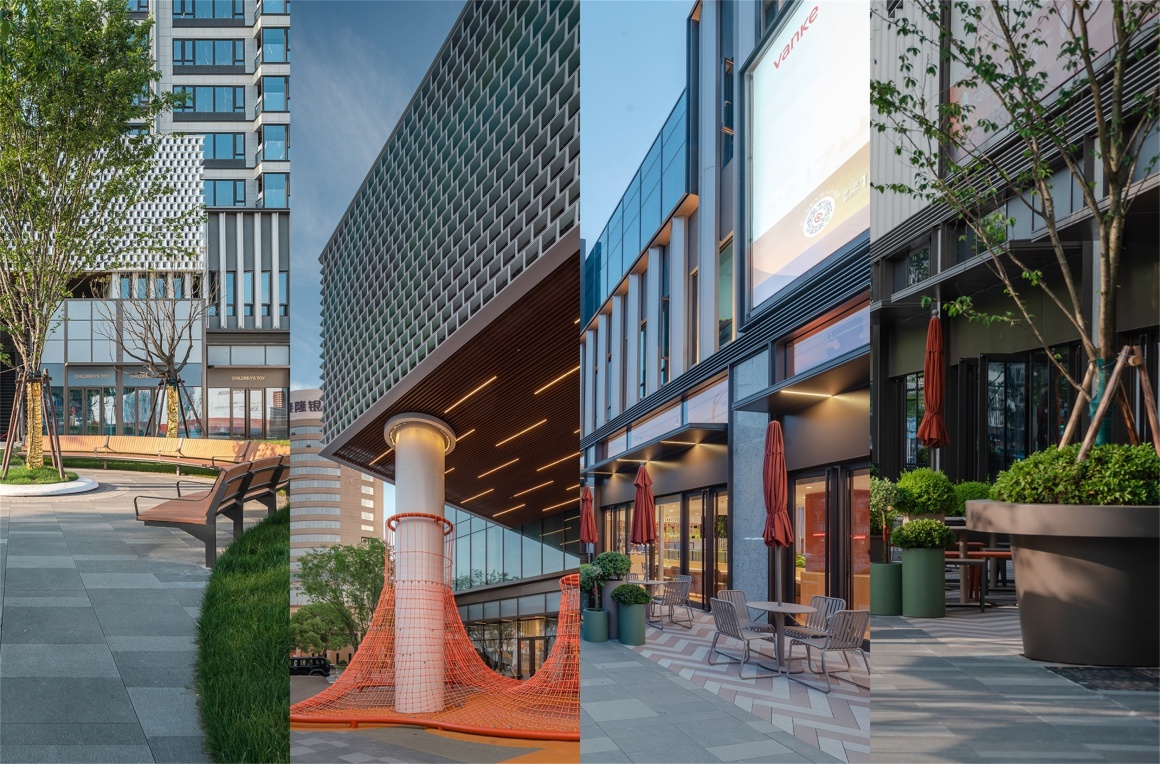 最终呈现在大家眼前的亲子活动空间中的火山造型爬网,经历过十多稿方案的修改调整,最终通过与专业器材厂家的反复推敲、结构论证后才得以最终呈献,目的就是为了,在丰富设计元素及美观的同时,更要保障儿童器材的质量与安全。
The volcano shaped climbing net appearing before our eyes in the parent-child activity space has undergone over ten versions of modification. We deliberated and demonstrated its structure with professional equipment manufacturers repeatedly before its construction in order to enrich design elements and make sure a good look, and more importantly, ensure quality and safety of the children's exercise equipment.
▼初代儿童乐园 The first children's playground

▼设计过程 Commercial entrance design process
▼其他细节 Other details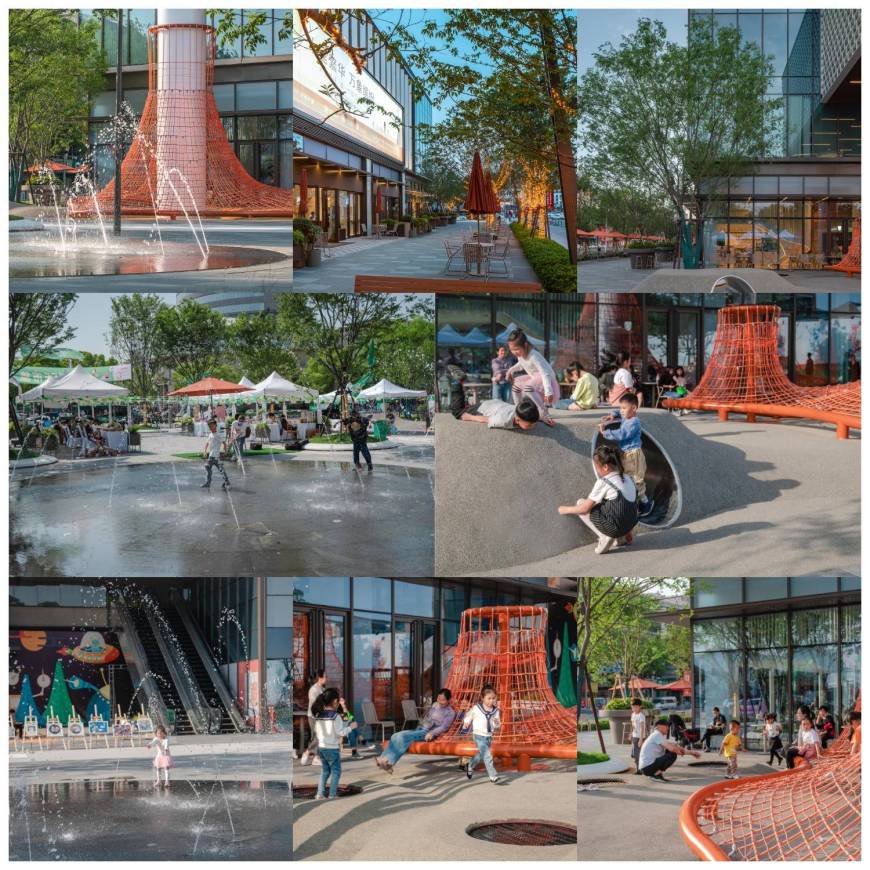 ▼部分效果图和实景图对比 Part of the renderings and real picture contrast
最后,还未开放的商业内街区域以及多个城市口袋公园区域,让我们敬请期待!
The inner street and pocket parks which are not open will come soon!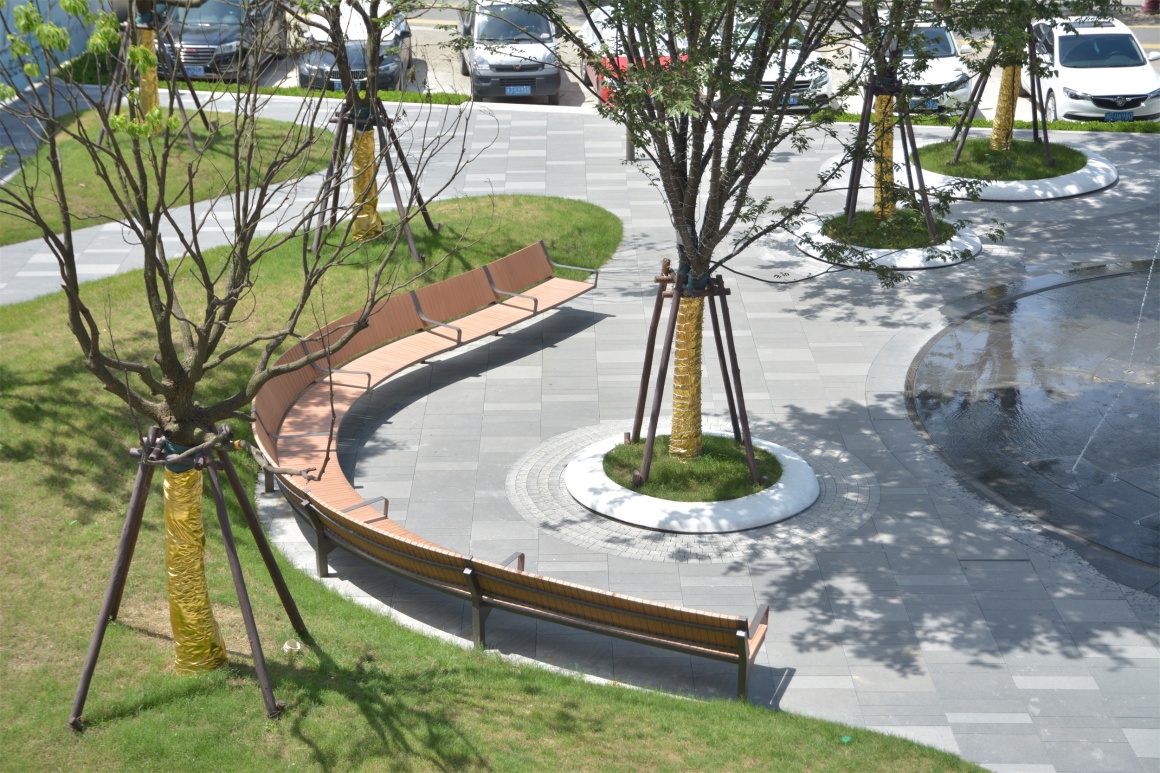 项目名称:万科|十里观邸
委托业主:宁波万科
项目地点:浙江台州
业主管理团队:杨耀阳、罗文俊、许佳琪
景观设计:创浦景观设计(上海)有限公司(李芳瑜、肖琳、韩治凤、伊瑾诺、葛则凤、李苗苗等)
景观施工图设计:宁波市浩然园林景观发展有限公司
景观施工单位:宁波伟丰园林工程有限公司
儿童器材厂家:宁波再遇游乐设备有限公司
建筑设计:蘑菇云建筑设计咨询(上海)有限公司
室内设计:上海璞辉空间设计有限公司
设计时间:July 2020
完成时间:建设中
摄影团队:徐蒋伟  肖琳
Project name: Vanke Ten Miles View Mansion
Client: Ningbo Vanke
Project location: Taizhou, Zhejiang Province
Owner Management Team: Yang Yaoyang, Luo Wenjun, Xu Jiaqi
Landscape Design:  T. Workshop (Li Fangyu, Xiao Lin, Han Zhifeng, Yi Jinuo, Ge Zefeng, Li Miaomiao, etc.)
Landscape Construction Drawing Design: Ningbo Haoran Landscape Development Co., Ltd
Landscape Construction Unit: Ningbo Weifeng Landscape Engineering Co., Ltd
Children's Equipment Factory: Ningbo Zaiyu Recreation Equipment Co., Ltd
Architectural Design: Mushroom Cloud Architectural Design Consulting (Shanghai) Co., Ltd
Interior Design: Shanghai Puhui Space Design Co., Ltd
Design date: July 2020
Date completed: Under construction
Photography team: Xu Jiangwei ,  Xiao Lin
更多 Read more about:  T. Workshop创浦景观