本文由 Ehrlich Yanai Rhee Chaney Architects 授权mooool发表,欢迎转发,禁止以mooool编辑版本转载。
Thanks Ehrlich Yanai Rhee Chaney Architects for authorizing the publication of the project on mooool, Text description provided by Ehrlich Yanai Rhee Chaney Architects.
EYRC:这座5000平方英尺的住宅及其1700平方英尺的后院是为一对年轻夫妇设计的,它坐落在20世纪20年代帕洛阿尔托社区的一个21000平方英尺的平地上(距离乔布斯的住处只有几个街区)。该建筑采用了简单利落的构成方式,极具博物馆般的质感和工艺感,其体块界定了实体和空间,通过引入自然光,将室内与景观连接起来,打造"内部的户外体验"。
EYRC:Designed for a young couple, the 5,000 sf home and 1,700 sf back house sit on a flat 21,000 sf lot in a 1920's Palo Alto neighborhood (a few blocks away from Steve Jobs' residence). The architecture is a study in strong simple composition and is museum-like with its highly refined materiality and emphasis on craft. The massing defines solid and void, captures natural light, and connects the indoors with the landscape, seeking to 'experience the outdoors from within.'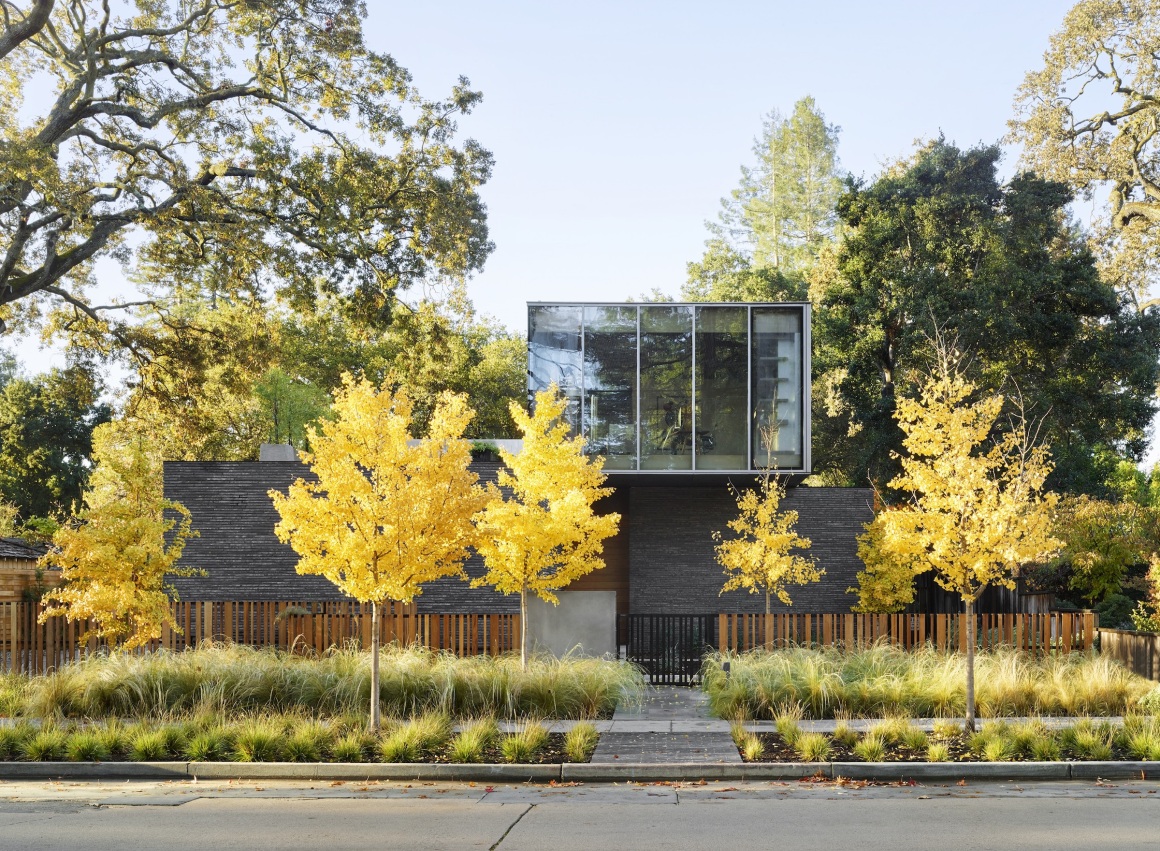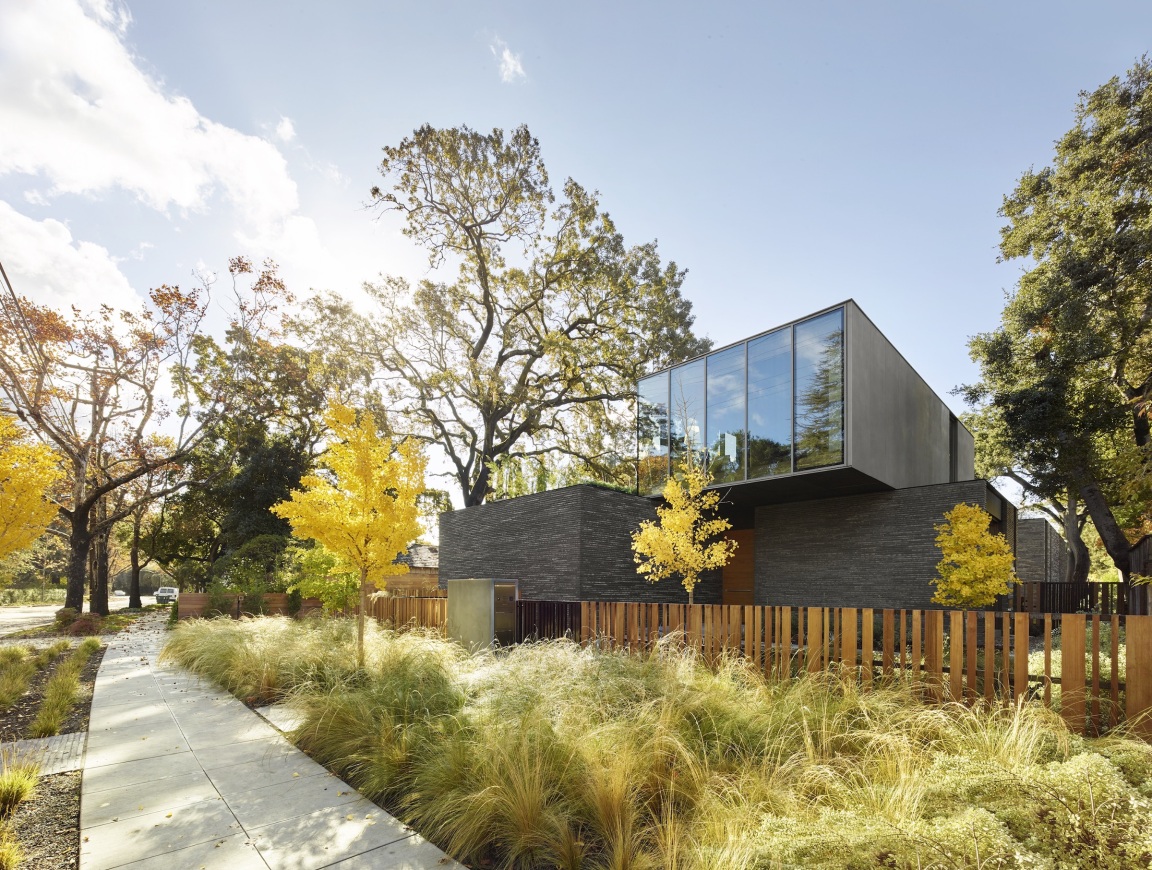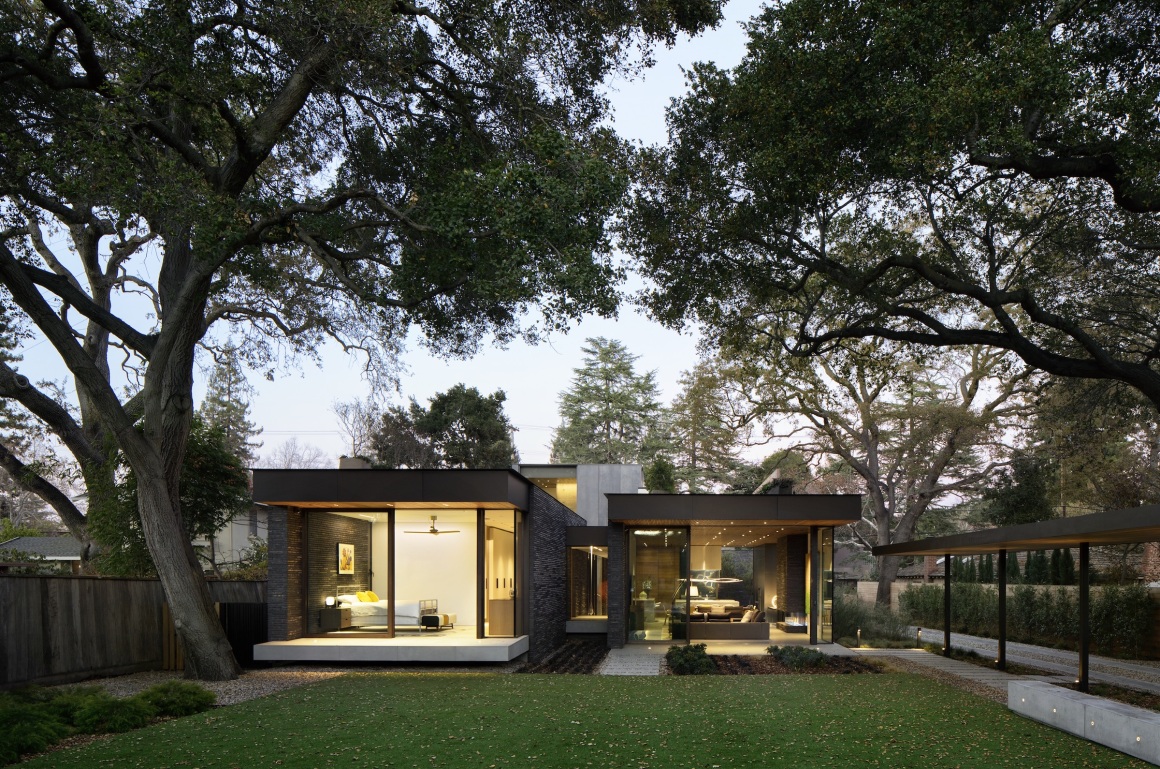 住宅底层外立面使用的丹麦手工烧制细长砖,强调出了建筑牢固地建在地面上的水平性,同时,砖体之间镶嵌着青铜装饰的天花板,其墙面上的玻璃开口外围还包裹了一层薄薄的青铜框架。
The ground floor volumes wrapped in an elongated hand-fired brick from Denmark, emphasizing the horizontality of the architecture that lays solidly on the land. Bronze-trimmed ceiling planes slide between the brick masses, and floor-to-ceiling glazed openings are captured by thin-profiled bronze frames.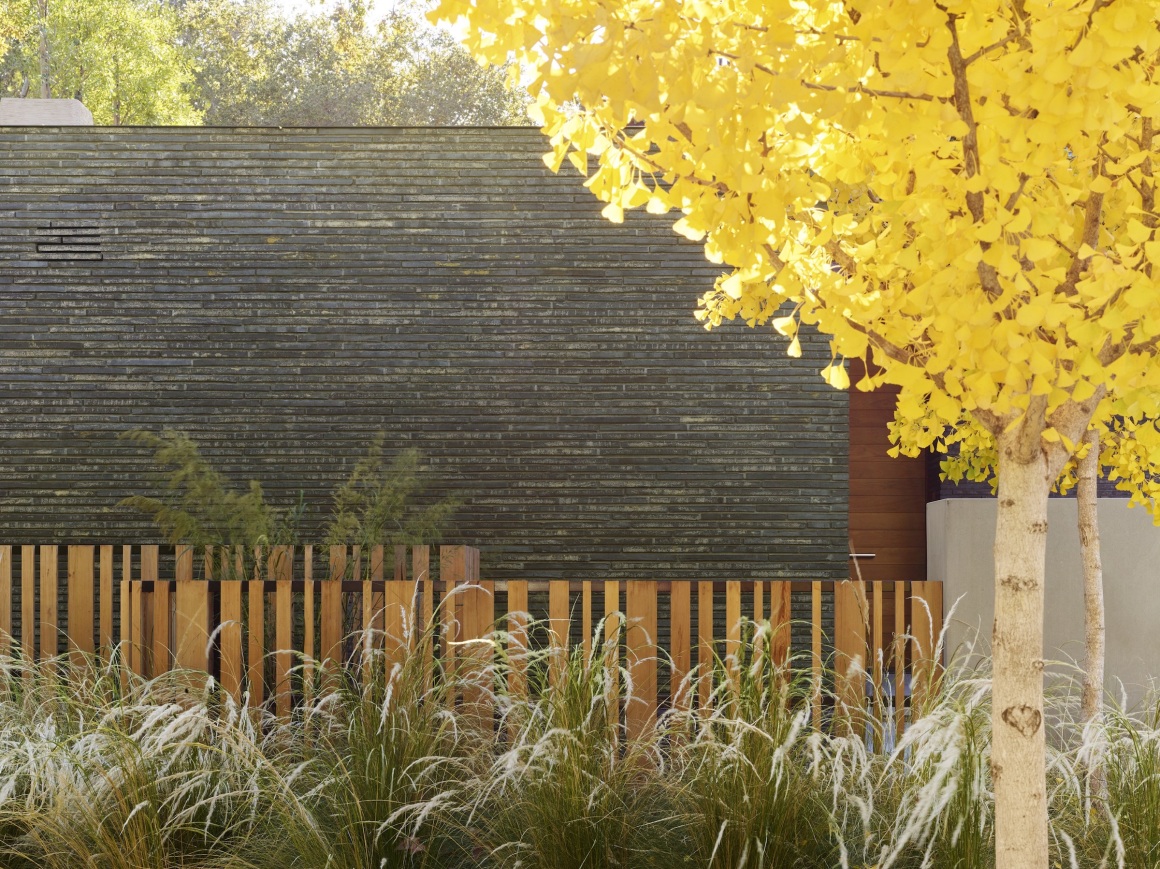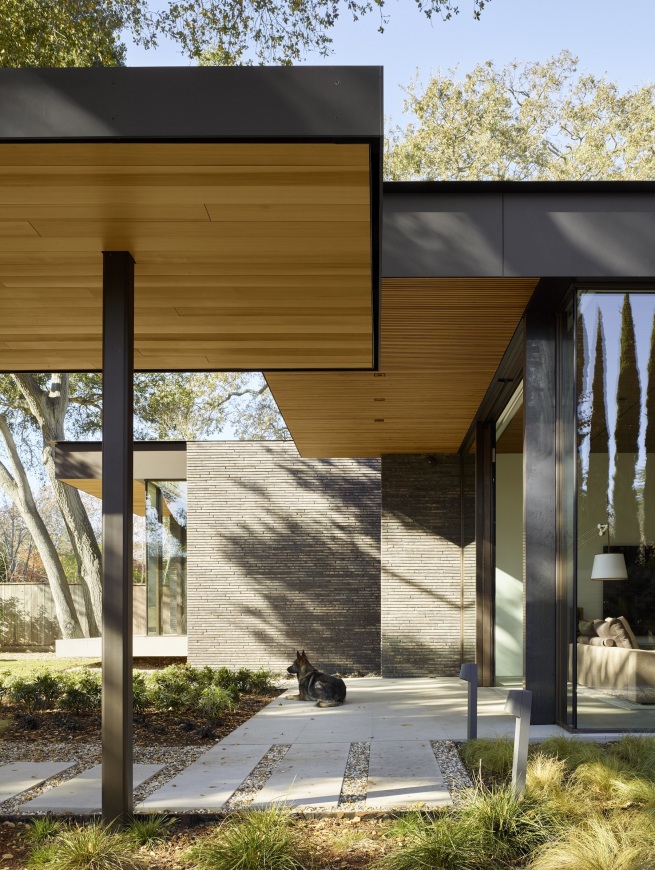 与底层砖体形成对比的是,二楼外立面使用的不锈钢面板和超大铝框窗户,轻盈又开放地依偎在基地的橡树树冠之间。同时,地下一层设有面向下沉景观庭院开放的酒窖和品酒室。
In contrast to the grounded brick volumes, the second floor is clad in stainless steel panels and oversized aluminum-framed windows. The lightness and openness of the second floor is nestled among the oak-tree canopies of the site. At the basement level, a wine cellar and tasting room open to a sunken landscaped courtyard.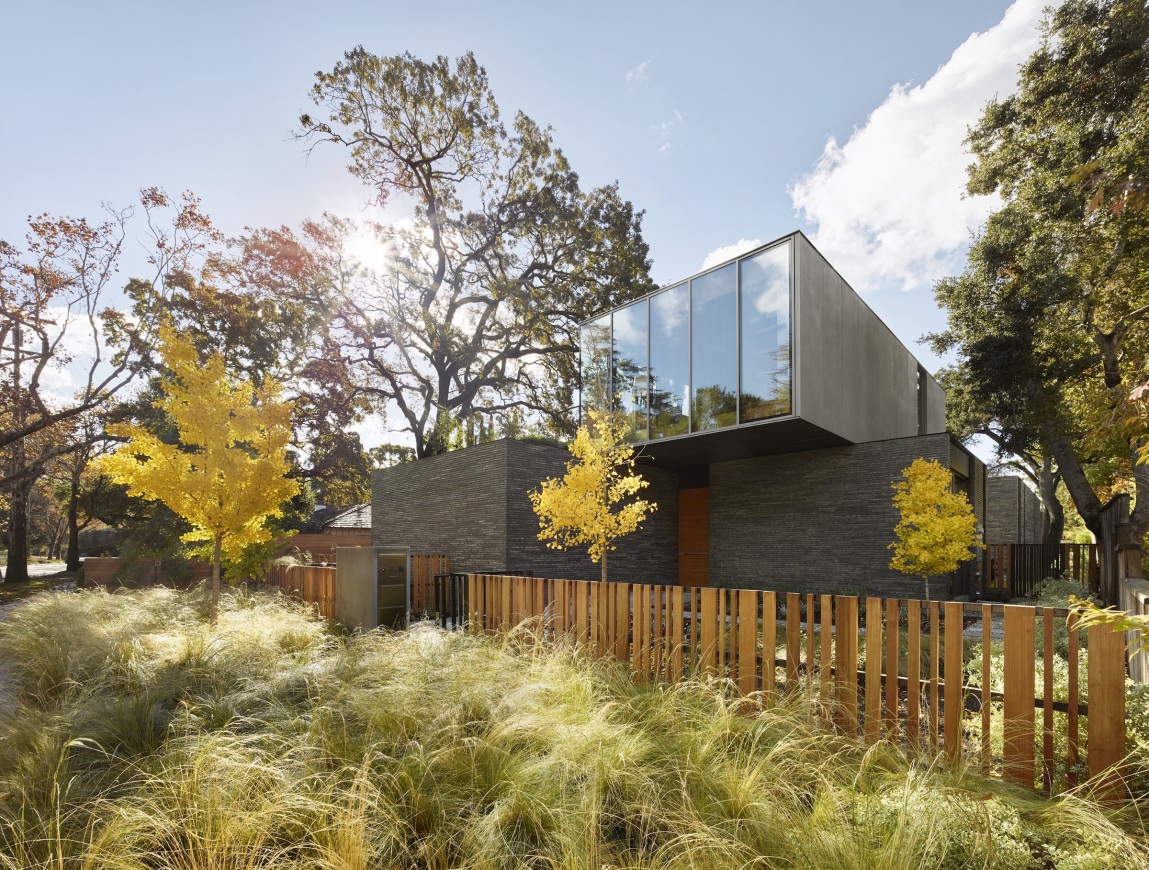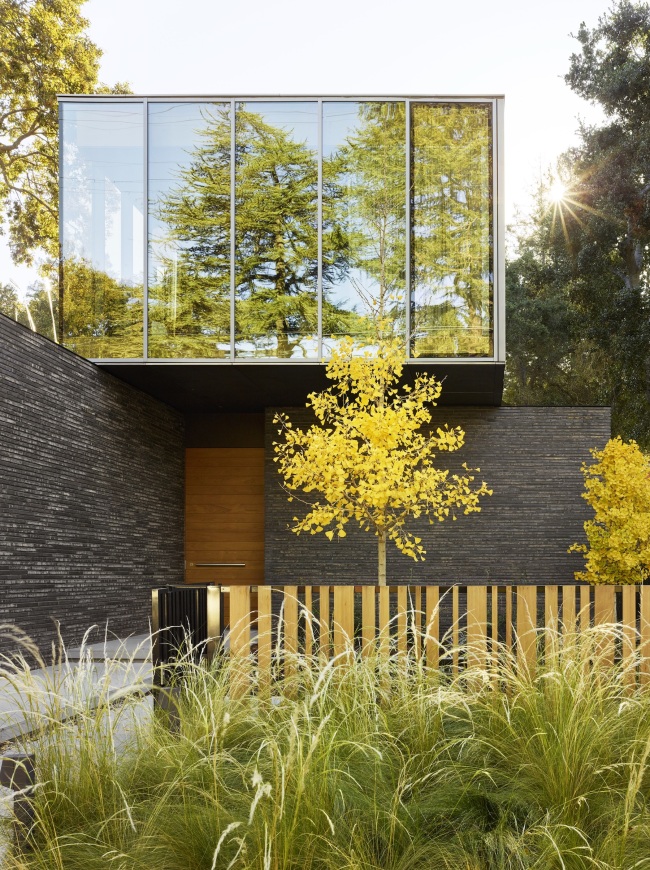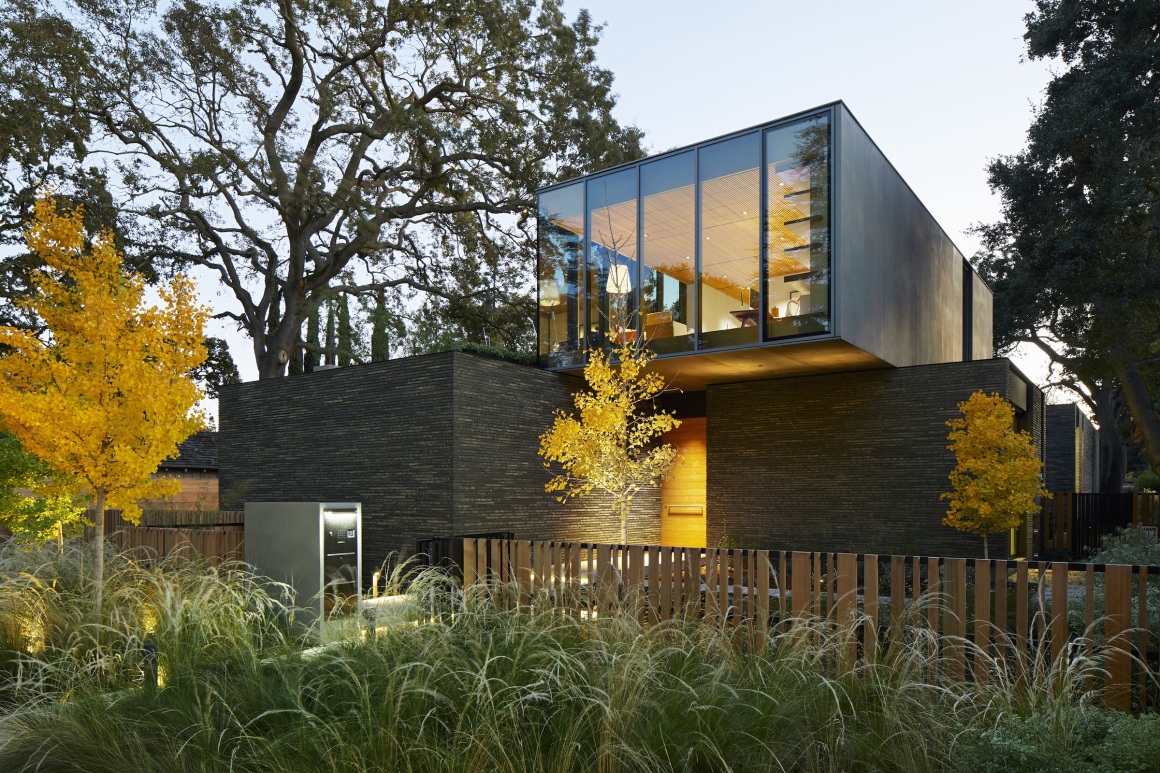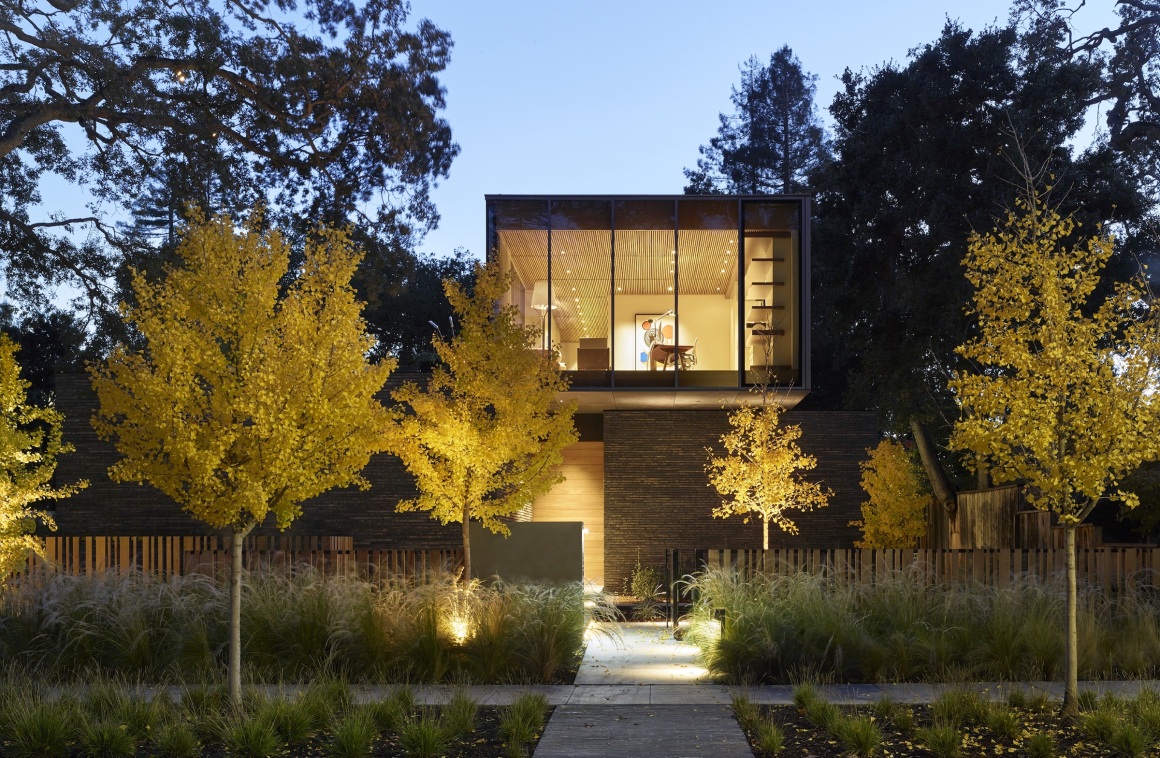 这里沿着浮动石阶的大楼梯井延伸的30英尺×10英尺的连续玻璃立面,连接了房子的第三层空间。由于这种玻璃尺寸在住宅设计中是从未出现过的,制作难度较大,所以我们将它在德国定制制造完成,然后再运到了加州。若人们走过整个住宅,这种戏剧性的设计有助于让参观者感受到了与外面葱郁风景之间的联系。
A 30ft by 10ft continuous pane of glass runs alongside the grand stairwell of floating stone steps, connecting the three levels of the house. Due to the unprecedented size of this glass in residential design, it was custom manufactured in Germany and shipped to California. This dramatic moment in the sequence of progressing through the house helps visitors feel connected to the lush landscape outside.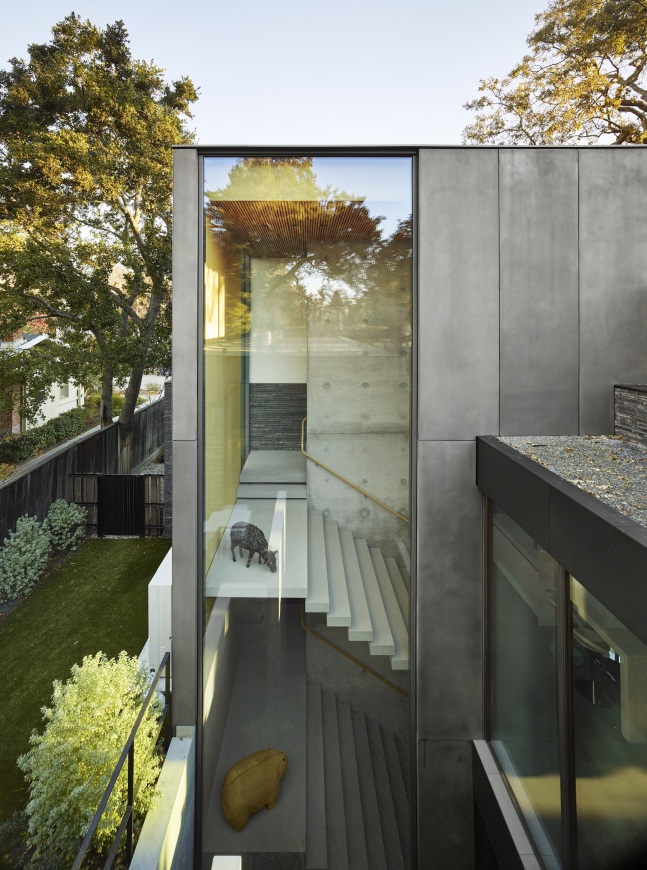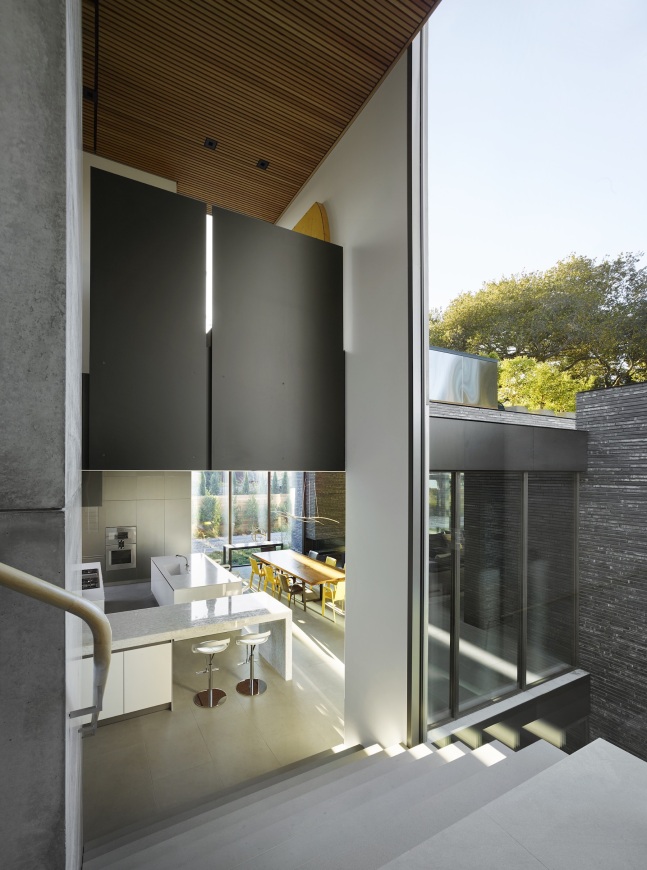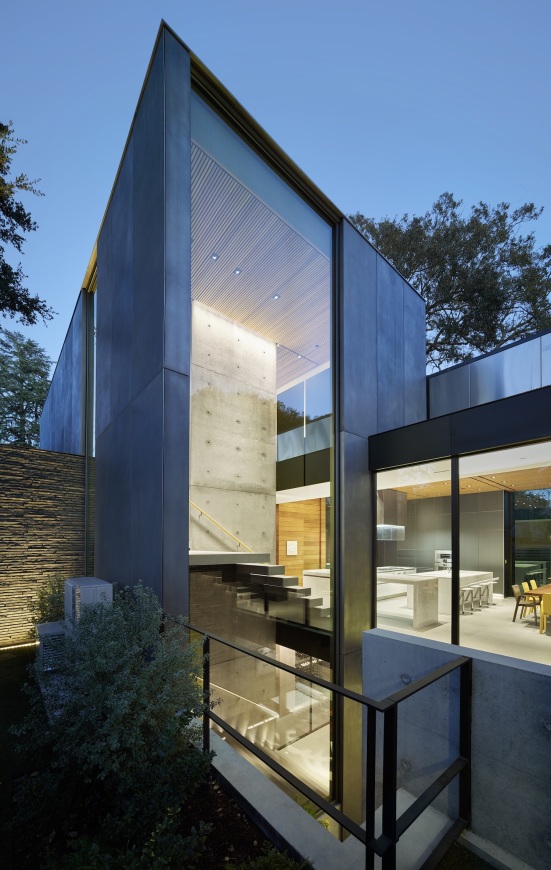 在房子内部,我们选用了如定制的皮革门和阳极化青铜等具有独特工匠风格品质的材料。另一个定制设计的元素是环绕着厨房以提供隐私的钢网屏,它帮助将厨房与附近的公共"宾客招待区"分隔开来。钢质屏风沿着嵌在柚木板条天花板上的轨道滑动,收回后就会消失在餐具室中。
Inside the house, materials such as a custom leather door and bronze anodized details were selected for their unique craftsman-style quality. Another custom-designed element is the steel mesh screen that wraps around to enclose the kitchen for privacy, separating this from the more public "guest hosting" areas adjacent. The steel screen slides along a track embedded into the teak slatted ceiling and disappears into the pantry when retracted.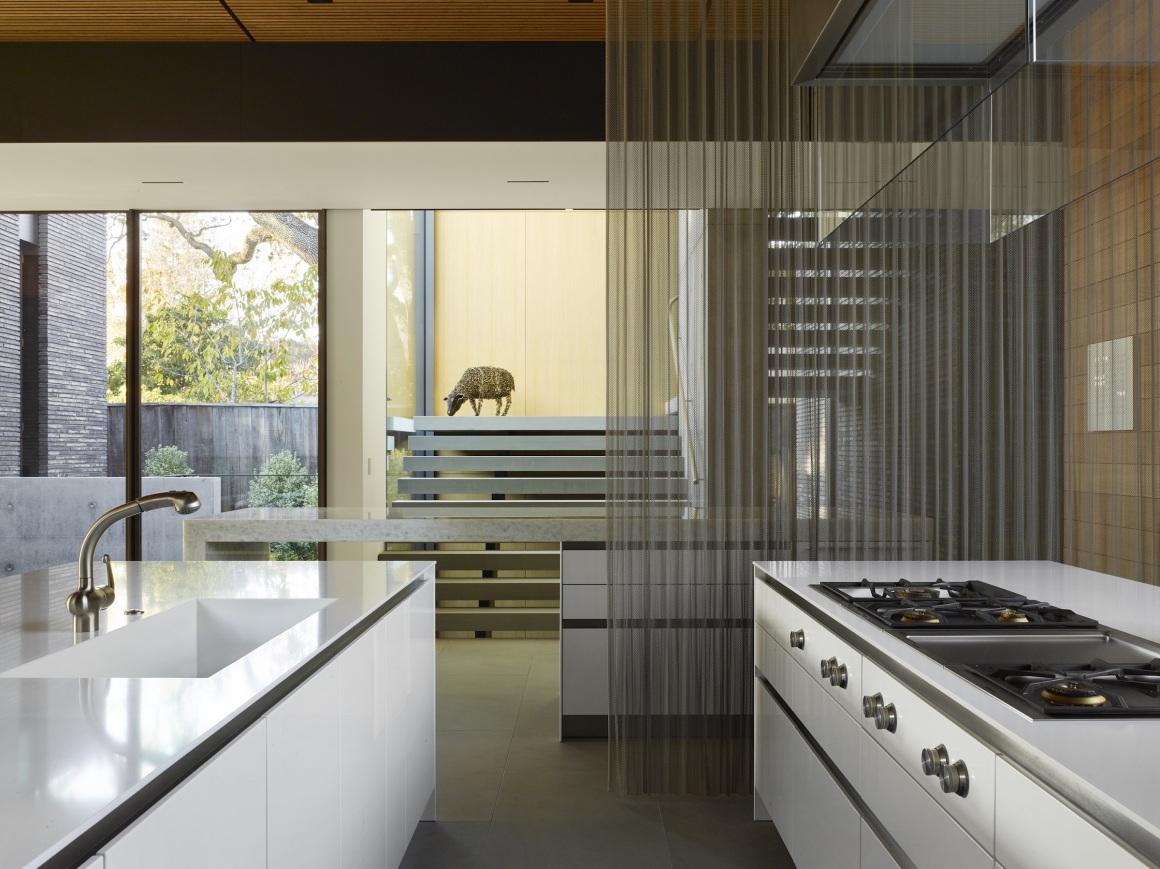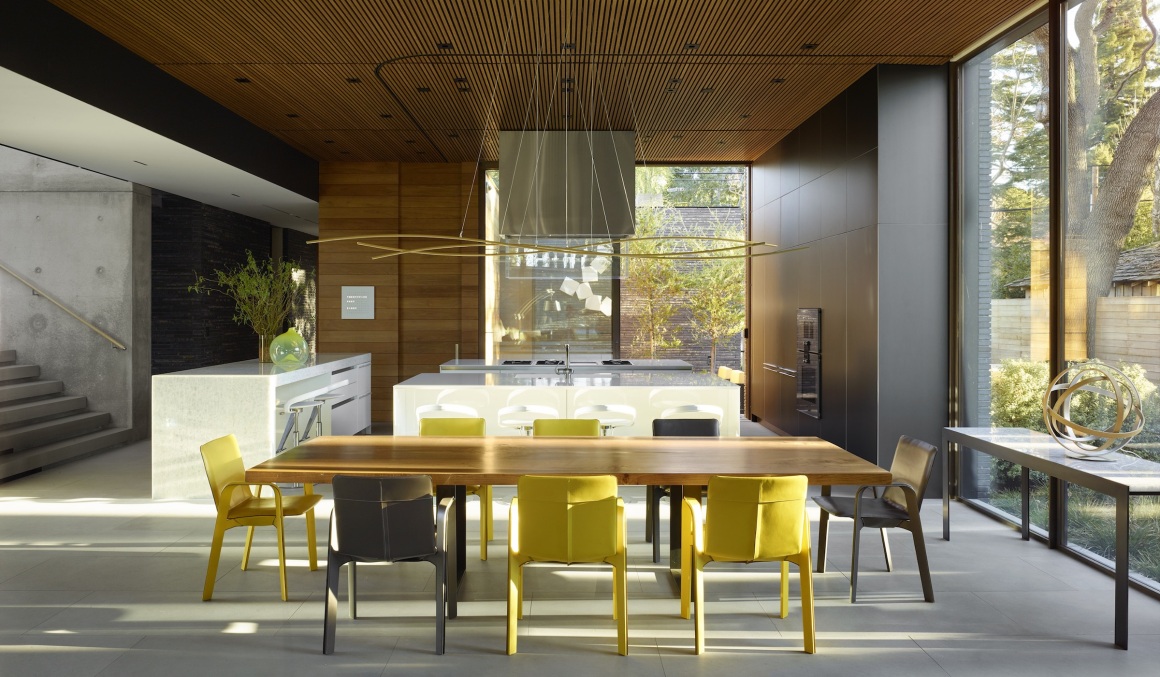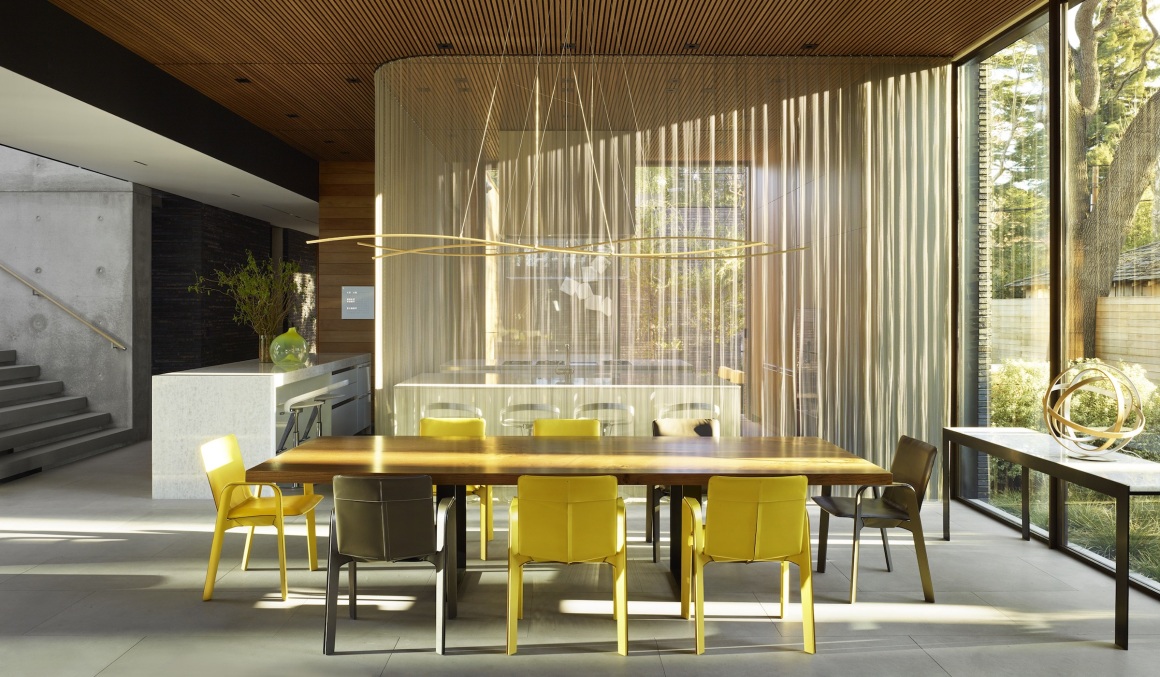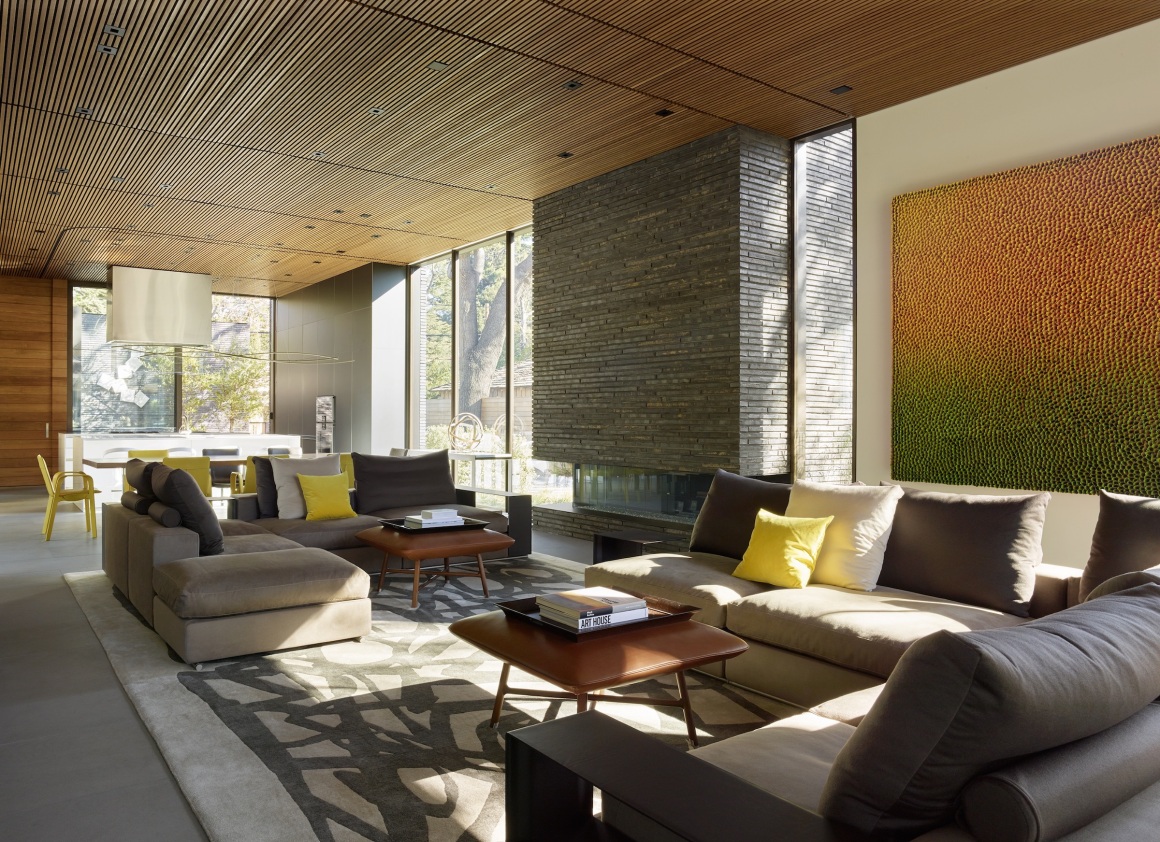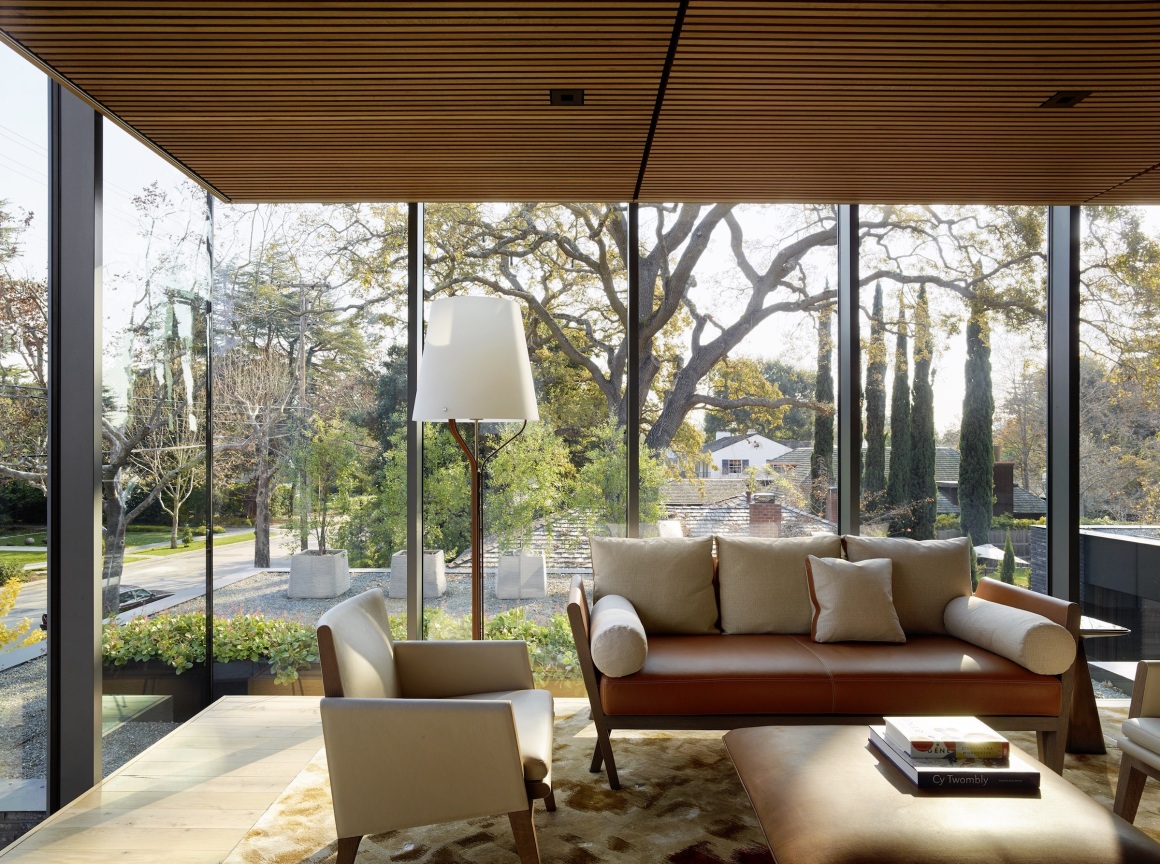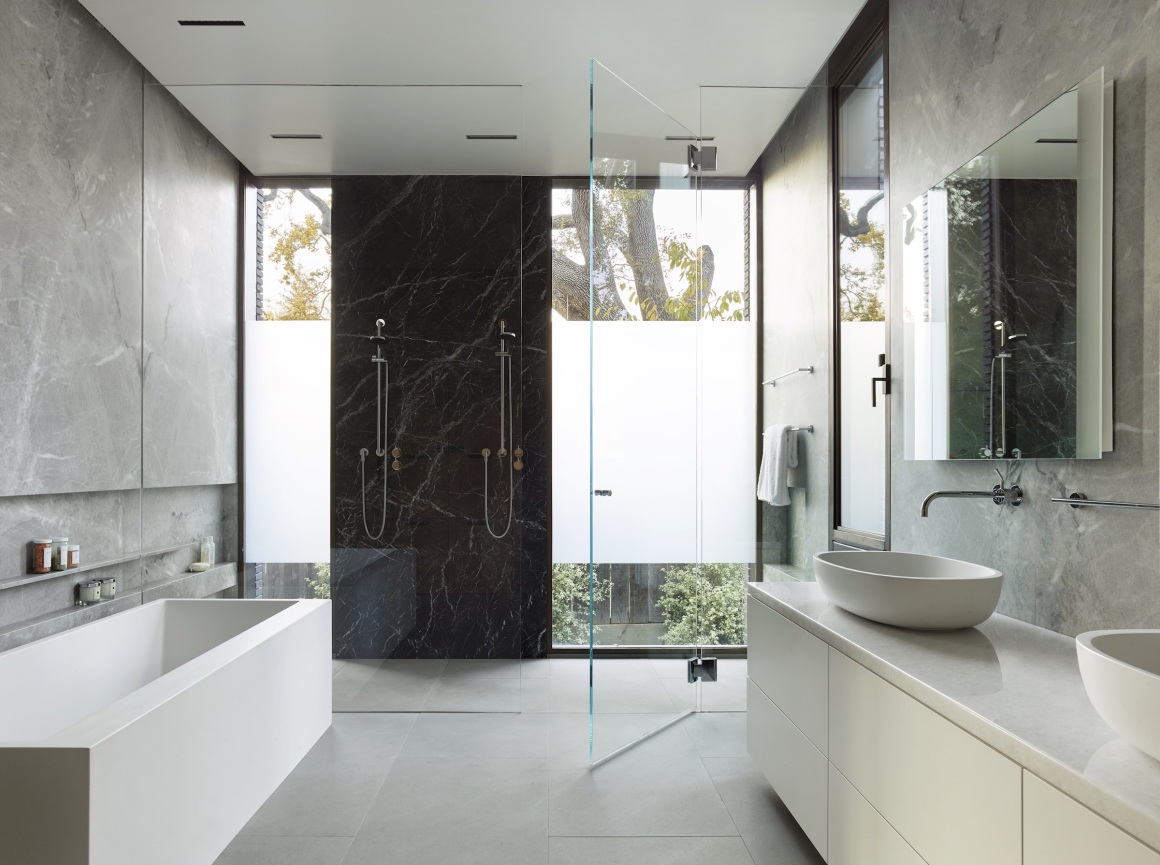 位于场地深处的禅意健身/瑜伽房以及一个带小厨房的客房是一个独立式的建筑结构。这个引人注目的巨石在住宅中心完全开放,营造出了一种户外的运动氛围。景观种植的是加州本土植物物种,很好地融合补充了建筑所使用的材料。
A freestanding structure set deep back into the site is a zen-like fitness/yoga studio as well as a guesthouse with a kitchenette. This dramatic stone mass opens up completely in the center to give the impression of exercising outdoors. The landscape integrates California native plant species, grasses and trees to compliment the materiality of the architecture.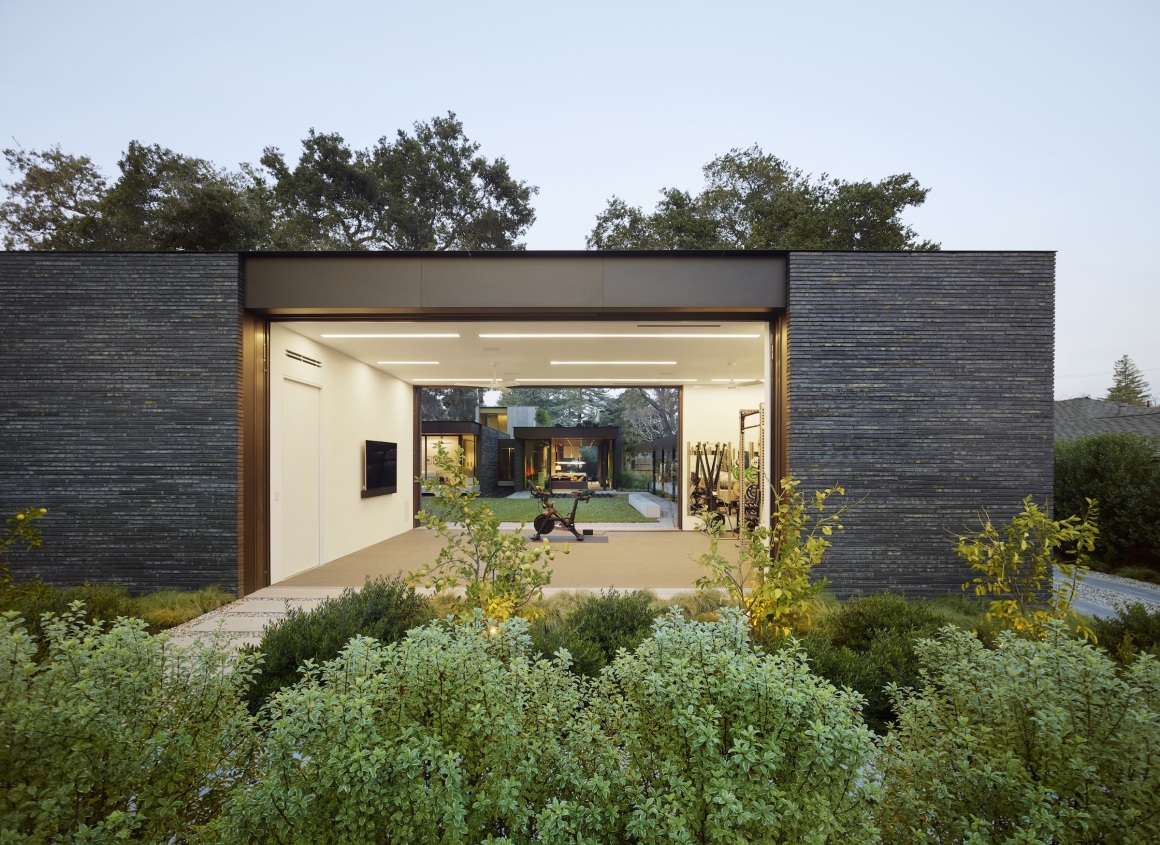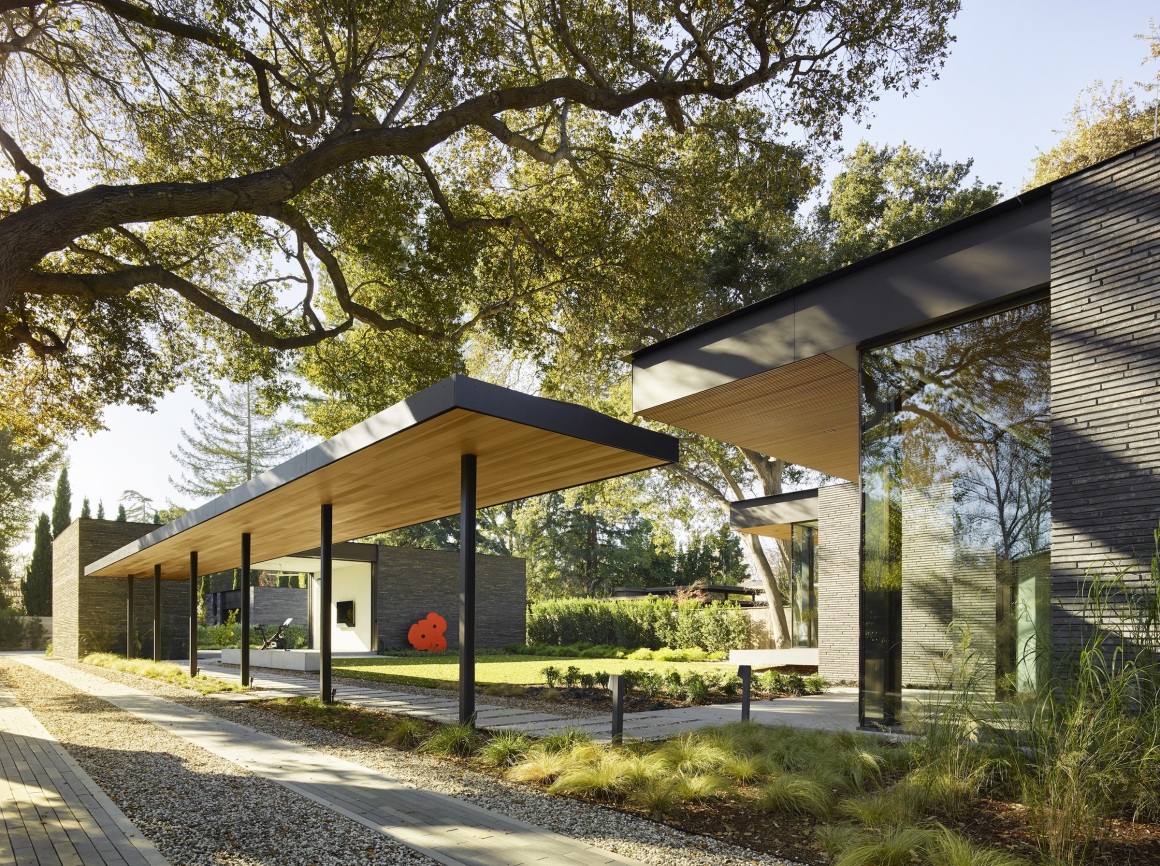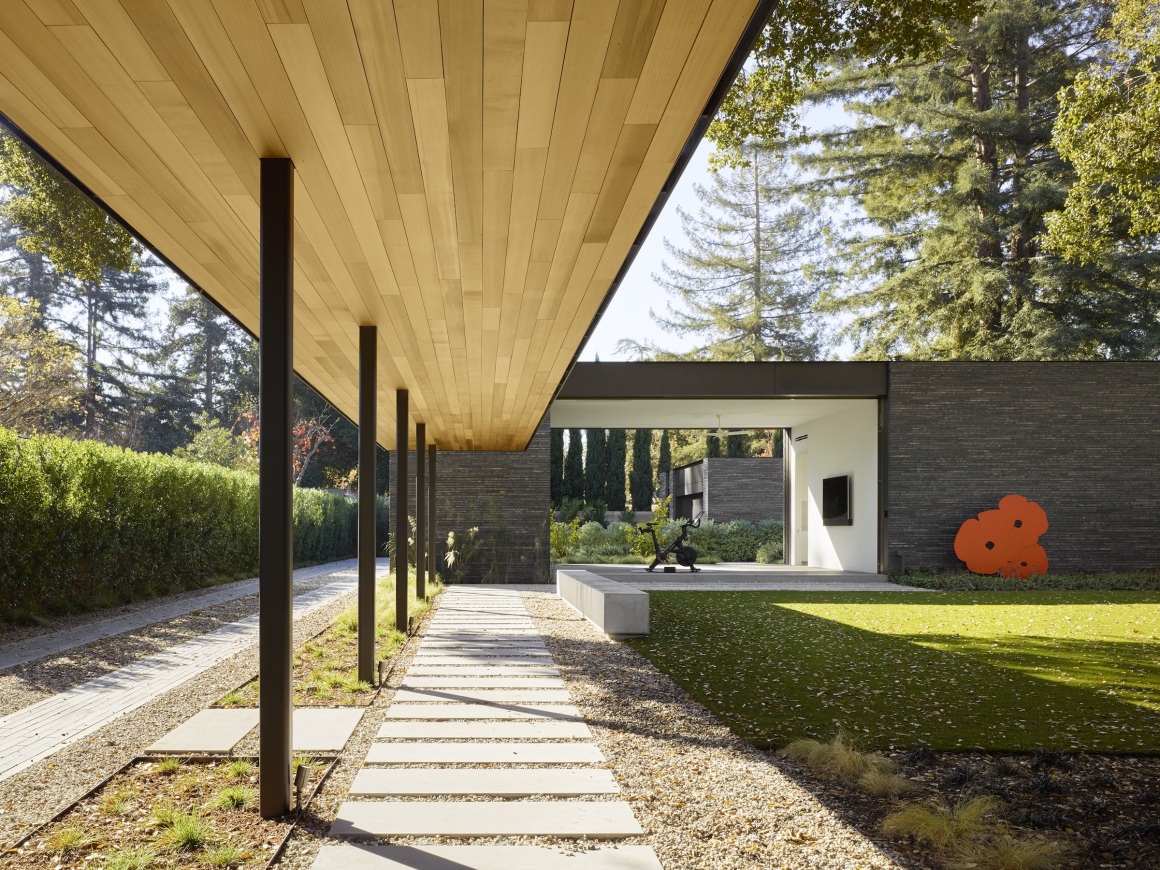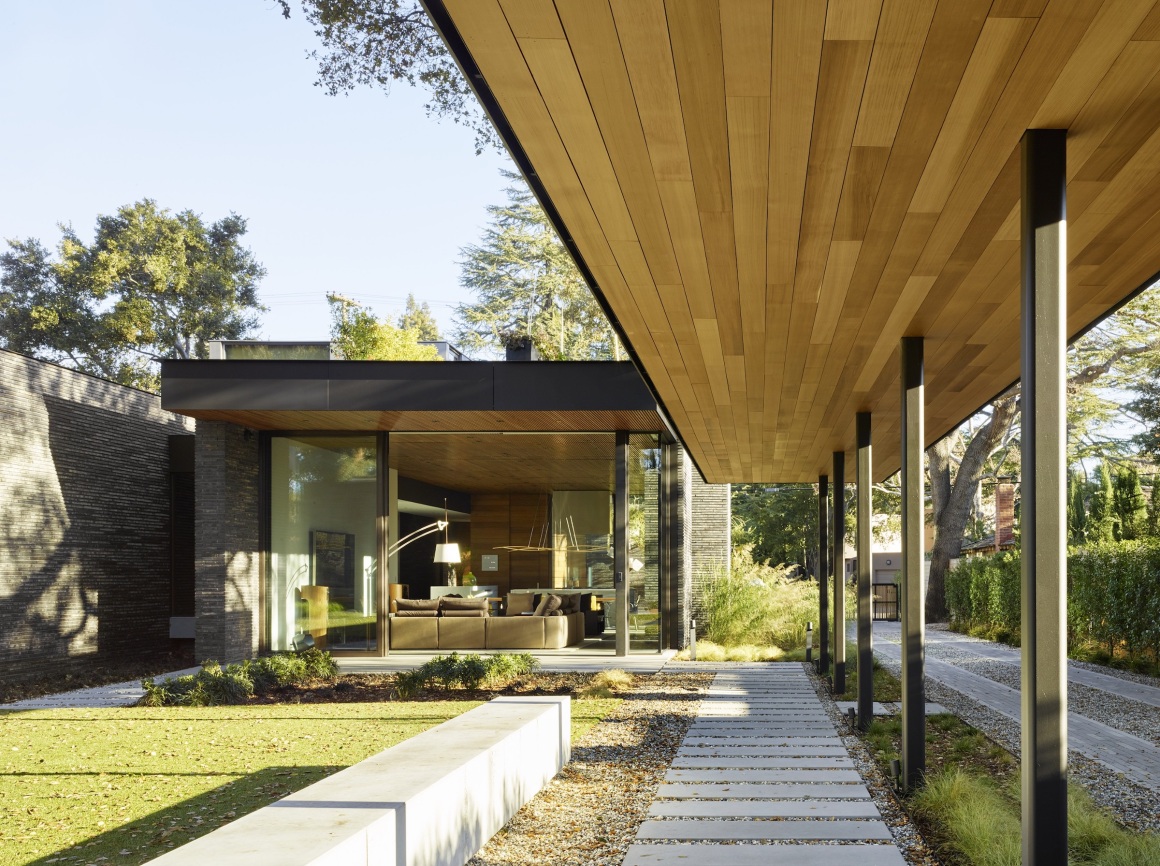 项目:威弗利住宅
地点:加州帕洛阿尔托社区
状态:已建成
面积:5000平方英尺
合作单位:Matarozzi / Pelsinger Builders, Kristy Will Design (Interiors), Blasen Landscape Architecture
摄影师:Matthew Millman
PROJECT: Waverley
LOCATION: Palo Alto, CA
STATUS: Complete
SIZE: 5,000 sf
COLLABORATORS: Matarozzi / Pelsinger Builders, Kristy Will Design (Interiors), Blasen Landscape Architecture
PHOTOGRAPHERS: Matthew Millman
更多 Read more about: EYRC Architects