本文由 奥雅设计 授权mooool发表,欢迎转发,禁止以mooool编辑版本转载。
Thanks L&A Design for authorizing the publication of the project on mooool, Text description provided by L&A Design.
奥雅 :项目总长为 1.5公里,中间被 2条 道路和河流割裂开,团队需要在局限的 12米 的狭窄空间拓展步行空间并丰富空间体验。奥雅设计团队为这个线性公园提出了一个全新的思路,采用参与性、连接性、开放性、统一性的原则,将整个线性公园串联起来,促成河流和城市的重新兴连接。设计为了打破狭窄河道的壁垒,通过推-拉-悬-浮等三维设计手法延展空间,营造多维的景观体验,产生视听味嗅触全息的感官感受。
L&A:The project has a total length of 1.5 kilometers and is separated into several parts by 2 roads and rivers in the center. The team has to expand pedestrian space and enrich spatial experience within the limited narrow space of 12 meters.  L&A team provided a brand new concept to construct this elongate park. Following the principles of involvement, connectivity, openness and unity, the design links all parts of the park and reconnects the river and the city. To break down barriers set by the narrow river course, the team utilized three-dimensional design methods including pushing-pulling-suspending-floating to expand the space. It does not only provide multi-dimensional sight-seeing experiences, but also creates comprehensive sensory experience of visual, auditory, olfactory and haptic feelings.
▼活力水广场鸟瞰  Aerial view of vigorous waterfront square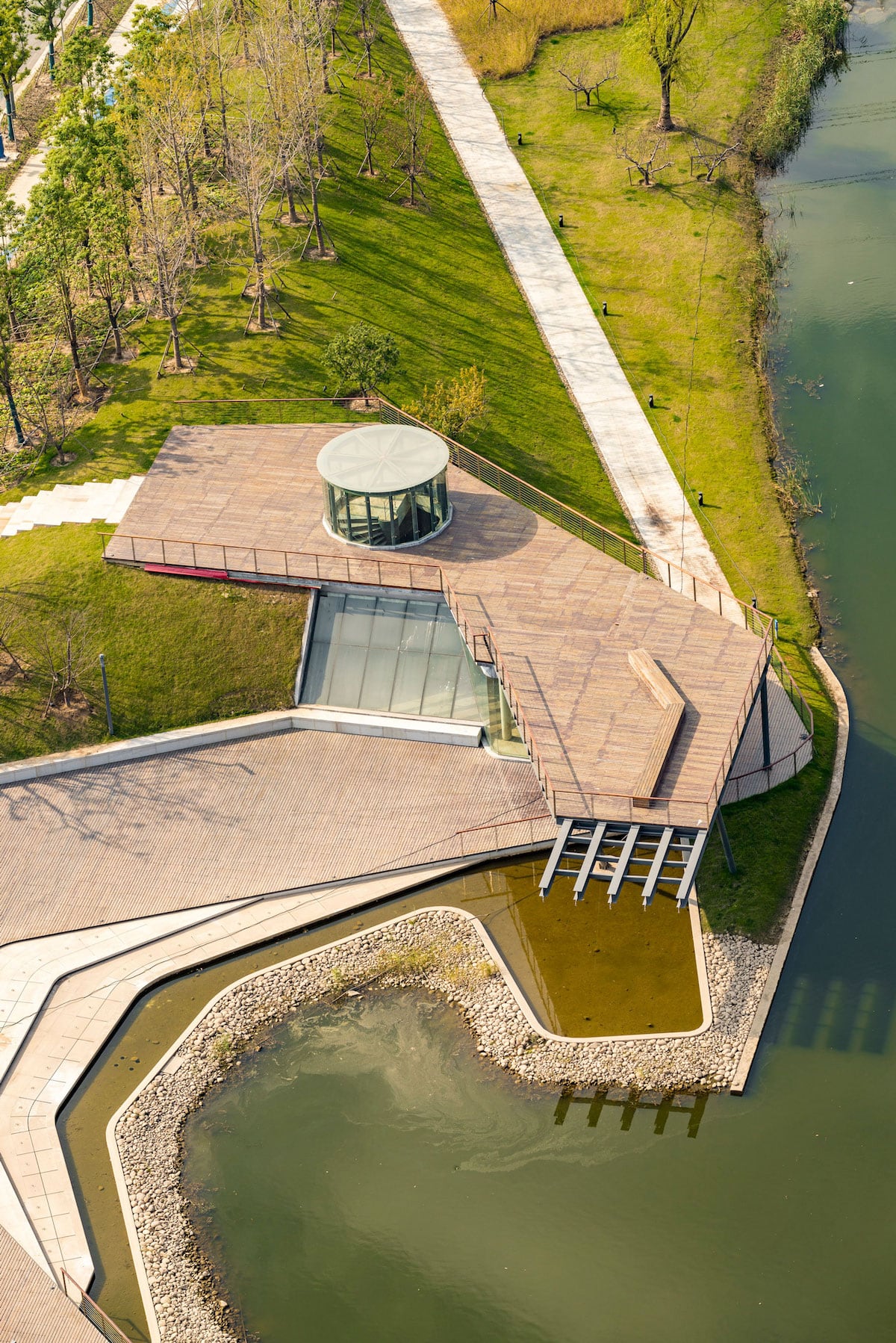 多种空间形态  Diverse spatial forms
新的河道连接使得生活变得更加丰富,每个节点根据周边人群的不同需求,呈现不同的空间形态和功能。
The new connection made able through river course enriches lives. At every key location, diverse spatial forms and functions are delivered according to different needs and demands of people in proximity.
办公花园/ Office garden
通过推拉悬浮三维的设计手法,纵向延展空间!从而形成低处的亲水聚集平台、高处的观景休憩平台等空间,为周边的办公人群提供休闲、交流以及洽谈空间。
Through pulling-pushing-suspending-floating, the design expanded vertical spaces. Waterfront gathering square at lower place and sight-seeing leisure platform at higher place provide suitable places for office people in the neighboring area to come to relaxing, communicate and have casual business talks.
▼低处的亲水聚集平台以及高处的观景休憩平台为人们提供休憩空间  Waterfront gathering square and sight-seeing leisure platform provide suitable places for relaxing and communicate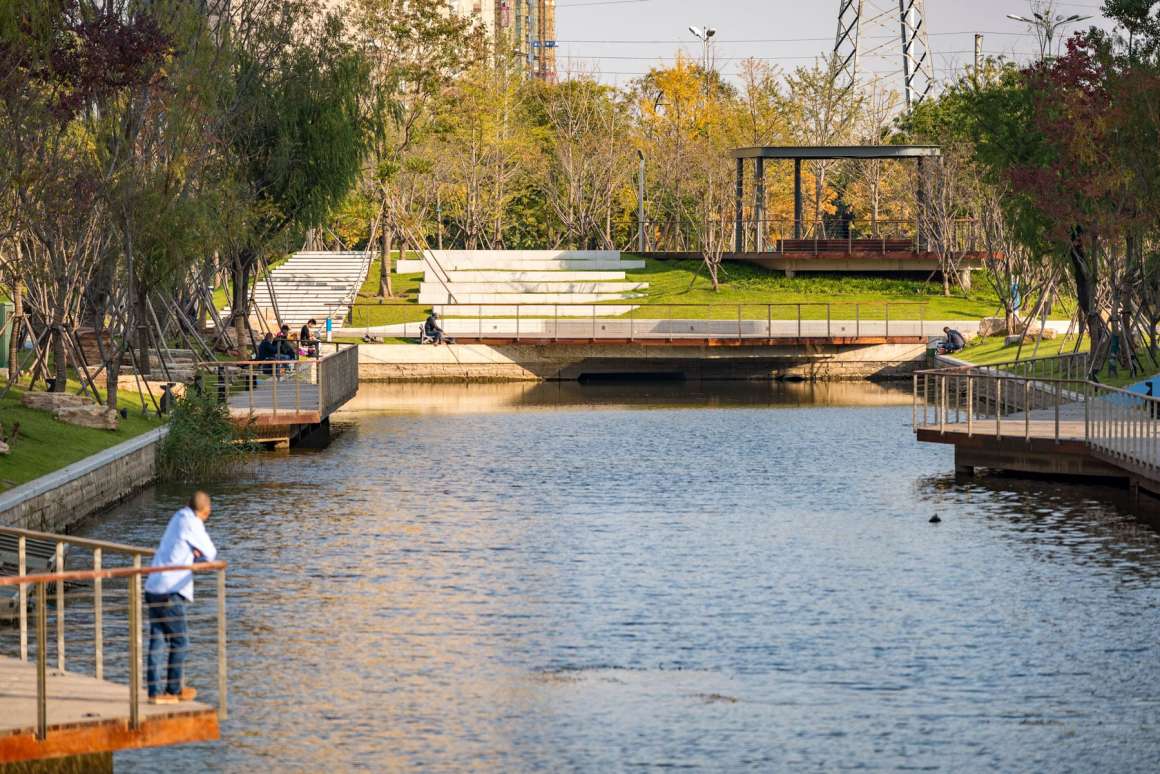 ▼交流洽谈空间   The pavilion for communicate
▼木材与钢的结合  Combination of wood and steel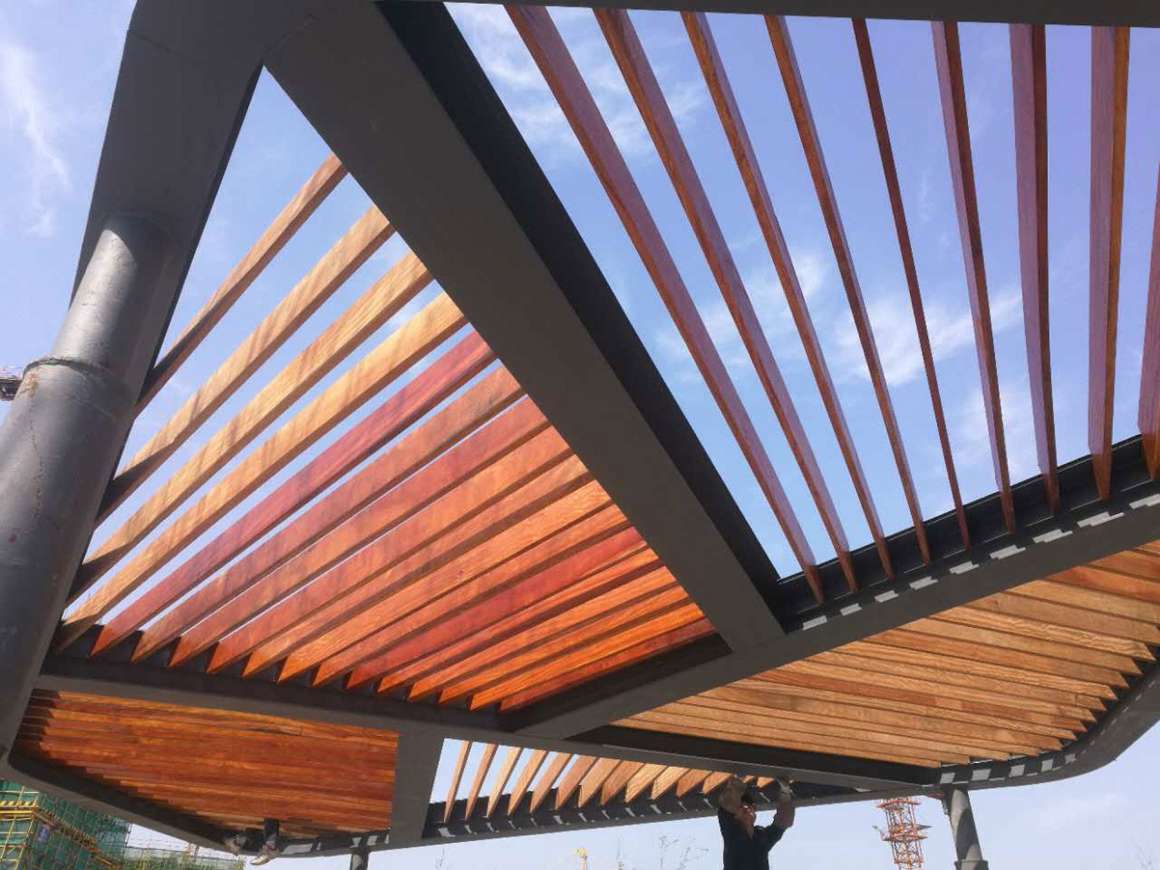 ▼混凝土材质细节  Concrete details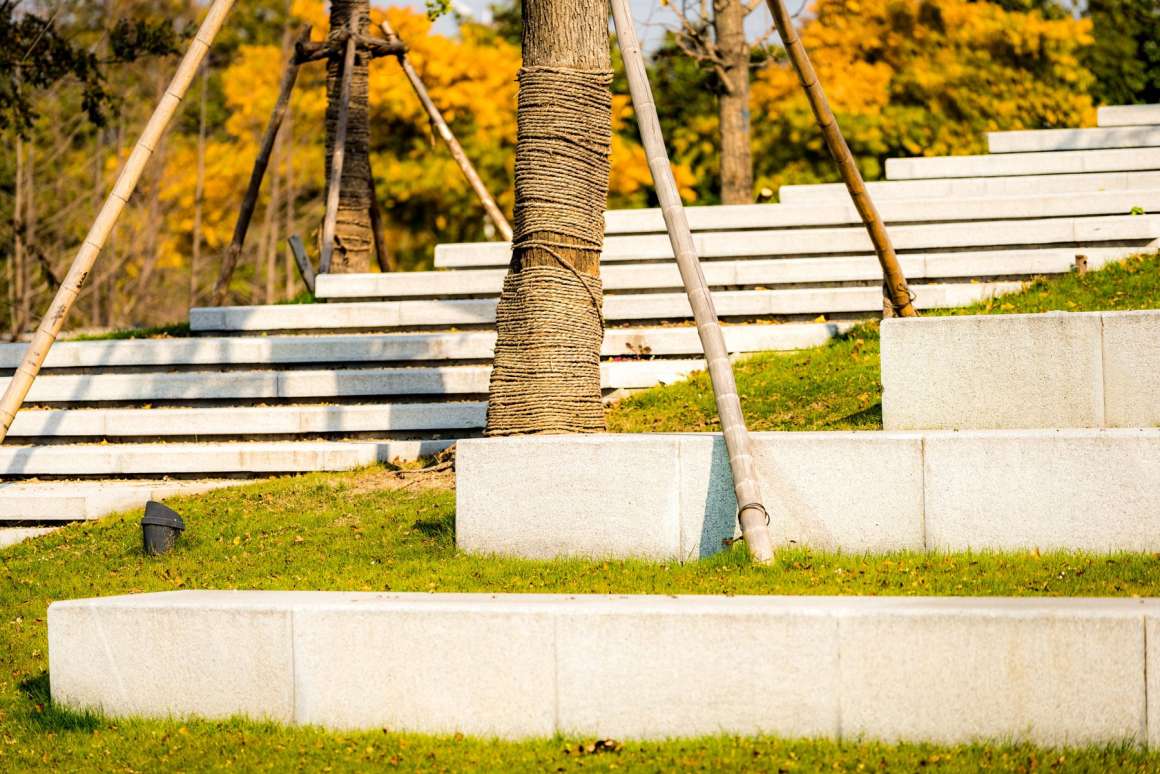 活力水广场/ Vigorous waterfront square
滨水广场为周边居民提供丰富的活动场地:设计中将地形抬高,将咖啡厅嵌入并地形之中,滨水活力的旱喷水景及从廊架跌落的水景,使儿童可以近距离的在水中嬉戏。
Waterfront Square provides a venue of activity for people living nearby. The design elevated topography and configured a coffee bar into it. Small ground springs and the scene of water falling from pergola provided wonderful places for children to play with water in short distances.
▼绿轴鸟瞰  Aerial view of ecological green axis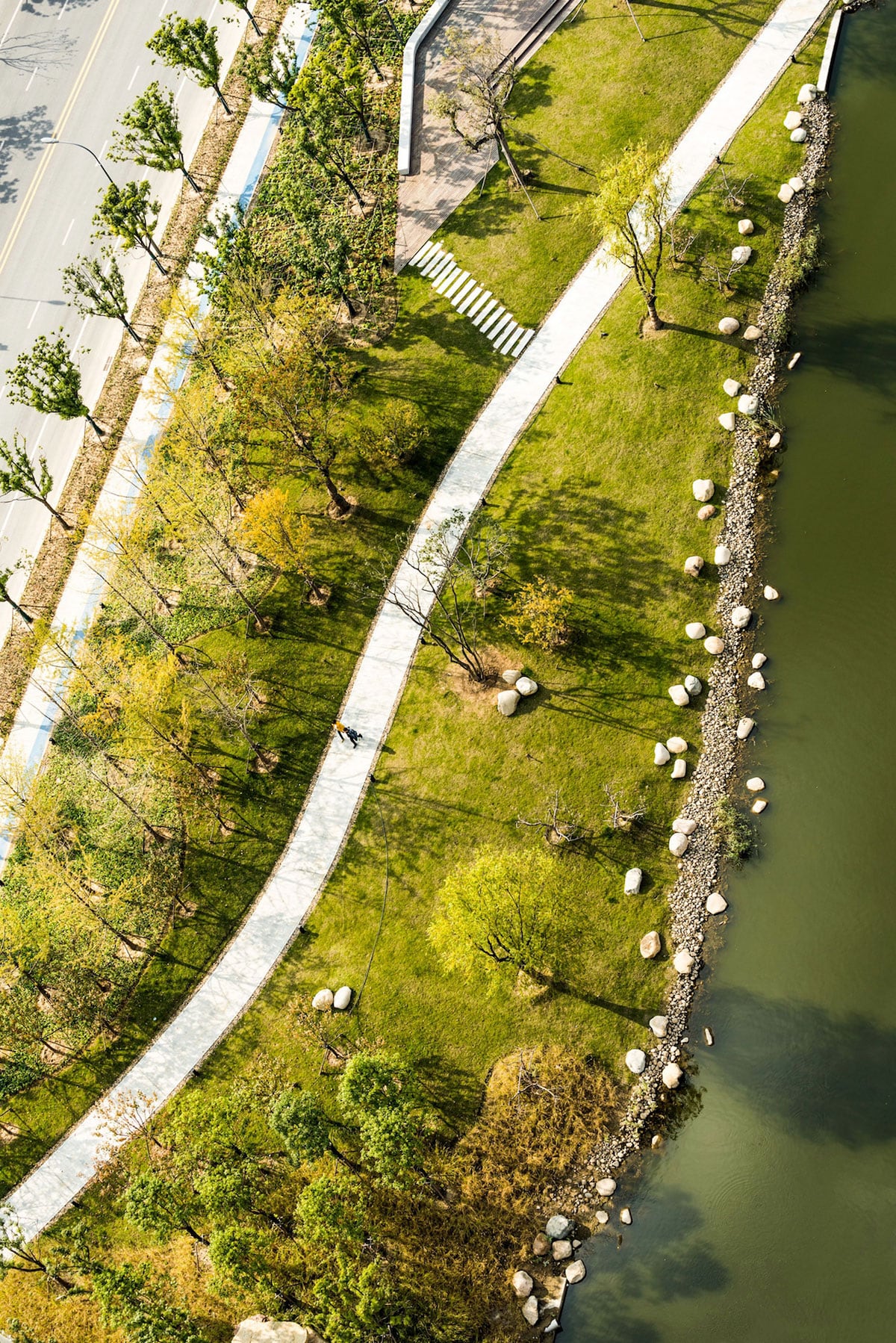 ▼滨水休闲空间鸟瞰  Aerial view of waterfront leisure space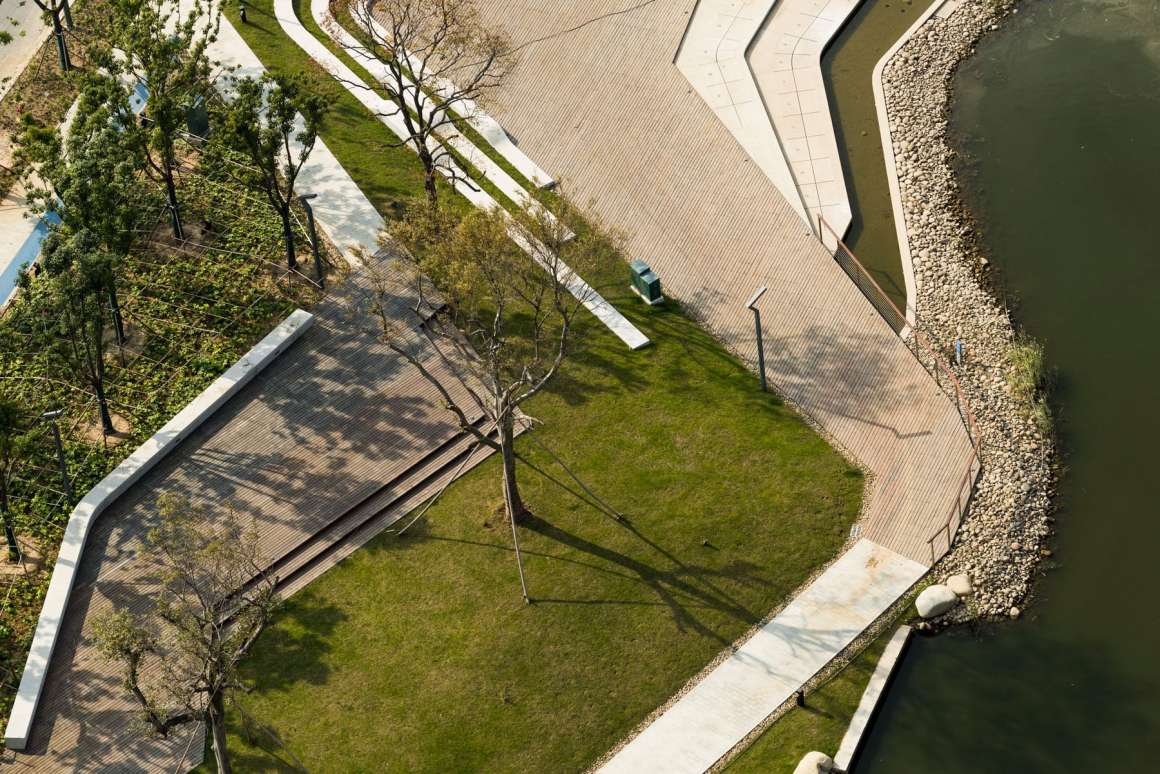 ▼活力水广场夜景  Night view of vigorous waterfront square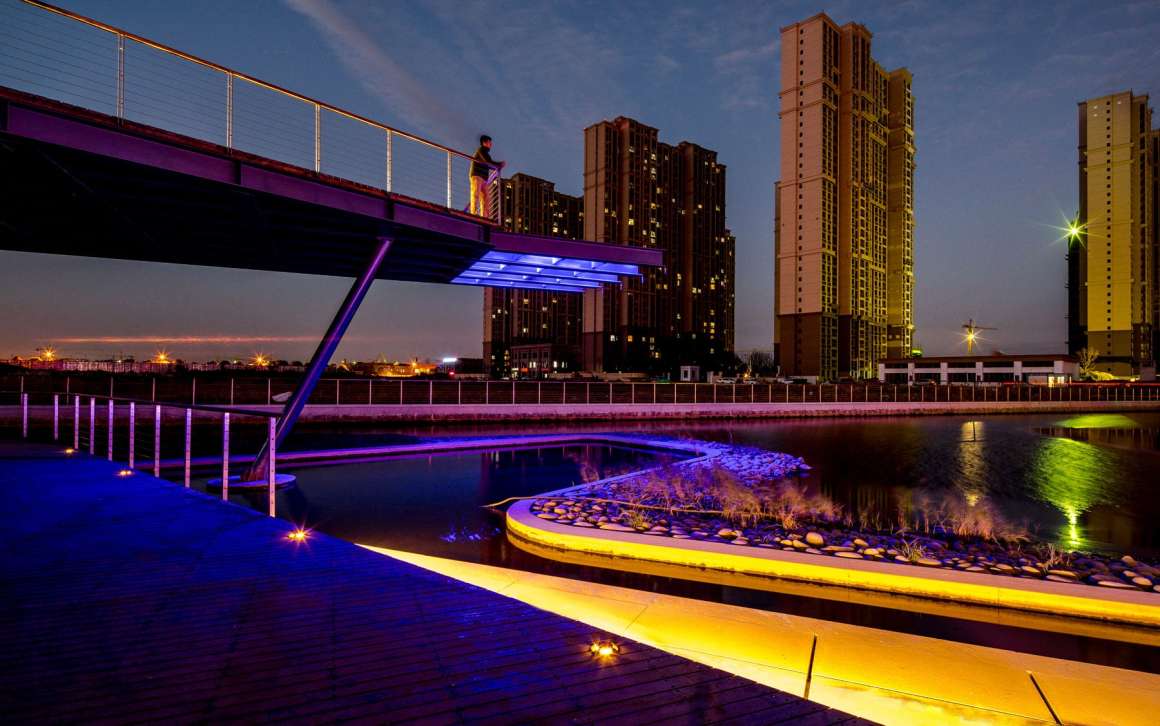 休闲带状花园/ Leisure ribbon garden
基于周边大型的购物中心,我们在水岸提供了多功能的阳光草坪,并在滨水提供了樱花滨水漫步道和休憩空间,使人们在购物的同时享受悠闲的滨水时光。
Considering the large-scale shopping center in the neighborhood, we incorporated a multi-functional waterside sunshine lawn, which, together with lanes and leisure space dotted by sakura trees, creating a perfect place for shopping people to relax and rest at riverside.
▼休闲带状花园鸟瞰  Aerial view of leisure ribbon garden
▼草地-卵石带-木质铺装的过渡  Transition from Grassland to Pebble Belt to Wood Pavement
街角口袋花园/ Street corner pocket garden
通过场地抬高,一方面可以阻隔街角道路的噪音,另一方面形成小型的活动广场和观演舞台,周边居民可于此举办丰富的活动。
By elevating the ground, it does not only block noises from streets, but also forms a small square and stage that is suitable for performances and activities held by neighboring citizens.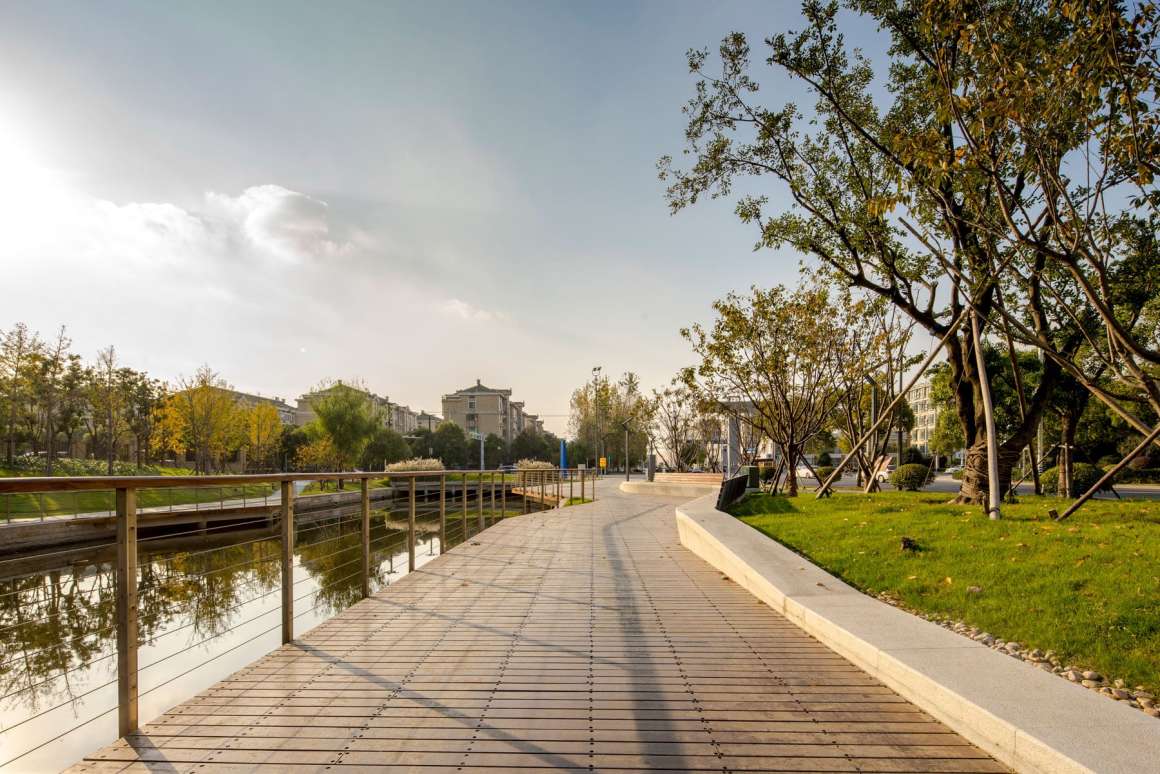 ▼夜晚的灯光  Light at night
晴雪 · 日夜/ Sunny or Snowy, Day and Night
晴天或雪天、白日或黑夜,人们都可以从都市中来到生态绿廊可以放下沉重的思索、卸下身上的烦恼,安静的望着映着盈盈绿草的河水,放空自我享受闲暇时光。
Whether it is sunny or snowy, day or night, people may escape here from their busy city lives, leaving behind burdening thoughts and forgetting troubles. Come here and take a seat. Look at the green water which reflects the lush grass on the river bank. Enjoy this moment of easy and solitude.
▼晴空下的绿轴  The ecological green axis under in the sunshine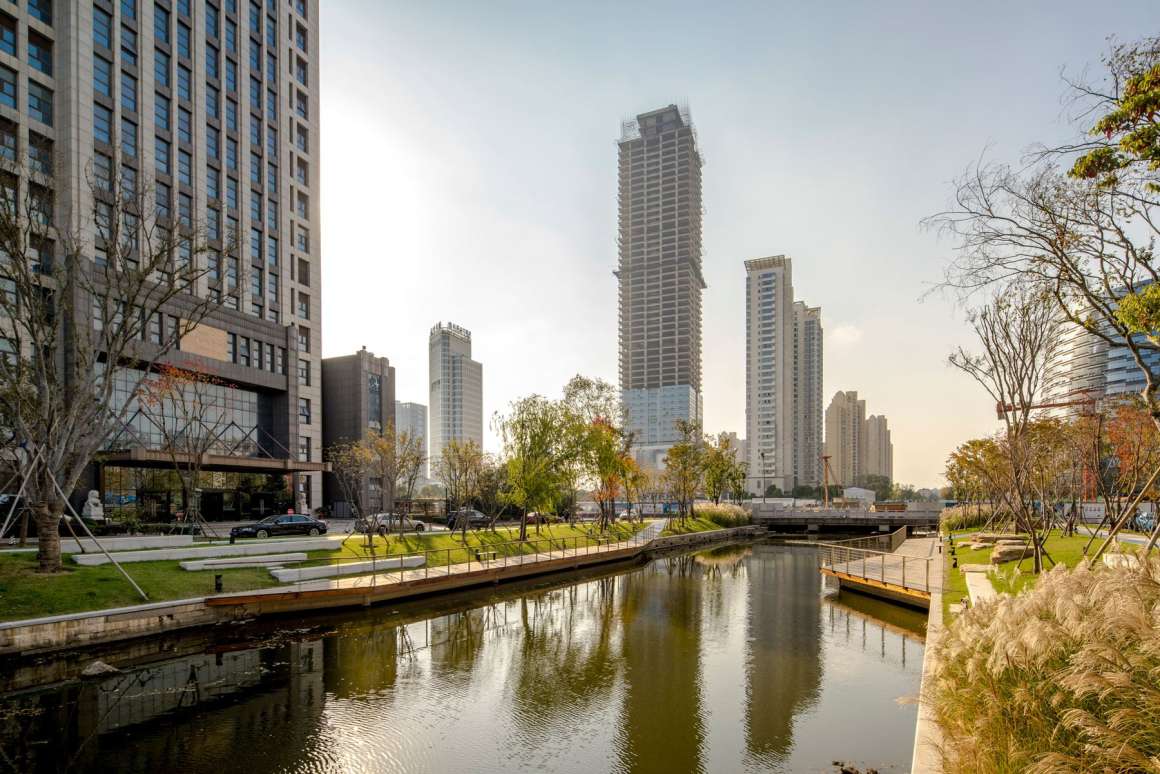 ▼办公花园的雪景  Office Garden Snowscapes
南通市市政广场前的绿轴景观将成为城市的活力源泉,是市民室外活动的主要场所,城市中的生态绿轴,扩张城市功能空间,连接城市动脉,凝聚城市活力,增添城市新风采,是展现一个城市形象的主要表现展览窗口。
The green axis in front of Nantong Municipal Square will become a source of vitality in the city–a main venue for citizens to have outdoor activities. As an ecological green axis in the city, it expands the city's functional space, connects major roads and rivers, and gathers its vitality. A new attractiveness in Nantong, it is a window that showcases the city's beauty.
▼场地原貌  The origin of place

项目名称:能达商务区绿轴东延建设工程
客户:南通市经济技术开发区总公司
项目地址:江苏南通
项目设计 & 完成年份:2017 & 2018
设计面积:36000平方米
设计公司:深圳奥雅设计股份有限公司
主创及设计团队:深圳奥雅设计股份有限公司
摄影:琢墨摄影
Project name: Green axis of east extension in Nengda business district
Client: Nantong Economic and Technological Development Area Corporation
Location: Nantong, Jiangsu Province, China
Design & Completion: 2017 & 2018
Area: 36,000 sqm.
Design company: Shenzhen L&A Design
Chief designer and Design team: Shenzhen L&A Design
Photography: ZOOM Architectural Photography
更多 Read more about:奥雅设计  L&A