本文由 山水比德 授权mooool发表,欢迎转发,禁止以mooool编辑版本转载。
Thanks Guangzhou S. P. I Design Co., Ltd. for authorizing the publication of the project on mooool, Text description provided by Guangzhou S. P. I Design Co., Ltd. .
山水比德: 作为中南置地在昆首座集系TED社区,中南十二集拥有着优越的教育资源。以亲子陪伴与温馨邻里氛围为切入视角,我们结合昆明森林春城的自然底色,充分利用场地的多层高差关系,提出"垂直生长的叠谷森林"的设计理念,打造多维立体园林空间,期望回归自然生活。
Guangzhou S. P. I Design Co., Ltd:  Zoina · The Zodiac, the first of the TED community series of Zoina Land built in Kunming, has excellent educational resources. From the perspective of parent-child relationship and harmonious neighborhood, by taking good use of the natural environment in the "Spring City" of Kunming and the height difference in the site, we put forward the design concept of a "vertical forest", to create a multi-dimensional landscape space, with a wish of returning to nature.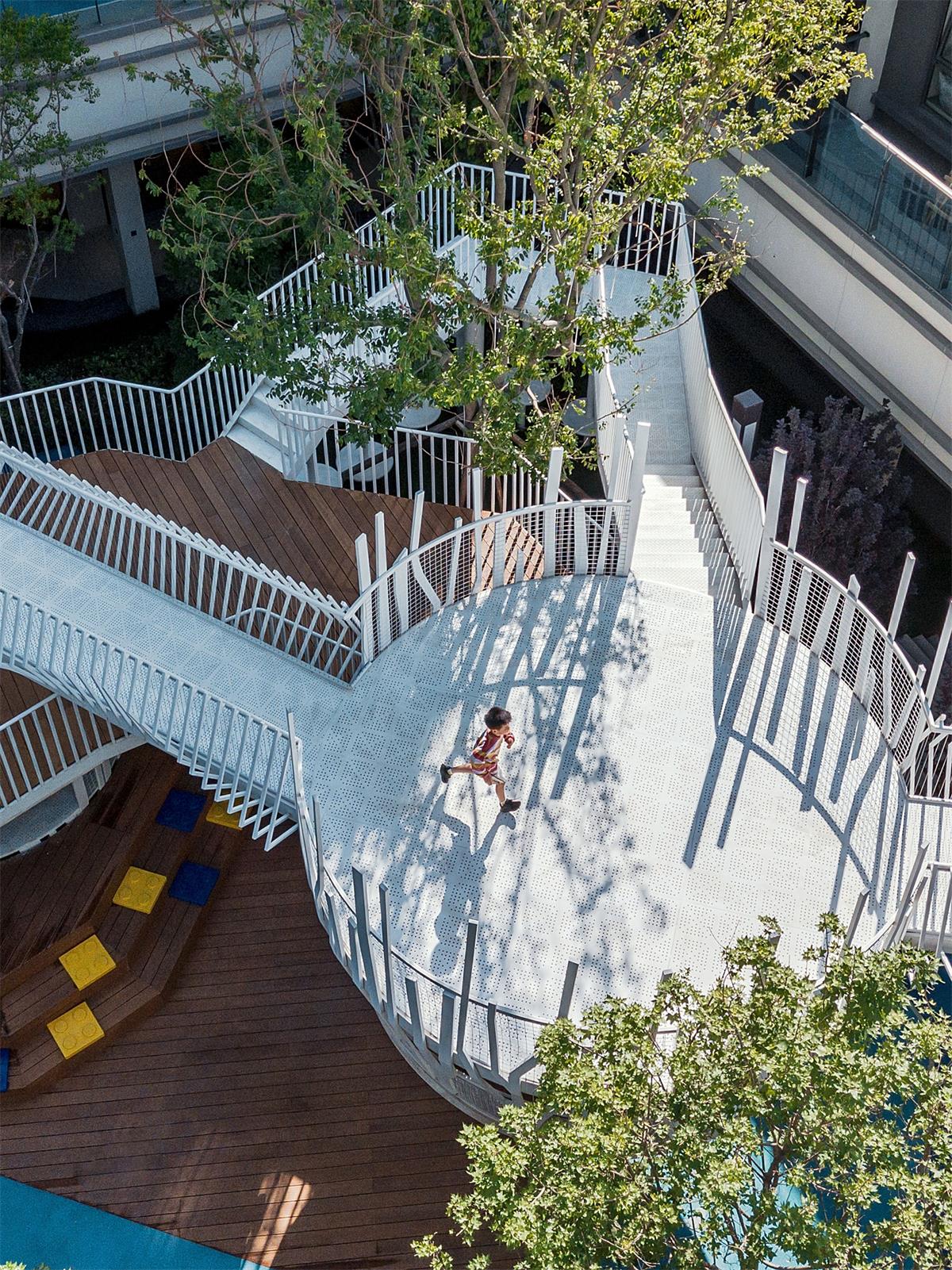 ▼项目分析 Project analysis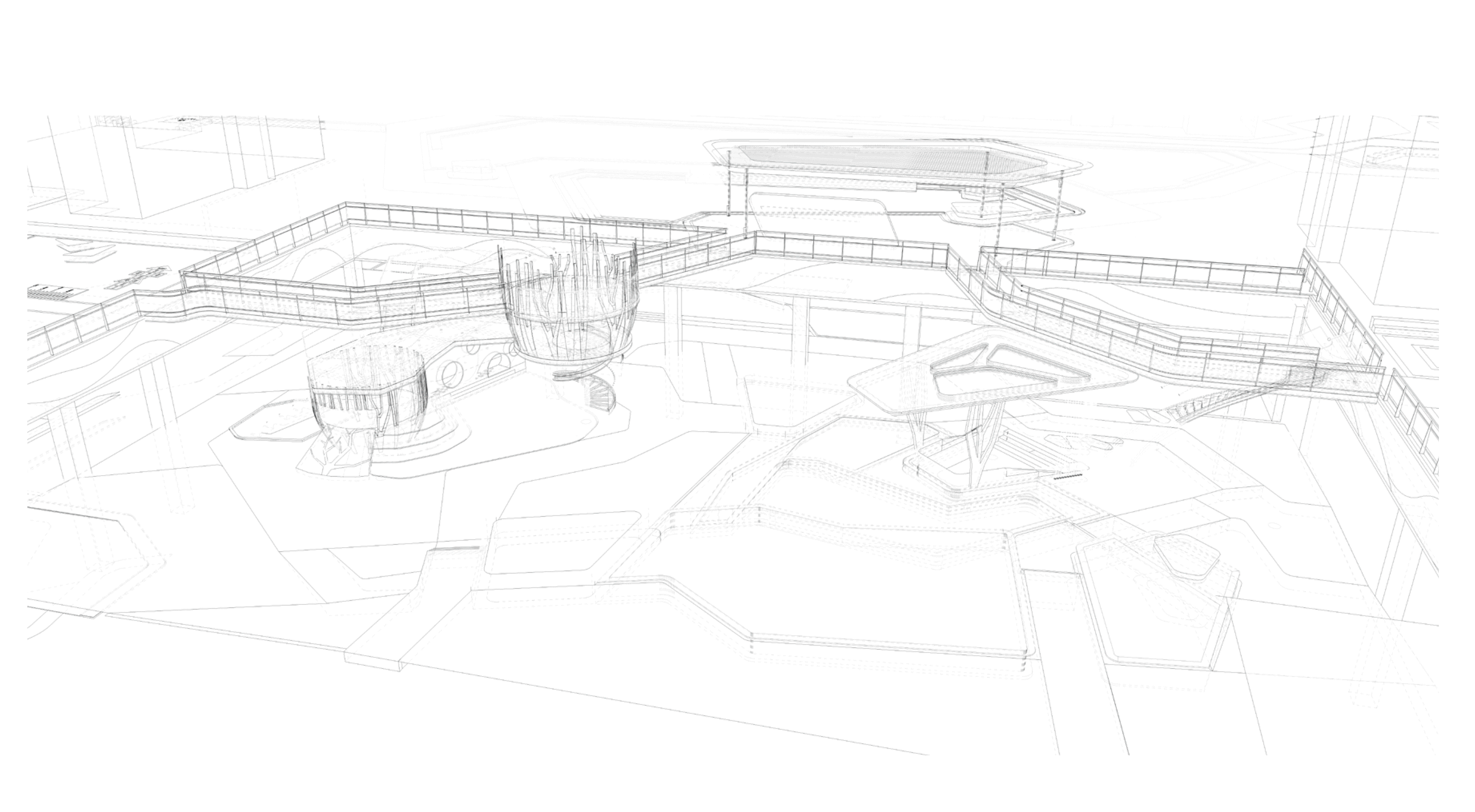 TED社区——Technology、Enjoyment、Daring   即通过小区景观、建筑布局、室内精装设计,将影响生活品质的风(也就是空气)、光、水、声音优化为满足全年龄段,全生命周期的宜居居住社区。
TED——Technology, Enjoyment, Daring. Build a community suitable to live in for people of all ages by optimizing such elements affecting quality of life as air, light, water and sound through community landscape, architectural layout and refined interior decoration.
▼设计手稿 Sketches
寻叠谷 ·  探山涧 SEEKING VALLEY
场地入口有着高低起伏的地形,恰似自然山谷,绿篱与阵列植物营造了简洁、舒朗的商业空间。寻谷而至,景观参与设计了架空层大堂与中庭空间,建筑自然过渡到景观空间,室内外的界限也因此模糊了起来。
The uneven terrain at the entrance is like a natural valley, with hedges and arrayed plants creating a simple and comfortable commercial space. In the valley, the landscape is blended in a hall with empty space and an atrium. In this way, buildings and the landscape, from indoor to outdoor, no longer have boundaries.
景观呼应着建筑功能布局,设置了休闲平台、微影院看台等空间,实现了室内外功能场所延续。落地窗眺望后场,景致于枝叶间一览无余,绿意悄悄蔓延进室内,和阳光开始一曲浪漫的华尔兹。
The landscape echoes the function layout of the buildings, with leisure platforms and mini-theater stands realizing a continuation of functional space from indoor to outdoor. Through French windows, we staying inside could see branches and sunlight waltzing romantically in the backyard.
远观山涧不如近听流瀑,当由室内转入后场,就好像步入童话中的森林。充满好奇心地探索于溪涧之间,眼见叠水铺开,飞泉流瀑从崖间跌落,我们听见了属于森林的歌。
Listening to the streams provides more fun than watching. When we walk into the backyard, it is like wandering around a forest depicted in fairy tales. Playing in streams with curiosity, waterfalls in sight running from cliffs, we hear a song by the forest.
在森林的河畔亲水,感受它从指缝温柔地溜走,消散了一丝盛夏的暑意,抬头时恍然发觉周身已开满鲜花,花枝上垂落着彩色的星球,好像一伸手便触碰万千宇宙。
Playing by the river in the forest, we feel water running away between fingers. It is cool in summer! We look around, flowers blooming and colorful planets hanging on branches. It seems that we were in the universe.
游树屋 PLAY IN TREE HOUSE
一棵神秘的大树等待着孩子们的探险,用鲜艳的色彩搭建起树下的舞台,每一个孩子在这里都是闪耀的星星,斑斓的梦想让他们熠熠生辉,这里是只属于他们的王国。
A mysterious tree welcomes children. Under it, there is a colorful stage, where every child is shown up as a star, shining with their sweet dreams. The tree is their kingdom.
童话故事中的主人翁总会在森林有着各种各样的奇遇,而奇遇过后能收获友情和勇气。当他们穿越未知、勇敢攀登,就会收获一个别样的森林。
The heroes in fairy tales always have wonderful adventures in forest, and then obtain friendship and courage. After they undergo the unknown and complete missions bravely, they will have their own legends in the forest.
踏云梯 WALK ON CLOUD STAIRWAYS
空中云桥、树屋等设计不仅很好地解决了展示区与未来大区之间巨大的高差,也形成了丰富的景观空间,行走在栈桥中,如穿行在自然的悬浮森林中。
The design of cloud bridge and tree house not only solves the huge height differences between the display area and the area that will be built in the future, but also creates an ample landscape space. Walking along the cloud bridge, it looks as if we go through a suspended forest.
▼行走在空中云桥,如穿行在自然的悬浮森林中 Walking along the cloud bridge, it looks as if we go through a suspended forest.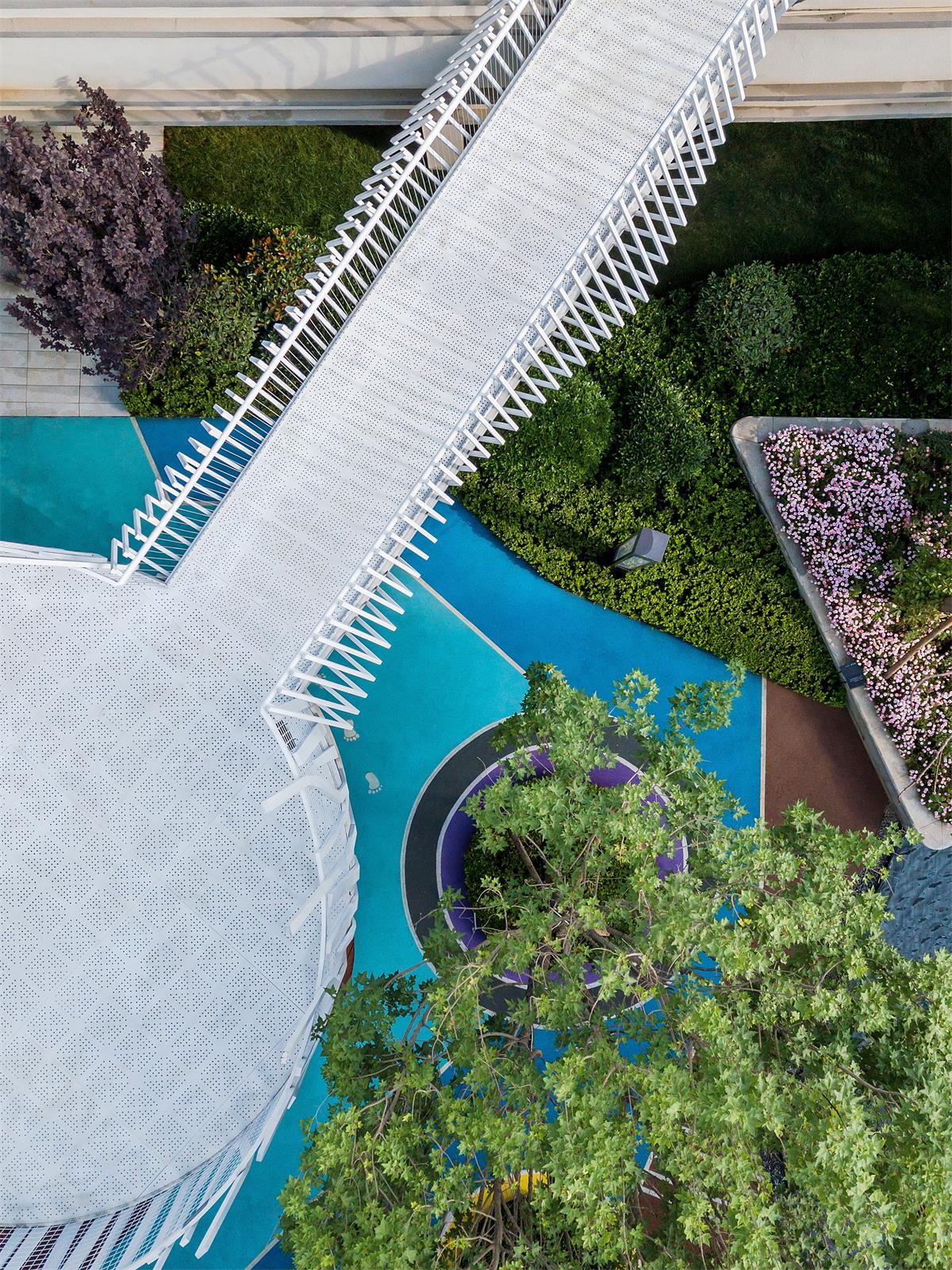 纯白的云梯是全年龄段共同的活动空间,疏林掩映,眺望观景,"垂直生长的叠谷森林"应运而生。
The all–white cloud stairways covered by woods is a place suitable for people of all ages to overlook the landscape of the "vertical forest", which has emerged at the right moment.
穿越热带雨林的栈桥,在云端触摸绿叶,看山溪在脚下,树屋在脚下,遇见你不曾遇见的森林,与森林进行一场亲密的对话。
The cloud bridge through the forest enables us to touch green leaves and watch streams and the tree house under our feet. That is another look of the forest we seldom find. Have a close conversation with the forest.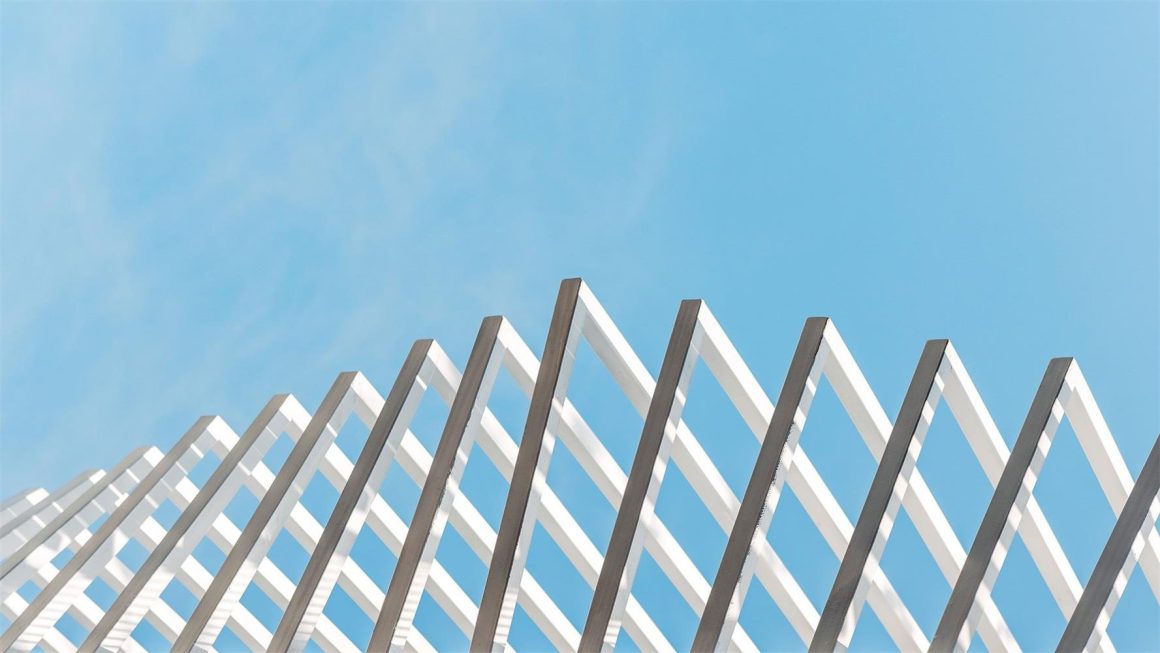 山水 · 森林 · 剧场 SHANSHUI · FOREST · PLAY
复杂的三重高差空间,既是难点也是项目优势。借天生的场地条件所赋予这个项目得天独厚的空间气韵,我们打造了这片垂直生长的森林,四重情景序列步步展开,呈现了以场盛夏之旅。
A complicated space with three levels of height difference is a difficulty, but an advantage. Based on this unique natural site condition, we built the "vertical forest" with four scenes displayed step by step, starting a journey in summer.
在中南·十二集,我们打造了一处关注儿童成长、注重亲子互动的空间,借童树屋王国、成人流瀑水吧间、以及一座沟通彼此的亲子桥梁,为居民提供多样的活动剧场。我们希望这处山水森林能让孩子享受童年,让家长回到童年,回到永葆想象力、向往树梢的纯真心境。
In Zoina •The Zodiac, we built a space focusing on growth of children and parent-child interaction. The tree house for children, waterfalls bars for adults and the bridge for parent-child communication provide various activity space to residents. We hope the "vertical forest" could give children a happy childhood and bring parents back to their past childhood, both remaining good imagination and mood for happiness.
盛夏的阳光与水花起舞,风吹来枝梢绿叶的味道。穿越林影间,听山涧流水,看云朵漂浮,不知不觉,就好像回到童年的树梢上。
Summer sunlight waltzes with splashing water. Winds bring about the smell of green leaves. Go through the forest and shadows. Listen to streams and look at floating clouds. Before we knew it, we return to childhood.
项目名称:中南·十二集
委托业主:中南置地云贵战区
景观设计:广州山水比德设计股份有限公司
主创及设计团队:
方案主创:孙虎,利征,欧志英,团队人员:钟肖芳,冼奕谦,崔礼
园建负责:邓丽英,团队人员:卢思楠、杨世映、胥兆园
园林施工:成都友爱园林有限公司
建筑设计:上海水石建筑规划设计股份有限公司
项目地点:云南省昆明市
设计面积:6406㎡
设计时间:2019年8月
建成时间:2020年1月
摄影:广州山水比德设计股份有限公司 黄安
Project name: Zoina·The Zodiac
Client: Zoina
Landscape design: Guangzhou S. P. I Design Co., Ltd.
Creator and design team:
Project leader: Sun Hu, Li Zheng, Ou Zhiying, Team members: Zhong Xiaofang, Xian Yiqian, Cui Li
Landscape engineer: Deng Liying, Team members: Lu Sinan, Yang Shiying, Xu Zhaoyuan
Landscape construction: Chengdu Youai Garden Co., Ltd
Architectural design: SHUISHI
Project location: Kunming, Yunnan Province, China
Design area: 6406㎡
Design time: August 2019
Completion: January 2020
Photography: Huang an, Guangzhou S. P. I Design Co., Ltd.
项目中使用的植物和材料 Application of materials and plants in this project
更多read more about:  山水比德 Guangzhou S. P. I Design Co., Ltd.