本文由JTL Studio授权mooool发表,欢迎转发,禁止以mooool编辑版本转载。
Thanks JTL Studio for authorizing the publication of the project on mooool, Text description provided by JTL Studio.
JTL Studio:形容一个人好看有很多词汇,但是"有气质"是一个非常别致的形容词,虽然没有惊鸿一瞥的绝色,但整体感知是非常的统一协调并让人舒服,虽无过目不忘的本领,但可以停留下来细细体会。我们理想中的设计也是这样的"内奢外简,归凡于心,气质浑然天成"。
JTL Studio:There are a great many vocabulary to describing a person's beauty, but "graceful" is a quite unconventional adjective, although there is no unrivalled beauty in a glance, the overall perception is very unified, coordinated and comfortable, it allows for staying to feel although there is no gift of an extraordinary retentive memory ability. Our ideal design is also like this: "luxurious inside and simple outside, return to the heart,graceful as nature itself ".
JTL Studio是一家成立于新加坡的景观设计公司,着力于把新加坡的"新式"轻奢居住生活方式带给每一位使用者。这次很荣幸受东原地产的委托,将简约纯粹的人居空间与项目所追求"新式"生活美学有机融合为一体。
As a landscape design company established in Singapore, JTL Studio focuses on bringing the "new" light luxury living style of Singapore to every user. It is a great honor to be entrusted by Dowell real estate to integrate the simple and pure living space with the project's pursuit of "new" life aesthetics.
在景观空间组织上,越过府门,一个构图平远,景物极简的大开之景,让人瞬间脱离都市的繁杂,进入一个低奢优雅的"新式"人居环境之中。静谧开阔的水景两旁茂林耸立,水光熠熠,树影斑驳,营造出温馨宜人的氛围。水景两侧,采用绿篱和台阶相互融合的形式,为拾级而下的客人增加步行的趣味性,在序列的景墙和规整层叠的绿篱引导下,让人在空间尺度中感受简约优雅的景观气质。
With regards to the organization of landscape space, going across the gate, a flat composition (an open and wild landscape is passing through the gate), which enables people to break away from the complex urban environment and enter a light-luxury and elegant "new" living environment. Surrounded by luxuriantly green, the quiet and open waterscape has glistening water and mottled tree shadows, creating a warm and pleasant atmosphere. On both sides of the waterscape, hedges and steps are integrated to enhance the fun of walking for guests who walk up the steps. Under the guidance of sequenced landscape walls and orderly stacked hedges, people can feel the simple and elegant landscape temperament in the space scale.
▼中庭回望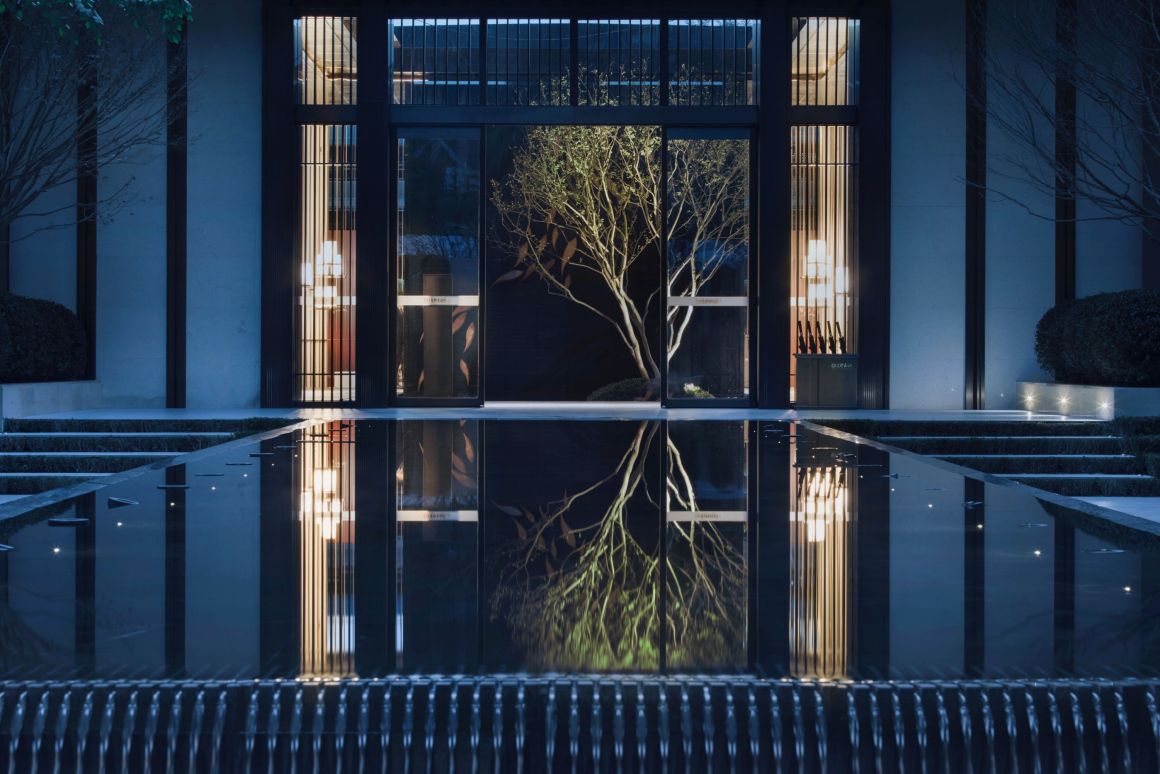 针对归家的入户体验,端景采用高耸的立墙与垂直绿化相结合,虚实之间,丰富竖向空间的层次。入口区域利用灌木的高低层次和序列式的种植池的分布,营造出酒店式的精致与私享的氛围。
Targeting at the experience of returning home, the end view facing the gate adopts the combination of wall and vertical planting to enrich the level of vertical space between the virtual and the real. The entrance area uses the high and low levels of shrubs and the distribution of sequential planting pools to create the hotel-style delicate and private atmosphere.
▼归家的入户空间 Enter space
在整个项目中,我们注重对细节的考究、新型材料的运用以及色彩的对比,力求展现新加坡景观的特色,创造出繁华都市中的精致天地,低奢品质下的酒店式居住空间。
In the whole project, we pay attention to the details, the application of new materials and the comparison of colors, striving to show the characteristics of the landscape of Singapore to create an exquisite world in a bustling city and a hotel-style living space with light-luxury quality.
项目名称:东原·印长江
开发商:东原地产
甲方团队:东原景观团队
景观设计:JTL Studio Pte.Ltd
方案设计团队:刘展、Pax Ju、韩军、谭非、刘章
施工图设计:黑白之间景观
项目面积:3000㎡
建成时间:2018.10
景观施工单位:四川兴立园林环境工程有限公司
景观软装单位:重庆元禾大千艺术品公司
景观摄影:河狸景观摄影
Project name: Dowell · Yin Yangze River
Client: Dowell Real Estate
Client team: Dowell landscape team
Landscape design:JTL Studio
Project design team: Liu Zhan, Pax Ju, Han Jun, Tan Fei, Liu Zhang
Construction drawing: HIBIC LANDSCAPE
Project area: 3000m2
Completion date: October, 2018
Landscape construction: Sichuan Xingli Garden Landscape Environmental Engineering Co., LTD.
Landscape soft decoration: Chongqing ESPERLUETTE Artwork Company
Landscape photography: Holi Landscape Photography
更多 Read more about: JTL Studio