本文由 Pascale Girardin 授权mooool发表,欢迎转发,禁止以mooool编辑版本转载。
Thanks Pascale Girardin for authorizing the publication of the project on mooool. Text description provided by Pascale Girardin.
Pascale Girardin:蒙特利尔四季酒店坐落于黄金广场区的繁华地带,它的入驻为该城的待客和娱乐方式带来了改变。著名的蒙特利尔艺术家Pascale Girardin为该新开业的著名酒店创作了一个独特的艺术雕塑。
Pascale Girardin:The recent arrival of the Four Seasons Hotel Montreal located in the vibrant heart of the Golden Square Mile is transforming the city's hospitality and entertainment offering. Acclaimed Montreal artist Pascale Girardin has created an original site-specific sculpture for the newly opened prestigious hotel.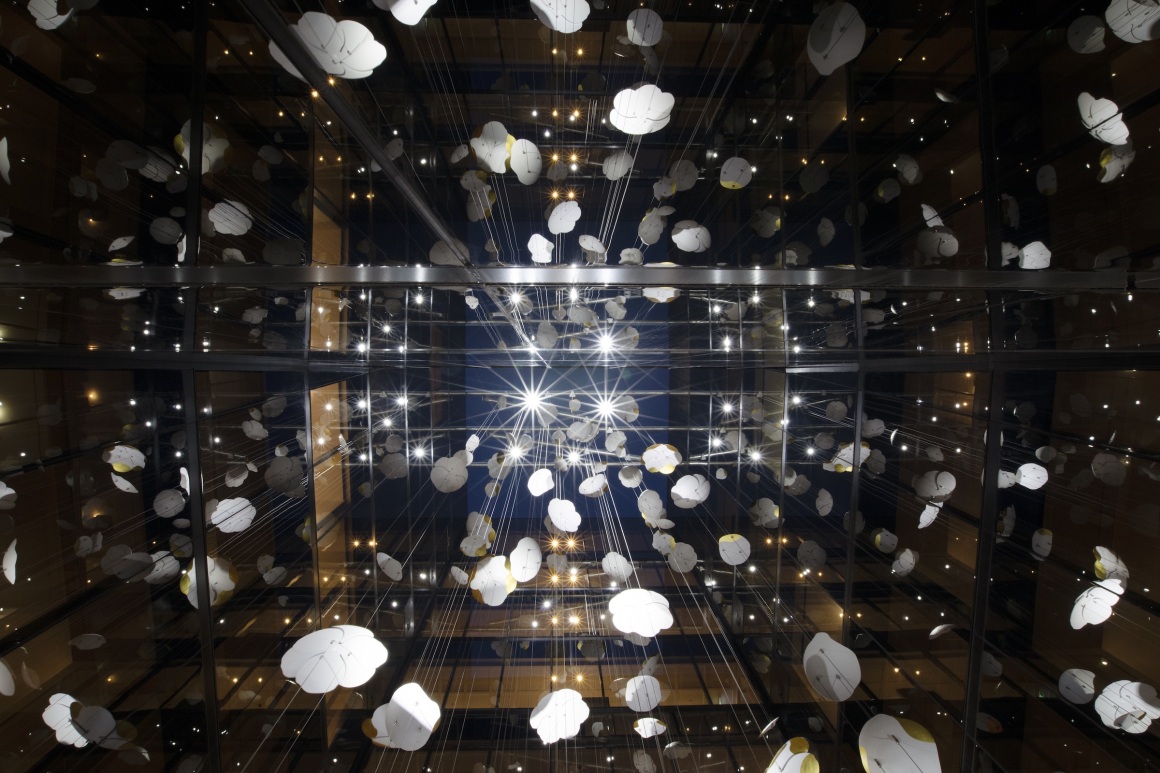 这座名为《沉思》的雕塑悬挂在酒店的露天中庭,十分引人注目,于豪华的建筑中心唤起了人们对自然的向往。这幅作品不仅体现了蒙特利尔丰富的艺术气息,同时也表现出了其细致的工艺、丰富的人文故事、丰富多彩的细节以及地域特色。
Suspended in the hotel's open-air atrium, the sculpture, entitled Contemplation, is a centrepiece, evoking nature in the very heart of the luxury establishment. The work speaks to the artistry that is so richly alive in Montreal, and to the detailed craftsmanship, enriching human stories, colourful detail, and connection to place.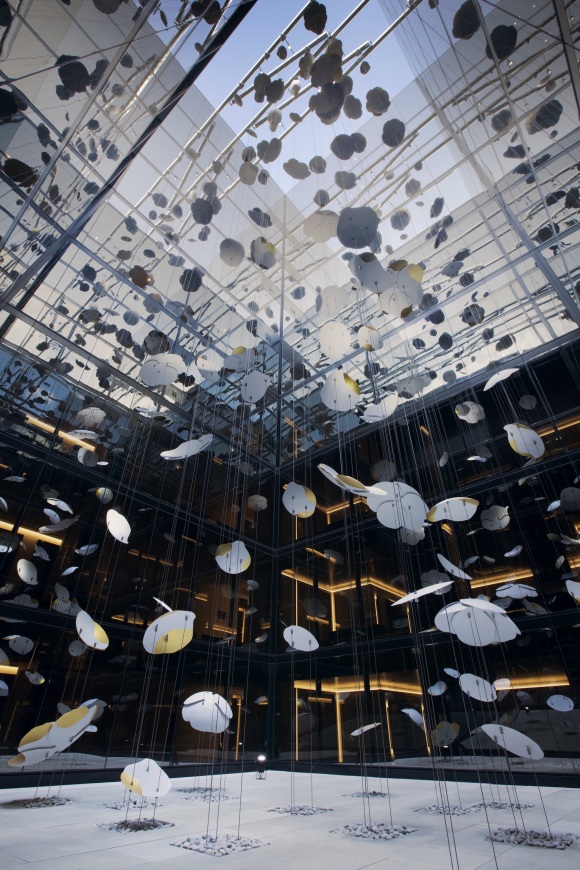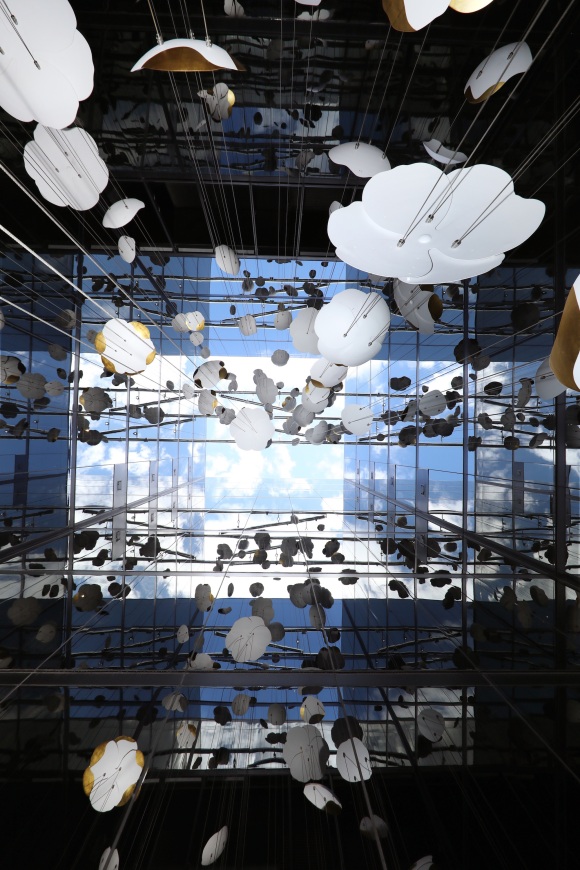 这个装置由轻质铝制成,以白色为主色调,同时辅以24k镀金装饰,由90多块直径从30厘米到1米不等的花状悬浮物组合而成。这些花环从十七层悬挂至八层,如瀑布般穿过中庭,唤起了人们对自然的向往,有如春天绽放的花朵,夏日微风中飘荡的花瓣,秋天的落叶,以及冬天飘落的雪花。
Made of lightweight aluminum, the all-white installation with gilded accents of 24-karat gold is made up of over ninety floral suspensions ranging from thirty centimeters to one meter in diameter. These garlands cascade through the atrium from the seventeenth to the eighth floor, evoking the cycles of nature—the blossoms of spring flowers, the movement of petals adrift on a summer breeze, the spill of autumnal leaves and the lightness of falling snow.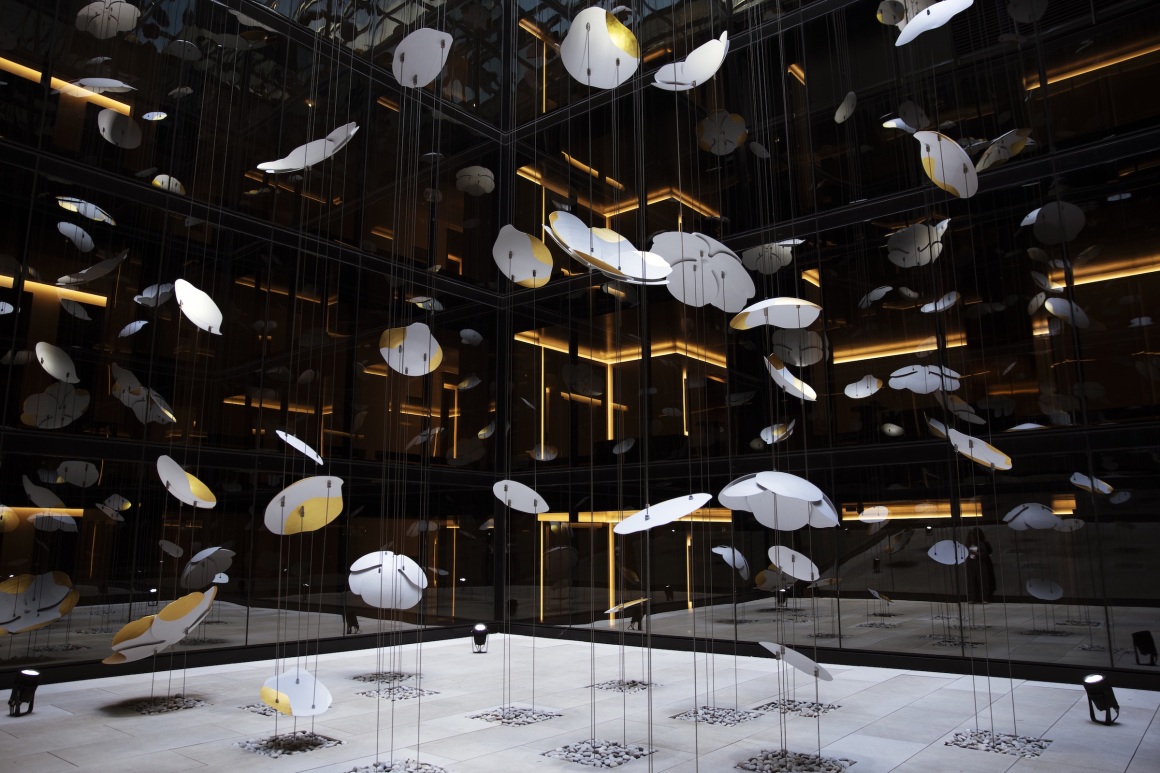 该作品的有机形式与酒店的线性建筑形成了优雅的对比,给人一种既短暂又永恒的感受,这个迷人的焦点注定会在未来的许多年里让蒙特利尔四季酒店的居民和客人感到愉悦。
Contemplation's organic form creates an elegant counterpoint to the hotel's linear architecture. At once ephemeral and eternal, this captivating focal point is destined to delight residents and guests of Four Seasons Hotel Montreal for many years to come.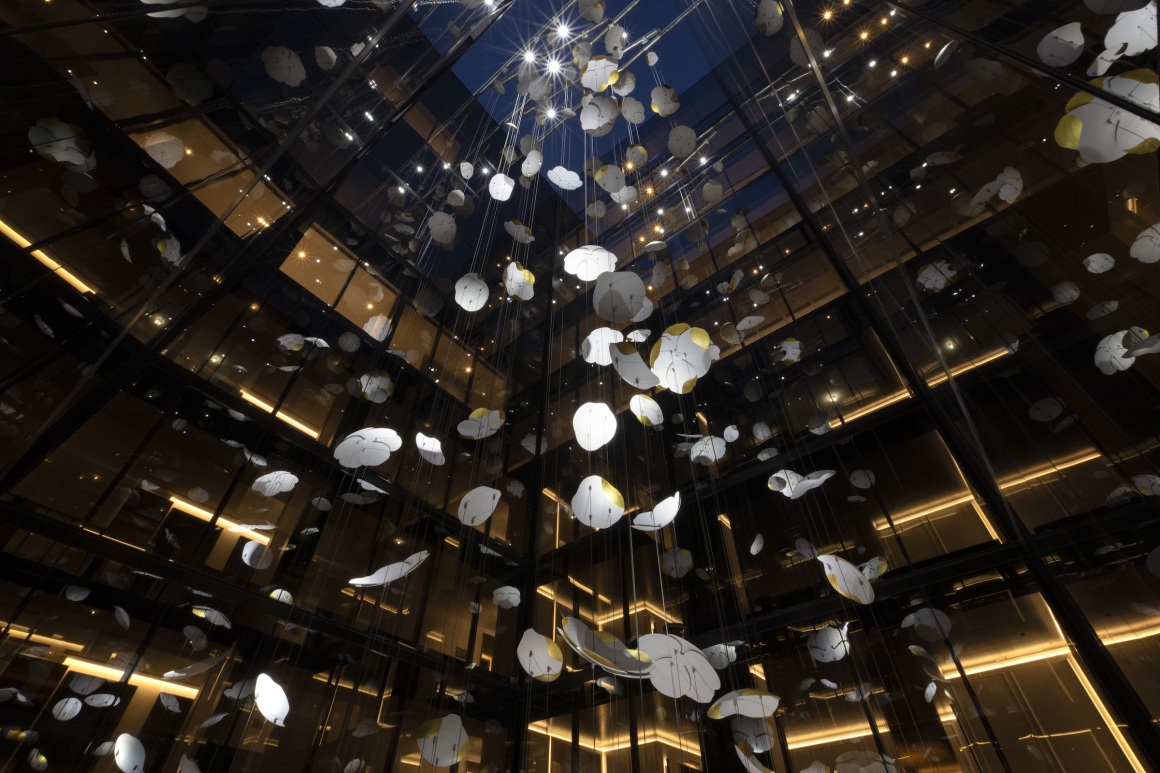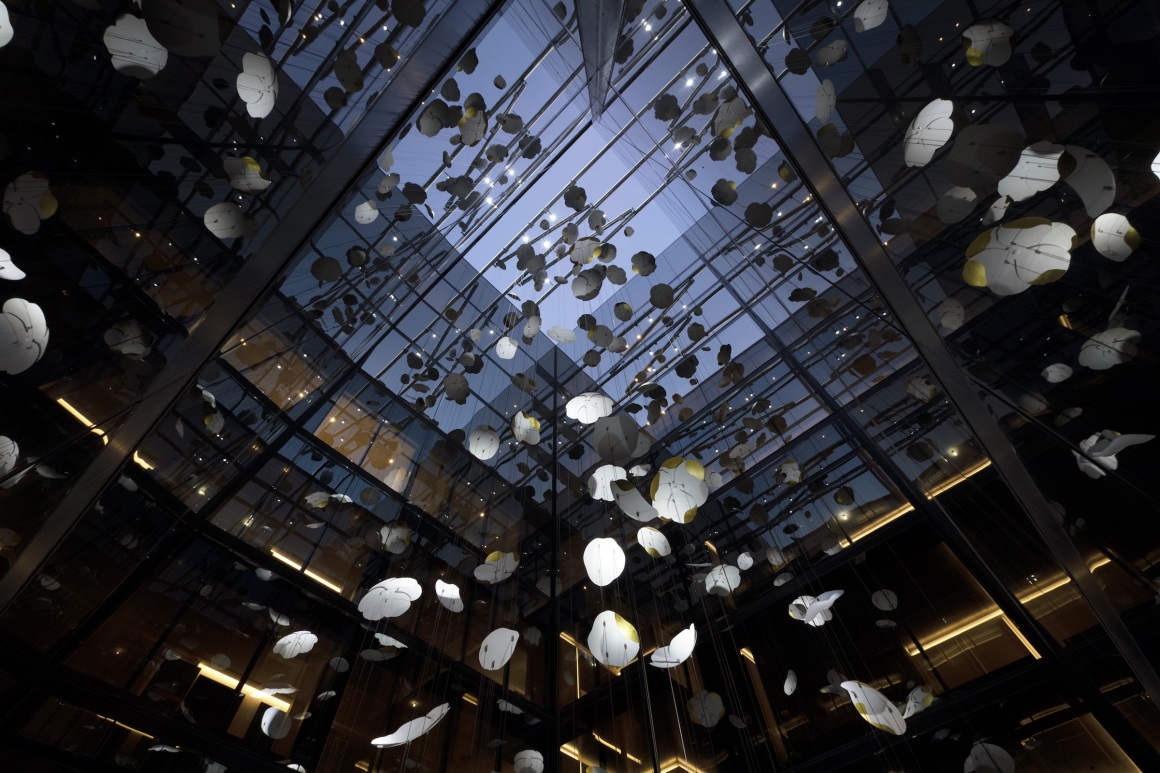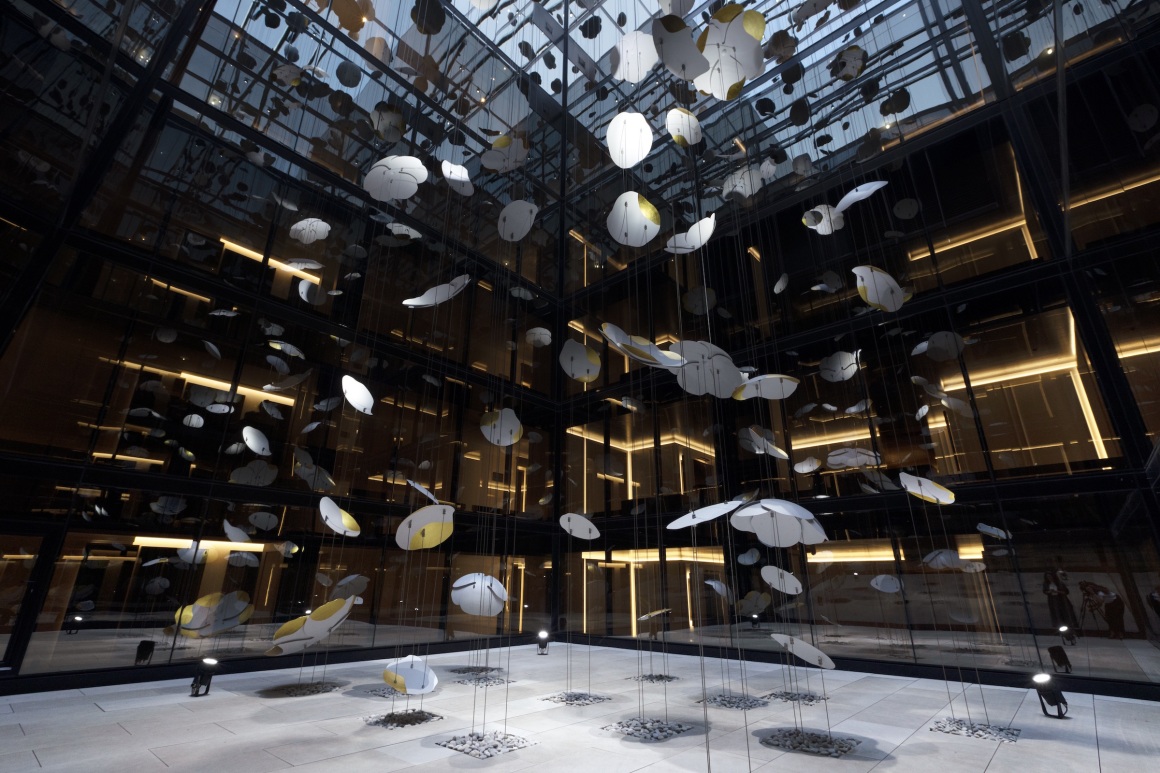 作品技术表 Technical sheet
作品的制作和安装大约花了9个月的时间
安装需要145小时和4名绳索接入技术人员
雕塑中共含94个花卉元素
艺术品的整体高度为31.5米,跨度9层
The production and installation of the artwork took approximately 9 months to complete
The installation required 145 hours and 4 rope access technicians
There are 94 elements in the sculpture
Overall height of artwork is 31.5 m and spans 9 floors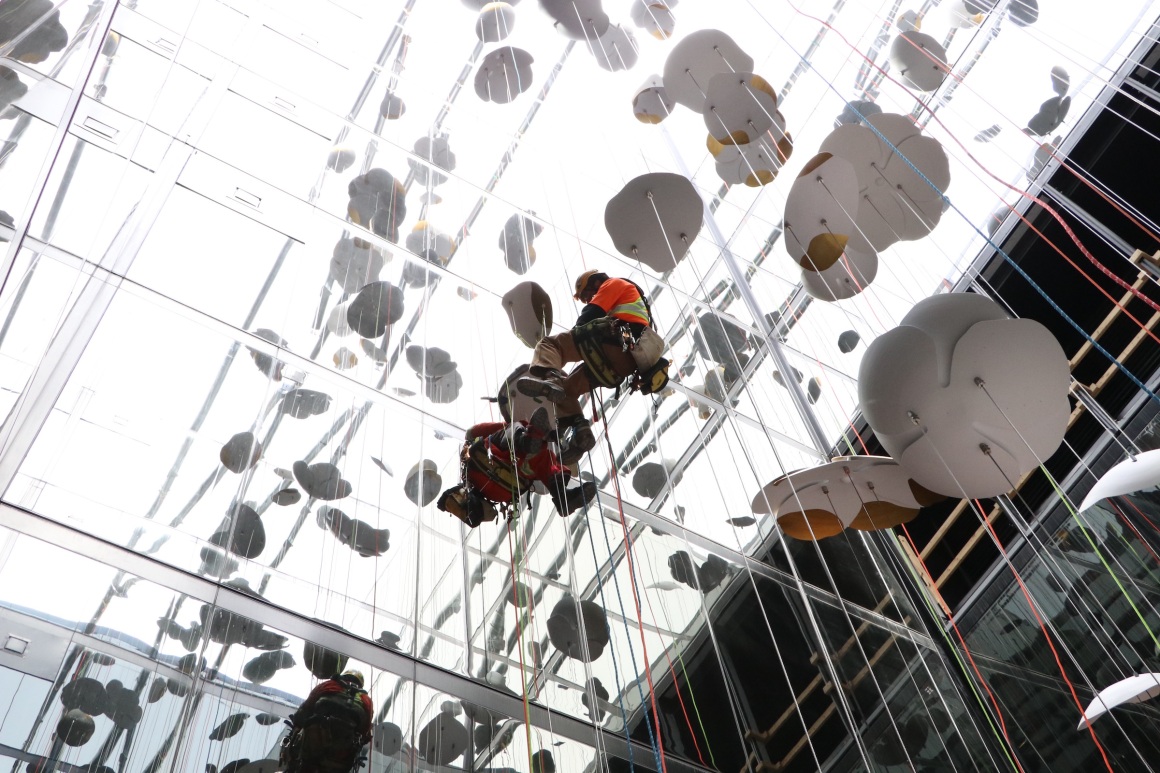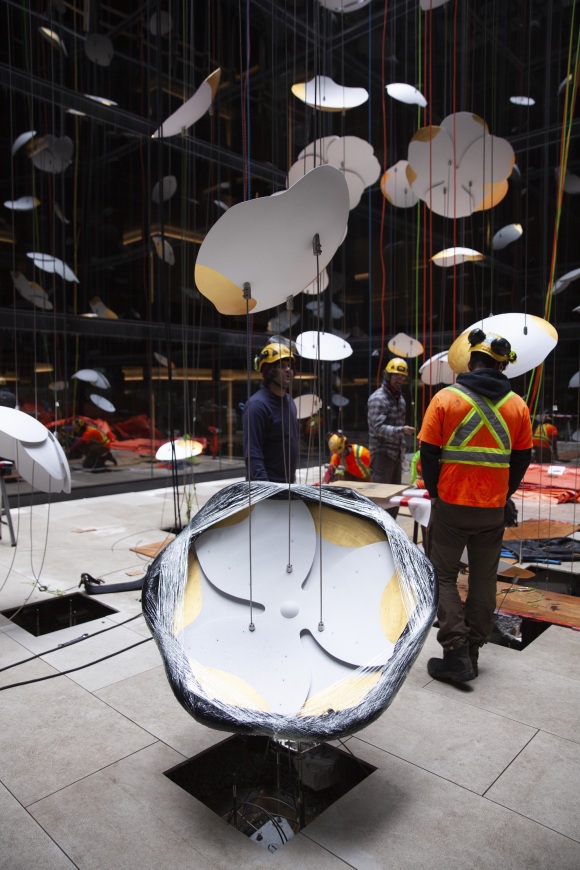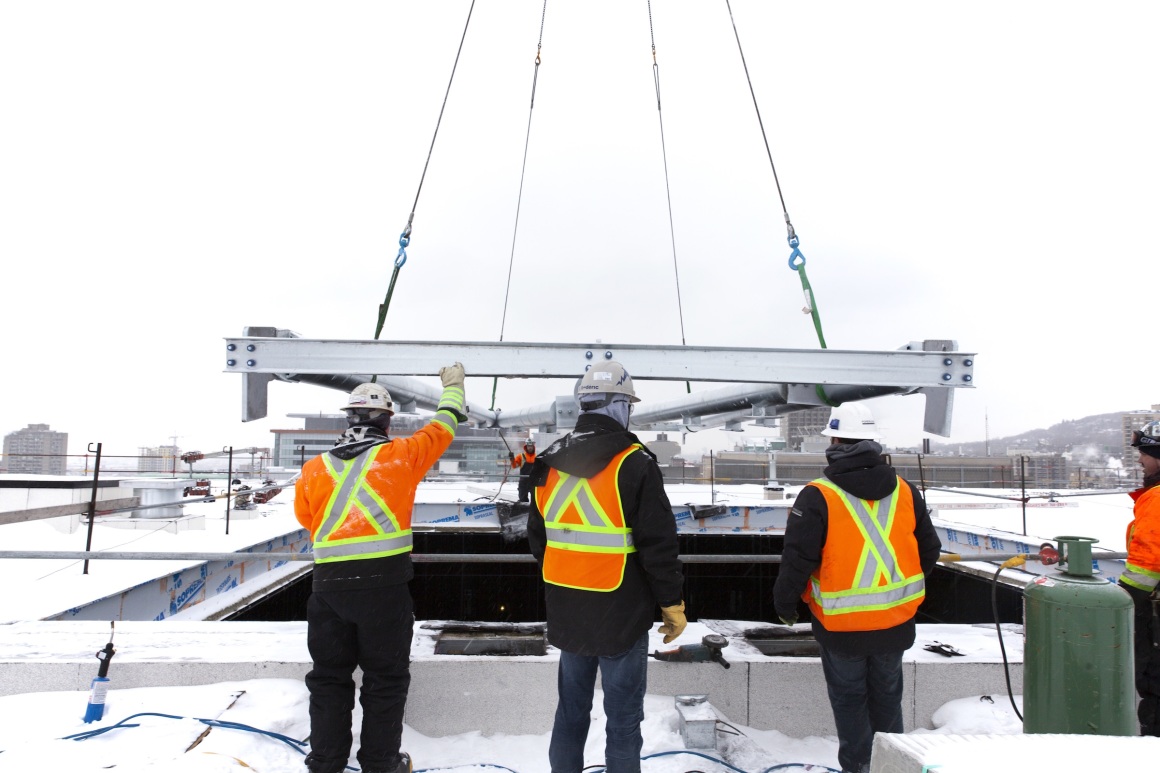 项目名称:沉思
地点:加拿大蒙特利尔四季酒店
材料:粉末铝,24K金箔,不锈钢
工程顾问:ELEMA
安装团队:VERTIKA
照片:Stephany Hildebrand
年份:2019年
Project: Contemplation
Location: Four Seasons Hotel and Residence, Montreal
Materials: Powder-coated Aluminum, 24K Gold leaf, Stainless Steel
Engineering consultant: ELEMA
Install team: VERTIKA
Photos: Stephany Hildebrand
Year: 2019
更多 Read more about: Pascale Girardin