本文由 本色营造 授权mooool发表,欢迎转发,禁止以mooool编辑版本转载。
Thanks Instinct Fabrication for authorizing the publication of the project on mooool, Text description provided by Instinct Fabrication.
本色营造:在天府新区往南30公里,中国首座乐高乐园将于2023年在此开园。这个现象级乐园的引入,将带动周边新区的全面发展,环球融创借此布局千亩用地,围绕着乐高乐园,打造文旅未来生活大盘 – 环球融创未来城。
Instinct Fabrication:30 kilometers south of Tianfu New area , China's first Legoland, will open here in 2023. The introduction of this phenomenal park will promote the development of the surrounding new areas, and Global Chengchuang SUNAC will take advantage of this large land, around Legoland, to create new lifestyles in the this satellite city -Global SUNAC Future City.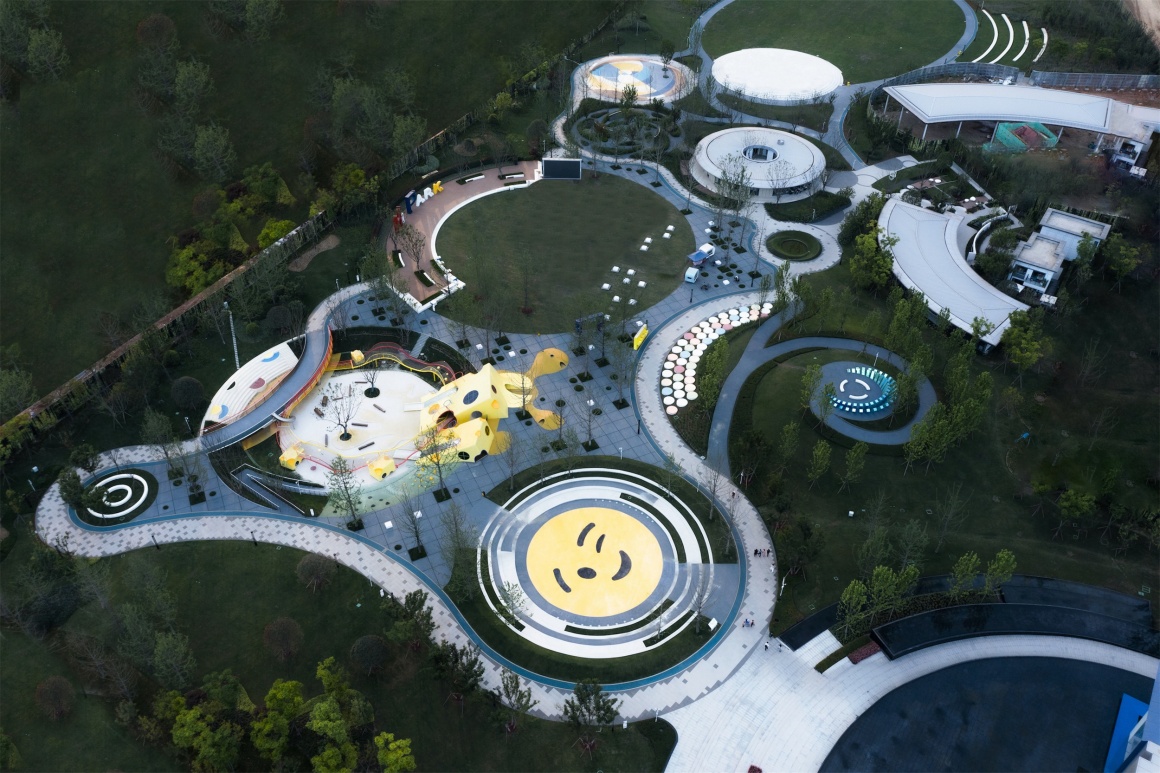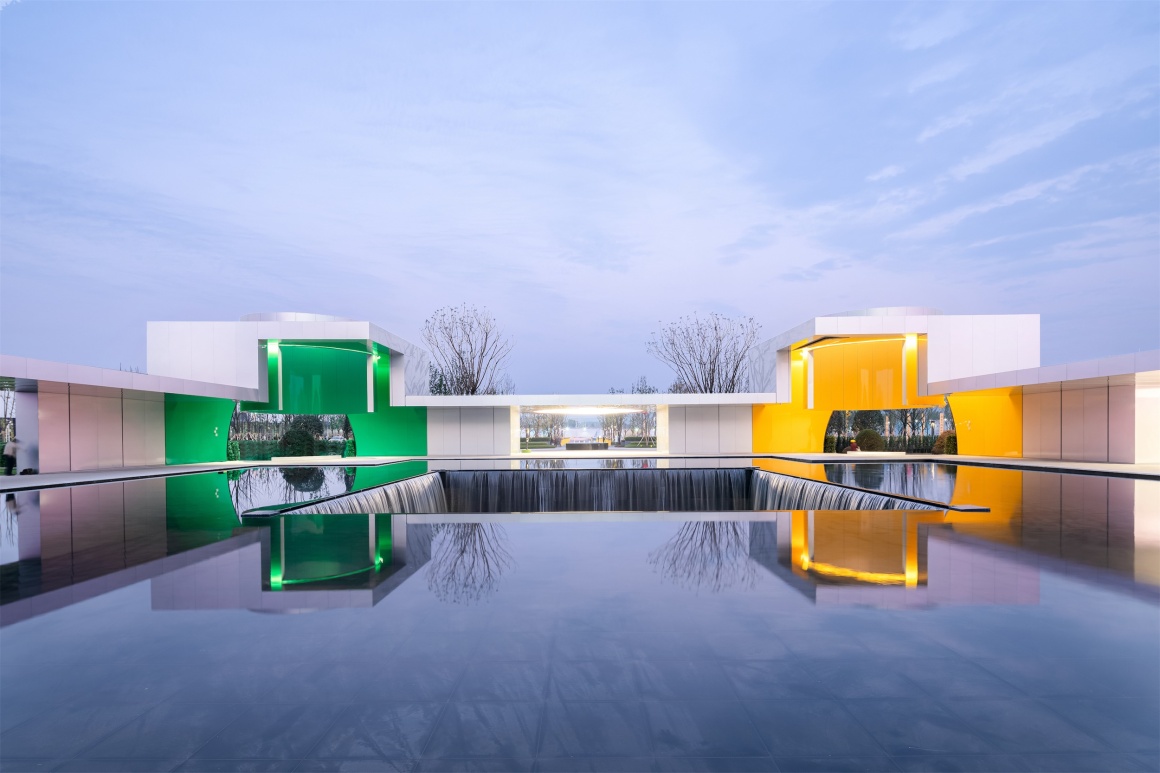 理念|Conception
环融未来城先期结合上位规划中20余公顷的中央公园, 打造了一个12万方永久性开放式的体验公园 – "Hi-Park" 基于这样的地缘特性,以公园作为新社区发展的绿色引擎,打造一站式目的地,吸引人们前来感受升级的生活体验,孵化社群文化,激发人们对未来生活无限想象。
The Future City, initiated with more than 20 hectares of Central Park in the master planning, has created a 120000-square permanent open space-"Hi-Park" based on such geographical characteristics, takes the park as a green engine for the development of the new community, creates an one-stop destination, attracts people to experience upgraded life experiences, incubates community culture, and inspires people's imagination of life in the future.
▼项目区位背景 site context

▼设计演变动图 design evolution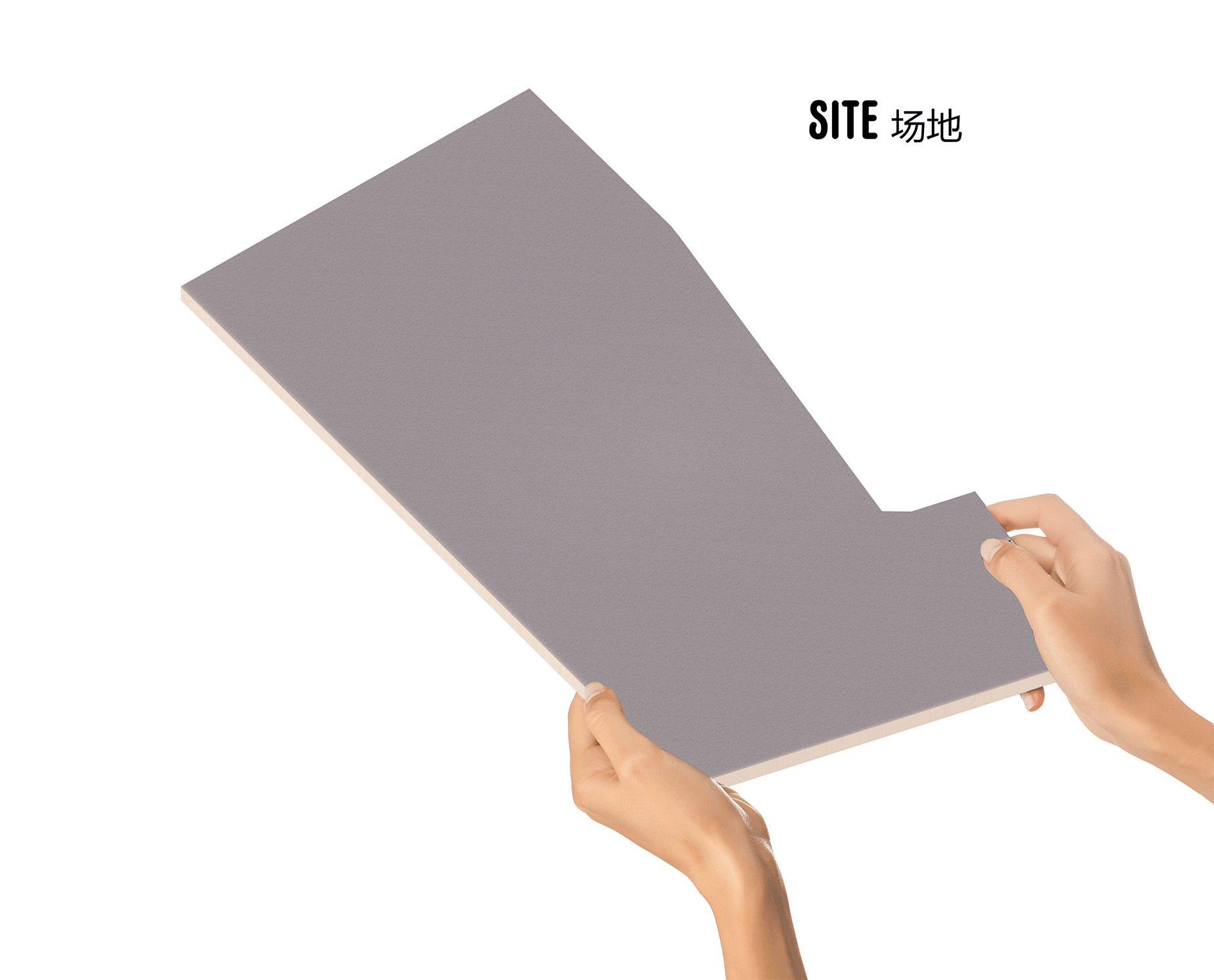 公园的设计围绕着趣味体验,人文社交和生态可持续的三大要素,将多种活动场地融入进尺度各异的圆形空间里,形成公园的整体框架,强调公园与人的强参与性,自然的强渗透性,及与城市的强衔接性。设计语言提取乐高自由多变的精髓,塑造了一个简约,活力,弹性可变,肩负城市生态责任的未来公园。
The design of the park revolves around the three major elements: interesting experience, human society and ecological sustainability. The park integrates a variety of activity venues into circular spaces of diverse scales and forms the overall framework of the park. It specially emphasizes the strong participation of people, the strong permeability of rainwater, and the strong connection with the city. The design language extracts the essence of LEGO's flexibility and variety, and creates a future park with simplicity, vitality, resiliency and ecological responsibility of the city.
▼总平面图 Site plan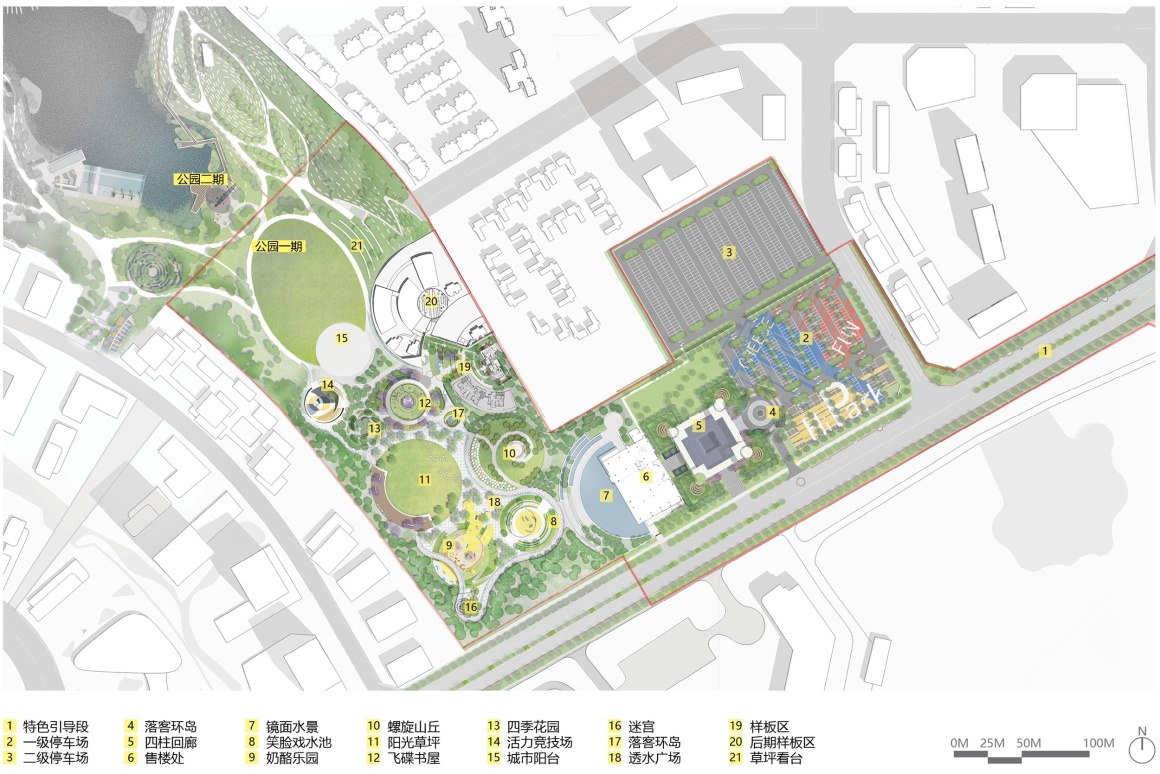 ▼分析图 Analysis diagram

内容|Content
水剧场由浅水戏水空间与互动喷泉组成,是清凉夏日的打卡胜地;奶酪游乐场是一座近3000平米的下凹儿童活动场地,内含多种无动力游乐设施,是亲子玩乐的不二之选。公园有两处大草坪,面积可容纳几千人,除举办大型商演活动、音乐节等大型事件性活动外,也是公园的社交中心。园区中心位置是蓝花楹主题咖啡厅,通过这个环形建筑,为人们提供充足的休息和就餐空间,同时融合了360度的公园视线。环绕公园设有800米彩色健步道,休息座椅、休闲看台遍布整个园区,强调人性化体验设计。生态方面作为相较周边地块地势低洼的公园场地,设计通过高绿化面积、透水铺装与地下储水装置实现了合理排水与雨水地表径流吸收再利用,减少了地下综合管网的固有投入。
There are two parent-child interaction venues in the park. The smiley face play Theater, which is composed of shallow water playing space and interactive fountain, is a cool summer sign-in place; Cheese Playground is a sunken children's playground of nearly 3000 square meters, which contains a variety of unpowered amusement facilities. It is the best choice for parents and children to play. The park has two large lawns, which can hold thousands of people. in addition to holding large-scale celebrations, music festivals and other large-scale event activities, it is also the social center of the park. The center of the park is Jacaranda Cafe, which provides people with plenty of rest and dining space through this circular building, while integrating a 360-degree view of the park. There are 800 meters of jogging trails around the park, rest seats and leisure stands throughout the park. In the ecological aspect, as a low-impact designed park, it realizes reasonable drainage solution: Rain Water surface runoff will be infiltrated through permeable pavement and conducted into underground water storage device. It is finally reused for irrigation for the park and other maintenances. The vast permeable surface also reduces the inherent investment of the underground pipe network.
▼公园九场域 The park has nine fields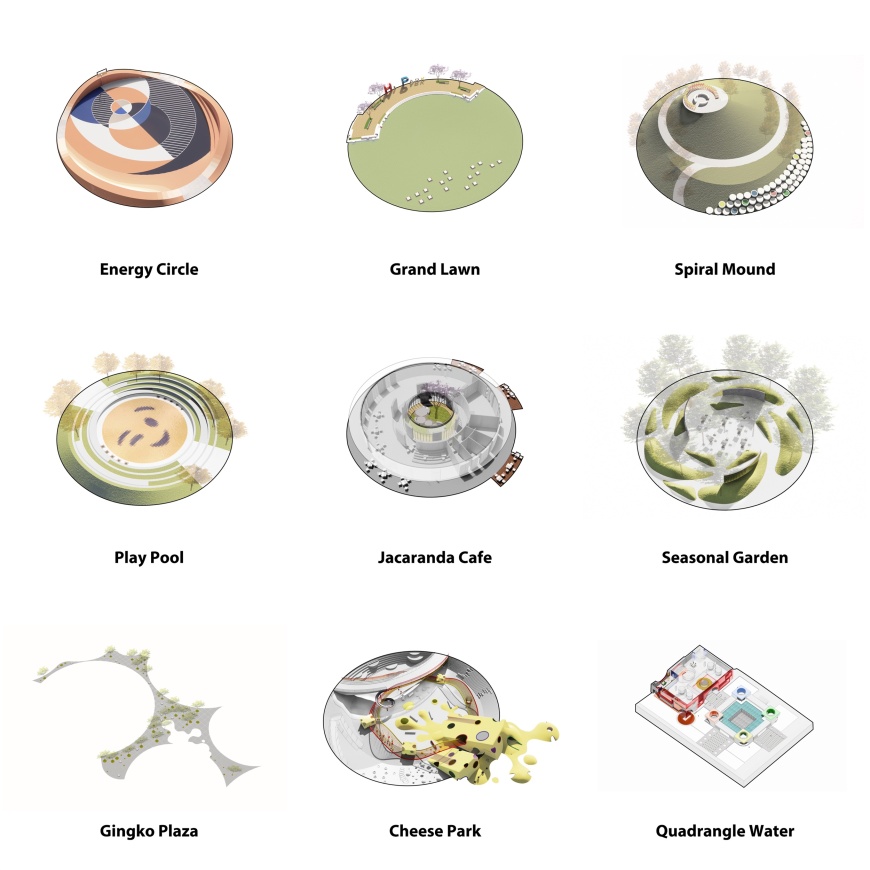 ▼以笑脸为图案的浅水游乐空间 Shallow water recreation space with smiley faces as patterns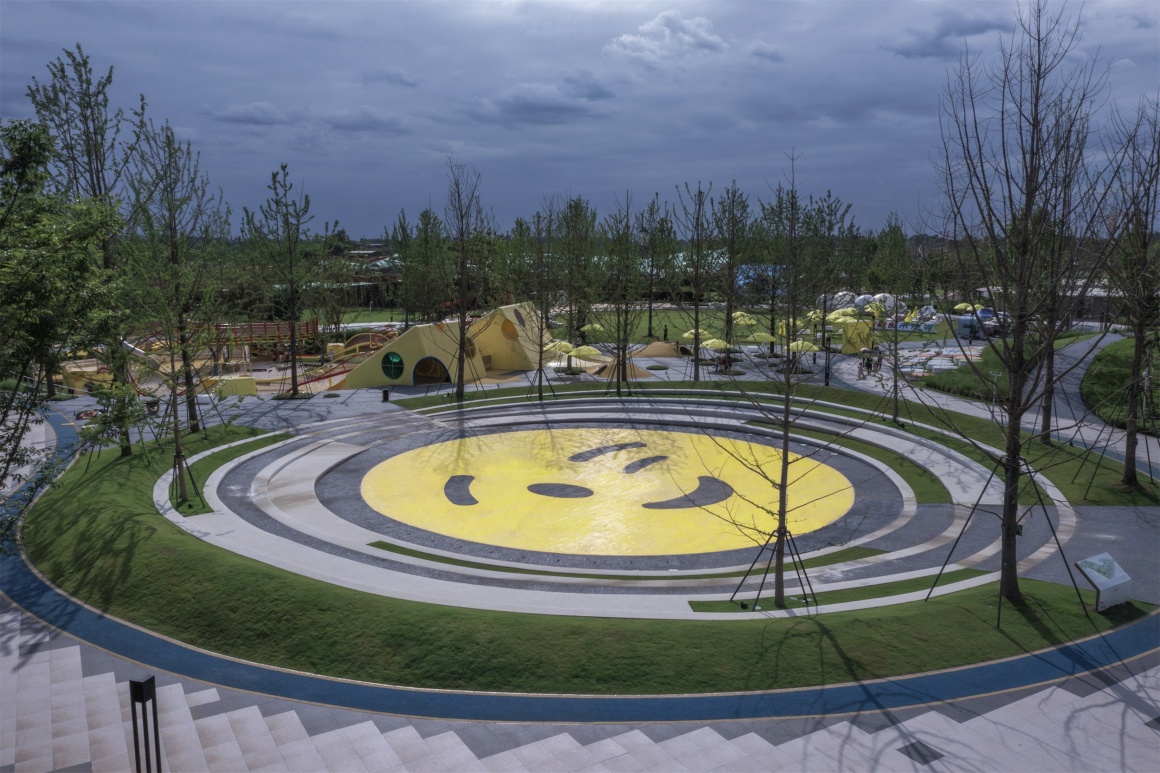 ▼为家庭和小孩提供了一个互动体验 Provides an interactive experience for families and children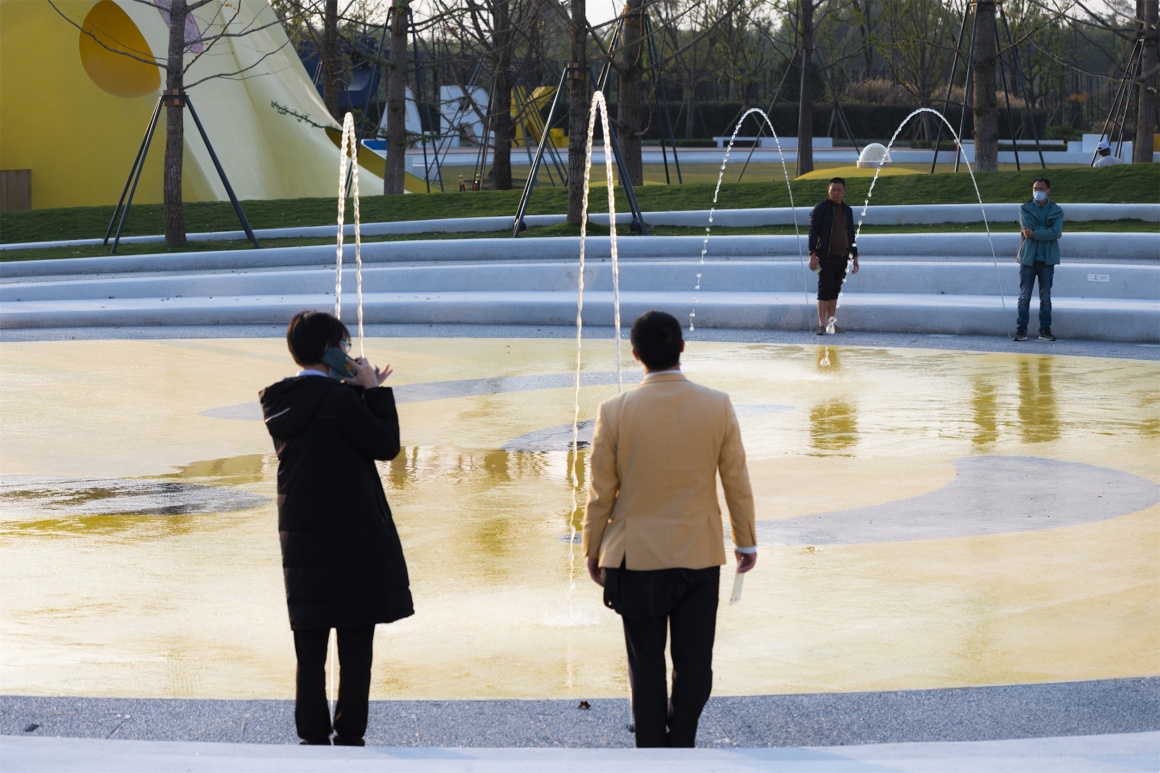 ▼以奶酪和彩红飘带为IP,利用场地高差,形成一个沉浸式立体亲子游乐空间 With cheese and red ribbons as IP, an immersive three-dimensional parent-child entertainment space is formed by using the height difference of the site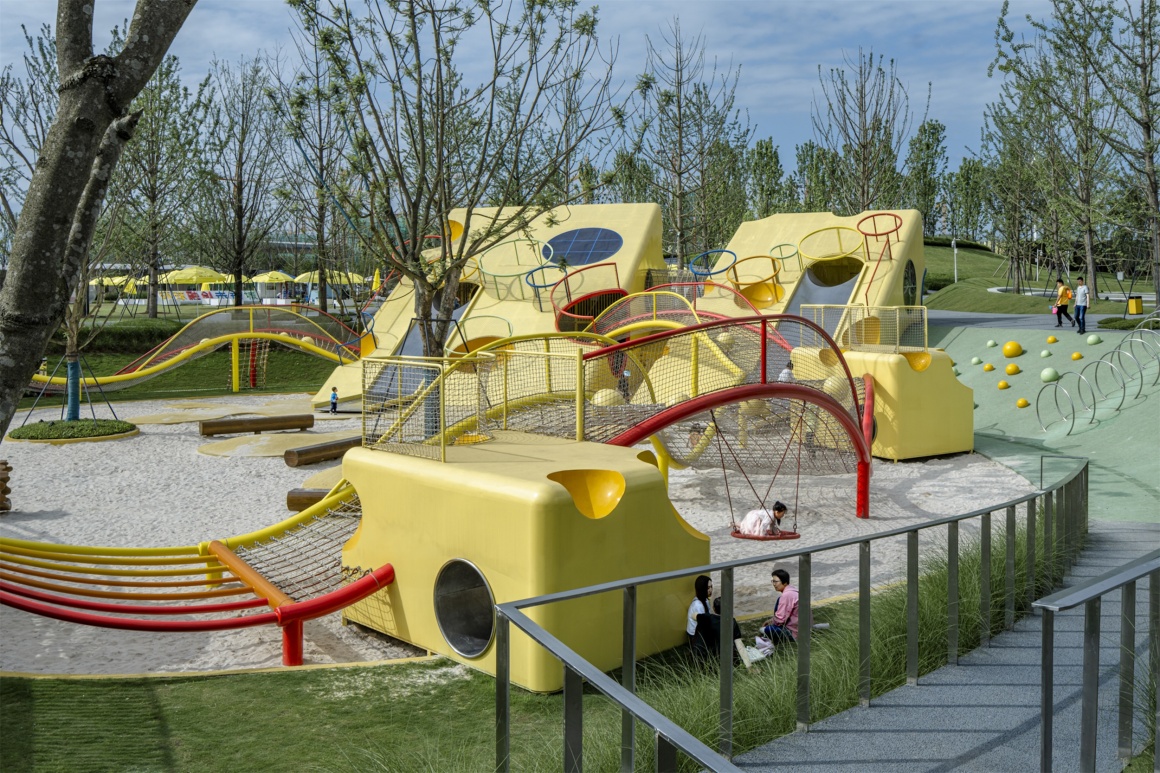 ▼利用场地高差,结合滑梯,爬网,攀爬,钻桶等游乐界面 Using the height difference of the site, combined with slide, climbing, climbing, drilling bucket and other entertainment interface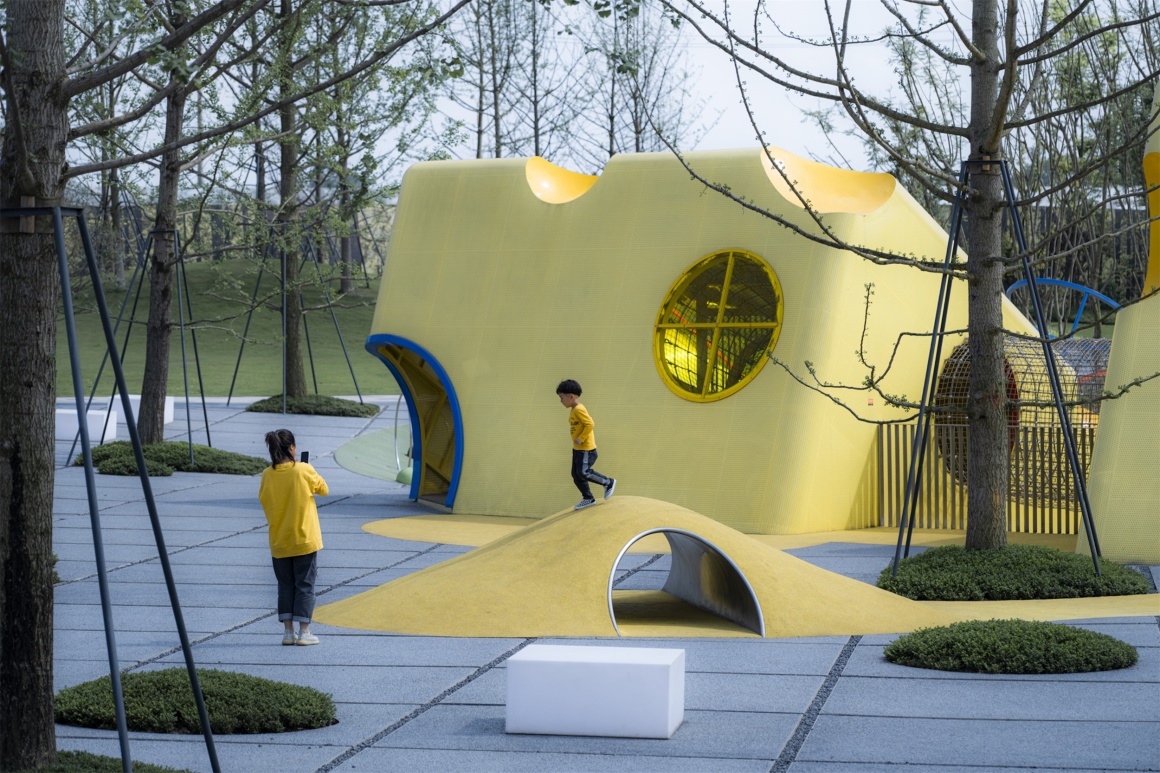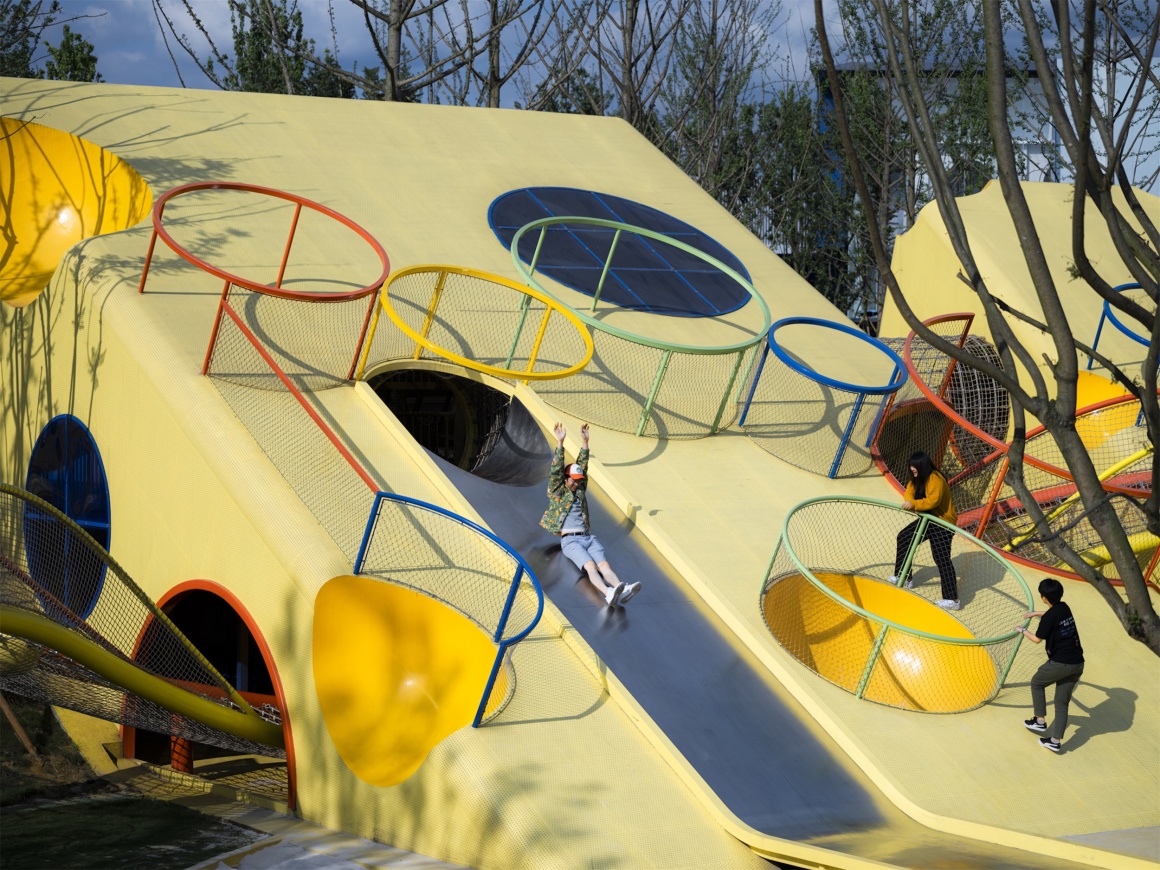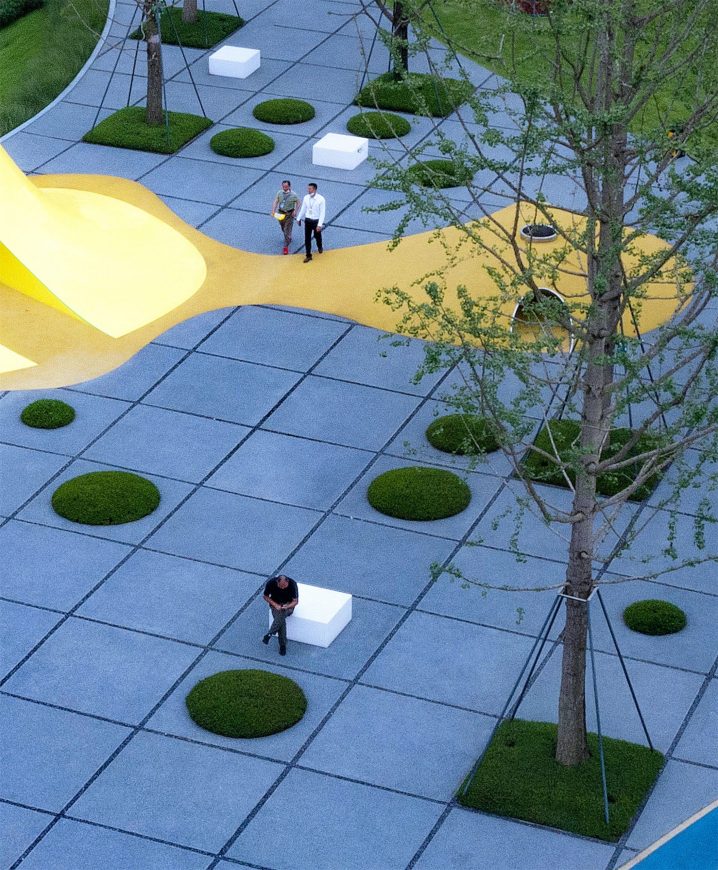 ▼螺旋山丘是由一条螺旋盘山步道,幻彩雕塑,具有互动性和观景的空间 The Spiral Hill is made up of a spiral mountain trail, magic sculpture, interactive and viewing space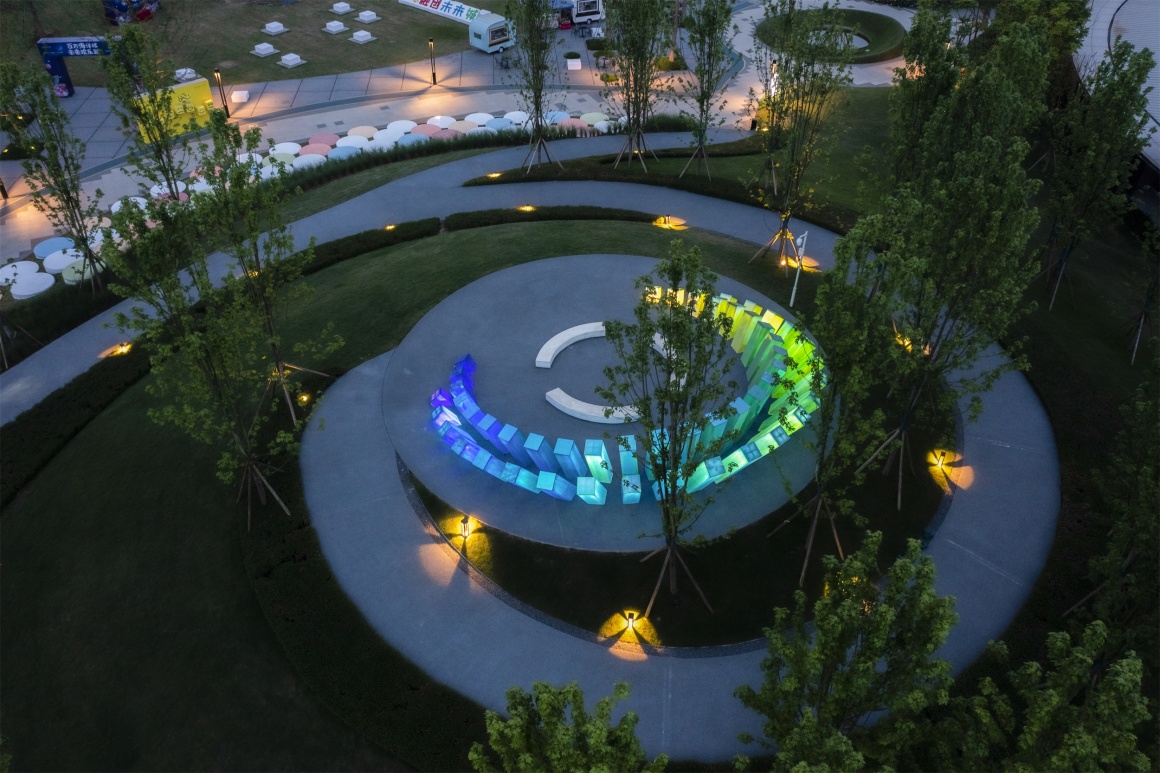 ▼成为Hi-Park里的社交中心的阳光草坪 The Sunny Lawn becomes the social hub in Hi-Park
▼环形的建筑形态,融合了360度的公园视线,提供了充足的休息和就餐空间 The circular shape of the building, incorporating 360-degree views of the park, provides ample space for resting and dining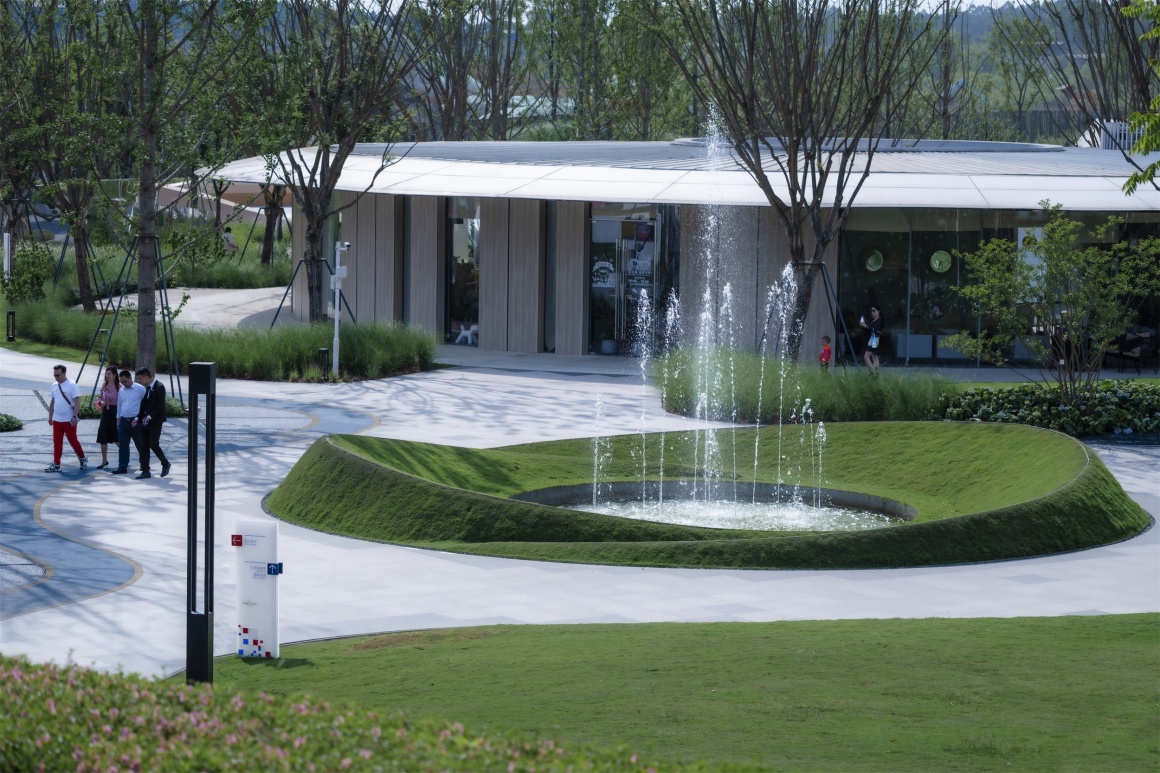 ▼四季花园是运用形色各异的草花植物,和三组镜面不锈钢景墙,形成的自然植物微环境 The Four Seasons Garden is a natural plant microenvironment formed by using grass plants of different shapes and colors and three groups of mirrored stainless steel landscape walls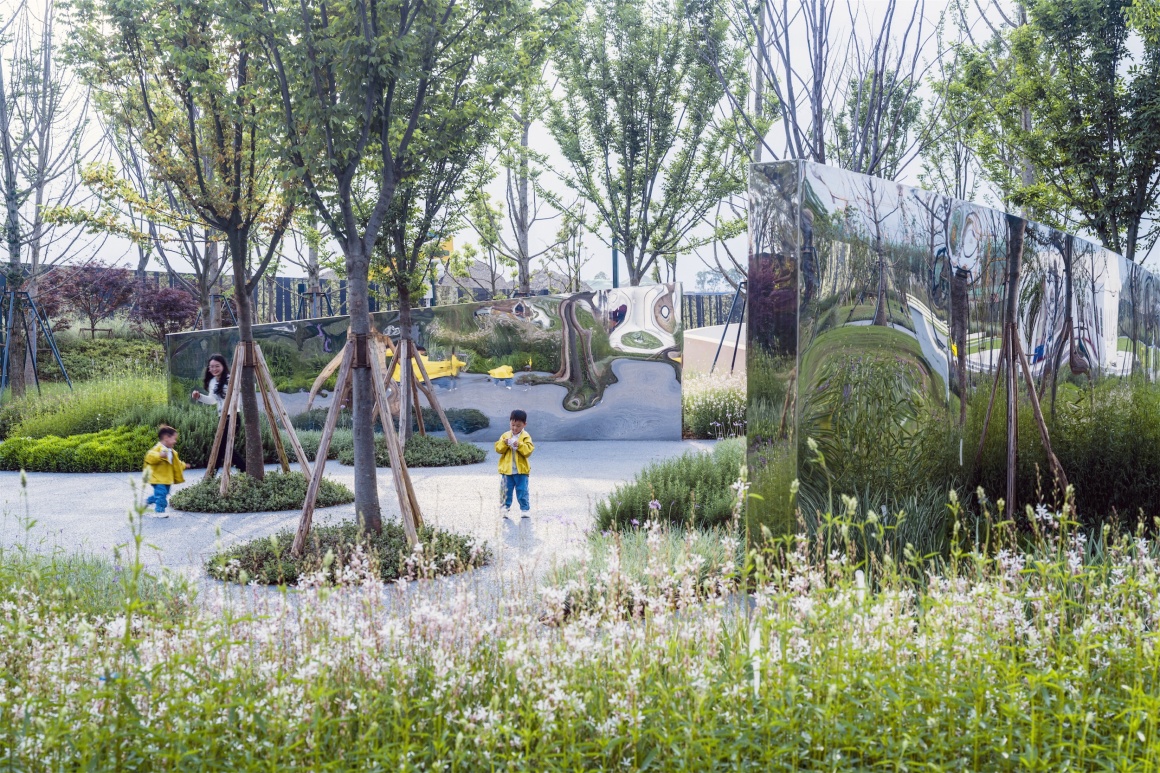 ▼矩阵的银杏乔木和圆形地被,使得广场的秩序感和趣味感并存,是林下休闲,慢生活气息浓郁的场所 The matrix of ginkgo trees and circular ground make the square a sense of order and fun. It is a place for leisure and slow life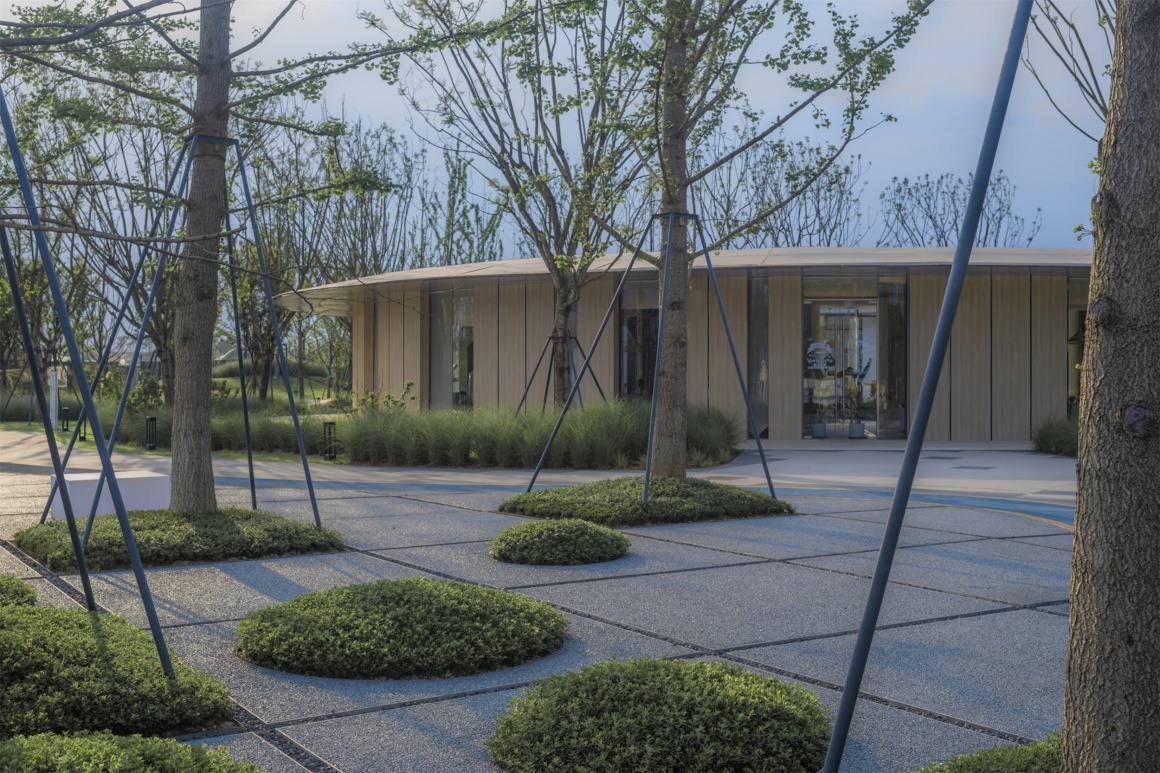 ▼种植上细腻与粗放相结合,亲人,开放,拾级而上,营造一个自然渗透感的花园 Planting delicate and extensive combination, family, open, step by step, to create a natural infiltration of the garden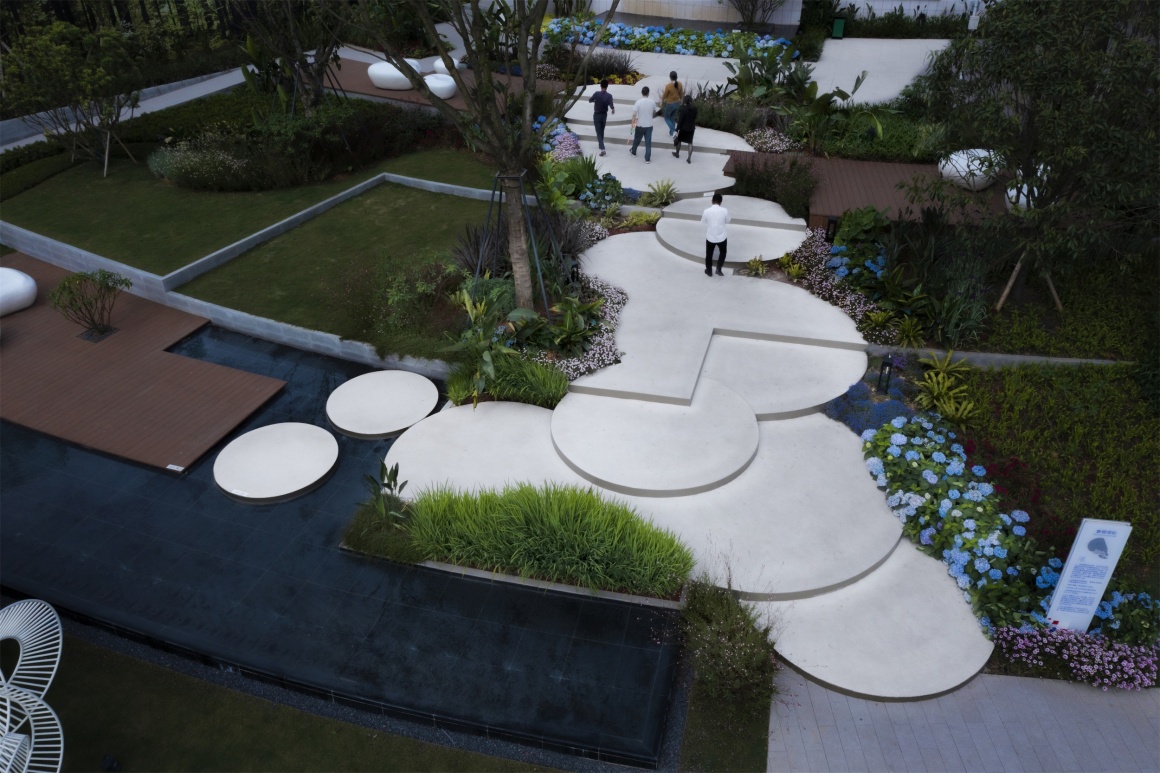 ▼运用立体感的特色铺装 The use of three-dimensional characteristics of the pavement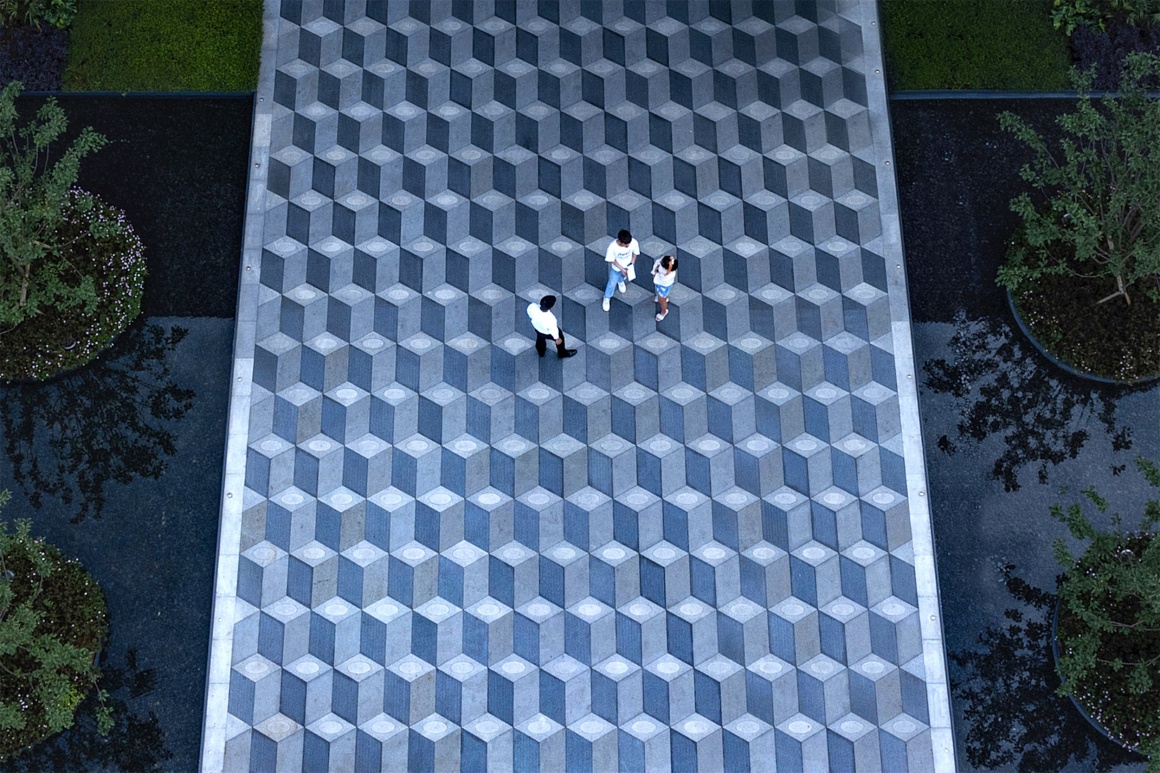 ▼镜面水景 Mirror-like waterscape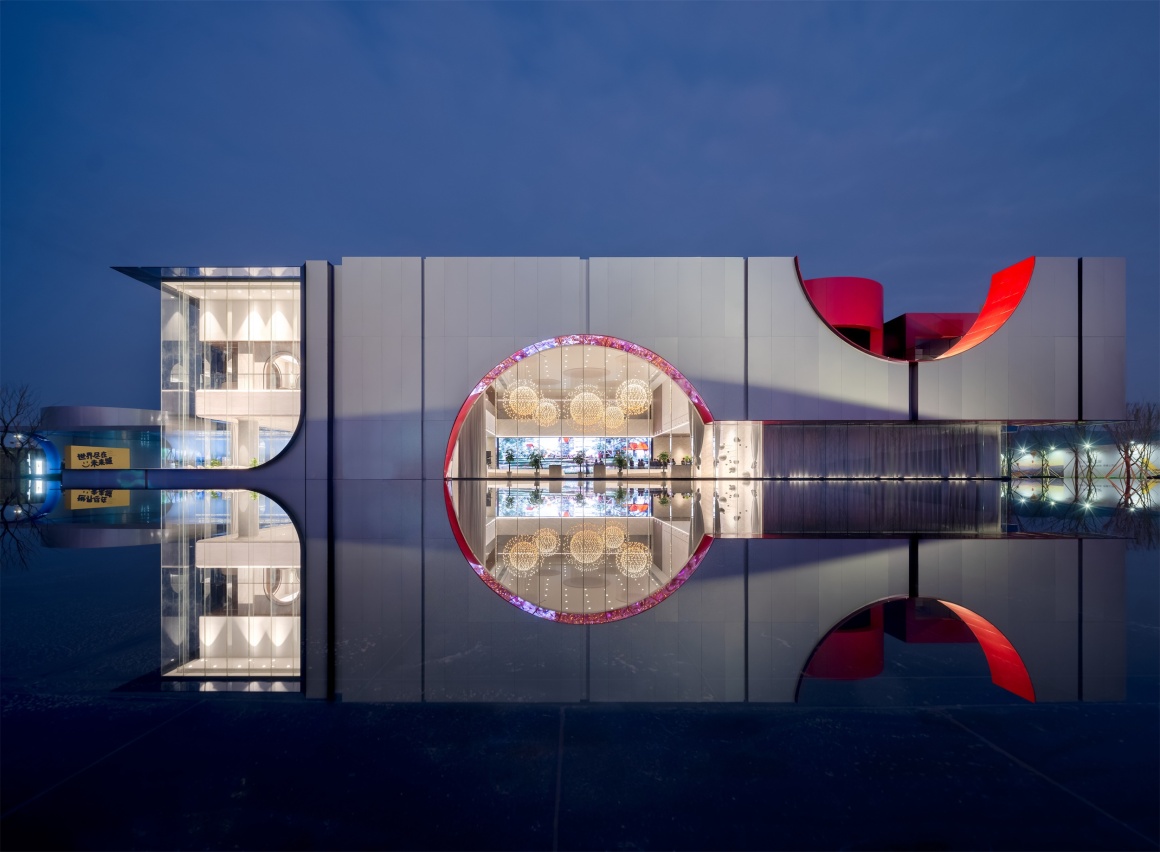 项目名称:环球融创未来城Hi-Park公园(一期)
景观设计:Instinct Fabrication
本色营造设计团队:楼颖 张远涵 王一凯 赵雪茹 郭玮 刘瑷琳 刘玉凤 高文毅 孙丽娜 林岳鸣  宋英佳 胡炜欣 李静怡 杨佳星
设计面积:128000 m²
设计周期:2020.2 – 2020.7
建设周期:2020.5 – 2020.11
委托阶段:概念方案至施工图设计
操盘业主:融创西南集团四川地产
景观施工:四川蜀汉+高标园林
建筑设计:上海璞间
游乐设施:季高
标识顾问:柏熙标识
景观摄影:河狸景观摄影
雕塑顾问:广州壹站汇
Project Name: Global SUNAC Future City Hi-Park (phase I)
Landscape Design: Instinct Fabrication
Instinct Fabrication Design team: Ying Lou , Yuanhan Zhang , Xuru Zhao , Wei Guo, Ailin Liu , Yufeng Liu , Wenyi Gao , Lina Sun, Yueming Lin, Yingjia Song, Weixin Hu , Jingyi Li , Jiaxing Yang
Project Size: 12.8ha
Project Timeline: Feb 2020 – Jul 2020
Construction Timeline: May 2020 – Nov 2020
Workscope: All Stages
Client: SUNAC Sichuan
Landscape Contractor: Sichuan Shuhan & Gaobiao Landscape Construction.Co.Ltd.
Architecture Design: Shanghai Pujian Architecture
Amusement facilities: Shanghai Jigao Amusement equipment Group Co. Ltd.
Identify consultant: Shanghai Baixi
Photo: Holi Landscape Photography
Sculpture consultant: Guangzhou Yi Zhan Hui
更多 Read more about: 本色营造 Instinct Fabrication