本文由 VVdesine 授权mooool发表,欢迎转发,禁止以mooool编辑版本转载。
Thank VVdesine for authorizing the publication of the project on mooool, Text description provided by VVdesine.
VVdesine:该项目共有三个花园。一楼的花园,由和高速公路围合,连接大堂和基础设施建筑。第二个花园位于五楼,面向Rama 9公路。第三个花园位于五楼背面,面朝城市天际线。
VVdesine:The garden is divided into 3 gardens, first is on the ground floor connected to the lobby and facility building and surrounded by Rama 9 road, Expressway and city vibrant, the second garden is on the front side of 5th floor facing Rama 9 road, finally the third garden is on the backside of the 5th floor facing the city skyline.
景观应该根据场地背景的不同和使用人群的视线范围而变化,从而带来不同的体验。一楼花园关注的是正常的人眼视线,展现了不同的绿化种植纹理、高度和色彩搭配,抬高的长型游池带来了瀑布效果和声音感受。
By studying the above location with site contexts, landscape shall be giving different experiences to users base on each garden location and view they are taking. Ground floor garden named as "Normal Eyes View Garden" provides nice scenery of various planting texture, height and colour together with elevated long swimming pool giving waterfall effect and its sound to space.
树屋靠近现有的树木,利用它们的遮蔽营造放松的多功能的空间体验。
Co-living tree house located near existing spreading tree using its shading underneath for relaxing and living in various functions.
五楼的花园为"鸟瞰园"和"虫瞰园"。"鸟瞰园"为人们提供全面的鸟瞰风景,景观的视野范围被扩展到了整个城市的景观,并一路向下连接到下面的花园。
Gardens on the 5th floor are "Bird Eyes View Garden" and "Worm Eyes View Garden" where the bird's eyes view garden provided overall, connected and expanded view of its landscape design to the city view in front and connect all the way down to normal eyes view garden below.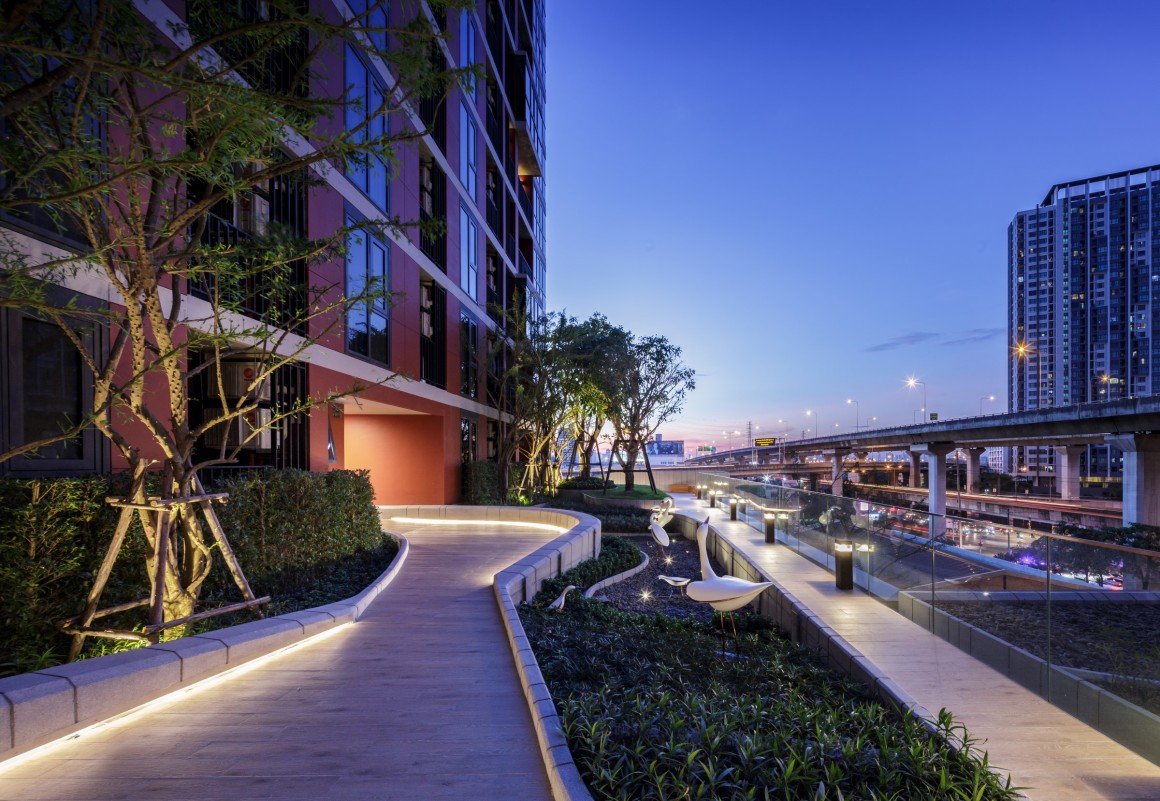 而"虫瞰园"低于其住宅单元的楼层,为居民和花园用户提供了隐私。花园终点通过鸟巢的概念形式突出了其特点。鸟巢也可以作为所有居民的放松空间。
While "Worm Eyes View Garden" is levelled below residential units on its floor, providing privacy to both residents and garden users. This garden highlighted by a conceptual form of a bird's nest at the end of its journey. The bird's nest also functions as a relaxing space for all residents.
▼平面图 Plan

▼一楼花园设计演变 Ground garden design process


▼视线分析 View analysis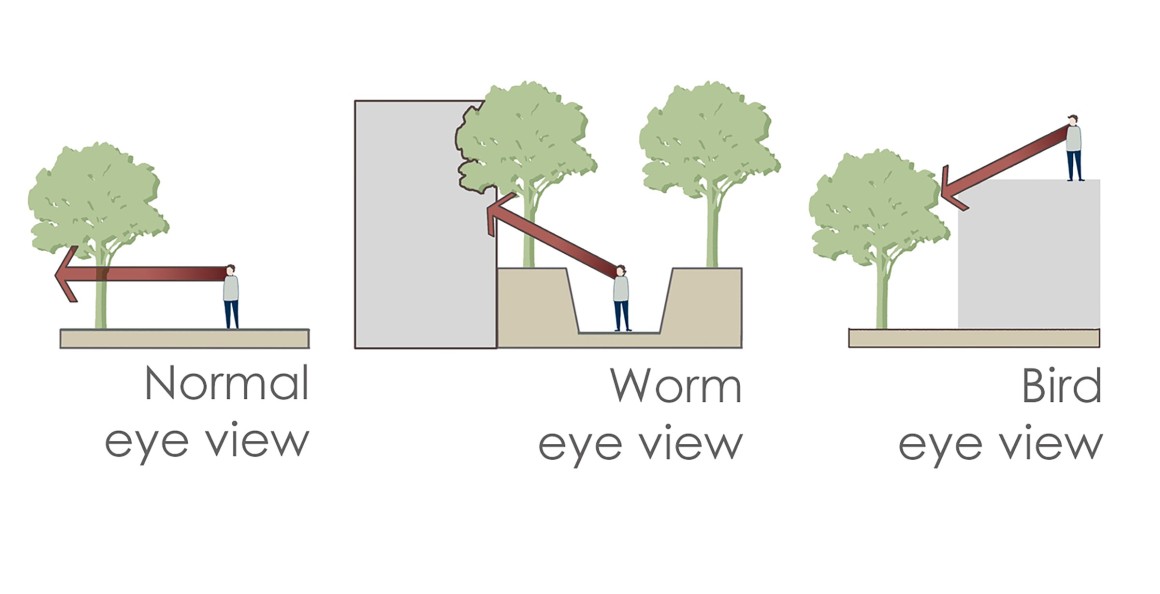 ▼设计分析 Design analysis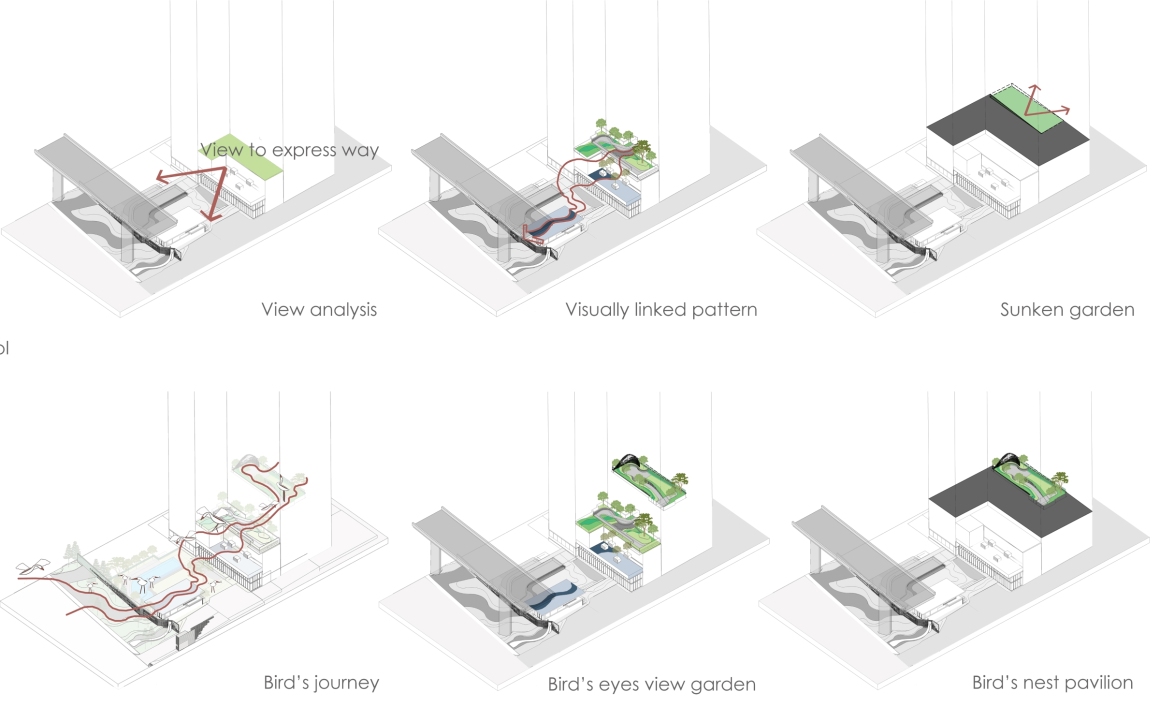 ▼设计细节 Design detail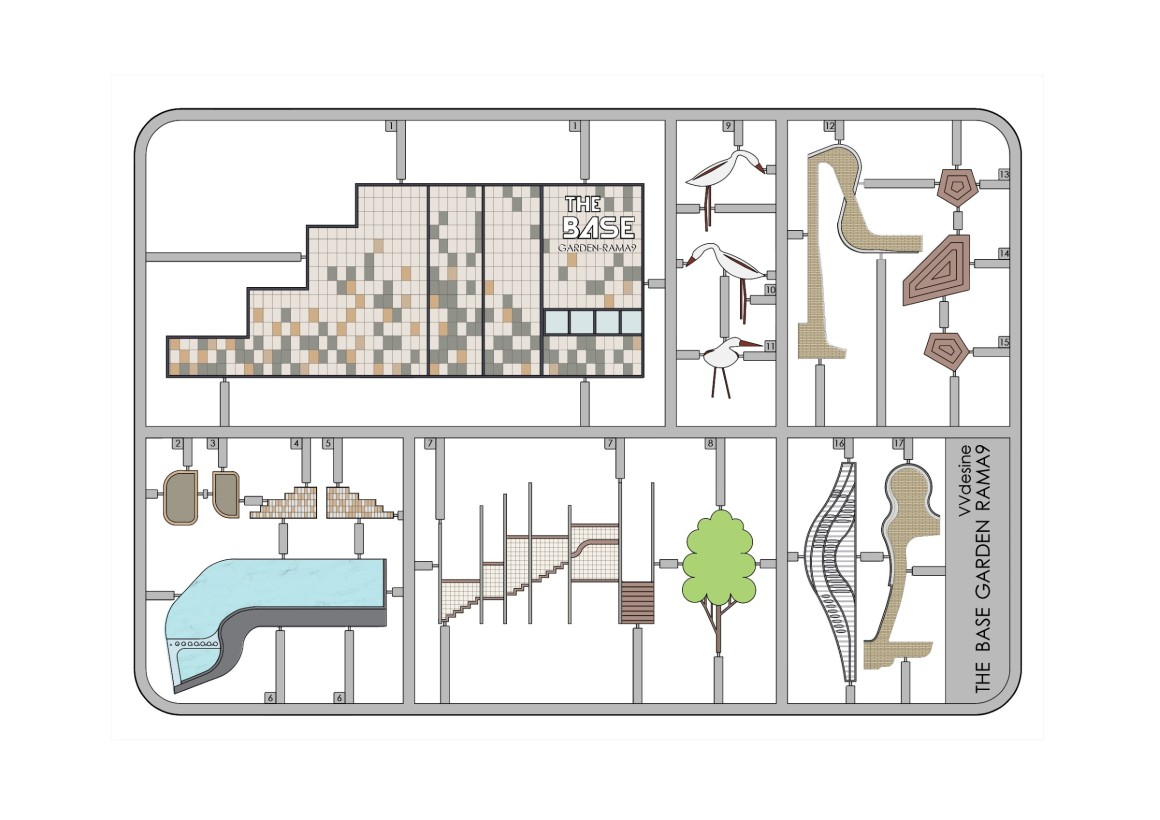 项目名称:Rama 9住宅花园
获奖情况:2019年TALA Awards高层住宅荣誉奖
完成时间:2018年
面积:1051.10平方米
地址:泰国,曼谷
设计公司:VVdesine
雕塑团队:Farm Group Design
客户:Sansiri PLC
摄影:Synspacestudio Photographer
编辑:寿江燕
Project name: The Base Garden Rama 9
Awards: TALA Awards 2019: Honor Award, High Rise Residential Project
Completion Year: 2018
Size: 1,051.10 sqm
Project location: Rama 9, Bangkok, Thailand
Landscape Firm: VVdesine
Sculpture team: Farm Group Design
Clients: Sansiri PLC
Photo credits: Synspacestudio Photographer
Editor: Jiangyan Shou
更多 Read more about: VVdesine