本文由 Estudio Carme Pinós 授权mooool发表,欢迎转发,禁止以mooool编辑版本转载。
Thanks Estudio Carme Pinós for authorizing the publication of the project on mooool, Text description provided by Estudio Carme Pinós.
Estudio Carme Pinós:这不仅是一个可提供庇护的社会活动空间,也是一个可激发人们所有感官体验的地方;它与自然建立起复杂的联系,晴天时,我们可观看展馆表面创造的投影感受太阳的运行轨迹;雨天里,我们欣赏雨滴从它透明的屋顶姗姗流过。
Estudio Carme Pinós:A protected space for social activities, but also a place to experience with all the senses; to establish a sophisticated relationship with nature; where we will feel the sun's path through the game of shadows created by the pavilion's skin; where on rainy days we will see the water run through its transparent roofing.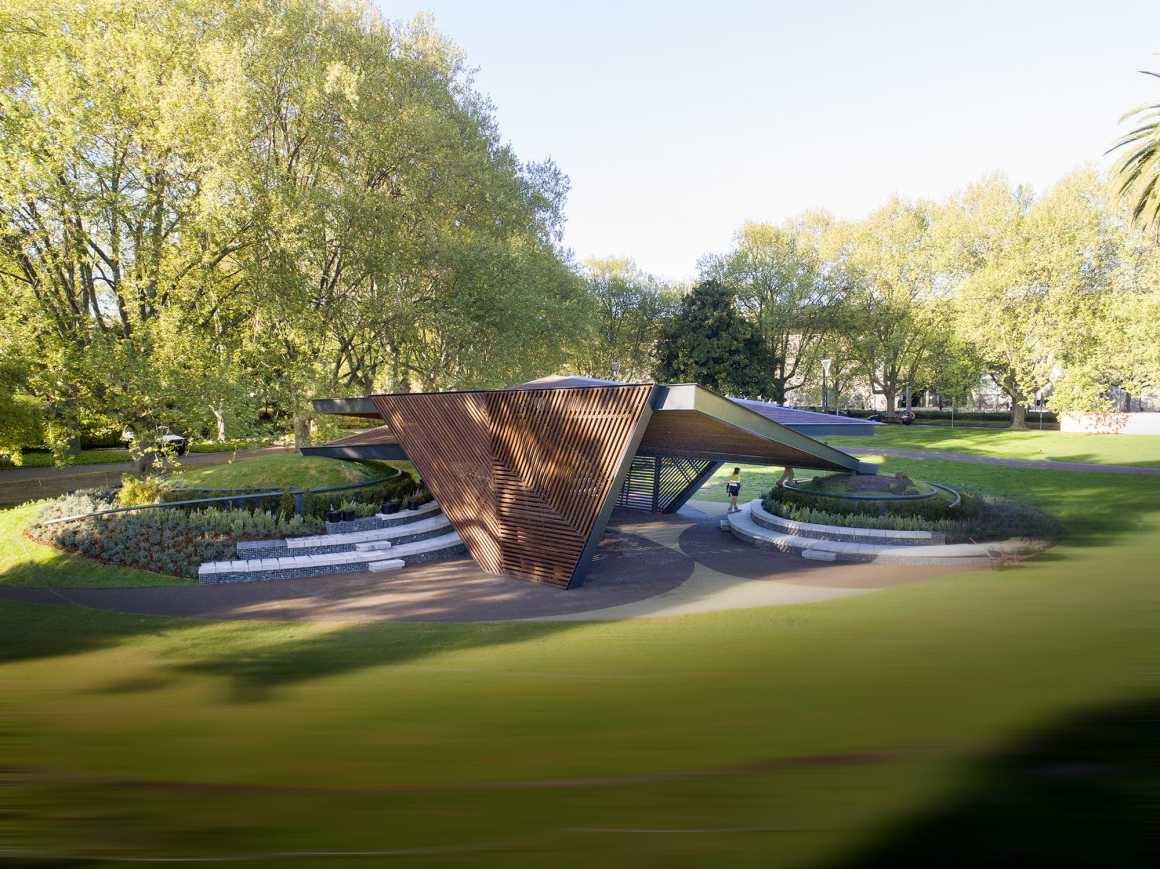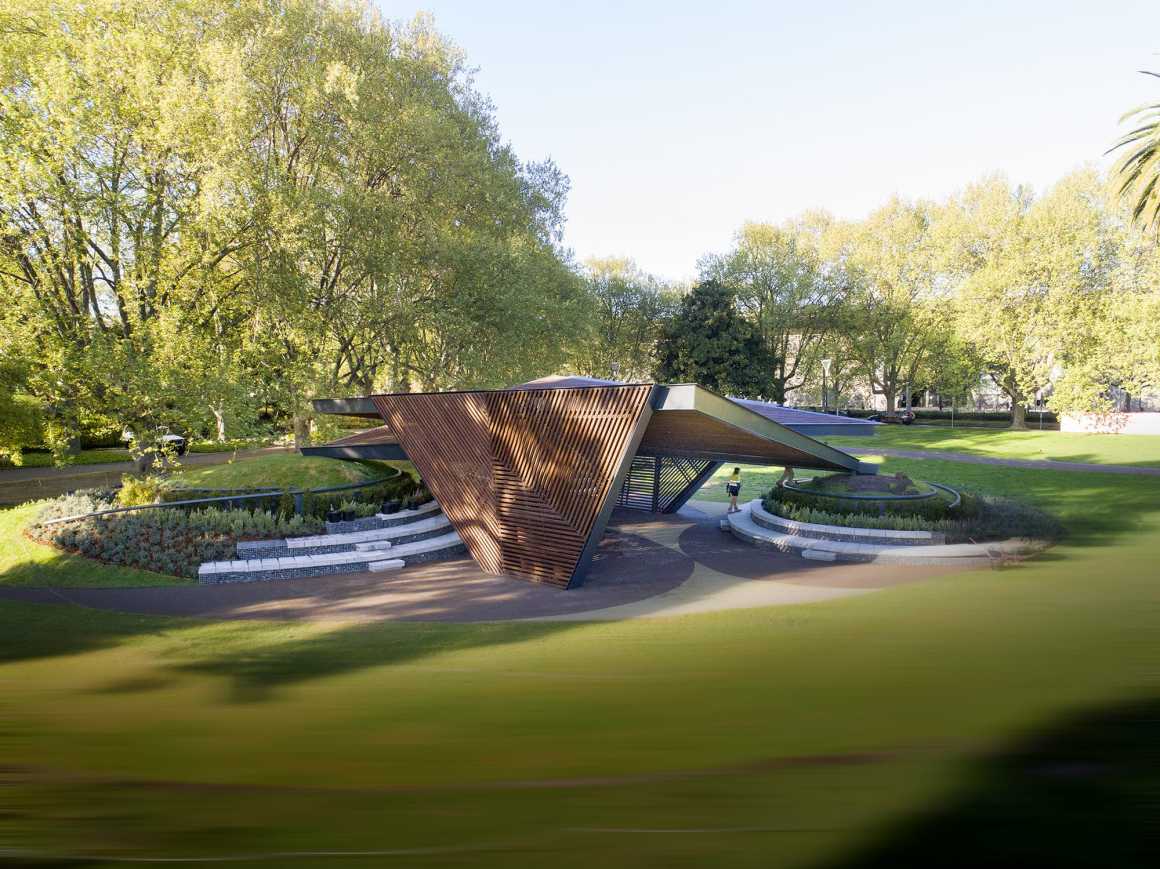 折叠两个网格木材像折纸一样弯曲和交叉,形成了屋顶,格子间有一层透明的聚碳酸酯保护我们免受雨淋。由于这是一种临时结构,所以我们用金属型材制成该结构,以便可以在另一个地点进行快速施工和简单重建。改变后的地形形成了三个小土丘,土丘结合分层座位,营造出一种被覆盖的感觉,在其中一个土丘下面我们还挖了一个储藏室。
Like an origami folding two surfaces of timber latticework bend and intersect with themselves to form a roof. Between the latticework a transparent layer of polycarbonate protects us from the rain. The structure made out of metal profiles allows a fast construction and an easy reconstruction on another site as it is a temporal intervention. The altered topography forms three mounds that incorporate tiered seating and create the atmosphere of cover, while underneath one of them we burrow a storage room.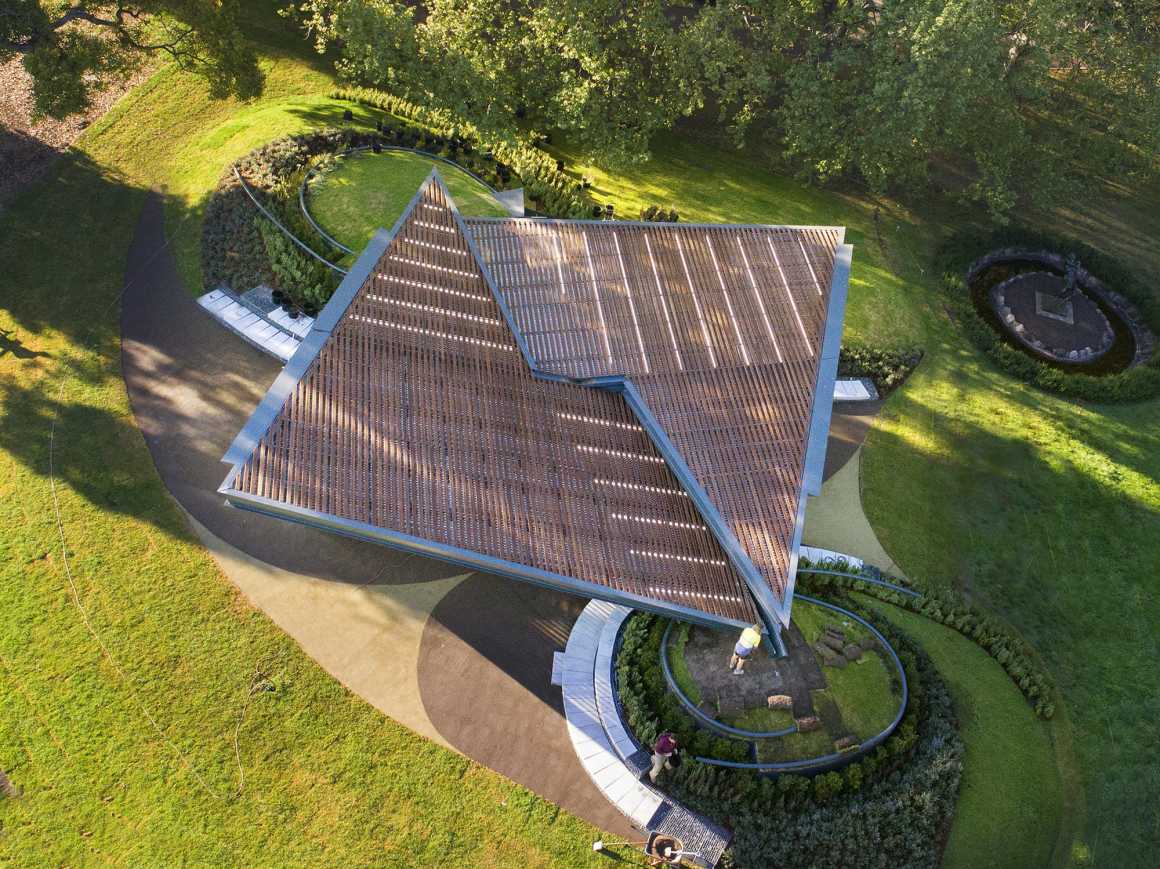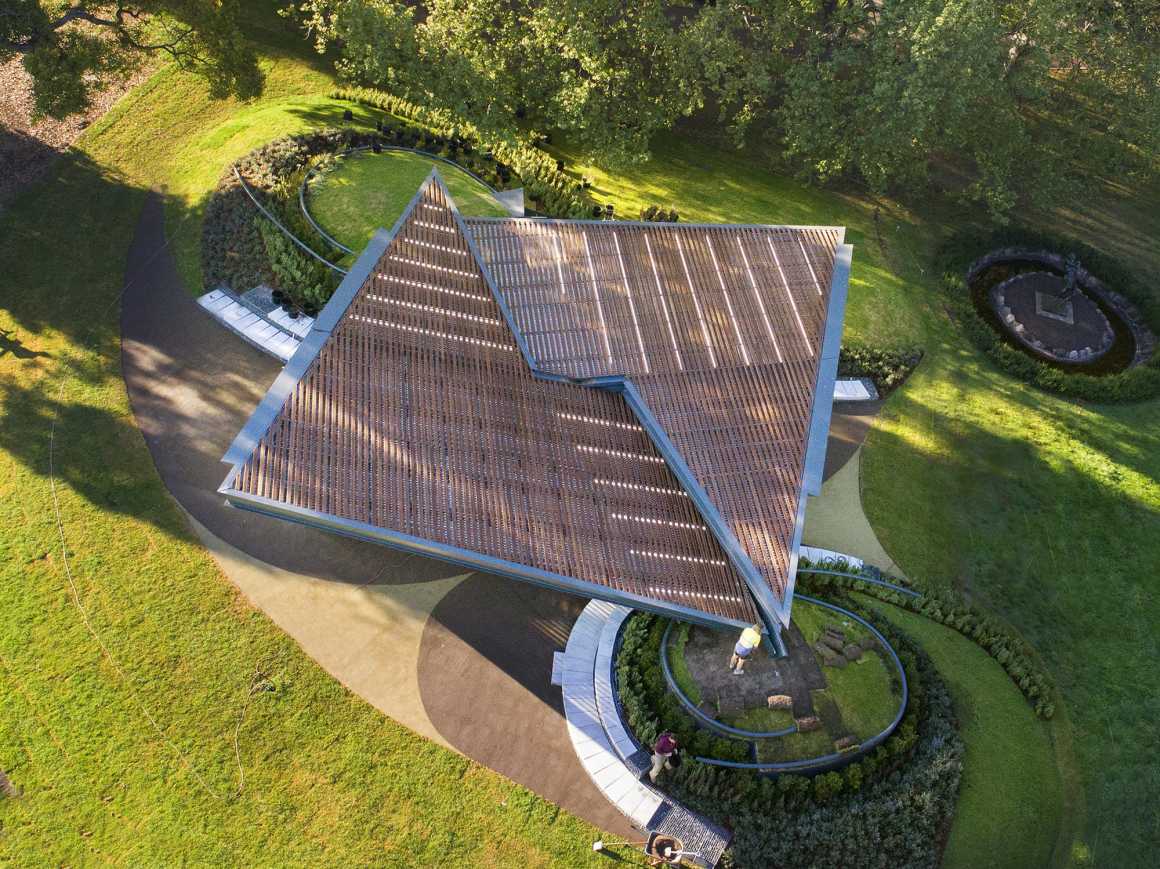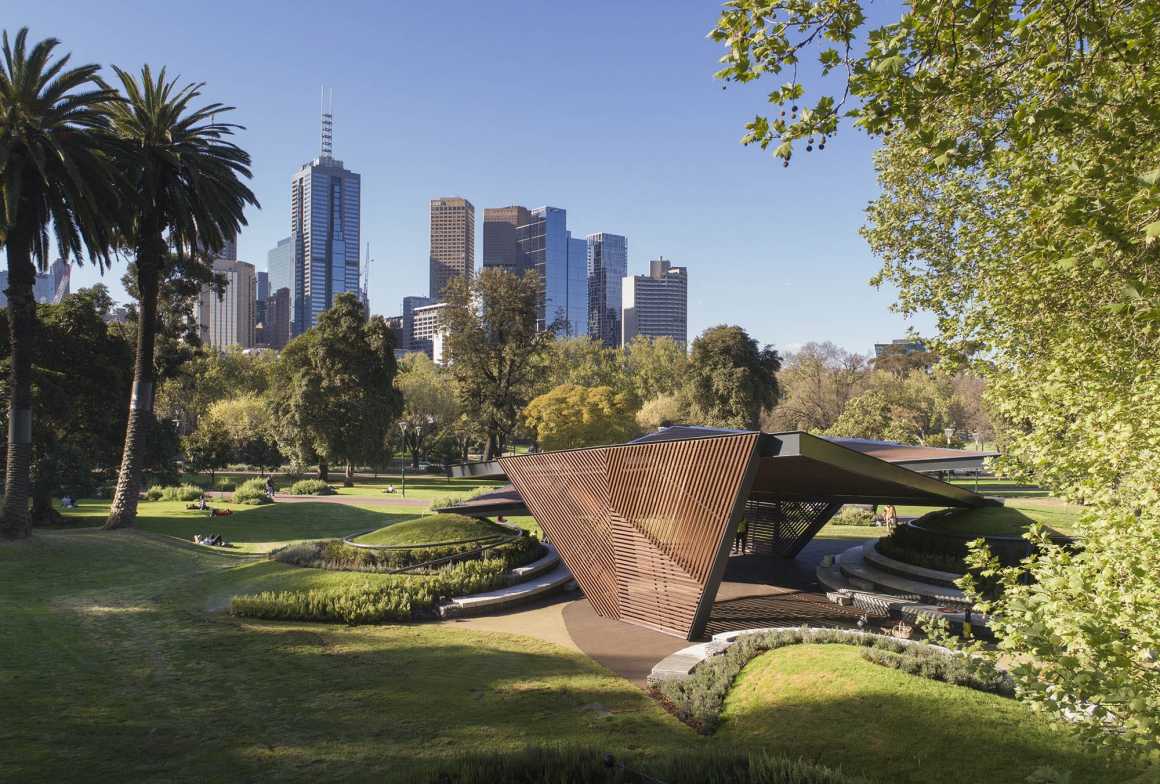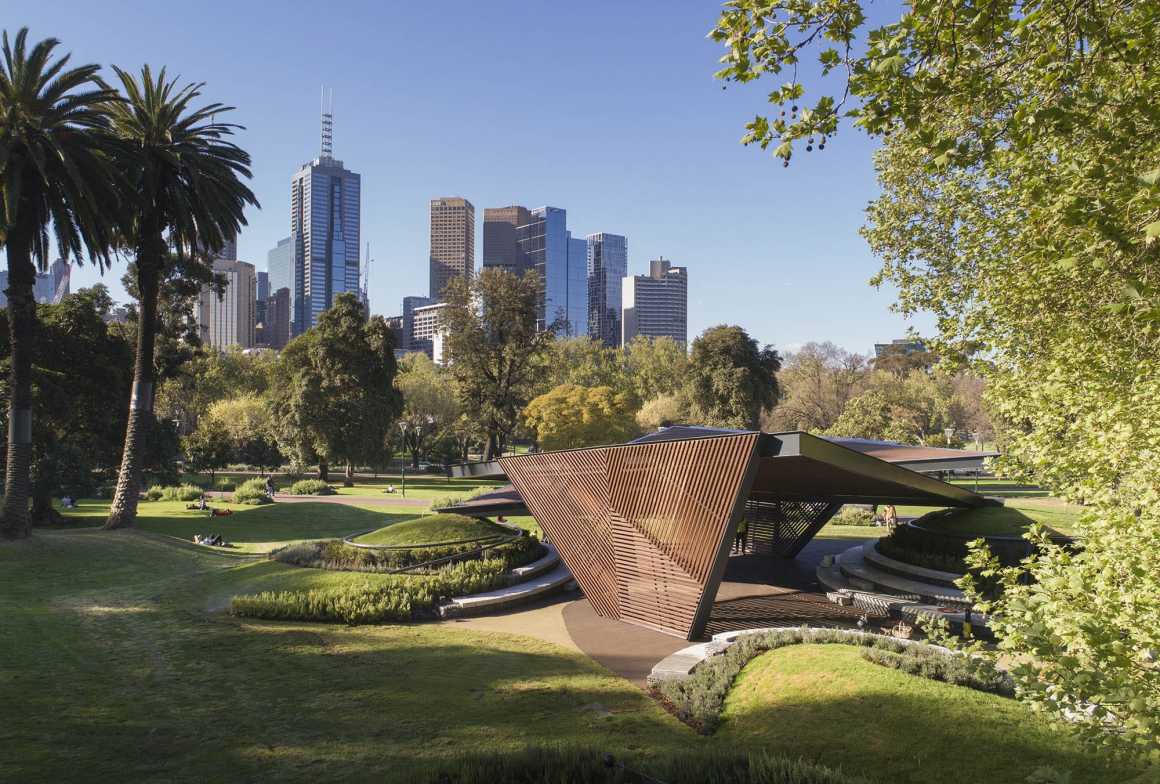 当我们在台阶座位上,观看基金会的活动时,会清晰的感受到我们正处在一个宏伟的公园的中央,而当我们站在亭子内部时,又感觉好像我们就站在自家阳台上面对周围的自然环境一样,舒适亲切。
From the tiered seating we enjoy the activities offered by the foundation, never losing sight of the fact that we are in the middle of a magnificent park. We will be inside the pavilion, but always feeling as if we were also on a balcony facing the surrounding nature.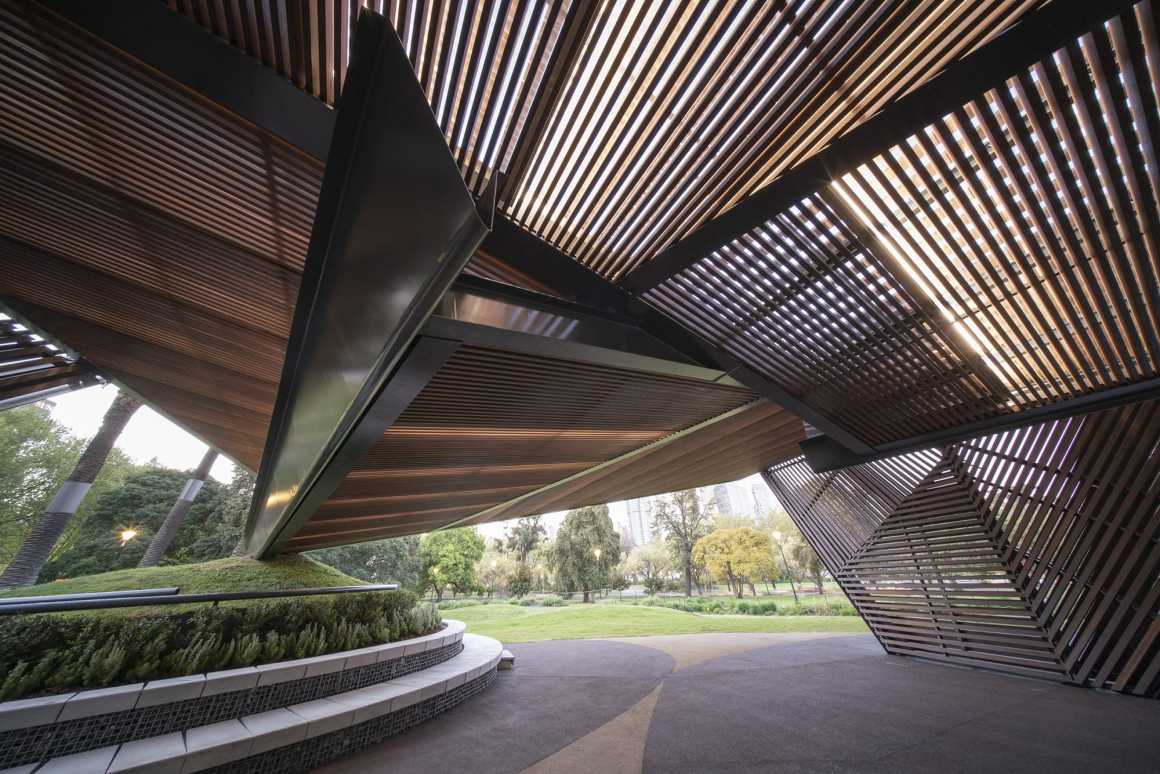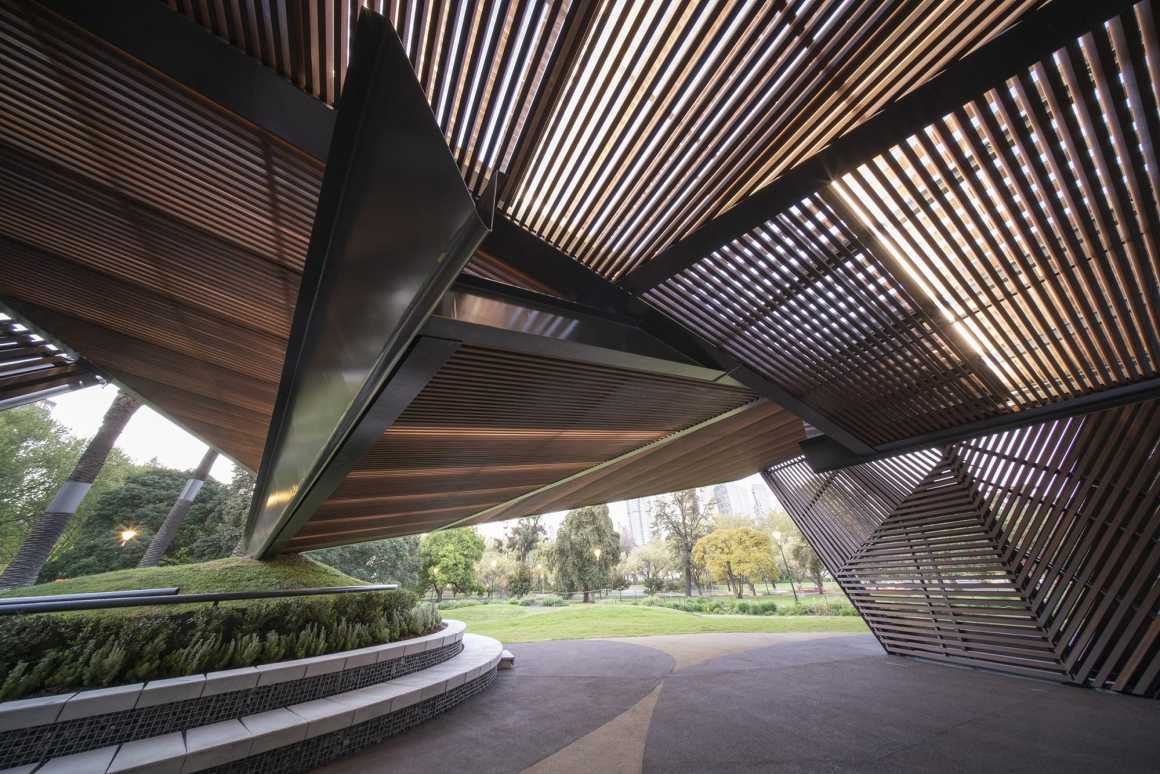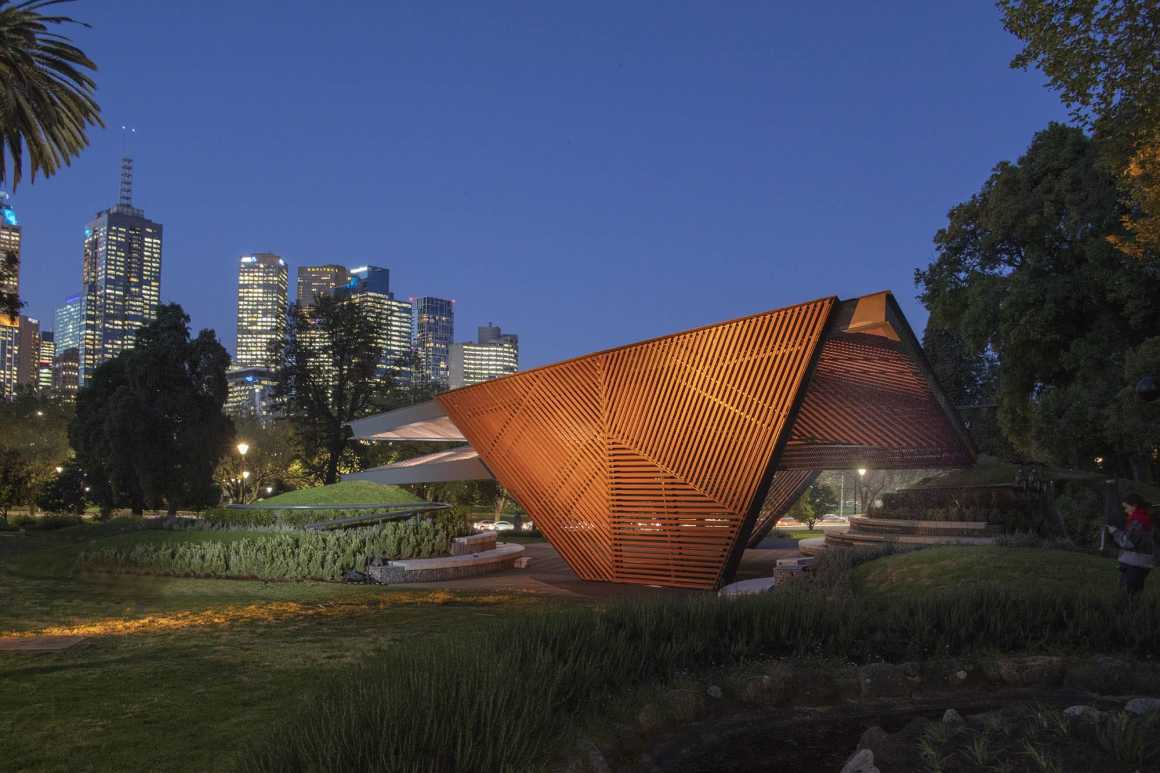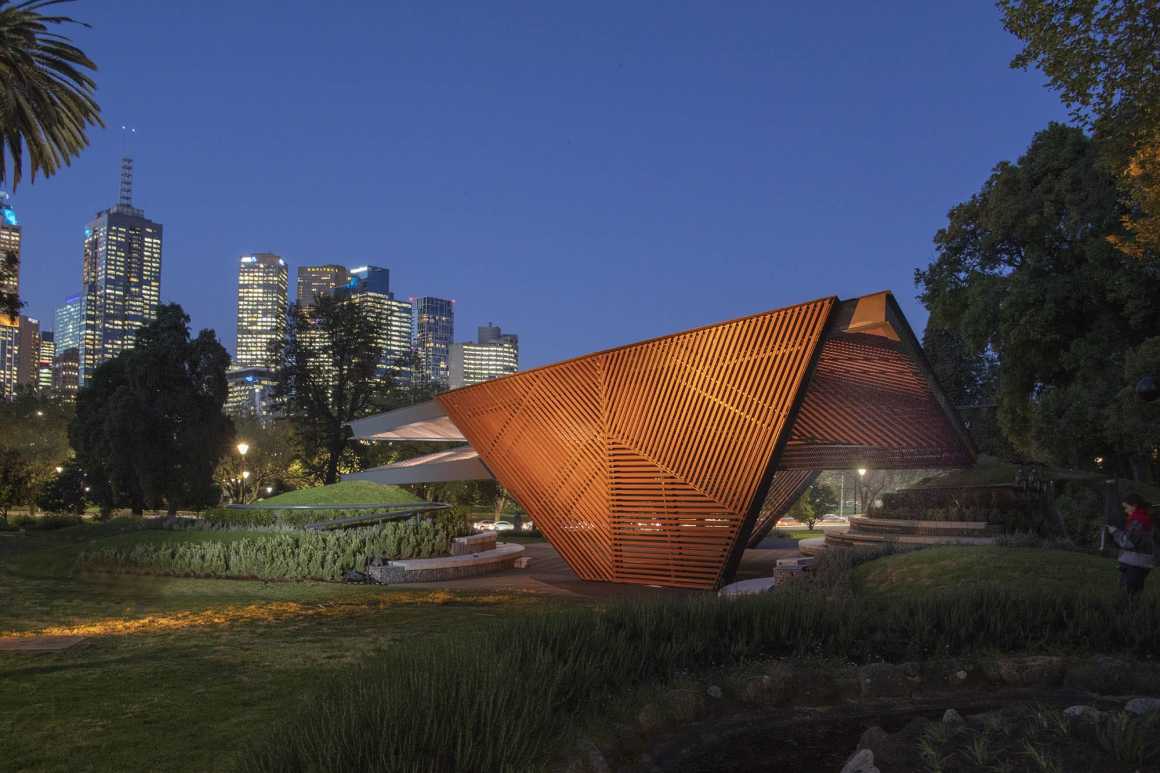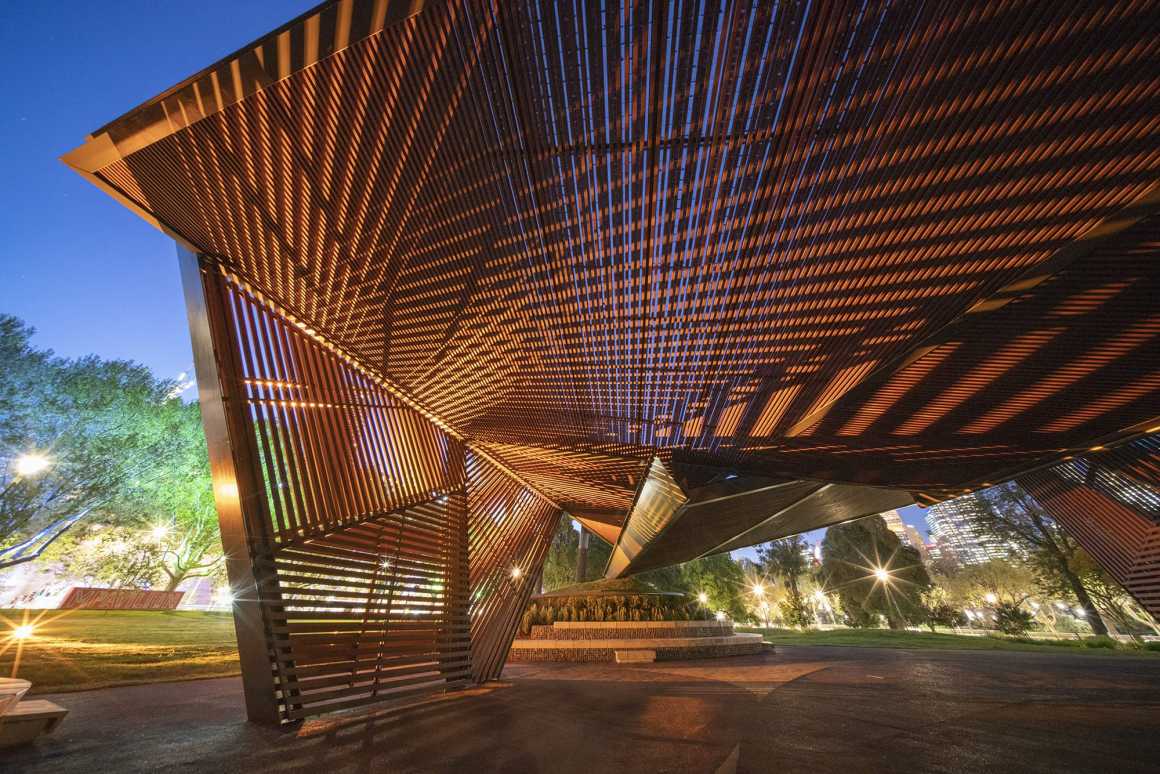 ▼场地平面图 Site Plan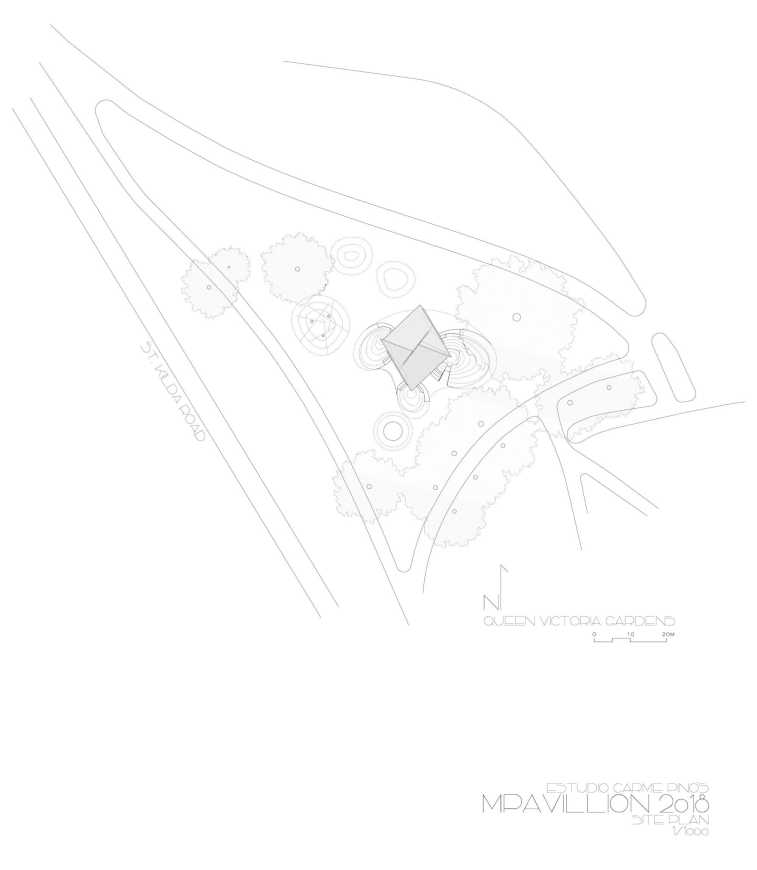 ▼构筑屋首层平面图 M Pavilion 2018 GroundFloor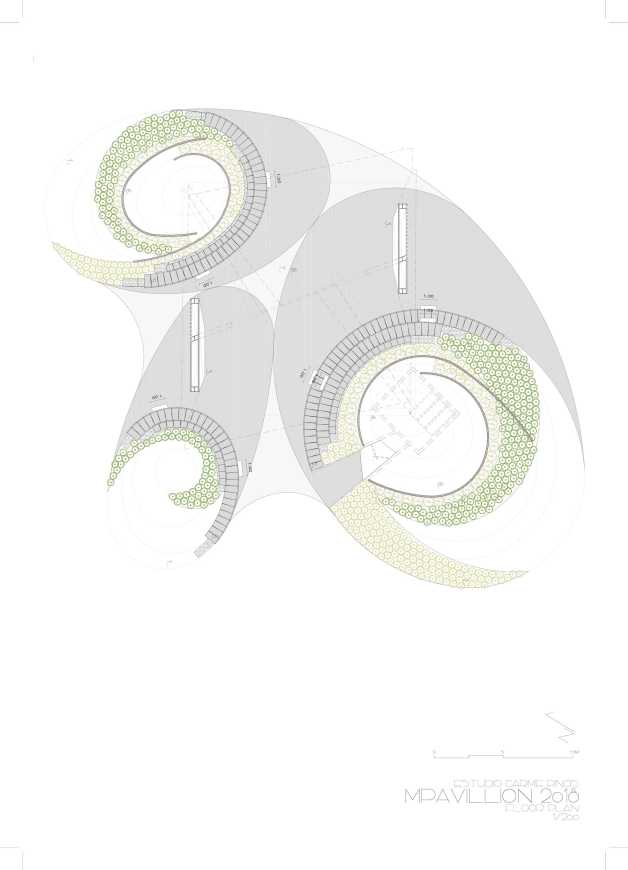 ▼剖面&基础&立面图 Sections & Elements & Elevations
▼坐凳模型  M Pavilion Stool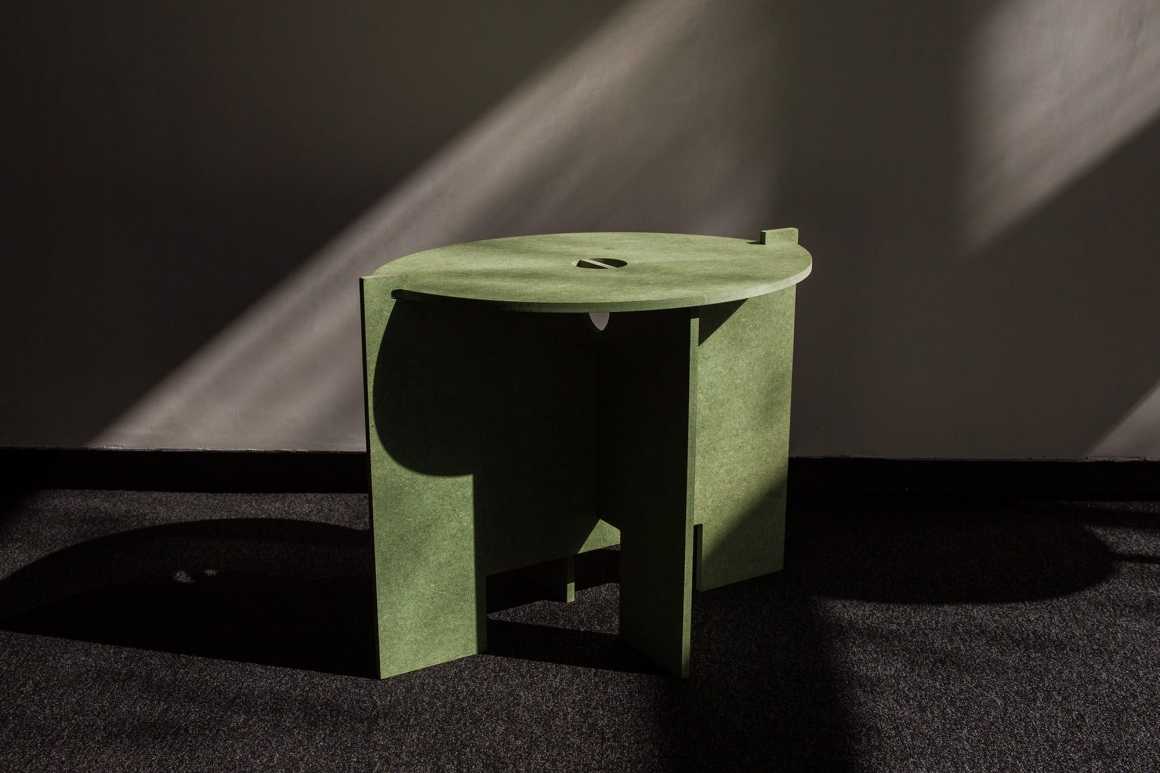 项目名称:MPAVILION 2018,公园里的文化实验室
地点:澳大利亚墨尔本维多利亚女王纪念园
客户:Naomi Milgrom基金会
初步设计:2017年12月
最终设计:2018年6月
现场运营开始时间:2017年7月
项目完成时间:2018年9月
建筑面积:250平方米
景观面积:730平方米
成本:620.000欧元左右。
建筑师/项目作者:Carme Pinos Desplat
首席建筑师:Samuel Arriola Clemenz
团队成员:Holger Hennefarth, Blanca Gonzalez Sainz
墨尔本合作建筑师:Leanne Zilka
合作方:
结构:Manuel Arguijo(初步设计阶段);Perrett Simpson(建设阶段)
景观设计:Tract Consultants
信息图表:Estudio Carme Pinós
建筑公司:Kane Constructions
照片:John Gollings
Name of the Project: MPAVILION 2018, a cultural laboratory in the park
Location: Queen Victoria Memorial Gardens, Melbourne, Australia
Client: Naomi Milgrom Foundation
Preliminary Design: December 2017
Final Design: June 2018
Site Operations Start: July 2017
Project Completion: September 2018
Built-up area: 250 m2
Landscaped area: 730 m2
Cost: 620.000 € approx.
Architect/Project Author: Carme Pinós Desplat
Lead Architect: Samuel Arriola Clemenz
Team Members: Holger Hennefarth, Blanca González Sainz
Collaborating Architect in Melbourne: Leanne Zilka
Collaborators:
Structures: Manuel Arguijo(Preliminary Design Stage); Perrett Simpson(Constrution Stage)
Landscape Design: Tract Consultants
Infographics: Estudio Carme Pinós
Construction Company: Kane Constructions
Photographs: John Gollings
更多 Read more about: Estudio Carme Pinós